32 Ways and Strategies to Get Insurance Leads
You can get insurance leads in various ways. Here are effective life insurance lead generation strategies to get the best insurance leads:
1. Customer referrals
Getting referrals is the easiest and cheapest way to get life insurance leads. To do so, you just need to find out who your target customer's friends or colleagues are, then reach out to them with an email that introduces your service and audience of customers.
(Image Source: Disruptive Advertising)
2. Use social media
Reach a lot more people on social media than what you would get with traditional marketing. Facebook, Twitter, and other social media channels are free to use for all businesses – just keep in mind that they are also as competitive.
3. Google search ads
PPC or pay per click is a great way to get life insurance leads for agents because it's inexpensive and does not require much of an investment upfront. Google Ads is a good place to start with PPC advertising.
4. Email marketing
This strategy involves sending an email newsletter to your customer base on a regular basis, in order to keep them up-to-date with new products or services you offer and other important information. Done right, this can also lead to more insurance leads for the company because recipients will be more likely to share the email with others.
5. Create a blog
Blogs are an excellent way of getting insurance leads because they not only provide your company with free publicity but also lead people through a sales or marketing process by providing them content that is relevant and valuable to them. The blog post should start out with capturing someone's attention.
6. Purchase lead lists
This is a strategy that involves buying an email list of potential insurance leads for agents from other companies. This can be expensive, but it also presents the opportunity to get new customers who have not been contacted by your company before and are highly likely to purchase something from you or take up one of your offers if they do contact you.
7. Search engine optimization
This is a strategy that involves optimizing your website to rank higher in the search results of major search engines like Google, Yahoo, and Bing. This will not only bring people to your site but also help you convert them into customers by providing high-quality content tailored for their needs and wants.
8. Cold calling
Cold calling is one of the most effective strategies for getting insurance leads. It's important to be prepared with a list of targeted prospects who are interested in what you're selling and have money available to buy your product or service.
First, make sure that you know how many potential customers live in the area code where you plan on doing your calls.
Also, be sure to have an idea of the type of coverage they might need and what your offer is going to include. For example, if you are a property and casualty agent, it's likely that you want homeowners or renters policies so make sure that this information shows up in any written materials you have on hand.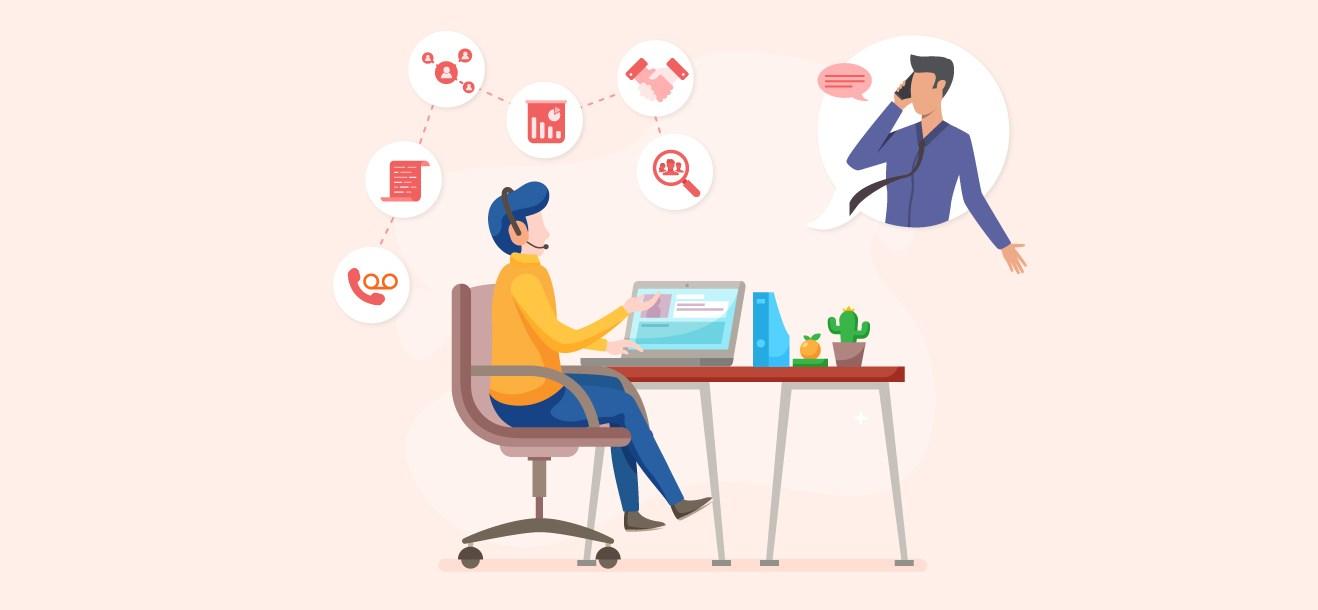 (Image Source: JustCall)
9. Create a good website
Create a website for your insurance agency. This is a crucial step to attracting leads because the internet has made it so that people research their options before contacting companies for quotes.
Make sure you're including all the relevant information about your company and what you do on any printed materials, like brochures or business cards, as well as online at your website; this will make it easier for potential customers to find you and contact your company.
10. Get listed on reputable review sites
One way to get more leads is by getting listed on reputable review sites. You can do this by paying a fee or filling out a form with your contact information and what you offer; in return, the site will list your company as an option for people looking for insurance quotes.
11. Host webinars
Hosting a webinar is another great way to get more insurance leads. Webinars are interactive, which means your potential customers will be able to learn about what you do and ask questions in real-time; they can also opt in for future communications at the end of the session if interested.
12. Have an excellent customer support
If your customer service is top-notch, you'll get more leads. When someone has an issue or question with their current insurance company, they may inquire about contacting yours for a quote; in order to do so, the person will need to provide contact information and personal details–which means these potential customers have now contacted your business.
13. Networking
Networking can be a great way to get more insurance leads. You may not realize how many connections you already have, and by connecting with them on social media or in person, they'll know about your business–which means there's an opportunity for you to talk to them about what you do.
14. Join forums
Joining forums related to your industry can be a great way to get leads. By answering questions in these forums, you'll not only have the chance to answer potential customers' queries but also build up an online reputation as someone who knows what they're talking about–which is always appealing when people are researching insurance providers.
15. Craft valuable content
The more people that read your content, the better. One great way to do this is by creating curated articles or videos about an insurance product and sharing them on social media.
16. Use online and offline ads
If you're going to pay for advertising, make sure it's worth your money. Take care in picking the right keywords and setting a budget so that every dollar is well spent on getting leads rather than letting them go to waste.
17. Join insurance associations
Another great way of building up an online reputation is by joining industry-related associations such as the Canadian Insurance Association. Doing so will provide you with exposure to other people in the industry, as well as giving your company a chance to be featured on their newsfeed.
18. Become an expert in insurance
If there's one thing that all companies want more of, it's expertise. So if you're looking for some ways to stand out from your competitors then you should try to become an expert in the field of insurance.
You can do this by blogging, speaking at conferences, or even running a workshop on something you're knowledgeable about such as life insurance for seniors.
19. Build relationships with people that aren't clients
In order to get more leads, you need to start thinking outside your usual client sphere and build relationships with people that you know don't currently buy your products or services.
You can start by connecting on LinkedIn and following these contacts to see what they're up to, then reach out to them for a coffee date when it's convenient.
20. Direct requests
This is a great way to get leads. You can start by calling up your insurance broker and asking them what the best ways are for finding new customers, then follow those tips to find out how you can ask people directly whether they're interested in being contacted about their needs when it comes to securing coverage.
21. Offer free advice
You can start by posting on social media, telling people that you're available to give free advice, and answer any questions they might have about insurance. You'll be able to make connections this way and find new customers for your business.
22. Offer a referral program
Offering a referral program is the best way to get insurance leads. You can say that for every person they recommend to you, if they sign up with your company and buy their services, then that person will receive 15 percent off of any policy or service fee.
23. Strike up partnerships
Another way to get insurance leads is by striking up partnerships with other businesses. For example, you could have a partnership where if someone comes in for an oil change at your auto shop and mentions that they're looking for homeowner's or renter's insurance, then as the thank-you gift from the service provider offers them a discount on their homeowner's or renter's insurance.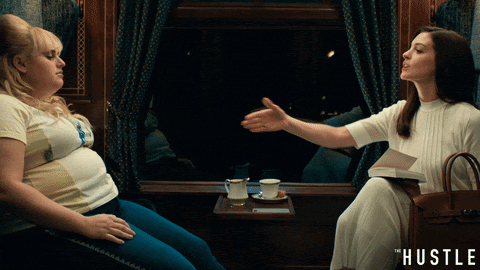 24. Conduct a giveaway
Another way to get customers is by hosting a giveaway and giving away prizes, such as iPads. For instance, you could do this by having people register their email addresses on the website in exchange for one entry into the drawing. The more entries people have, the better their chances of winning will be.
25. Stay on top of the latest trends in your industry
In order to get leads for insurance companies, it's important to stay up-to-date with what other businesses are doing in this field and then take advantage of any new opportunities that arise. For instance, if you find out that one of the other companies in your area is increasing their customer base, you might want to offer a similar service or product.
26. Keep an eye on what people are saying about your company online
Even if it's not safe for everyone at work to use social media sites like Twitter and Facebook while they're working, employees should still be checking these sites throughout the day.
They will be able to see if any issues are popping up with their company, which can then be dealt with before they get out of hand and lead to a mass exodus from your business.
27. Network at events in your industry
The best way to reach new customers is not just through social media or online advertisements. In fact, many people have found that it's best to go out into the world and meet them in person!
So take a day every week or two where you commit yourself to attend one event per day related to your industry – whether that's an expo for companies selling insurance products, association meetings such as those held by ARDA International, or conferences such as those held by the American Institute of Certified Public Accountants.
28. Look for groups in the insurance industry on social media
One of the best ways to build a network is through online groups. Find groups in your industry on sites like LinkedIn and Facebook, or those dedicated to insurance professionals such as ARDA International's Insurance Professional group, and get involved with them!
29. Give incentives
A surefire way to attract new customers is by offering incentives. Whether it's a free consultation or an offer for the lowest prices in town, people will be more inclined to contact you if they know there's something in it for them!
30. Sponsor local events
Sponsoring events in your local area is a great way to get noticed and build relationships. Consider sponsoring car washes, concerts, or even an event at the library. You never know who might decide they want insurance when you're supporting them!
31. Distribute freebies
Part of building your network is meeting people and getting them to know, like, and trust you. One way to do this is with freebies! Offer a free T-shirt or magnet for the first 100 potential customers who contact you.
32. Utilize Guerilla marketing
Guerilla marketing is a non-traditional type of advertising that uses creativity, humor, and surprise to grab attention. An example would be if you put an ad for your insurance agency in the back window of your car for when it's parked at work all day!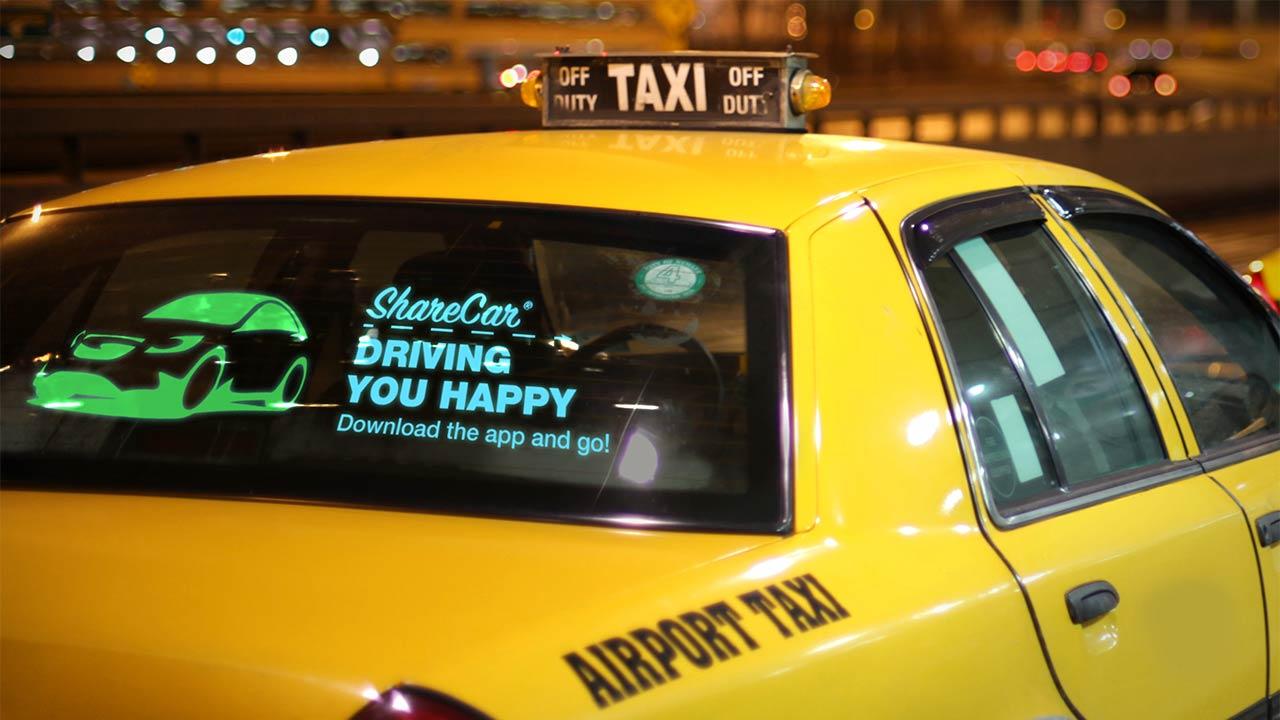 (Image Source: Texas Instruments)
5 Things to Watch Out For When You Buy Insurance Leads
It's a great idea to buy life insurance leads, but there are some things to watch out for in doing so. Here are some of them:
1. False information
Some lead sources will give inaccurate information in order to get money from you. You have to be careful that the information they give is accurate and legitimate.
2. A lack of contact information
If you're not able to get in touch with the lead seller, how can you know if they are legitimate? You have to make sure that a potential insurance leads provider is available for any questions and concerns.
3. No guarantee of quality
Some sources will offer different levels of service – like 500 or 5000 leads. You need to be aware of the levels of service that you're paying for and make sure it's worth what you're getting in return.
4. Outdated information
Some lead sources will give out outdated contact information. Make sure the company you're using is updated with up-to-date leads that are valuable to what you need.
5. Fake contact information
Without the proper contact information, you can't verify the legitimacy of a lead source. Without that verification, it's likely that your leads are coming from fake sources and not giving you what you're looking for.
Have you been looking for a new and legit insurance lead provider? If your answer is a big YES, then LeadFuze can help you.
It provides updated insurance lead information with the help of Fuzebot. It even gives qualified data to its clients, and utilizes email verification to make sure that each lead is valid. Yep — it can help you avoid the problems I mentioned above when it comes to purchasing insurance leads.
The LeadFuze team has over 10 years of experience in the industry, so they know what it takes to get your business up and running!
So, if you're looking for an easy way to find insurance leads without all the hassle, then look no further than LeadFuze.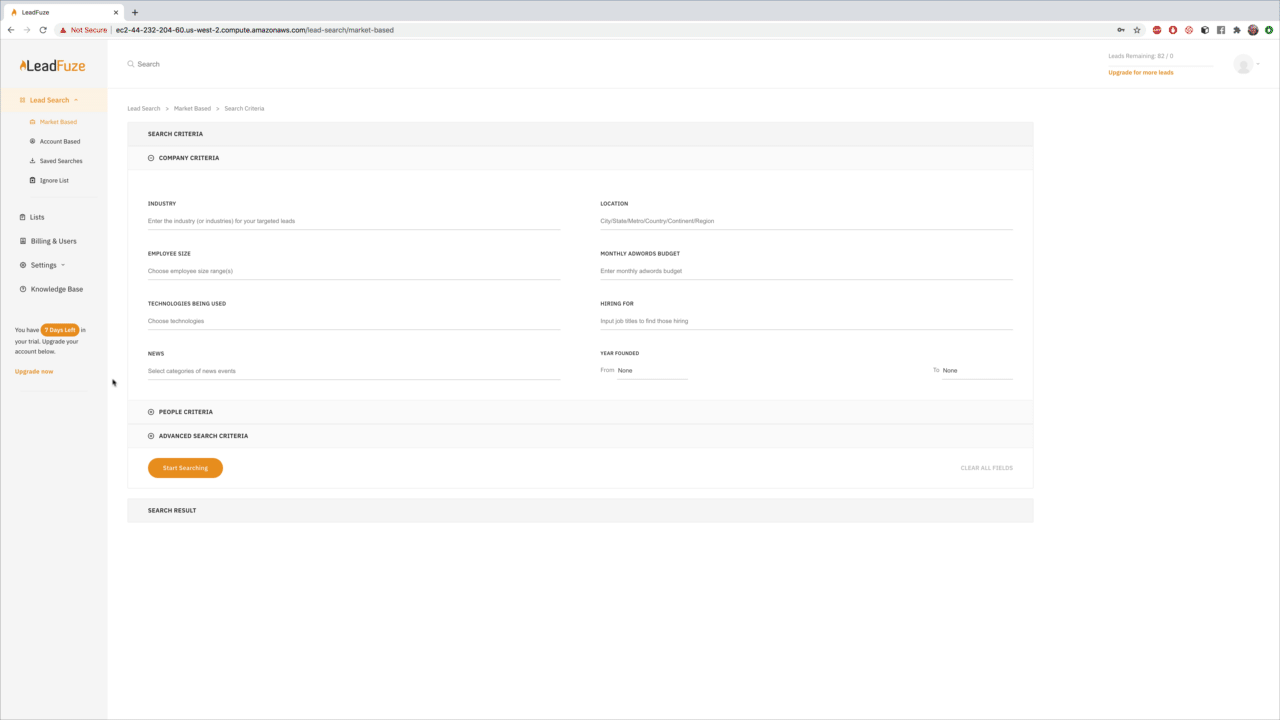 Sign up today for a free trial!
11 Insurance Prospecting Tips
Perhaps you're wondering how to generate insurance leads online, so I came up with these tips.
The following can help you regardless of the type of insurance you offer such as liability insurance, long-term care insurance, health insurance, disability insurance, life insurance, home insurance, car insurance, etc.
1. Know your audience
If you know who your target audience is, it'll be much easier for you to reach them.
For instance, if you're in the life insurance business then knowing that most people want retirement planning tips will help point out where they are likely to go online and what kind of marketing material they might respond well to on social media.
2. Create a value-packed website
One of the best ways to get online insurance leads is by creating a website where your target audience can learn about what you have to offer.
A good way to do this is by providing free content that will educate people on what they need and how much it costs. You'll also want to provide contact information, so they know how easy it'll be to reach you.
3. Target local smartphone users
If you're running a mobile insurance app, then it's important to know that smartphone users typically search for deals and offers when they are on the move.
That means your best bet is to target local smartphone users who may be looking for your service as they make their way through town.
In 2018, 40% of smartphone users with less than $50,000 annual income have purchased personal insurance using their mobile phones.
4. Optimize for search
It's important to remember that search engines are the number one way people find information on their phones.
To help your insurance agency get found, you'll want to optimize for both Google and Bing searches by including keywords in an accurate keyword list with appropriate density.
5. Personalize Facebook insurance ads
When it comes to Facebook advertising, you'll want to include a custom ad that includes your business logo and contact information.
This will create a sense of urgency in potential customers who may be looking for insurance as they travel through town or near their homes.
If someone is searching for an agency like yours but doesn't know where to find it, they'll see your ad and know that you're just a few miles away.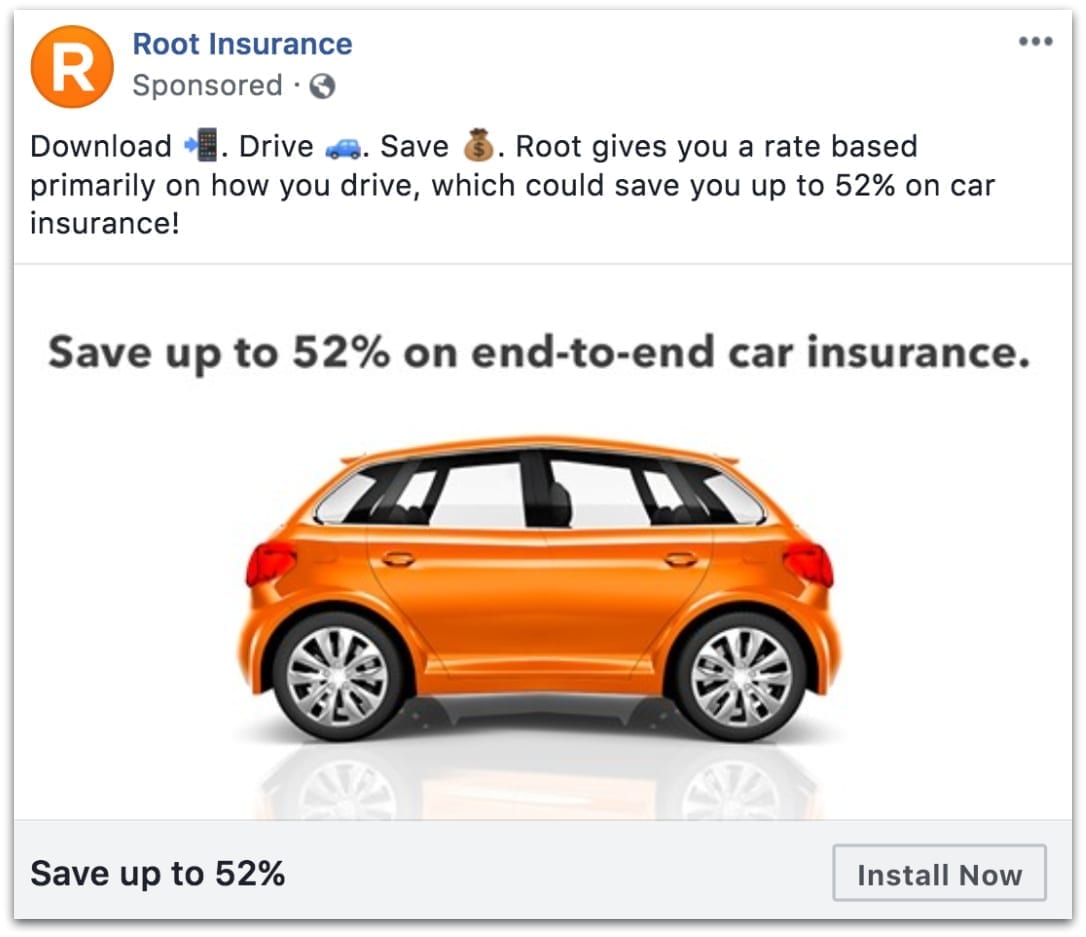 (Image Source: Design Pickle)
6. Don't forget about mobile websites
Mobile versions of websites are an effective way for insurance agencies to reach customers on the go who may be searching for rates or policies while driving from one destination to another.
A website created with responsive design will automatically adjust the layout of your site to fit on smaller screens, making it easy for potential customers who are searching from their phones.
7. Offer lead magnets
A lead magnet is a free offer that you can use to draw in potential customers through email or social media.
For example, if your agency provides home insurance for pets, consider giving away pet care plans with the purchase of pet insurance coverage; this way, an agent will have more leads coming into their inbox, and they'll be able to use them to sell other products.
Some types of lead magnets include:
Free consultations for first time customers
An eBook with information about insurance plans and coverage options.
A coupon code for a discount on their next purchase.
Lead magnets that tie into customer interests such as recipes, travel guides, or book and movie reviews.
8. Offer incentives for referrals
Incentives can be a great way to make people feel like they're getting something in return for their referral; this type of offer gives customers an incentive that, if fulfilled, will have them coming back and referring to more friends or family members who may need insurance as well.
9. Make videos
Video marketing is a great way to reach customers and give them information about your business. Videos can be produced in different formats, from short clips on YouTube to full-length movies; whichever you choose, they should provide some value by providing helpful tips or answering common questions that people may have when considering insurance for themselves or their family members.
10. Offer interactive tools
Having interactive materials that customers can access at any time is a valuable tool for helping them understand your product better. Tools could include infographics about the different types of insurance, how to get quotes or apply for coverage, and explanations on what key terms mean.
11. Get listed on local directories
Listing your business on local directories will help potential customers find you. This can be done by contacting the mayor or city council members, and also includes submitting listings to sites like Yelp, The Better Business Bureau, Google+, Citysearch, and others.
Conclusion
Overall, getting insurance leads is a process that can take time, but the above tips will help you make it easier on yourself. The more potential customers know about your company and what they offer, the greater their chances of becoming clients.
Editors Note:
Want to help contribute to future articles? Have data-backed and tactical advice to share? I'd love to hear from you!
We have over 60,000 monthly readers that would love to see it! Contact us and let's discuss your ideas!