In any industry, there will always be competition. That's the reason why most companies are making all possible efforts to stand out. One of the best ways to succeed is through lead generation appointment setting.
Through it, you can build a relationship with your client and eventually encourage them to do business with you.
Unfortunately, not everyone understands the importance of lead generation appointment setting.
It is one of the vital components of any successful lead generation strategy.
Now, let's learn more about lead generation appointment setting.
What is Lead Generation Appointment Setting?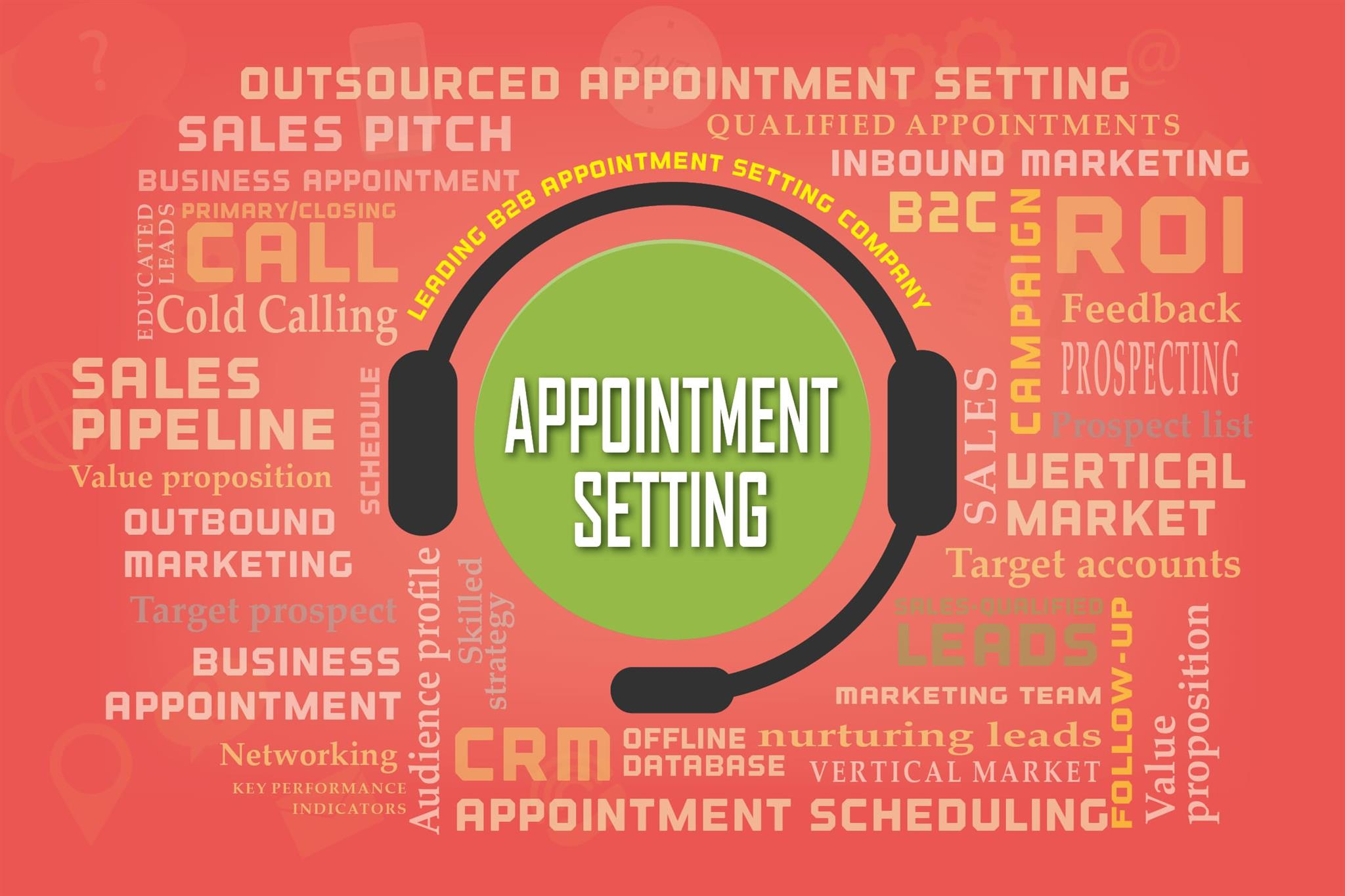 (Image Source: Valasys)
Appointment setting is a sales development activity where specialized reps follow-up on top of funnel leads or do cold calling. An appointment setter's goal is to schedule a sales meeting between a potential client and a closing sales representative.
This is important because it enables you to delegate the task and allow the closing sales rep to focus on qualified leads. This way, they won't be wasting their time trying to sell to people who are not yet ready to make the purchase, or worse, not interested.
Using lead generation appointment setting is particularly helpful when dealing with a higher sale price–those types of deals typically take longer to nurture and close.
Since this role takes a lot of time and effort, most brands choose to look for companies offering lead generation appointment setting services.
What Does An Appointment Setter Do?
The role of an appointment setter is to contact leads and schedule product demos or sales meetings. They primarily do it via phone call. They reach out to cold leads, inbound marketing leads, and they follow up on warm leads.
An appointment setter must qualify leads by determining whether they are a good fit for your product or service. This includes making sure that they can make a purchasing decision.
Appointment Setter V.S. Sales Development Representative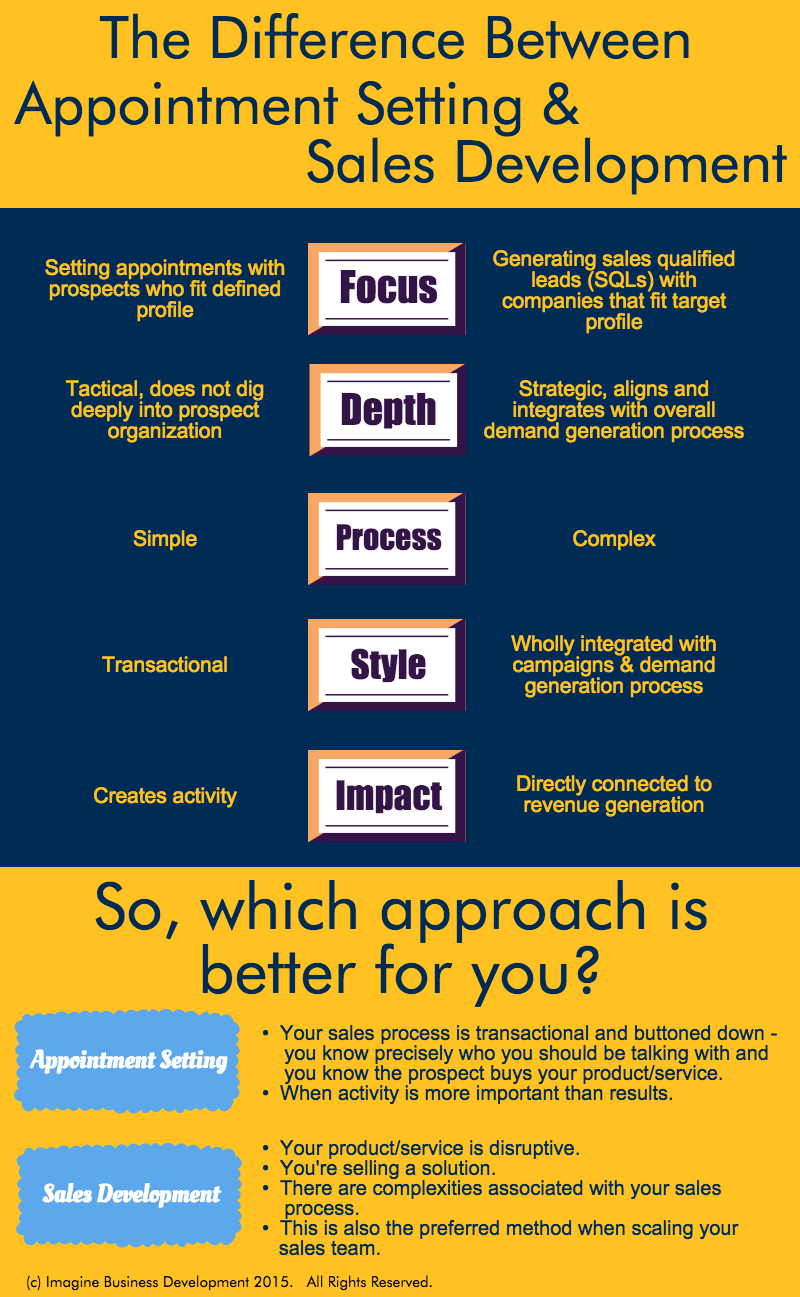 (Image Source: Imagine Business Development)
Many people tend to interchange these two roles. So here's a brief description of these two. 
As the name suggests, an appointment setter is a person in your company who makes an appointment with someone who has met a particular set of criteria. 
When someone is willing to talk, they're more likely to be available for a sales conversation. Therefore, the primary goal of an appointment setter is to book as many appointments as possible. 
Now, on the other end of the spectrum is the Sales Development Representative. Their primary focus is to deliver SQLs (Sales Qualified Leads) to your company's sales team. 
Although they're setting appointments like appointment setters, their key objective is to set appointments with leads highly likely to become profitable customers. 
And to achieve their objective, they spend more time asking in-depth questions to assess a particular lead's interest level in buying your brand's product or service.
Signs That Your Company Needs A Lead Generation Appointment Setting Service
If your company is having a hard time working on lead generation and appointment setting, then you may need to hire a trusted marketing agency to do it for you.
Here are some signs that will tell you it's about time to consider getting appointment setting services seriously:
Inaccurate and Messy Customer Data
Although customer relationship management (CRM) software can help you stay organized, the customer information you collected will inevitably get messy over time.
This can happen, especially if you don't have proper maintenance strategies in place. To ensure your CRM database is in top shape, you have to schedule monthly, quarterly, and semi-quarterly maintenance.
If you don't maintain lead and client information, it can result in mistakes and eventually cost you your company revenue.
You should know who you're reaching out to, why you're doing it, and what services or products you can offer them. Without that information laid out, you will be wasting your time.
Fortunately, with lead generation appointment setting services, you can lower this possibility. They can do the dirty work for you, such as combing through your CRM, verifying all data available, and boosting lead generation.
Too Much Time Spent on Creating a System for Nurturing Leads
The key to closing sales is determining what stage a particular lead is on and identifying quality leads.
High-quality leads should be handed over to your sales team, while leads at the top of the funnel would require further nurturing.
A nurturing system should be put in place to ensure that your company would not be losing leads. The system would be updating and tracking lead purchasing signals and pushing them through the funnel until they're ready enough to be turned over to the sales team.
A lead generation appointment setting service can be a great way to grow your leads and convert them into sales successfully.
Unable to achieve business revenue goals
In running a business, your primary concern is getting revenue. However, you may not be fully equipped with the twists and turns when it comes to sales revenue — and that's where lead generation appointment setting comes into view.
They can help you gain more knowledge and even explain why your brand is not achieving your business revenue goals.
With their expertise, you can boost your business's ability to get more revenue, increase brand recognition and hit goals consistently.
The marketing and sales team are swamped
Let's face it… your marketing and sales team already have a lot on their plate. The marketing team is busy nurturing leads and, of course, with other lead generation tasks. At the same time, the sales team is busy closing sales and dealing with existing clients.
Therefore, neither of them has time to do appointment setting.
Take note that a lead generation appointment setting is necessary to reel in appointments and sales to your business calendar.
Need to save time, money and resources
Hiring an appointment setter is the best way for your brand to save business resources. This means you don't have to search, interview, hire or train to get a higher number of appointments set.
Your leads would also not be left wondering when you will follow-up and your sales team can get themselves busy on their duties.
As a result, you will be saving considerable money and time while your brand continually performs well and meets your business goals.
5 Ways to Book More Appointments Without a Service
If you feel like you're not yet ready to hire appointment setting lead generation companies, you can do it on your own.
Now, the question is… "how are you going to do it?"
Well, it's quite simple — you have to use online appointment scheduling.
This new functionality is a boon for customers and businesses. With it, clients can enjoy the convenience of booking an appointment anytime, anywhere. Yes, they could now book appointments even in the middle of the night using their computer or mobile phone.
Small companies that need lead generation and appointment setting services but not yet ready to hire can also benefit from this. Aside from their business can run more efficiently, your team can have higher levels of productivity.
When possible clients can book appointments online, you and your team won't need to handle telephone requests for reservations. As a result, you will have more time to deal with other aspects of your business.
Online scheduling can save your brand loads of time and money. That's why you should start encouraging your prospects to book an appointment through your web portal.
Maybe you're wondering… how do you do that?
You can follow the tips below and you will be paving your way to more online bookings.
1

Booking buttons should always be visible on your website

The easiest and most effective way to get customers to book online is by placing a "Book Now" button on your company's website's first page.

Ensure that it's visible so potential clients won't have a hard time looking for it throughout the page. You can also place it on other pages, such as your "contact" and "services" page. By doing that, clients can easily book an appointment wherever they are on your site.

If possible, you can even add a booking link to your website's menu.

The more visible that button is, the more likely your visitors will schedule an appointment with you online.

Here's an excellent example from Antione Dunn, a Sacramento-based barber. On his homepage is a large button that says, "Book an Appointment." Through that button, possible clients will know what to do next.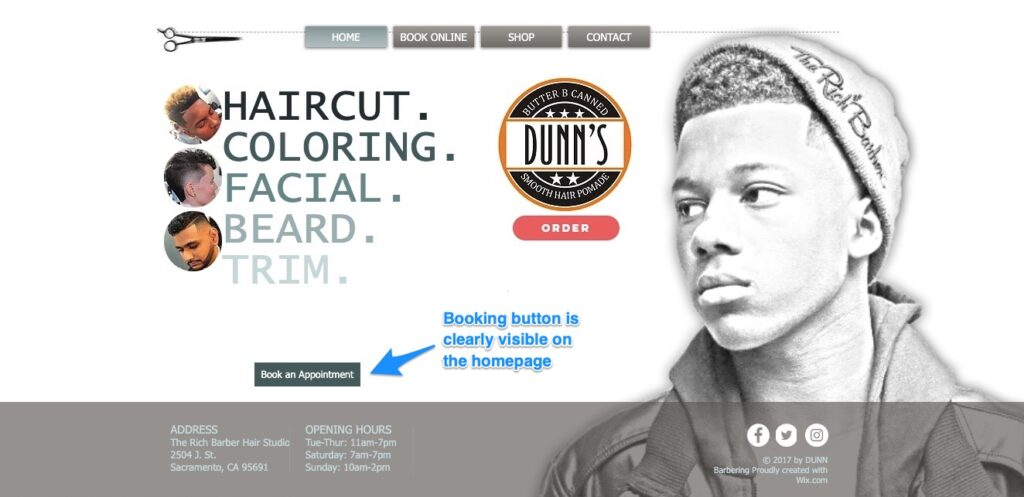 (Image Source: Dunn the Barber)
But Dunn doesn't stop there because he also placed a "Book Online" link on his website's menu. That means the button will be visible regardless of which page on his website a potential customer is.
2

Encourage email subscribers to book appointments online

In 2018, the estimated number of business and consumer emails sent daily was over 281 billion. And according to experts, they expect that number to increase to more than 333 billion by 2022.

Now your goal is to make sure your emails will be one of the 281 billion. It should be read and people should take action after reading your email.

Take a look at what Orange Theory Fitness is doing.
(Image Source: Learn.Genbook)
OTF emails their subscribers with events and news regularly — and almost all their emails include an image promoting their brand's online booking functionalities.
You can do the same to your email messages. Since most email platforms allow you to add a signature, you can use that to your advantage in promoting your booking link.
Tip: Use an attractive image that can get your receiver's attention and eventually make them hit the button.
3

Send text messages promoting your link

Just like what you do on your email messages, you can include a "Book Appointment" link every time you send out appointment reminders or promotional messages to your current clients.

Scheduling appointments will be extra convenient for potential customers because they can now do it straight from the conversation.

But of course, make sure that you will be using a shortened URL. You would want your text message to be easy to read.
4

Use social media to spread the word about online booking

Social media platforms are the best way to promote web-based reservations. Use every opportunity possible. For instance, you can include it in your tweets or status updates.
Utilize "Book Now" buttons if available
Various social networks have features that allow you to use native booking options.
If your brand has a page on Facebook, you can place a "Book Now" button on your profile. It will be on top of the page, beside the "Message" button. That way, people can quickly find it.
Brows of Brooklyn is doing a great job in that regard. Check out the screenshot below.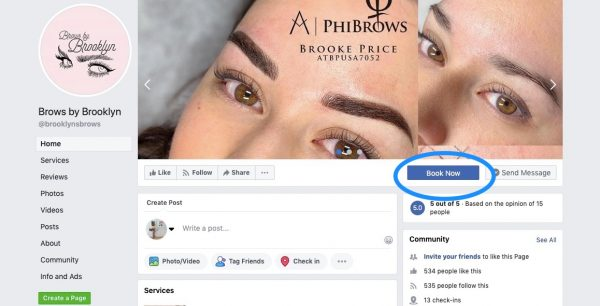 (Image Source: Brows by Brooklyn)
Craft content that promotes your booking link
Another way to rock appointment scheduling without lead generation appointment setting companies is by regularly creating fresh content. It will target your existing clients and your fans.
Since they are already following you on whatever social media platform you're on, it would make sense to remind them from time to time to book your service.
To increase the effectiveness of this strategy, make sure that you're actively posting your booking link. But of course, you will have to use a new image or a new copy every time. Just do something to mix things up, so people won't think you're recycling content.
We're saying here that you shouldn't be posting the same promotional message again and again.
5

Voicemail messages should include booking information

If your clients are accustomed to calling you to book appointments, chances are, they might call after hours and will be led straight to voicemail.

Well, that's not a bad thing — you can use that opportunity to let them know that they can make an online booking anytime, anywhere.

Aside from including your booking information in the message, you should also make sure that your greeting:
Is short and energetic
Has your company's name, location and regular business hours
Provides clients a time frame in which you will be calling them back
10 Companies That Offer Lead Generation Appointment Setting
Unfortunately, doing lead generation appointment setting on your own may not work every time. As mentioned earlier, a company dealing with more significant sales may need an expert to do appointment setting for them.
Here's a list of the top lead generation appointment setting companies in the industry today:
CIENCE Technologies
This company offers both manual and computer-operated approach.
So, they use a combination of industry experience, machine learning, expert training and human intelligence. Therefore, you can say that they're utilizing a more scientific approach to outsourced lead generation.
CIENCE Technologies has the "people-as-a-service" model to help you enjoy a predictable pipeline and higher revenue.
OutboundView
With OutboundView's service, you will get help in managing, implementing and designing outbound sales strategies. They can help you identify opportunities that your brand can take advantage of.
Moreover, with the data tools they have, they can build you a detailed list to help you find your next potential customer.
Aside from that, they can execute outreach efforts and craft engaging messages — including social media and email appointment management.
And, of course, they will be scheduling appointments with your preferred target audience.
In short, they will be providing you with the right opportunities so your sales team can focus on closing the sale.
SalesRoads
This company is based in the US and has more than 14 years of lead generation and appointment setting experience.
Once you decide to do business with them, they will invite you to an extensive "kick-off" meeting where they will be discussing some fantastic suggestions with you. They would even present you with several well-constructed campaigns that will fit your brand's needs.
SalesRoads will come up with a playbook that can serve as your company's roadmap towards your goal. After that, they will be working with your reps to get them ready to close a sale.
Belkins
Belkins uses facts and stats to determine which of your email templates performs best. After identifying your best email template, they will add value to your sales pitch using account-based marketing insights.
This lead generation and appointment setting services company aim to improve every engagement using business intelligence.
As for the appointment setting, they will hire an expert sales development rep for your campaign who will be responsible for studying your brand's corporate style, culture and goals.
And before you know it, they will be sending emails to prospects to obtain leads and encourage them to book appointments with your business.
Salesify
One of the biggest goals of Salesify is to remove the burden of appointment setting from you and your team — and they can do that by offering optimal strategies.
They will pre-qualify leads for you so that your sales and marketing tactics will more likely succeed.
Salesify would be working hard to provide sales-qualified leads to your sales team and report confirmed sales appointments.
Therefore, all that's left to do for your sales team is to convert those opportunities into closed sales.
Out2Bound
This company promises an appointment setting that uses a "100% human approach." When they use technology, it will only be for increasing work efficiency.
Their main goal is to personalize the entire appointment setting process when reaching out to you and your possible clients.
An Out2Bound rep would start by having a month-long outbound sales campaign. They will be connecting with companies and mainly targeting decision-makers. They will interact with leads through social media, phone or e-mail.
After nurturing the leads, they will set up a meeting between you and possible customers who have shown interest in your brand's offers.
Once this stage is complete, all the appointments made by Out2Bound will be handed over to your sales team.
Lead Generators International
This is a B2B telemarketing firm that obtains leads and schedules appointments with high-quality leads by making skilled cold calls. The professionals working for Lead Generators International have more than 20 years of lead generation appointment setting experience.
And their specialty? Overcoming gatekeepers!
The appointment setting service they offer is based on the parameters you will be providing them.
Moreover, this firm's goal is to generate as many meetings as possible with decision-makers.
If you don't have the list of names of the executives you are planning to target, this company can dig for you.
Leadium
Leadium can serve as your remote team of content creators, sales reps, lead generators and sales strategists. In short, they can be embedded right into your brand's communication channels and workflows.
The good thing about this company is it's focused on every stage of your sales funnel. They can give you the insights you need to quickly determine when to use a different messaging, pay for a new sales stack, hire, and train.
What Leadium will do is enable you to focus on selling. At the same time, they take care of other tasks such as obtaining contact data, connecting with high-quality leads and setting appointments.
Martal Group
Martal Group is one of the top B2B lead generation and appointment setting services out there. They even have a name for the solution they offer — "turnkey."
They can provide you streamlined sales efforts, excellent lead generation services and exceptional support staff.
This company specializes in SaaS, IT services and IoT vendors that deal with most technical stuff in the market, such as cloud backup, video analytics, annotation, location-based services, fleet management, consumer insights and enterprise software.
LeadFuze
Yes, this list may be dedicated to lead generation appointment setting reviews, but we think LeadFuze is worth mentioning in this list.
With LeadFuze, you can enjoy a great and effective way of generating leads for your brand. It can allow you to search for prospects within your target market in the most convenient way possible.
For instance, you are targeting decision-makers in Marketing. All you have to do is select "Marketing Manager" in the dropdown menu.
This means you will be getting high-quality leads in just one click!
Gathering contact information will no longer be tedious because LeadFuze can provide everything you need like email address, phone number, company, domain and links to social media profiles.
Conclusion
As a business owner or manager, you should know how crucial your business's growth is to have a steady influx of quality leads.
Unfortunately, obtaining leads can be a challenging feat — most of the time! It's so hard that some companies even spend all their time and resources on the marketing aspect and generating new customers.
Of course, one of the most challenging parts of growing a business is interacting with new prospects. It would help if you were careful enough so you won't end up draining all your valuable resources.
This is where a lead generation appointment setting service would come to the rescue.
Always remember that in business, time is money. Therefore, you shouldn't be wasting your time doing everything yourself when you can outsource some tasks.
Lead generation appointment setting companies are experts in their field. Just make sure you choose the right company that can help you.
Editors Note:
Want to help contribute to future articles? Have data-backed and tactical advice to share? I'd love to hear from you!
We have over 60,000 monthly readers that would love to see it! Contact us and let's discuss your ideas!