One of the biggest challenges for companies in every industry is getting leads and with the help of a Lead Generation Funnel, you're business will surely get through it. So, How do you build a lead generation funnel?
Without leads, your business won't grow. In short, leads turned into customers is one of the most essential things for your business. 
That said, your main goal should be to consistently obtain new leads.
To succeed, you should have the ability to spark the interests of your potential customers and guide them in every step of the purchasing process. 
Fortunately, with the help of automation software, social media platforms, and digital marketing applications, businesses can easily turn leads into profitable clients.
These methods can be incorporated with traditional offline strategies in customer acquisition. 
Nowadays, you can maximize the opportunities given by digital marketing channels through lead generation services that can help you yield huge outcomes. 
So, how are you going to do that? 
It's simple, you have to build a lead generation funnel. 
The problem is, creating one can be a little bit tricky even for someone who is already experienced.
But remember that crafting your first funnel shouldn't be scary or require certain skills that only a ninja marketing professional has.
Your main concern should be about having the proper tools. 
What is a Lead Generation Funnel?
A lead generation funnel or also known as a lead funnel is a systematic way of generating more leads and potential customers.
It's a process where you funnel your audience through different stages until they finally decide to buy your product or avail of your service. 
It can vary in complexity — from an easy-to-understand type to something that may require a degree in rocket science to comprehend. 
To save you from all the trouble, LeadFuze can do the work for you.
It can spare you from the complicated process of lead generation and make leads go directly into your sales outreach funnel. 
Finding Passive Candidates
LeadFuze gives you all the data you need to find ideal, passive job candidates.
Go through a variety of filters to zero in on the leads you want to reach. This is crazy specific, but you could find all the people that match the following: 
People who have worked in Computer Software
Who held a title of Lead Developer OR Lead Engineer OR Head of Engineering
That have NOT been a CTO or Chief Technical Officer
And currently make $85,000 to $100,000 in salary
While having javascript skills
Who are currently unemployed
Who are likely to fit culturally due to liking Back to Future OR Fast and the Furious
Just to give you an idea. 😀
Lead Generation vs. Lead Generation Funnel
If you are confused with these two terms, here's a quick comparison. 
Lead generation is the process of attracting new prospects or leads and turning them into a buyer.
Lead  generation funnel on the other hand is the representation of the lead's journey from becoming aware of your brand to becoming profitable customers. 
The Four Stages of Lead Generation Funnels

(Image Source: Aeroleads)
Stage 1: TOFU (Top of the Funnel)
The first stage of a lead generation sales funnel is all about awareness.
This is where you make your first contact with a potential customer.
It's also where you introduce yourself to a future buyer. 
During this stage, your content can consist of videos or blog posts (both are utilized by LeadFuze). 
According to HubSpot, B2B companies that post blogs 11 times or more in a month get three times more traffic compared to those who barely  do blogs. 
Stage 2: MOFU (Middle of the Funnel)
Once customers reach this stage, they will start engaging with your company.
That means you have to be consistent in nurturing them. 
You can offer your potential buyers different resources like case studies, white papers, and e-books. 
Stage 3: BOFU (Bottom of the Funnel)
This is the last stage of the lead gen funnel.
If you have reached the BOFU with your target audience, that means you've successfully turned them into leads and have built a strong relationship with them. 
During this stage, your potential buyers already trust your company and it may only take one final nudge before they officially become paying customers. 
Great content ideas for BOFU are discount offers, consultations, demos, or trial extensions. 
Stage 4: Closing Sales
This is where you deliver a proposal and close a sale.
If you've done the previous stages right, then it's less likely that your client will stray away.
That means, at this point, closing a sale is at your reach. 
The 5 steps in Building a Lead Generation Funnel
Now the next thing that you should know is how to build a lead generation click funnel.
Here are five beginner-friendly steps for both newbies and lead generating experts:
Step 1: Map Your Customer Journey
To start lead generation with a click funnel, you should get to know your customers first.
Remember that if you don't know a thing about your target market, chances are you won't be able to find them or even market to them.
So, make sure that you learn about the things they like and dislike and the problems they deal with. 
You can use Google Analytics to pull up data such as conversion rates, funnels, traffic reports, and bounce rates.
Through the information you collected, you can determine the areas that you need to improve in your site. 
However, relying on numbers alone is not enough.
Even with all the reports, there's no way you can get a personal insight into your customers. 
To truly get to know them, you have to read support tickets, send surveys, and conduct interviews.
By doing these, you'll learn about their pain points. One good example is the "experience wheel" created by LEGO.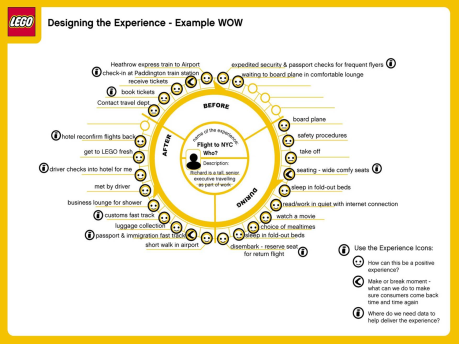 (Image Source: Experience Matters)
This first step in creating a lead generation conversion funnel represents the flow from the first touchpoint leading to a purchase. 
According to the book "Small Data: The Tiny Clues That Uncover Huge Trends" by Martin Lindstrom, you can only understand how animals live not by going to the zoo but to the jungle.
Therefore, if you want to closely understand your customers, you have to talk to them. 
Step 2: Craft Winning Content
After mapping out your customer journey, the next step is creating great content that will both be interesting and exciting.
Choose content that can help you connect with your customers like e-books, podcasts, videos, and blog posts.
Don't worry, creating engaging content doesn't require a huge team or unlimited funds. 
Look at the creation of Lenovo (a personal technology company) called TechRevolution. 
TechRevolution is a digital content resource for enterprise businesses and IT professionals.
Lenovo just had to find the right timing in engaging with the right target audience with the help of lead generation sales funnels.
In just 9 months, it gained $30 million in sales, which means Lenovo's strategy worked. 
And you can do this too by following these simple steps in crafting good content: 
Create Content for Each Lead Funnel Stage
Every stage of your lead gen funnel should have content. 
For top of the funnel content, you can have YouTube videos, social media posts, and blogs.
While case studies, special reports, and e-Books are great for the middle of the funnel.
And finally, for the bottom of the funnel, you can utilize discount offers and free trials. 
Ensure an SEO Optimized Content
By doing this, you can get organic traffic to your website because your content will appear at the top of search engine results when customers look up a solution for their problem. 
Optimization includes internal linking, header tags, and structured data. 
Before creating your content, you can take a look at what your competitors are doing.
Once you've checked them out, it's time to craft a better one.
Tip: You don't need a bigger word count. What you need is to offer more value. 
Take for example PolicyGenius. They outperformed Lemonade by creating an article on the same topic that the latter has. 
Step 3: Drive Traffic
Now that you are done creating stellar content for your funnel, it's time to drive traffic into it.
You can do it in different ways:
Invest in Facebook Ads, LinkedIn Ads, and Google Ads.
These three are the most renowned channels that many B2B companies use. 
But of course, you can still make use of other social networks and search engines that offer the same service. 
The secret here is finding the right place to advertise your business.
It's no use advertising on Google Ads if most of your target audience is on Facebook. 
Social media has been a big trend for the past 15 years.
Therefore, you can use it to your advantage and reach your target market more effectively. 
Ensure that you keep your followers updated whenever you publish new podcast episodes, videos, or blog posts.
If you can use social media correctly, you will be amazed at what a single tweet can do in driving traffic. 
For instance, Tami Brehse, a freelance marketing consultant, has generated 50 percent more traffic with the help of Twitter.
While, MuleSoft, a B2B software company, has obtained 4,000 leads on the same platform. 
With this data, it's evident that social media is worth your time and investment. 
59% of marketers believe that their largest source of ROI is email marketing.
It is an efficient way of promoting your business's content. 
If you already have an email list, you can use it to inform your subscribers about new content and encourage them to check it out. 
However, if your company doesn't have one yet, then it's better if you start doing it ASAP.
According to WordStream, email marketing has yielded an average ROI of 4,400 percent in the US.
No company should miss an opportunity that good!
59% of marketers believe that their largest source of ROI is email marketing.
Click To Tweet
To drive traffic to your content, you should have a solid SEO (Search Engine Optimization) strategy. 
In a nutshell, SEO is the system of understanding your target market and creating experiences based on their searches.
Through doing this, you can make sure that they'll stumble upon your content when they hit the web and type in their queries on search engines. 
In fact, this is the Digital Third Coast's secret for getting 11,324 percent ROI for Shorr Packaging.
All thanks to their great SEO campaign. 
Step 4: Collect Your Target Market's Information
At this point, you've already learned about your audience, created content, and driven traffic to it.
Now, what do you do next?
Here's the thing, even if you drive all the traffic in the world to your content, it's useless if you don't have a way of collecting your prospects' information.
You can create a lead magnet, which is the traditional way of collecting data.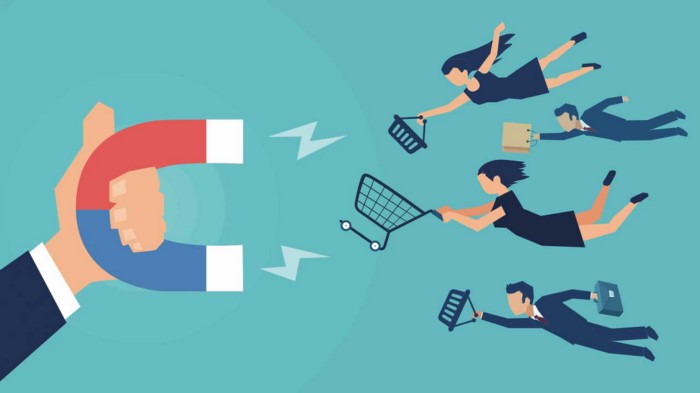 In this technique, you should give away some valuable resources for free in exchange for an email address. 
Your lead magnet can be anything, as long as it's related to your business or something that may interest your visitors.  For example, you can offer them a library of free guides like what Hootsuite does.
Each guide in the library is made for its target audience, which is social media users. Or you can also utilize a lead magnet to retarget users.
It is exactly what Digital Marketer did, and they obtained a total of 2,689 leads in just 14 days. 
Once your lead magnet is up and ready, you can place it on your landing page. When your visitors fill out the forms on your page, they can access your content. 
Step 5: Close the Sale
Now that you have the information you need from your target audience, they are now considered leads.  But remember that closing a sale can vary for every business. 
For some, it can start with their marketing team nurturing their leads to sign-up, while others may begin with sending legitimate leads to the sales team to inspire a conversation and close the sale. 
Find out what works best for your company and start using that method to turn your leads into profitable customers. 
Lead Generation Funnel Optimization
After completing all those steps, give yourself a tap on the back as you have successfully created your first and hopefully, the best lead generation funnel for your business.
But waits your lead funnel creation task is not done yet. If you want to get the best results, you should also consider optimization.
Here's how you are going to do it:
1. Don't be Afraid of a Little Trial and Error
There are always things to improve in your marketing funnel lead generation. Chances are, what worked for your business last year won't work today. 
As your target market changes, your lead generation funnel should do the same.  It's a great idea to create varying content to see which one connects best with your customers. Also, you may need to adjust your sales effort, landing pages, and advertising efforts whenever necessary. 
2. Qualify Your Leads
To save your time and effort, you should qualify your leads accordingly. By doing this, you will only be focusing on the ones who are most likely to become customers.
To do that, you have to look at how your leads have interacted with your content. For instance, if you've offered free guides, take note of those visitors who downloaded resources that are closely related to your business.
These people are considered high quality leads compared to those who only read your careers page.  Also, you can qualify leads by looking at their interaction with your company after gaining their information.
Check if they open your emails regularly, respond to sales calls, or willingly answer surveys. Once you learn about these things, you can easily determine how qualified each lead is.
Other ways you can qualify leads:
In this method, you have to come up with a scoring system for every engagement activity your audience does.
The more regularly your target market interacts with your email campaigns, social media pages, and blogs, the higher score they will get.
That also means that they are most likely ready to move on to the next stage which is purchasing a product or service from your company.
After your visitors have provided their contact information, you should then compare their profile with your ideal market's profile.
If they match, you can label them as legitimate leads and nurture them accordingly. 
BANT Method (Budget – Authority – Need – Timeline)
BANT is all about determining how qualified a lead is and which leads should be prioritized.
You can gather the necessary data by conducting an interview or a survey that can help you determine whether they are possible buyers. 
Analyze Company Information
If you own a B2B company, then you should analyze the organization's profile first before you start sending promotions.
Take note of crucial factors such as industry and company size. It can help you know if they're qualified leads or not. 
3. Use the Right Tools
Many software tools on the internet can help you generate more leads.  Through those, you'll know how long your visitors spend on your web pages, learn from what company they come from, and receive detailed information about employees in that particular company.
When you are equipped with this data, you can adjust your lead funnel strategy accordingly.  If your company has enough budget to invest in this type of tool, don't hesitate to do so.
4. Upsell and Cross-Sell
Through upselling, you can encourage your potential buyers to purchase products that cost more than what they intended to buy.
While cross-selling is the process of selling additional products together with the original purchase. With these two marketing techniques, you can earn money with not much sweat.
5. Monitor Customer Retention at Every Stage
This can help you identify the blind spots in your strategy.
If possible, increase the retention rate at every stage to ensure the overall efficiency of your lead gen funnel. 
6. Personalize Your Messaging
It's better if you create personalized messages in all the stages of your lead funnel.
By doing this, you can strike a more emotional response and even speed up the conversion rates. 
7. Build Strong and Long-Lasting Relationships
Face it, it's a lot cheaper to work with existing customers than acquiring and nurturing new ones.
It is best if you focus most of your efforts on customer loyalty programs. Also, you can create an ideal condition for them to ensure that they return, buy more, and even spread great word-of-mouth about your business and your brand.
When you give each of your buyers a good experience, they will tell their family and friends about your company. And of course, they will come back and purchase again.  You're gonna want returning regular customers.
8. Use Automation
Chatbots are a great addition to your web design lead generation funnels.
With chatbots, the communication will be automated in every stage.
Which means no customer question is left unanswered.
You can use software tools of your choice to create chatbots for your Telegram and Facebook Messenger accounts.
They can effectively reduce your sales and marketing team's workload.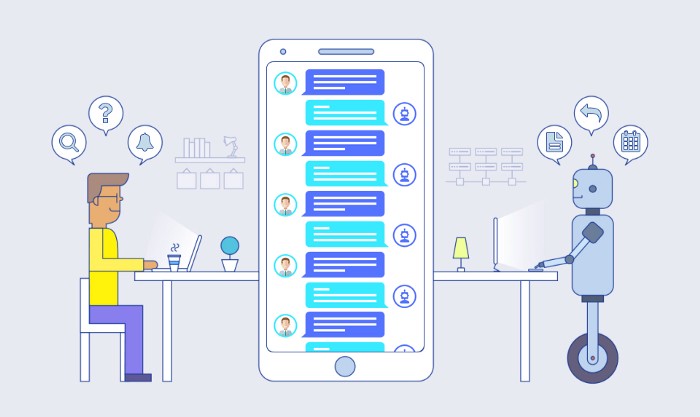 (Image Source: ChatbotsLife)
9. Reward Customer's Loyalty
Once you've successfully turned your leads into customers, it doesn't mean that your job is done.
Your buyers are vital to your company as they can give you referrals which are marketing golds!
According to Forbes, 54% of B2B marketers believe that referral programs are one of the most cost-effective ways of marketing.
78% of businesses say that these programs provide the best quality leads. 
You can reward your customers with premium content or special deals to make them feel valued.
Giving them rewards can even increase the chance that they will make additional purchases.
Rewards can be discounts, coupons, free trials, etc.
54% of B2B marketers believe that referral programs are one of the most cost-effective ways of marketing
Click To Tweet
10. Identify Rising Trends
This is very important if you want to lead your company in the right direction.
It is not a great idea to fall in love with your product alone and build a lead generation funnel around it. 
You should identify the latest trends in the market and explore other niches.
Through this, you can stand out from your counterparts. 
Conclusion
By now, you are all prepped up in building and optimizing your first or nth lead generation funnel. 
Simply follow the five-step process and ensure proper funnel optimization and you'll be on your way to a sustainable lead generation pipeline. 
Remember that it all starts with attracting leads.
Editors Note:
Want to help contribute to future articles? Have data-backed and tactical advice to share? I'd love to hear from you!
We have over 60,000 monthly readers that would love to see it! Contact us and let's discuss your ideas!