Creating a website may seem challenging, especially if you have never done it before.
But, remember that not everyone requires a team of graphic artists, programmers, and web developers in building a website. For many people, a simple online presence is all they may need.
If you want to create websites the easy way, you can use an intuitive drag-and-drop website builder like Hostinger, which provides an easy tool to help you establish your website quickly or you can use a lead generation website template. Whether you're building a site for personal use or a small business, there are loads of options available on the internet.
Your website can serve varying purposes. It can be a blog where you can share your thoughts and ideas, a portfolio to showcase your design or photography, or an online business card.
Regardless of what you're trying to achieve, lead generation templates can save you both time and money.
What is a Lead Generation Website Template?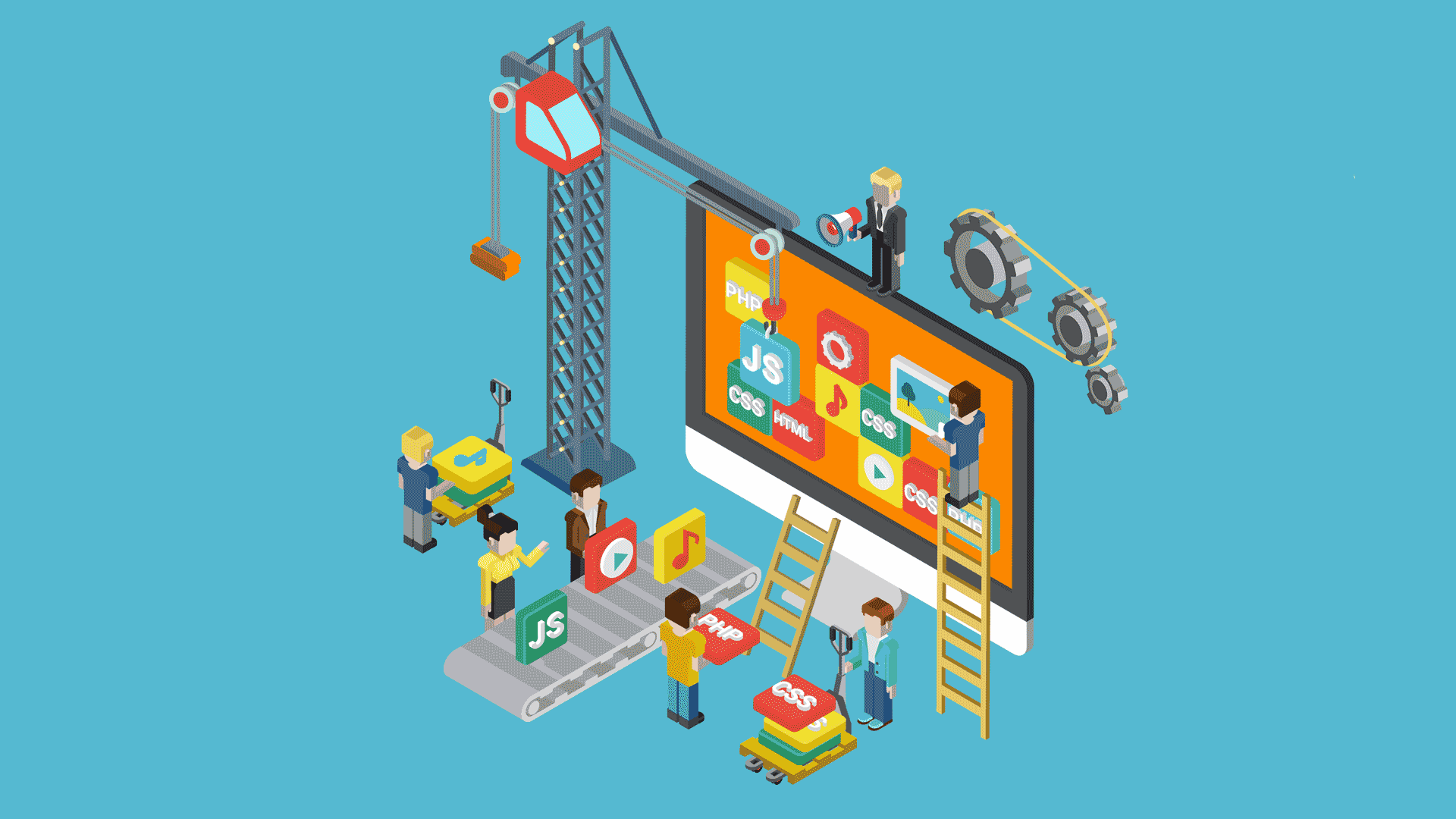 (Image Source: Marketing Land)
A lead gen website template is a ready-made webpage or set of webpages. You can customize it with videos, images, and other styles of elements of your choice to build a complete and fully functioning website.
These templates are usually created by web developers, and they include everything you need such as CSS, HTML, and other codes for them to function.
With the lead generation website template, the entire web development process is simplified. This means individuals with little or no experience in programming can build their websites with ease.
Large companies also use website templates to showcase a huge amount of content on standardized web pages.
Whether you'll be using it for personal purposes or mass production, templates can speed up everything from idea to launch.
How to Build a Website Using Templates?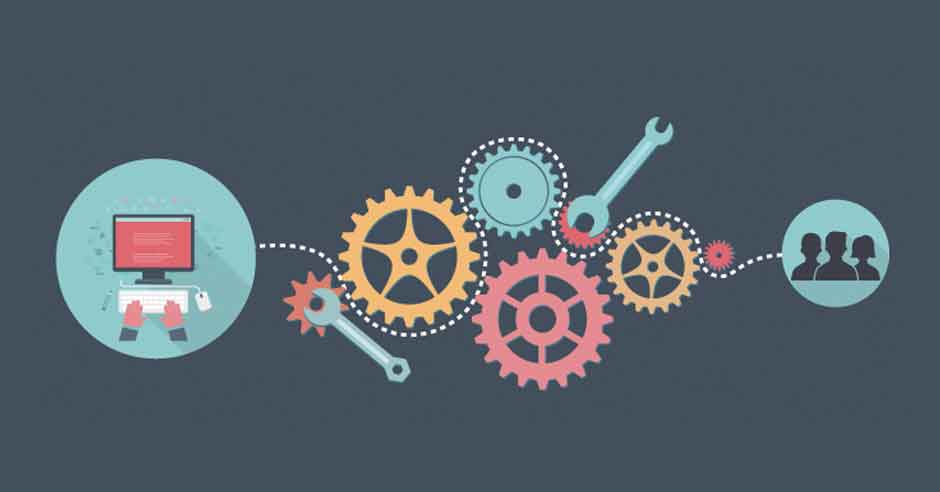 Source: Social Media Week
The process of designing a website is simplified when you use a website builder that comes with a lot of template options.
Instead of learning every technical aspect of web designing, most of the setup is automated with the help of a lead generation website template. With just a click of a button, you can install templates or also called "themes".
What's even better is you can customize them according to your preference without writing a single line of code.
Moreover, there are many apps and plugins on the Web that can provide additional functionality to your site. They can strengthen the overall security of your blog, boost your social media marketing, or improve search engine optimization (SEO).
But wait…not so fast! By now, you may be already excited about downloading some great-looking templates. Even if your template looks perfect, it would be no use if you don't have a place to put your template on.
Here's how you can get started in building your site through a lead generation website template:
There are many domain name providers on the internet. Just pick one that you like and start registering your domain name.
Choose a web hosting service
Depending on your preference, you can find a different provider or you can also purchase web hosting from the same company where you registered your domain name.
Install a content management system (CMS)
Most web hosts also offer various CMSs that you can choose from, and they have an easy do-it-yourself (DIY) setup.
Find, download, and install a website template
You can choose free templates or you can purchase one for a certain fee. Make sure that you pick a template that fits your needs and budget.
Replace generic logos and content
Create your images and content and add them to the pre-built page.
Install additional features
You can add any features you like on your sites such as apps, search engine optimization plugins, galleries, or shopping carts.
A lead generation website template can simplify the entire process of building a website. Although it would not give you the full customizability that comes with websites built from scratch, it's a great way to get your site up and running as quickly as possible.
Best Website Builder for 2020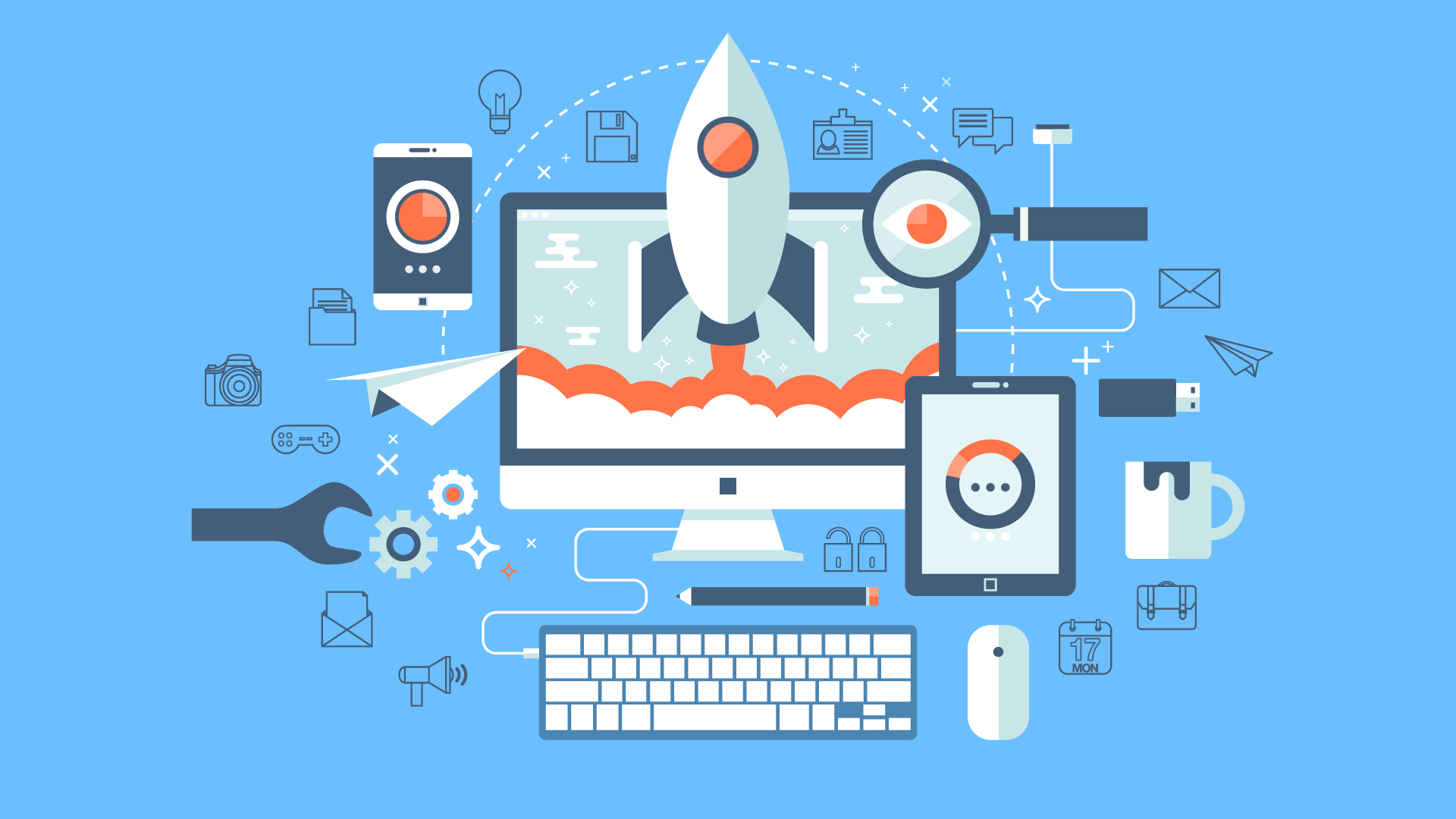 Source: ToucanAsia
Not everyone is fond of learning how to code. Well, some tried it before and many of them have failed miserably. This is not meant to discourage you, but to emphasize the intricate process of creating a fully functioning website.
Fortunately, despite the lack of knowledge in web designing and other related skills, you can still have the chance to create your site.
There are many website builders on the internet, and they can make your life extra convenient.
If you're looking for recommendations, you can check out the following website builders with sample lead generation website templates:
Wix
Wix is the biggest website builder out there. It has already built over 110 million sites and has the greatest quantity of freedom, capability, and tools.
Originally, it started as a Flash-based platform. So, you can hear some rumors about Wix not being ranked well in various search engines. You can ignore those rumors as it is now considered the most flexible website creator.
This platform has undergone rapid innovation through the years which is why many companies and individuals think it's the best one in the market. The Wix team announces a new feature almost every month!
For one, it has Wix Restaurants which is a commission-free add-on that allows your customers to check out your menus, order food, and book tables from your business.
Another option you can take advantage of is Wix Bookings which allows your clients to book their appointments conveniently.
What's even more impressive is the Wix ADI. It's a useful feature for beginners as it can serve as your assistant in building your website.
Things we like about Wix
Wix has hundreds of free lead generation website templates you can use. And most of them can adapt to your needs.
It even has its own App Market where you can get more features that you can add to your sites such as a forum, an events calendar, or a newsletter subscription.
Things to improve
If you're planning to create a website of over 30 pages, then Wix may not be the right choice for you. Aside from it doesn't allow complex structures, the navigation is also not that deep. This means it's ideal for people who are looking for one-page lead generation templates.
Moreover, switching to a new theme once you get bored with the old one is impossible.
Lastly, its lead generation template mobile is quite slow which means Wix has to improve its loading speed.
Sample Template: Press Kit by Wix

Source: Wix
This template can provide almost every function you would want on a promotional website. It includes an organized layout that will allow you to show off your performance videos, tour dates, bio, and discography in style.
One thing you may like about Press Kit is it has a chic emphasis on visuals. That makes it ideal for musicians as it can make an album artwork shine.
It has an option that allows you to create a brief, neat-looking bio. You can even add a button that links to a longer version of your CV so your avid fans can keep updated!
Weebly
This is one of the all-time favorites. Many people, especially beginners prefer using Weebly because of its ease of use. As of this writing, more than 40 million websites have been created on this platform.
The team behind this platform makes sure to add features that make sense. For instance, the membership area and the online store are great options.
Creating large websites is possible because of its polished content managing system. Some sites that were created on Weebly has a total of over 150 pages.
The best thing about this platform is it doesn't give you bandwidth or storage limitations on their paid plans. Well, what's the point of getting a premium membership if you will be constrained by several rules, right?
The Weebly professional plan costs $12 per month. This plan includes audio and video players, and a search feature. With the media player, you can stream media directly from your website.
Things we like about Weebly
It has responsive and stylistic themes that perfectly adapts to mobile devices like smartphones and tablets. It also has a clever page template system that will allow you to customize the website according to your needs and preferences.
Through Weebly's App Center, you can add tons of functionality and third-party features. All plans offered by this platform include e-commerce.
Things to improve
Although the App Center is excellent, it is still no match to the App Market by Wix. Weebly isn't also a good choice for multilingual sites.
And ever since this platform has been acquired by Square, their team seems to be launching lesser features than they used to.
Sample Template: Clean Lines by Weebly

Source: Weebly
This lead generation website template allows you to create a site with enough personality that's not too overwhelming. It strikes a balance between the two so your website would come out as professional and unique. And that's a winning combo!
The navigation bar is at the center (just below the site's header) by default. With this positioning style, your website would look neat and also easy to use.
It has a "News" section which works like a blog. It even has a built-in sidebar with an "Archive" and "Author Profile" section.
This means curious readers and visitors would be able to get the information they want to know about you.
Clean Lines can work well for community non-profits and local businesses.
Squarespace
This platform has been in the industry since 2003 and it claims to have built "millions" of sites since then.
Once you check out Squarespace, you may not have a hard time liking its powerful aesthetics and clean design. However, the question is: "Are its products as good as its self-marketing?"
First things first, getting a subscription from this website builder isn't cheap. The lowest no-frills plan starts at $12 per month.
Squarespace claims to have one of the best blog functions compared to all website builders, second to WordPress.
Recently, its team is pushing its online store which may be quite similar to what Wix and Weebly have.
Now, what else can you get from this platform?
Well, Squarespace has numerous beautiful themes that are all compatible with any mobile device like smartphones and tablets. It even features various kinds of photo galleries.
When it comes to search engine optimization (SEO), it has improved its features so you can be allowed to customize every relevant area like descriptions and page titles.
Things we like about Squarespace
It has brilliant and pretty flexible designs and awesome customer support. If you're planning to begin a blog site, then this is a great option for you. There is no other website builder that can provide such sophisticated blogging options than Squarespace.
Things to improve
There are a lot of good things about this platform, but there are also flaws. For one, it has no restore and backup feature which can be a little disappointing.
Also, if you're a beginner then you may want to pick a different website builder as Squarespace is not beginner-friendly.
Lastly, it's page speed (which is one of the vital SEO factors) isn't that impressive. It would also be desirable if it has a larger selection of applications you can choose from.
Sample Template: Utica by Squarespace

Source: Utica
Utica is perfect for those individuals or companies who want to flaunt their artwork, photography, and the like. It has clean fonts and a simple black-and-white framework that will allow your work to take the center stage.
You can choose a single image to serve as a link to the rest of your artworks. That's additional points for style and organization.
Its clean layout features an amazing "Our Team" page. According to research, 52% of visitors want to see the "About Page" first when they check out a website.
This lead generation template has big headshots together with personal bios so each member of the team can add a personal touch.
WordPress
WordPress was initially designed for creating blogs. But now, it's known to power 38% of all sites on the Web. It's flexible, customizable, and powerful. You can create just any website with it—from real estate to e-commerce or a full-blown online newspaper.
Although it's open-source and free software, some characteristics make it quite similar to other web builders on this list. WordPress comes with dedicated support, a selection of themes, pre-installed plugins, and web hosting.
This is great news, especially for beginners, as it already contains everything you would need in creating your site. Therefore, WordPress.com makes it a lot easier for everyone to build their WordPress website.
Now, what's the catch?
Well, each plan that it offers (from free to premium) has strict limitations. You would need to subscribe to the Business tier which costs $25 per month for you to enjoy options that other builders on this list have.
Things we like about WordPress
It's easy to get started with WordPress. You don't have to go through a lot of complex installation process and maintenance. You can even get a decent looking blog free of charge but it would be hosted on a preselected domain.
Its customer support is fast and good, and they would guide you every step of the way in installing third-party plugins.
Things to improve
If you're a beginner in web designing, you may need some getting used to when it comes to its backend operations.
Each plan also comes with way too many restrictions and limitations. You can't get a good SEO unless you have signed up for a Business plan.
Lastly, installing any plugin or theme that you want is not possible without certain paid subscriptions.
Sample Template: Saifway by WordPress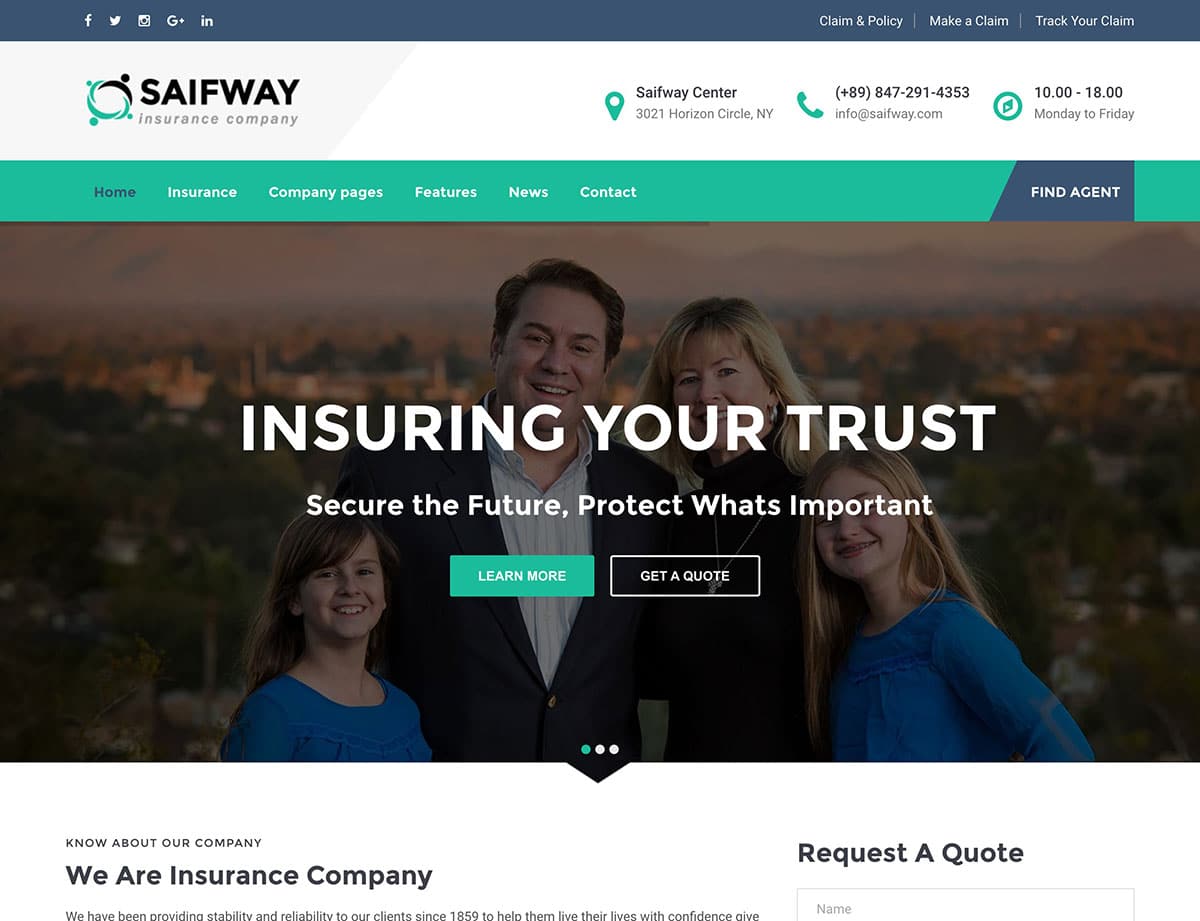 Source: ThemeForest
Saifway is the best lead generation website template for insurance companies. It has pre-built content which makes it easy for any type of insurance business to create their site.
Regardless of which demo you choose, by default, your website will contain tons of the most popular designs and trends.
It allows you to display an online request a quote form and a responsive icon set that will highlight your brand's best features. You can also insert links to your company's profile, video players, newsletter sign-up forms, and client testimonials.
Site123
Site123's expertise is language. If you check out its editor, you'll see over 20 languages like Romanian, Arabic, and Turkish. Aside from that, it also features multilingual websites.
However, the editor can be relatively restrictive. So, if your only goal is to simply get the job done, without being creative, then Site123 would suffice.
Take note that its sales lead generation website template can be on the restrictive side of things.
The cheapest plan you can get on this platform that can let you use your preferred domain name starts at €10,01 per month.
Compared to other website builders, this platform is a little pricey as Site123 will still be showing a footer ad in that particular plan.
Things we like about Site123
It has a decent free plan and focuses on languages. The editor is pretty easy to use and their customer support can answer your queries fast.
Things to improve
Site123 could be better if it can offer more design flexibility. Also, if you're paying €10,01 per month, then it would be fair if there are zero ads on your website.
Sample Template: Tech Meetup by Site123

Source: Site123
This lead generation website template is ideal for giving out information about your event to your potential attendees. You can include the place of the event, date, and time under the large page header so visitors would know all the essentials upon landing on your site.
With this template, you can include a "When & Where?" page with a map showing the exact location of your event.
On top of that, it will allow you to add a "Checkout" box so your prospects can easily purchase tickets through your website.
Webnode
Despite not being as popular as Weebly or Wix, Webnode is still one of the most globally used site builders. It's really popular among European users.
The only problem with this platform is its features can be a hit or a miss. It has several features that are unique and advanced in the industry, but it also lacks some basic functionalities that make most companies have second thoughts about choosing it.
During the first year of most of its plans, you can get a free domain name.
Moreover, some subscription tiers come with custom email accounts. For example, you can have info@your-domain.com. And the good thing is, it's for free.
Things we like about Webnode
One of the most fascinating characteristics of Webnode is it can allow you to build multilingual sites. Take note that only a few website builders can do this.
Its designs are responsive and modern which means the lead generation website template you choose will automatically look great on any device.
Webnode has everything that most sites would need. Not to mention that its SEO features are pretty solid.
Things to improve
If you're planning to use this for blogging, then you would notice that it lacks some key features such as a native commenting system and tags.
That said, people who are looking to create an online store would need to choose a different website builder instead.
Unlike most builders, Webnode doesn't have an app store. This means you won't be able to install some extensions that can enhance your website's capabilities.
Sample Template: Jack Plane Carpentry by Webnode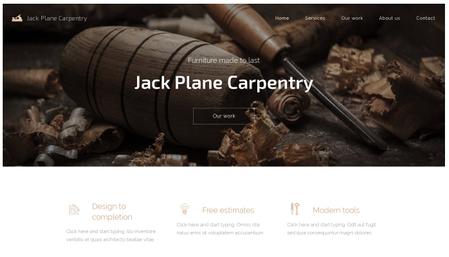 Source: Webnode
This lead generation website template can help you craft the perfect site for your carpentering business. It has eye-catching icons and earthy colors that will complement your woodwork galleries.
You can add your contact number to entice visitors to jump on a call with you as well as testimonials from satisfied clients.
Overall, it includes everything you may need to promote your skills and your business.
Conclusion
There are many website tools out there. But, the secret to creating the perfect website for your business is choosing the best lead generation website template.
The main purpose of building your website is to generate more leads for your brand. If you need help in obtaining qualified leads, you can check out LeadFuze.
LeadFuze allows you to search for your target audience most easily and conveniently. All you have to do is enter the characteristics you would want in your prospects like position, company size, or annual revenue and you're good to go.
This means you don't have to go around waiting for leads to come to you, instead, you'll be going after them.
Editors Note:
Want to help contribute to future articles? Have data-backed and tactical advice to share? I'd love to hear from you!
We have over 60,000 monthly readers that would love to see it! Contact us and let's discuss your ideas!