If you're like most people, you probably dread having to pick up the phone and call customer service. You know that it's going to be a long process filled with hold music, transferred calls, and eventually getting someone on the line who can't help you. But what if there was a better way? Introducing live chat software for your website!
This revolutionary technology allows you to communicate with customer service representatives in real time, without ever having to pick up the phone. Here are the best live chat software for your website and the reasons you need them.
What is Live Chat Support?
Live Chat is a customer service tool that lets companies provide instant, real-time support to customers. The feature can be embedded on websites so that visitors can ask questions and receive answers right away.
Live chat provides real-time support to customers and potential customers. It's often done through websites or messaging platforms like Facebook, Whatsapp, and text message.
One of the main reasons why people choose live-chat over other forms of customer support is the speed at which they receive a response. With other channels of communication, such as email or phone, it can take days to receive a response. With online chat, on the other hand, you can often receive an answer within seconds.
With live chat, you can get answers quickly. This is much faster than waiting for an email response.
And one thing all website visitors love is a prompt response.
Don't let the speed of response fool you, 95% of customers value high quality support that can solve their problem.
The important thing to remember here is that customers don't want you to rush through solving their issue. They want you to take their problem seriously and find a solution.
-Offer quick solutions to customers through live online chat.
Why add
Live Chat Software to

your website?

Most customers want to receive support as soon as possible. They can do this by reaching out to a customer support team via various channels such as email, Facebook, and online chat.

If you want great customer service, then you should definitely consider offering it via chat. A recent survey by Microsoft has proven that there is a strong link between providing excellent customer service and customer loyalty. So if you want to hang on to your existing customers, make sure you give them the best service you can.

95% of consumers say that customer service is important to them and that it affects their brand loyalty.

Today's customers expect fast response times and instant support.

While social media is often used by businesses to provide customer service, most prefer to use live chat. This is because it's faster and provides more of a direct line.

Here's the reason:

Adding live chat to a site is easy, and can be done in just a few minutes. Once it's installed, you can start interacting with customers right away, helping to close more deals.

A chat window is a box that pops up on websites offering direct communication with customer service representatives.

No more searching for support email forms or searching through the company website.

The speed and convenience of live chat makes it an excellent customer service tool – customers can get their queries resolved quickly and easily, without having to search for support contact details or fill out lengthy forms.

You can follow up with customers after a chat, which is a great way to convert sales.

Having access to reports and data can help you make better business decisions. By analyzing these reports, you can pinpoint areas of your business that need improving. This will keep your current clients happy, and attract more business.

Many chat solutions can integrate directly with CRM systems and help desks. This can help aggregate customer information and share it with your sales team.
How to Select
the Best Live Chat Software

for Your Website

We have compiled a list of the most important features in a live chat program and are now helping you to choose the right live chat software for your website. It doesn't matter how big your business is, you will need a set of criteria to help you choose the best website chat service for your company. Let's take a look at them.
1. Provides mobile compatibility for any time, any where support
Mobile compatibility is not an option for all live chat software. You need to make sure that live chat software is compatible with mobile browsers and also has a mobile app. Your operators will be able to easily support visitors and start a conversation with them from anywhere.
2. Get Value for Your Money
Although you may have a fixed support budget, it is important to categorize all live chat options according to your budget. Once you have done that, you can see which options meet your feature requirements. You can settle on a price and feature option that suits your needs.
3. Allows integration with multiple platforms in one go
You must also check if the product you are considering integrates with other platforms. This is vital for businesses that want to provide a seamless customer experience.
4. Easy-to-use & Simple Onboarding
You may have some issues with the settings of a live chat service, no matter how simple it is. This is when you need instant help and onboarding material that will help you overcome your doubts immediately. These pieces of onboarding content can include video tutorials, help centre, infographics, training courses, and short how-to guides.
5. Advanced Features for a Better Support Experience
All live chat solutions will have certain features. These features include chat monitoring, chat routing, chat transcripts and delivery status. As live chat becomes more popular in customer support, you will need to have more advanced features. These include Announcements and ChatBot, Callbacks, Operator selection, White label, Automatic greetings. Automatic routing. Vault.
The 5 Best LiveChat Alternatives for Your Business
There are several different chat software programs available depending on your needs.
HappyFox Chat Review
Looking for a powerful, yet affordable, chat software? 
The feature-rich, customizable, and mobile-friendly chat software from happyfox.com can help your business provide better customer service.
Call Tracking
The chat software for websites from Happy Fox includes features like automatic greeting messages, message templates, custom agent fields, location based targeting, and more.
Integrate
With integrations for over 25 different apps, the chat tool from Happy Fox is sure to work well with your workflow. Some of the most popular options include Facebook, Twitter, and Gmail.
The integration of our chatbot with live chat can help automate certain tasks that your agents are performing.
Prices
With its unique pricing model, LiveChat only charges for number of agent seats you have, not for amount of visitors. This is great for SMBs, as well as enterprise companies. Their plans start at $29/month for 500 conversations and go up to $299/mo for 20,000.
You can test out all of HappyFox's premium chat services for free for 14 days.
Bold360 Review
With Bold360, you have access to powerful tools like live chat, email and phone support and you also get in-depth customer insights.
With bold360, you can immediately see which of your agents are doing well and which need work.
Key Benefits
Bold360 provides many features that are customizable to your brand, such as geo-targeting and offline forms. Proactive chat allows you to engage with customers before they even start a chat session, and transfersrouting ensures that chats are always handled by the right agent.
Integrate
While the lack of integration options may turn some away, it does offer integration with popular help desk tools, like Zendesk, Salesforce, and ServiceNow. This collaboration allows for better communication between sales and support teams.
Prices
There is no trial, but there is a 30-day money back guarantee.
Zendesk Chat Review
Zendesk is a company that provides a chat service to help companies provide customer support.
Using your WordPress website, you can add a live chat widget from zendesk.com. This lets you easily chat with your customers, and you can easily track these conversations by converting them into support tickets for your team.
Features
Third-party integrations
Some of the most popular integrations with Zendesk include team viewer, big commerce, and nice reply.
The chat tool from zendesk integrates with other zendesk products, such as their support and knowledge base. This makes it easy for you to keep track of all your customer interaction across various platforms.
Prices
If you're just getting started with live chat, the "lite" version of zendesk is a good option. It's free, and it comes with all the essential features you need to get started.
With prices starting at just $14/month, it's easy to see why so many businesses are choosing to use Zendesk chat. And with their free trial, you can test out the service before you commit.
Chatra Review
With multiple browser, desktop and mobile applications, it allows for seamless communication between users.
With chat app, you can message anyone, anywhere, anytime. The interface is clean and simple, and the app is available to download on iOS and Android.
Unique Features
Some of the standout features of Chatra include unlimited concurrent chats, a multilingual chat widget, offline messaging, typing indicators, and read receipts.
Integrations:
In addition to integrating with platforms like Salesforce, Zendesk, and Hubspot, you can also integrate with other apps with tools like zapier.
Price:
With pricing starting at just $15/mo, you can sign up for Call Logic with just a couple of clicks. And, if you're only looking to use us for one agent, you can sign up for our 30 day free trial.
SnapEngage Review
The feature-rich, easy-to-use, and scalable platform of ClickDesk makes it the perfect tool to increase conversions, improve customer service, and grow your business.
Unlike most other chat tools, the experts at Snapengage will help you set up your livechat widget. This is especially helpful for those who aren't familiar with setting it up.
Key benefits
SnapEngage is a great chat tool for HIPAA-compliant organizations. The setup is easy and customization options are plentiful. You can also automate chats and keep transcripts for future reference.
Our integrations:
With 10 different integrations to choose from, it's easy to integrate your workflow with SnapEngage.
Some of the most popular integrations with RingCentral include JIRA, Microsoft Dynamic, and BaseCamp.
Price:
The monthly cost for using SnapEngage is $16.00 a month, per user. There is no free trial.
(Source)
HelpCrunch Review
HelpCrunch is a full-specter customer service platform with omnichannel live chat and a no-code chatbot being its hallmark features. With this toolset, your business can grow sales, encourage lead generation, qualify valuable leads, and provide proactive support.   
What makes it stand out?
Thanks to the omnichannel functionality, your correspondence won't be scattered. Social media messages, emails, live chat, or chatbot dialogues flow down into one single place – an intuitive shared inbox.  
The knowledge base is integrated right into the chat widget for more convenient self-service and faster issue resolution. On top of it, the widget has a user-friendly design allowing customers to start a dialogue and choose an alternative way of contacting the team.
Integrations
Connect HelpCrunch with Zapier, Slack, WordPress, and other popular tools with ease. Plus, the platform provides seamless API integration. 
Prices
There are 3 pricing tiers: Basic – $12/mo, Pro – $20/mo, and Unlimited – $495/mo.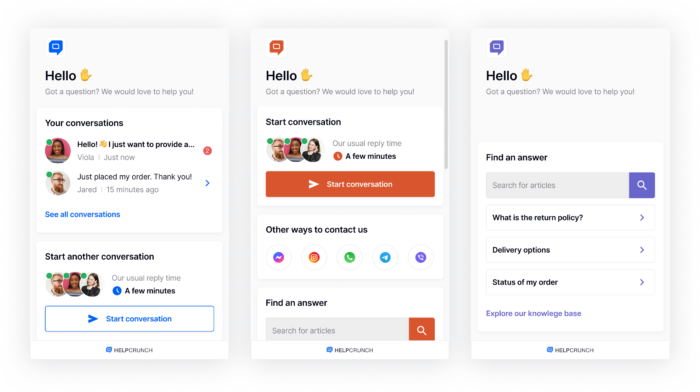 Live Chat Software

Review – Olark

If you're looking for an easy-to-use, yet powerful, chat tool, check out Olark. It integrates seamlessly with several of the most popular business tools, including HubSpot's free CRM, Shopify's ecommerce platform (and many others)

Key benefits

One of the coolest things about using online chat software is being able to customize the form fields that visitors fill out. With other solutions, you can only collect basic information like name, email, and phone number. With oLark, you can gather more information, such as their address, order number, and reason for contacting you.

Connect to

With 15+ integrations, it's easy to integrate your chat platform with your current website. You can also easily add a plugin to your ecommerce site, like WooCommerce, so your customers can easily chat with you.

Olark's Webhooks API and JSAPI can be used to integrate with your CRM system, help desk, or in-house system.

Prices

The starting price for Call Logic is $17/mo, and this price is for 1 user. For companies just starting out, this price may be too high. However, you can try out the free version of the software before committing.
Zoho SalesIQ Review
The appearance of this live-chat software is very clean and modern, including the user interface.
There's an app for iPhone and Android, and there's also a web interface.
Features:
With the power of Visitor Insights and Lead Scoring, you can not only provide your visitors with customized, localized, and translated live chats, but you can also provide them with a 360-degree view of your business.
Integrations:
With integrations to over 50 different tools, including popular ones like Salesforce, Facebook, and Shopify, it's easy to connect Zoho Sales IQ to your existing software.
With support for other zoho products like CRM, Support, and Campaigns, it's easy to provide your customers with a seamless, unified customer support experience that spans multiple platforms.
Pricing:
The monthly subscription fee for SalesIQ is $19.00. There is a 30-day trial available for new customers.
You can test out the free trial of Zoho's sales intelligence software.
You can try out all of the features of Zoho Sales IQ for free. The user interface is intuitive and easy-to-use, and you can easily monitor website visitors in real time. You can see which pages are most popular, and you can even chat live with site visitors to answer questions and encourage them to buy.
Nextiva Chat Review
If you're looking for a company that can help you with all of your technology, including your telephone system, then check out Nextiva. Their services are designed to help you improve your business, increase sales, and deliver better customer service.
With LiveChat, you can track visitor activity, view real-time reports and chat with visitors. This lets you see where things can be improved and where agents are excelling.
Features:
Nextiva Chat is a great tool for businesses because it offers many features that are beneficial. Some of these features include unlimited chat history, an internal wiki, and the ability to convert chats to cases. This tool is also great for businesses because it offers an internal chat feature.
Apps:
It's compatible with a variety of third-party tools, including Microsoft Outlook, Microsoft Office 365, and Microsoft Azure Active Directory.
Price:
Nextiva's pricing is very affordable, starting at just $25.00 per month per agent. They also offer a free trial so you can test out their product to see if it's right for you.
The $25.00/month/agent price includes unlimited minutes, 3-way conferencing, and 24/7 support. The free trial gives you 30 days to test out the product. The interface is user-friendly and makes it easy to chat with customers.
Conclusion
If you're looking for a more convenient, faster, and overall better customer service experience, then look no further than live chat software for your website. This technology is revolutionizing the way businesses communicate with their customers and there are plenty of reasons why you should use it on your own website. So what are you waiting for? Invest in live chat software today!
---
Need Help Automating Your Sales Prospecting Process?
LeadFuze gives you all the data you need to find ideal leads, including full contact information.
Go through a variety of filters to zero in on the leads you want to reach. This is crazy specific, but you could find all the people that match the following: 
A company in the Financial Services or Banking industry
Who have more than 10 employees
That spend money on Adwords
Who use Hubspot
Who currently have job openings for marketing help
With the role of HR Manager
That has only been in this role for less than 1 year
Just to give you an idea. 😀[/sc
Editors Note:
Want to help contribute to future articles? Have data-backed and tactical advice to share? I'd love to hear from you!
We have over 60,000 monthly readers that would love to see it! Contact us and let's discuss your ideas!