Despite its reputation, outbound marketing proves to be effective up to this day.
Outbound lead generation is using methods like TV and radio ads, press releases, and billboards in showcasing your products and services. The primary purpose of using this method is to stimulate and create awareness. It is also to generate interest in a product or service to build a sales pipeline.
But using this method doesn't single out prospects from a general audience. To reach out to potential customers quickly and proactively, you will need to use outbound lead generation.
A team will reach out to your target market and connect with potential customers by using methods like cold emailing, cold calling, and social media prospecting.
The lead generation team then hands over the leads to the sales team for conversion after successfully winning the lead's interest.
Outbound lead generation is not an easy task–it requires time and effort. It also comes with a high cost.
According to a recent debate about the relevance and efficiency of outbound lead generation, it shows that outbound lead generation methods work effectively when combined with modern tactics and technologies.
outbound lead generation method works effectively when combined with some of today's more modern tactics and technologies
Click To Tweet
Advantages of Outbound Lead Generation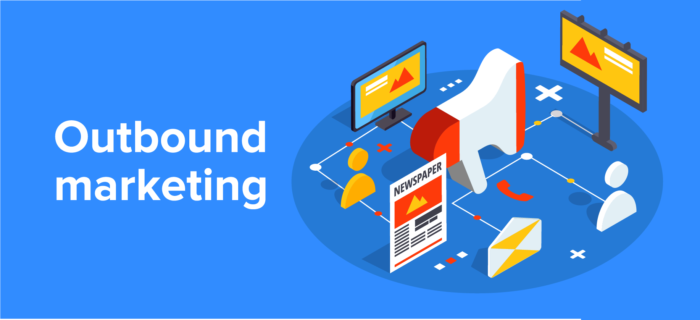 (Image Source: Appvizer)
1. It Shortens Your Sales Cycle Time
If you want to generate leads quickly and save time, pick up the phone, or send cold emails to prospective clients. This method is proven to be effective for start-up businesses.
Cold calling and emailing is challenging. However, if you follow the rules of successful cold calling, you're bound to get great results.
2. It Builds Your Brand Awareness Quickly
Using outbound lead generation, you can create reach by combining both outbound and inbound your brand awareness as quickly as you want. You don't even have to wait for your website to rank or for your content to get shared.
3. It Attracts New Market
With outbound lead generation methods, you can attract a new market.
A recent survey conducted by Moz and Fractl revealed that 53.5% of consumers claim that direct mail is an effective way of attracting customers.
This is just one outbound lead generation strategy. Now imagine the population of people you can reach when you combine all the strategies.
53.5% of consumers claim that direct mail is an effective way of attracting customers
Click To Tweet
4. Personal Approach is the Best
It is best when you initiate a face-to-face conversation with a prospect. Because in the process, you elicit spontaneous reactions from them and determine their mood and interest from their body language.
5. You will Learn from Your Sales Team
Your sales team is the face of your business. They are the ones who face and interact with your clients personally.
It is, therefore, essential to collaborate with them for a successful outbound lead generation strategy.
Ask them questions about your customers. Ask questions like what they like, how they behave, and anything else that can provide you with a better understanding of how to approach them.
Benefits of Using Outbound Lead Generation
For your team to generate sales, you will need a fully functional pipeline. Below is a list of benefits you can enjoy when you have a well-trained outbound lead prospecting team:
Your pipeline will grow at a rate that's faster than with inbound marketing

Explore different markets with greater efficiency

Your sales team exposure and versatility will increase greatly

Ability to outsource low value and repetitive work from your sales team

It will have a positive impact on your sales result

Acquiring more information and market intelligence which will enable you to create a more adequate prospect profile

Get a chance to improve your target and shorten your sales cycles through the one on one interaction with your contacts
How To Effectively Use Outbound Lead Generation
To achieve the best results with your outbound lead generation, you need:
Create an accurate buyer persona. It is vital as it can either make or break your campaign. With accurate and clear customer profiles and buyer personas prepared, your campaigns will produce the intended results and a positive ROI.
For you to successfully create an accurate buyer persona, you must find answers to the following questions:
What do my customers have in common?

What does our customers gain by buying from us?

Who are the most important decision-makers during purchase?

What are the common pain points and which points trigger the most sales?
In addition to these questions, you also need to have:
An updated and accurate list of prospect emails

Targeted content

A multi-channel approach

A data-driven lead nurturing approach

Effective campaign management and automation tools
The channels used in outbound lead generation that deliver the best results for b2b are:
1. Emails
Initiating contact
Nurturing leads that are generated from other channels
Following up with prospects and keeping them engaged
The distribution of contents
Proper handling of queries and responding to prospect requests and inquiries
Email is a reliable way to generate a high ROI. There is even a report that some sources record an ROI of 3,800%.
Email is a reliable way to generate a high ROI. There is even a report that some sources record an ROI of 3,800%
Click To Tweet
As sweet as this might be, you should bear in mind the fact that this can only be achieved if you do the following:
Schedule and send emails regularly
Use reliable automated marketing platforms for your campaigns
Create emails with a high open-rate
Have a catchy subject line which should create curiosity
Your email content should interest your target group
Use a design that balances visual graphics and personal touch
Exit with a closing line that is a strong call-to-action
2. Phone Calls
Makes it possible to keep engaging with prospects that are generated through inbound channels
You are able to collect and verify buyers' information in real-time
Helps you ensure prompt response to queries from prospects
Allows for immediate lead qualification
Helps you understand prospects' pain points much better and suggest valid solutions
RainGroup Sales Research center recently polled 488 buyers drawn from 25 industries, holding roles such as directors, managers, and VP. The results of this study showed that:
71% preferred to hear from sellers when they are looking for new ideas.

62% of the respondents prefer to hear from sellers when looking for a solution to a problem.

And only 2% of the respondents said they don't prefer to engage with sellers during the buying process.

While 49% prefer to be contacted by phone–this varies among industries. Most tech buyers prefer the phone (54%) as compared to 40% in finance and 50% in other services.

And 57% of VP/C-Level buyers preferred to be reached by phone as well.
This study proves that while the majority of sales meetings are arranged via cold calls, the sale could die at the presentation stage. Buyers claimed that up to 58% of sales meetings they attend are not valuable to them.
Buyers claimed that up to 58% of sales meetings they attend are not valuable to them
Click To Tweet
3. LinkedIn
It is also a fact that about 80% of b2b leads come from LinkedIn. This, therefore, makes the platform a must-use for the following:
Engage prospects through LinkedIn connections.

Use LinkedIn profiles and online activities to map target accounts.

Join groups on LinkedIn to gain access to a bigger pool of prospects.

Use the search function to target and access specific segments.

Use emails and direct messages to reach prospects directly.
And to leverage LinkedIn for outbound prospecting you need to:
Create a professional-looking LinkedIn profile and a business page.

Fill out your details and be sure to optimize your page with visuals and keywords

Join groups on LinkedIn

Make sure you connect with people with whom you share common interests

Then, start publishing content on the platform

Add your LinkedIn information to your email sign off

Add a widget to your website

Promote your posts to your Twitter and Facebook followers
Outbound Lead Generation Strategies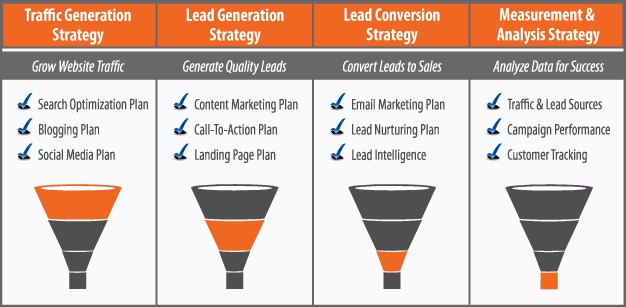 (Image Source: Iwon)
Without sales, your company won't be around very long. It's great when an inbound lead comes to you, but you often have to take action and generate your leads. This is known as outbound lead generation. Outbound lead generation is the process of initiating contact with prospects to communicate your sales message to offer your product or service.
Each of the most prominent methods of outbound lead generation has pros and cons to them. These methods must be properly executed with a CRM for sales, and are best used under specific circumstances.
Using proper metrics and analyzing key data regularly is going to help you to cultivate the most effective campaign, regardless of which tool you use.
So, what are the most prominent forms of lead generation, and which ones are best?
1. Word of Mouth
Word of Mouth marketing strategy or referrals is a way to gain customers through other customers.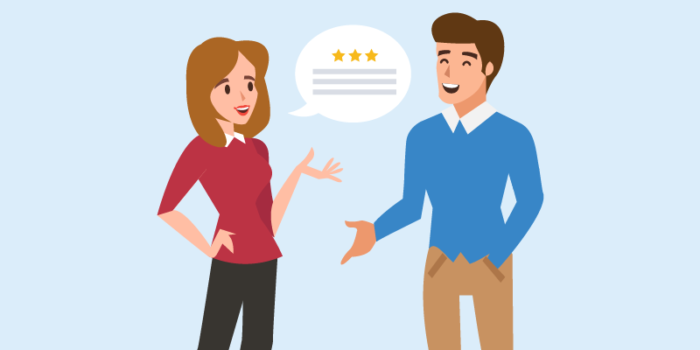 (Image Source: Click Dimensions)
It can be a lot easier to implement this strategy if your company can find satisfied customers and offer them promotional referral opportunities.
You need to use a point of sales inquiry to find out how new customers heard about your company. This will help you determine which methods are best or have worked for your business.
To effectively carry out a word-of-mouth campaign, you have to make direct contact with your customers. You can make use of focus groups–build positive relationships with them, and then give out incentives to those customers when they share information about your company.
This strategy is the best when your company wants to raise awareness about good customer service, spotlight satisfied customers, and introduce new products.
Find out how to get referrals here.
2. Cold Email Campaign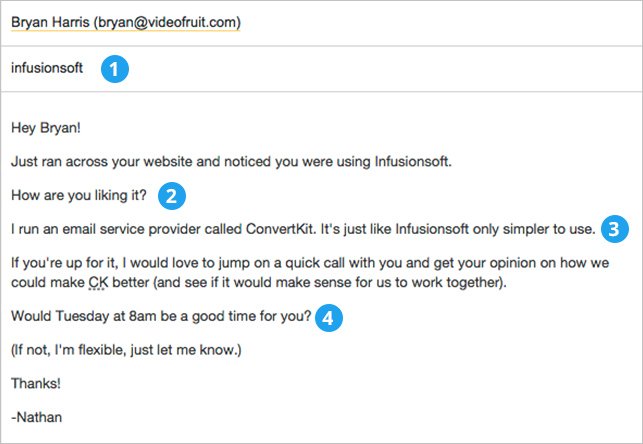 (Image Source: Criminally Prolific)
This is one of the most cost-effective outbound marketing channels for B2B companies. By using cold email as a marketing channel, you can build prospect lists and market to hundreds or even thousands of people.
When doing cold email outreach, make sure that you include some form of personalization so as not to jeopardize the goal. And make sure you do not send the same general message to everyone. If you do this, your prospects server might label your message as spam.
Always review your list to make sure that you have the correct contacts included. And before you starting sending emails, make sure that the data you have has been thoroughly screened and error-free.
Use tools like LeadFuze to find your prospects. Once you've found a contact and their email address, you should verify your data before adding them to your campaign.
A helpful tool by LeadFuze is the market-based search.
Need Help Automating Your Sales Prospecting Process?
LeadFuze gives you all the data you need to find ideal leads, including full contact information.
Go through a variety of filters to zero in on the leads you want to reach. This is crazy specific, but you could find all the people that match the following: 
A company in the Financial Services or Banking industry
Who have more than 10 employees
That spend money on Adwords
Who use Hubspot
Who currently have job openings for marketing help
With the role of HR Manager
That has only been in this role for less than 1 year
Just to give you an idea. 😀
3. Inside Sales Representatives
They are a hired sales team of sales experts. They are usually less expensive than outside sales teams because they don't have to travel. The inside sales reps make use of email, telephone, and the internet to sell products and services to customers.
To maintain an effective pipeline, you should record your sales activities and follow up with prospects to move them along your sales process until they become customers. For this to work, you have to manage your time and your prospects with a CRM for sales.
To maintain a healthy pipeline, you must keep track of your deals and work them accordingly. Bear in mind that inside sales representatives can only be effective if they have proper tools at their disposal.
4. Social Media
Using social media as a lead generation tool is indeed a fantastic and very effective lead generation strategy. It involves using platforms like Facebook, Twitter, Instagram, etc., to establish contact with prospects and initiate communication.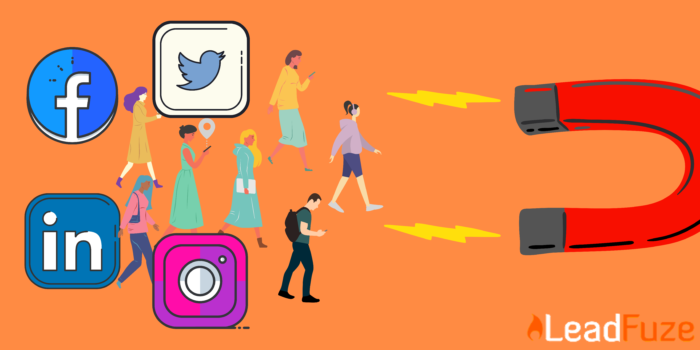 Take note that each platform has a different demographic of users. And your business has to identify which users you want to target and then cultivate social media campaigns on those specific platforms.
Also, avoid posting at inappropriate times because each demographic on each social media platform has specific timelines when using the site–those are the times you should post.
5. Direct Mail
Direct mail requires you to send a piece of physical mail to a prospect by using a mail provider.
Physical mails have very high open rates. This is why a direct mail campaign can generate a high ROI if executed in the right way.
6. Trade Shows
A trade show is simply an exhibition where businesses of the same industry come together to learn, find products to buy, and promote their products and services.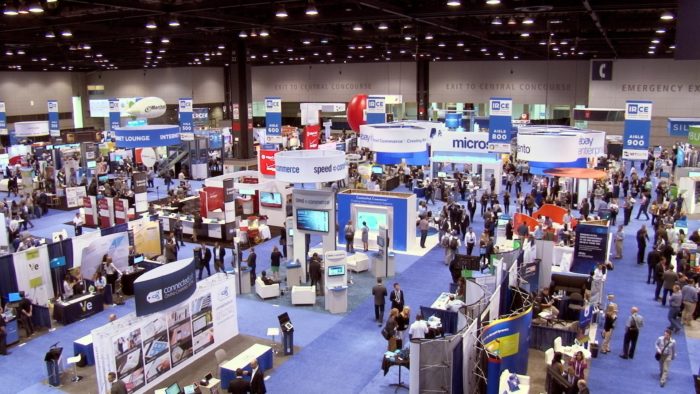 (Image Source: Onsight)
It is important to note that trade shows can be costly to attend or even participate in. Therefore, when you do attend one, be sure to put on an amazing show.
Before getting into a trade show, you should have a goal to measure against, so you can determine whether your strategy was a success or not.
7. Paid Advertising
This is done by setting up a campaign on an ad network of your choice and pay for traffic. The largest ad platforms include Facebook, Google, Twitter, Outbrain, and Taboola. With billions of daily users, you can use these platforms to send tons of traffic to your website.
To be profitable in your chosen platform, you will need to learn outbidding, targeting, and keyword researching. Choose the sites that you have already confirmed as typically visited by warm leads.
Make sure that your ads are relevant to your target audience. You could find an experienced paid advertising expert to help you set up and run your campaigns.
Inbound Vs. Outbound Lead Generation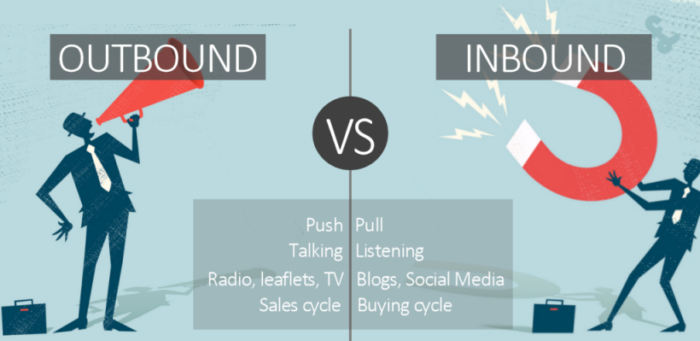 (Image Source: Quora)
Outbound lead generation is the process of establishing contact with prospects to introduce your sales message to them with the intent of offering your product or service.
With inbound lead generation, it requires allowing your prospects to come to you either through SEO or any method of inbound marketing.
A typical example of inbound lead generation is content marketing. In this case, you have to publish relevant content to attract your target audience to your brand's website.
One of the main challenges you might face in inbound lead generation is standing out from the crowd. Even if you succeed in providing compelling content and adopt paid ads, it might still be difficult to remain visible amid the competition.
Similarities Between Inbound and Outbound Lead Generation

Despite the differences between them, inbound, and outbound lead generation methods share the same goal. The desired outcome for both approaches is always mainly to generate leads. They also both function most effectively when you set a clear and specific target audience. This is also true when you have a good knowledge of where your audience is and how you can reach them.
Both inbound and outbound approaches are based on incentive and regardless of which method you use, every initiative requires some form of lead nurturing.
While outbound lead generation can produce results quickly when done correctly, inbound lead generation usually takes longer to implement but can potentially lead to more opportunities over a longer period.
The most efficient lead generation strategies utilize a combination of both inbound and outbound approach. But the most important thing is to understand your target audience so you can leverage the most cost-effective practices to reach them.
Conclusion
Although inbound marketing is a reliable approach to marketing in the world today, it doesn't mean that outbound strategies are ignored. The combination of inbound and outbound lead generation strategies allow you to develop a more complete plan that maximizes brand reach and exposure.
Outbound lead generation may seem to be going out of use and is no longer the primary marketing technique. But, it will always remain an effective way to reach people and generate leads.
But when both techniques are used together, they can propel the growth of your business tremendously.
Editors Note:
Want to help contribute to future articles? Have data-backed and tactical advice to share? I'd love to hear from you!
We have over 60,000 monthly readers that would love to see it! Contact us and let's discuss your ideas!