Strong and interesting sales email subject lines are important.
This is the most significant statement in the entire email. That's why it's something that should be discussed in each productive sales meeting.  If you do not invest the time and effort needed to create something appealing, you may anticipate receiving average results from your online marketing campaigns. Why? Due to the fact that no one will read your emails.
Why is it necessary to write effective sales email subject lines?
Well, the answer is simple. they determine the open rate of your emails. According to statistics,  47% of people will check an email just depending on the subject line.
Clearly, if the prospects do not open your emails, you will be unable to sell them on the content included therein.
However, if your sales email subject lines strike, you'll get a foothold—and the opportunity to bring them further towards becoming a client.
The issue is that sales email subject lines are notoriously difficult to nail.
Each day, the typical individual receives almost 100 emails. Their email is constantly filled with anything from team announcements and urgent client demands to newsletter subscriptions and password recovery requests.

That's a lot to go through, and chances are your email will be ignored unless it's a priority.
That is why catching your prospect's interest with a sales email subject line that piques their curiosity enough to continue reading may be difficult. 
We're here to help you in creating an attention-grabbing subject line for your sales email.
6 Elements that Makes a Good Sales Email Subject Line
1

Length
The optimal length of sales email subject lines varies by device type, so bear that in mind when you write the ideal one-liner for any sales email. The max sales email subject line length is typically around 60 characters before it will be truncated by the email provider.
Based on Marketo's statistics, 41 characters–or seven words–seems to be the optimal length for sales email subject lines in 2019, which is around ten characters fewer than the typical subject line.
2

Keywords
Keywords are also another method by which prospects arrange and filter their inboxes. By using certain keywords in your sales email subject lines, you may increase the likelihood that it will be placed in a folder that the prospect will read later.
While there is no magic method to determine which filters and rules your prospects have applied, with some innovative thinking and A/B test, you can determine which phrases have a greater impact on your open rates than the others.
3

Value
Consider the value that your service or product may provide to targeted buyers. Assess both the concrete and intangible benefits your product may provide for them.
Structure your sales email subject lines as a value-add to ensure that recipients understand the benefits of reading and interacting. Include useful hints, resources, and other items that may prove beneficial in the future.
4

Offer
If you're writing a cold email to an unknown recipient, you need to have a subject line that conveys value and explains what they're about to get. Attract the reader's attention by offering them something useful.

Whether you're offering a speaking engagement, a discount, or a service, make it very clear in the subject line what they're getting. Can you assist the prospect in achieving their objectives more quickly? All of these alternatives add value to the prospective consumer and make for compelling sales email subject lines.
5

Urgency
Given that time sensitivity is a typical filter that most of us apply to prioritize our email accounts, it's natural that our clients' inboxes work similarly. Even if your prospect isn't deeply interested in buying a product right now, there is some value in informing them that they may lose out if they don't check out the limited-time-only deal. While instilling a sense of urgency is a tested strategy for getting your emails received and read, do not rely on it alone. You may endanger your potential by making continuous frantic requests.
6

Personalization
Including the name of the prospect in your sales email subject lines is usually a good idea. Additionally, customizing the sender profile is essential since individuals like to hear from, speak with, and purchase from other individuals, not from large brands and businesses. Instead of using a generic email address such as sales@imtryingtosellyousomething.com, transfer your sales emails from your own email address or a pseudonym that contains your first name to make your message sound more human. 
50+ Best Sales Email Subject Lines
Creative Sales Email Subject Lines
To stand out in a reader's email, you must go against the tide and defy their assumptions. If they're anticipating another dull pitch, address that concern with a creative subject line. Here are some of the best ones: 
OpenTable:

"Licking your phone never tasted so good."

Warby Parker:

"Pairs nicely with spreadsheets."

Travelocity:

"Need a day at the beach? Just scratch n' sniff your way to paradise…"

Function of Beauty:

so long, milk(shea)ke 👋

Shinesty:

Rum-pum-pum-pump up the holiday jams

Google sees smartphone heroics in Oreo. It's The Daily Crunch.

Sock Fancy:

You Doughn't Want to Miss Out on This Pair! 🍪 

"Get Ready. Keep the Pie Off Your Thighs Returns."

TicTail:

"Boom shakalak! Let's get started."

The Muse:

"We Like Being Used"
Sales Email Subject Lines for Curiosity
When we encounter a difference between how much we already know and whatever we want to know, our curiosity fuels our need to gain new information in order to close that gap. The following are some of the curiosity subject lines that could help get your messages opened:
Allbirds:

Have You Seen Sheep Dance?

Johnny Cupcakes

: When life gives you cupcakes… 

Manicube:

"*Don't Open This Email*."

Refinery29:

"10 bizarre money habits making Millennials richer"

Thrillist:

"What They Eat In Prison"

The Hustle

: "A faster donkey."

Glossier:

You can't come in

Function of Beauty

: Your hair care routine is missing something… 

Shinesty:

You've never seen a suit this color…

Death Wish Coffee:

Is it your lucky day?
Promotional Sales Email Subject Lines
If you're looking to increase sales via email, you won't be disappointed with promo subject lines. They work best when they are customized, surprising, and timely.
🔥 Hot freebie alert! 15 free gifts, you pick 5.

United by Blue:

This is Not a Sale. It's a Celebration. 

Dollar Shave Club:

Save money. Don't leave the couch. 

Share the love – refer someone and get the next service FREE!

Coupon Code for $25 off $100 purchase

Guess: "25% off your favorites"

La Mer:

"A little luxury at a great price."

THE ICONIC

: The sale's on SALE! 😱 

Rapha:

"Complimentary gift wrap on all purchases."

Seafolly

: "A new product you won't pass on."
Personal Sales Email Subject Lines
Including a recipient's name in the subject line of an email was originally believed the end-all of customization.  However, it is no longer sufficient to address a recipient immediately in the subject line.  Instead of that, you must speak to your receivers as if you have known them for years. Several of the greatest examples are as follows:
Guess:

"Mary, check out these hand-picked looks."

The Hustle:

"I love you."

Birchbox:

[NAME!] A Free Birchbox for You When You Gift 

Rent the Runway:

"Happy Birthday [NAME] – Surprise Inside!"

ColourPop Cosmetics:

[NAME], you don't want to miss this…

Fenty Beauty:

Only the best for you, [NAME]

James Malinchak:

"Crazy Invitation, I am Going to Buy You Lunch…"

Mary Fernandez:

"Are you free this Thurs at 12PM PST? 

Harry's:

"Two razors for your friends (on us)."

Kimra Luna:

"I didn't see your name in the comments!?

Fabletics:

Hey [NAME], we picked these for you!

Vinomofo:

Can't decide, [NAME]? Get Shiraz & Co NEW mix! 
Sense of Urgency Sales Email Subject Lines
We all have a fear of losing out, whether we are marketers or consumers.  Few individuals will make a purchase until they are forced to, which is precisely the very reason why last chance sales email subject lines work. Here are some of the finest examples:
Beacon

: "48 hours left: 1 year of Beacon Unlimited for free"

"Should I stay, or should I go?"

LAST CHANCE! 68% off sale ends today

[NAME]—"Stop EVERYTHING! Up to 50% off ALL Dresses 🚨👗"

"Last chance: ___ closes tonight (no exceptions)."

Hotwire: Exclusive — "Members can rent a car for less today only!"
PayPal:

Theodore — "Last days! Enter for a chance to win a $10k getaway."

"Weekend Only: Get this …"

Urban Outfitters:

Clock's ticking ⏲ 50% OFF 500+ items

west elm:

Ho Ho HURRY. There's 20% off Christmas decorations ⛄
10 Follow up Sales Email Subject Lines
Cart abandonment is such a pervasive issue for online stores.
With up to seven out of ten visitors abandoning their carts before checking out, there is a huge opportunity to recoup a previously lost sale.
Writing an effective follow-up email subject line may assist spark your recipient's curiosity and enhance the likelihood of receiving a response. Additionally, it allows you to address their wishes and desires. If you own a retail business, sending a follow-up email offers value and helps your consumers navigate their buyer journey.
Additionally, the wording you choose in your subject line may make you appear more personable rather than sales-driven or robotic. In general, a good follow-up email subject line can assist keep your email out of the spam, junk, or trash folders of your receiver.
Here are some examples of follow-up email subject lines that clinched the deal.
"Can you help me with this?"

"Just left you a voicemail."

"I forgot to mention…"

Tuft & Needle:

"You Should Sleep on Big Decisions."

Vinomofo:

"The 2nd rule of Vinomofo: never leave a wine behind."

Fab:

"There must have been a mistake; you left this behind."

"Pleasure chatting with you, [name]."

"Missed you again."

Too Faced:

"All You Have To Do Is Get What You Want"

Shinesty:

You left your stuff at our place… 
10 Sales Email Subject Line Examples for Meeting Requests
The ideal subject lines for meeting requests might be a little challenging at times. It is very dependent on why you would want to meet, who you want to meet with, and when you want to meet.  
This delicate line between demanding and demonstrating the appropriate level of respect can be challenging for some people. 
The subject line itself should be simple, concise, and comprehensive. A smart suggestion is to include a tentative meeting date in the subject line. Bear in mind that the information should be included in the email's body; the sales email subject line is simply that: the email's topic.
The following is a list of the ideal subject lines for meeting requests based on the circumstance.
Hello, (company name)! Meeting request in your inbox.

Free coffee from our side: lets Meet

You are invited to meet us tomorrow for breakfast

Requesting to meet on Friday this week

Do you have any time to meet this week?

Appreciated that you have given time from your busy schedule. Meeting fixed

We are requesting you to attend a meeting on Saturday.

Please confirm your presence for an urgent meeting

Let's walk through the project today afternoon

We value your time, just one more hour for the deal to close.
How to Build a List for Cold Emailing?
Creating a list for cold emailing can be time-consuming and challenging. That is why you should invest in lead-generating software that generates highly targeted lists. Fortunately, LeadFuze can assist you in simplifying the process.
LeadFuze may assist you in narrowing down your search in a variety of ways. It enables you to locate businesses or individuals that might benefit from your brand's offerings.
This application enables you to purchase tailored leads for whole market categories or for specific accounts or people. It is most frequently utilized by marketers, recruiters, and salespeople when constructing their ideal lead list.
LeadFuze can provide you with the most recent leads. Automating prospecting activities has never been easier!
LeadFuze is an artificial intelligence-powered lead generation solution that integrates with Fuzebot.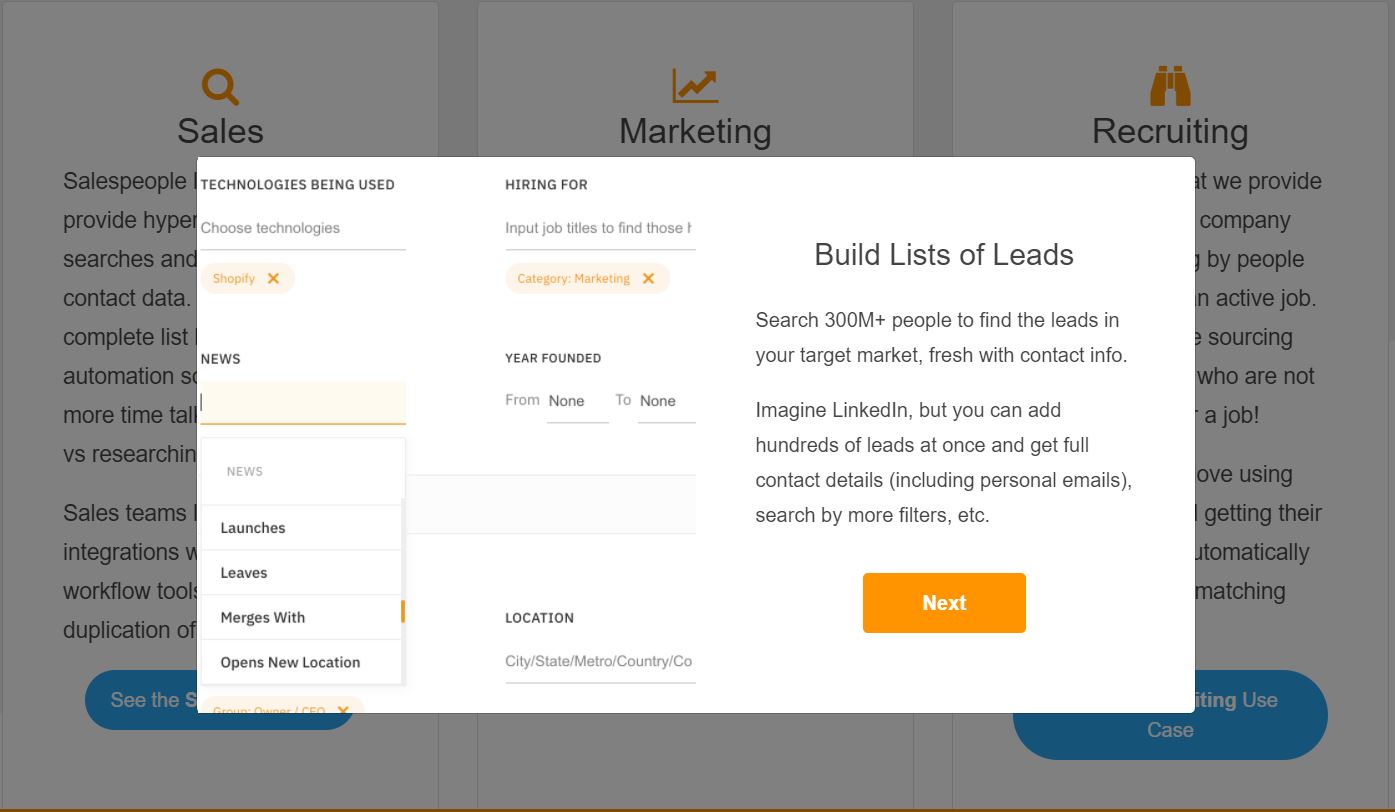 Users submit basic information about their prospective buyers (industry, employee size, role, and keywords), and Fuzebot generates thousands of targeted email leads that fit those precise criteria.
Additionally, utilizing Leadfuze's cold email interface, you may automate the production of targeted email leads to agency prospects that you add to a list.
Once the funnel is established, more emails will be sent. Do you like to receive 50 new leads every day through email? 1000? Perhaps a tad bit more? Nothing is impossible.
Those who do not answer will automatically get follow-up emails from your email account, while those who do will be removed from further automation.
All that is required is that you react to people who have previously expressed an interest in your business.
It is possible to automate the entire marketing process. Leadfuze generates leads at a lower cost than advertising and other methods.
The strict architecture that underpins LeadFuze automates the process of producing high-quality leads.
There is no reason to use a third-party verification product or service now since LeadFuze performs this function automatically.
You can even automate list creation; at that point, you can sit back and watch as Fuzebot, LeadFuze's artificial intelligence helper, automatically adds new sales leads that match your criteria.
Additionally, it can feed them into your CRM or work process devices, therefore initiating outreach initiatives. As a consequence, your online marketing efforts are amplified and pushed to new heights.
Allow Fuzebot to automatically generate your lists, including fresh sales leads that fit your criteria.
Conclusion
With the help of these 50+ best sales email subject lines, you should be able to create effective and captivating emails that will get more opens. We've compiled a list of different examples in this article for your convenience; hopefully, one or two can inspire you! 
Editors Note:
Want to help contribute to future articles? Have data-backed and tactical advice to share? I'd love to hear from you!
We have over 60,000 monthly readers that would love to see it! Contact us and let's discuss your ideas!