These sales statistics can lead to tactical changes in your sales process.
As an analytical person, I'm always looking for data to confirm assumptions.
Understanding these sales statistics can help you make critical decisions, but ultimately you are going to need to test what works for you.
Whether you're trying to sell via e-mail, calls, or social media, there tends to be an awful lot of guesswork involved.
Trying to get someone's attention, especially in a "cold calling" situation, is a tall order with a relatively low success rate.
But believe it or not, there are a few tricks to it that can dramatically improve your success rate.
We're going to break down some sales statistics for you, and explain how you can use them to become a more successful seller.
Now, I might be biased, but one of the best things you can do to improve your own sales statistics, is implement a lead generation software that helps with your sales prospecting. This is exactly why we exist. 
LeadFuze is a software solution that helps you build lists of accurate leads automatically, while integrating with sales outreach tools to allow you to contact those freshly verified leads.
Now, before we break things down, here's an infographic to give you a high-level overview:
Sales Stat #1: Most e-mails are opened at the end of the work day
According to Mailchimp, the majority of e-mails are opened between 2 and 5pm. That means if you send your sales e-mails out first thing in the morning, they're getting buried under potentially dozens of other things before your target even gets to it. By then, they may just skip it.
Sales Stat #2. Tuesday e-mails have the highest open rate
You're probably going to be sending out e-mails just about every day of the week, so this may not be hugely important. But an Experian study on e-mail marketing shows that there's something about Tuesday that gets people opening their e-mails. Maybe they're making up for being so sluggish on Monday. You can use this information to double up your e-mail marketing on Tuesday, or perhaps to send the extra-important stuff that day.
Sales Stat #3. 35% of people decide whether or not to open an e-mail based solely on the subject line
This is actually good news for you if you're trying to "cold call" for sales via e-mail. While some people may delete e-mails from anyone they don't know, some can be enticed by a subject line that interests them. That makes this next point very important:
Sales Stat #4. E-mails with long titles are e-mails that stay unopened
Of course you want to put as much info out front as possible, and so you might think the best way to go is to load up your subject line with details. Actually, the opposite is true. The open rate on e-mails drops by over 60% when the subject line is longer than 3 words. Keep it short and concise, and also…
Sales Stat #5. Having the right keywords in your subject line is crucial
It can feel like desperate click-bait, but the reality is, words like "Alert," "New," and "Free Delivery" really do improve the clickthrough rate for B2B customers. Meanwhile, words like "report" and "learn" tend to turn people off.
Sales Stat #6. 57% of e-mail recipients will mark a message as spam, even if they know the sender
It's cold, but true. E-mail is easy to ignore, and "spam" is just e-mail shorthand for "not interested in this right now." Even if it's a buyer you do a lot of business with, even if it's personalized, they won't hesitate to throw it in the spam bin if it doesn't resonate with their needs right now. Even still, it's important to get your message in front of prospective buyers, because…
Sales Stat #7. Only 2% of cold calls result in an appointment
This may sound like a bleak figure, but what it means is it's important to warm up your leads before calling. Send an e-mail, a tweet, something to put you on their radar before you show up on their phone. If they have an idea of who you are and what you want, they're less likely to avoid your call. Which is good, because…
Sales Stat #8. The average sales rep spends 25 hours a month leaving voicemail
Given an average of about 70 voicemails left a day, and 60 seconds to do it (roughly 30 seconds to listen to a greeting, and 30 seconds to leave the message), that's roughly 25 hours a month, or 15% of a sales rep's total time. You should consider whether leaving voicemails is necessarily the best use of time, considering…
Sales Stat #9. Most of your voicemails go unreturned
According to RingLead, 80% of calls go to voicemail, and 90% of first-time voicemails go unanswered. There are ways to maximize voicemail returns, but one of the ways to make your voicemails more efficient is simply to shorten them. The Sales Hunter says the optimal voicemail length is between 8 and 14 seconds.
Sales Stat #10. The best hours to make calls or leave voicemails are at the beginning and end of the workday…
The best rate of return on voicemails comes between 6:45 and 8:00 am, and between 4:30 and 6:30 pm. Think of it this way. People are likely to check their e-mails at the beginning and the end of the workday. If your message is at the top of the pile at either of those times, you're in good shape.
Sales Stat #11. …but not Monday morning or Friday evening
The beginning and end of the workweek are not the most productive times on the schedule. Early Monday, people have too much to catch up with, and late Friday, they have too much else they want to get to. The last thing anyone wants to deal with at these times is a sales call. Respect that, and slide those in to other parts of other days.
Sales Stat #12. The average sale requires 5 follow-up calls
So let's say you actually have someone's attention. You've met with them, you've given them your best pitch, and they seem mildly interested. You follow up with them and don't really get much further. This is where about 44% of salespeople give up and move on. Don't be one of those people, because about 80% of successful sales came after 5 or more follow-up calls.
Sales Stat #13. 86% of how you communicate on the phone isn't about what you say
Only 14% of your phone communication has to do with the words you use. The remaining 86% is how you say it. With no way to communicate through gestures, smiles, or other non-verbal means, the tone of your voice has everything to do with what you're getting across to people.
Sales Stat #14. Sales reps who use social selling are 79% more likely to hit their sales goals than those who don't
This is according to a study that was done back in 2012, and social media has only continued to grow since then. E-mails and calls are still the most tried-and-true method, but if you're not including social as one of the tools in your arsenal, you're doing it wrong. In particular,
Sales Stat #15. 96% of sales firms use LinkedIn an average of 6 hours a week
It doesn't just have to be a way to contact people – sales reps can use LinkedIn to search for leads and research a company for a better insight to their needs.
Sales Stat #16. 77% of B2B buyers don't talk to salespeople without doing independent research first
This makes social selling an absolute must. Maintaining a social presence doesn't just pay dividends in terms of direct contact – in many cases, it's about putting information out there to be found independently. In many cases, their first impression of your business isn't from your first call.
Sales Stat #17. B2B Marketers have better luck using Twitter on weekdays
An Argyle study of Facebook and Twitter engagement showed that B2B Twitter users saw 7% better engagement on weekdays, while B2C has higher engagement on the weekend. Know who you're trying to reach before you decide when and how.
Sales Stat #18. Over 10% of sellers can trace 5 or more sales back to social media
They may not have been fully, start-to-finish social selling jobs, but social worked its way into these closed sales. Maybe the buyer became a warm lead through social marketing. Maybe the seller used LinkedIn to research the company and make a better pitch. Whatever the circumstance, today's most successful sellers are using social media in a variety of ways.
Sales Stat #19. 80% of organizations in 2012 said their sales teams would be more productive with stronger social media
Most companies now have people or entire teams on board to handle social media. In other words, it's unlikely to fall to individual sales reps. However, it's important to know how you can leverage the social media presence you do have. If your organization is making a strong push to improve its social media presence or running a special sort of promotion through it, be aware of that. It's possible your buyers may be familiar with the campaign without even making the connection to you.
Sales Stat #20. 84% of B2B buyers start their decision with a referral
It's simple. One of the best ways to convince someone that your organization does quality work is an independent vote of confidence from a trusted friend or adviser. This is a total team effort, as it requires  great customer service well after the sale is finalized, but it also highlights the importance of social selling, and maintaining an image of quality even while not actively engaged with a potential buyer.
Ready for More Sales Statistics?
For sales veterans, sales statistics may be uncomfortable to read through, but they reflect the cold hard truths that sales teams come across every day in their work.
Just remember, by avoiding these cold calling mistakes, you can regain the hours of productivity and money that you may have been losing out on.
Now, I'm going to break down some more sales stats specific to cold calling, cold email, and overall sales productivity. 
Calling Sales Statistics
Just when you thought this old school method was dead, the facts tell us a different story.
Cold calling has been a pillar of the sales industry for many years. It's just as important today as it was at the time of its inception. It's truly an art form; learning how to cold call like a pro takes time and knowledge. The following are some helpful tips to get you on the right track to being an effective caller.
1Nearly 100% of customer interactions happen on the phone. — Salesforce
There is nothing like a real-life human connection. Email is wonderful, but it doesn't begin to compare to the power of a phone call.
23 out of 4 managers will take action from a cold call or email alone. — DiscoverOrg
Give your prospects the information that they need to make an informed decision. Once you have successfully created value, your prospects will want to follow through by moving on to the next step of the process.
385% of potential customers are not satisfied with their experience over the phone. — Salesforce
First impressions are lasting impressions. Be prepared for every possible outcome that may take place on the call before the call even starts. This will ensure that your call is productive and will give off a sense of professionalism to your prospects and customers.
4Five years ago, the average voicemail response rate was approximately 5%, and it's falling. — InsideSales
And you can bet that that percentage has gone down even more since then. No one likes listening to their voicemails. Save yourself (and your customers) valuable time by getting them on the phone. This ensures that you will be able to address their questions and concerns in real time.
515% of the time sales reps spend at work is leaving voicemails. — Ringlead
Considering that you've just learned that the vast majority of people will not respond to your voicemails, you can start spending that 15% of your time doing more productive things. Does this mean that you should never leave a voicemail? No, sometimes it's necessary. It does mean that if there's a way that you can automate your voicemail messages, it's to your advantage to do so.
6Sales reps make about 52 calls each day. — The Bridge Group
That's a lot of phone calls, so it helps to make them as efficient as possible. You can use sales software to help to automate this process.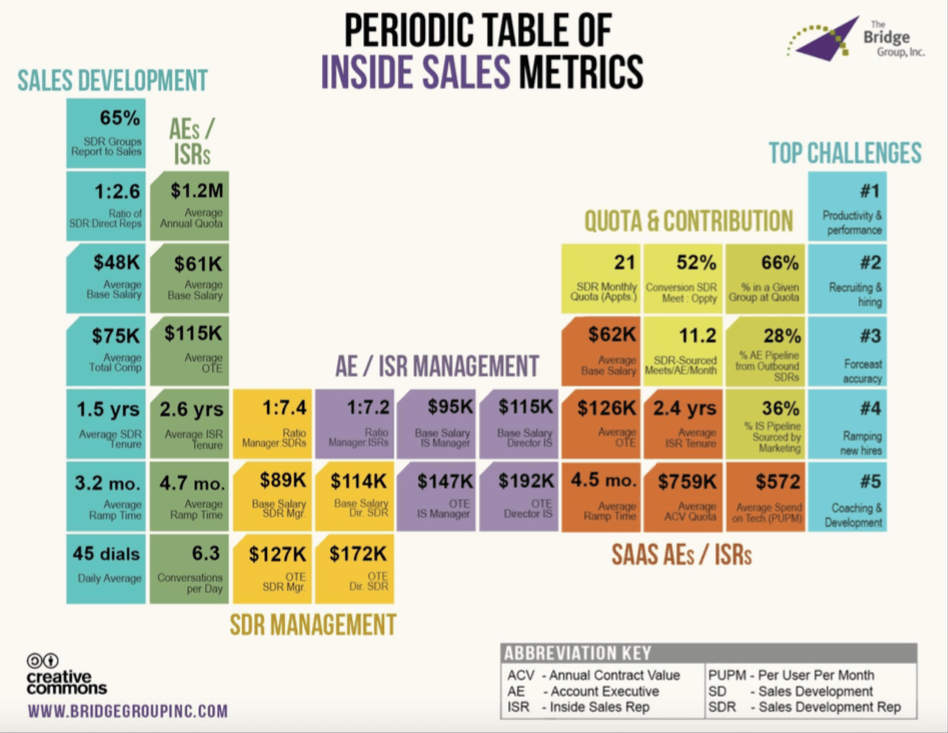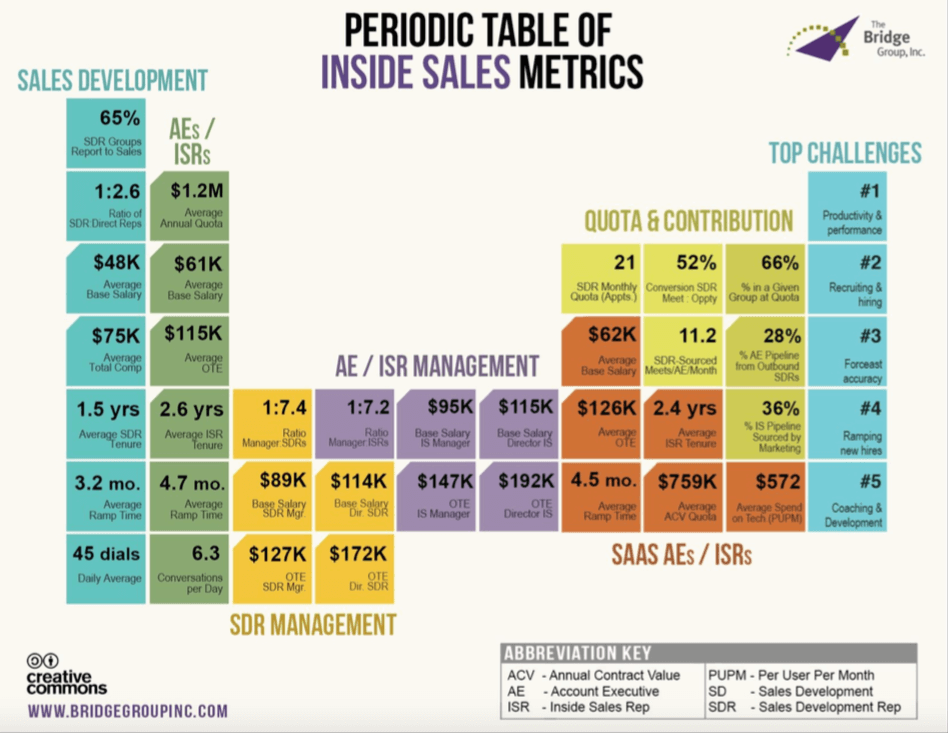 (Source: Bridge Group)
7Leads are 100x more likely to answer the phone if you call within 5 minutes of them submitting a web form. — InsideSales
Tracking the web activity of your leads will enable you to strike while the iron is hot.
8Approximately 40% of sales reps don't feel prepared for their calls. — Lattice Engine
Everyone likes the feeling of being prepared before a call. Have all of the information that you could potentially need right in front you, to give you a sense of confidence. Whether you are the one initiating the call or whether you are on the receiving end of the call, it pays to be ready.
Important: The follow-up – P.S. it matters. A lot.
The magic lies in the follow-up. People tend to avoid doing it because they don't want to be a nuisance. Following up actually does the opposite of what you might expect; it will get you more clients and help you to close more deals.
[click_to_tweet tweet="Following up actually will get you more clients and help you to close more deals." quote="Following up actually will get you more clients and help you to close more deals."]
It helps to develop a strategy that you can use to help streamline the follow-up process and take some of the pressure off of your shoulders.
992% of salespeople quit after they are told "no" four times by prospect; however, 80% of prospects say "no" four times before they say "yes". — MTD Sales Training
What does this mean for you? It means that you must get very comfortable with hearing the word 'no' and with the feeling of rejection. Think of it this way: the more no's you hear, the closer you are to a yes.
10It will take at least 5 additional calls to close 8 out of every 10 deals. — Scripted
Hopefully by now, you're feeling better about the follow-up process.
11It takes an average of 8 calls to get in touch with a prospect following the initial contact. — Telenet and Ovation Sales Group
That's even more follow-up calls to add to what we've already discussed. Before you can close a deal, you have to be able to get in touch with the prospect that you're going to make the deal with. Sounds pretty simple, right?
12Nearly half of all salespeople give up after the first follow-up call. — Scripted
Those who are willing to be the most persistent will reap the greatest rewards.
Email Sales Statistics
When used correctly, email is a salesperson's best friend; however, too often it's used incorrectly.
This is because many people don't know how to send an effective cold email.
On top of that, many people don't know how to craft a convincing subject line, which could be considered the most important part of the email.
Email can be a much more powerful tool than it currently is for you, if you pay close attention to these stats and make sure that your email is done right.
13 Email is 40 times more effective at reaching new customers than social media giants, combined. — McKinsey
This one might surprise you, but email still reigns supreme, even over social media giants like Facebook and Twitter. Your new clients are only an email away; don't miss out on the opportunity to reach them.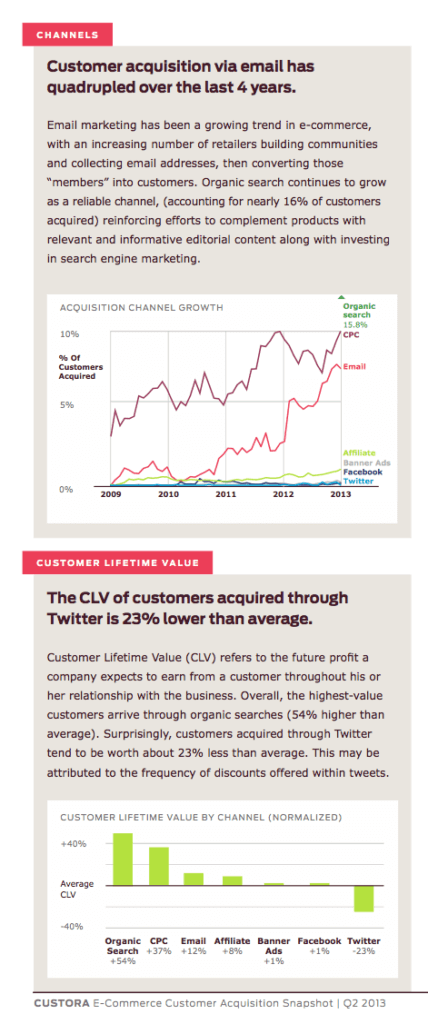 (Source: Custora)
14Marketing through the use of email has twice the Return On Investment of cold calls. — MarketingSherpa
Considering how difficult many people find cold calling to be, this stat should actually be a huge relief. Knowing that email is twice as powerful as cold calling, sets you up for success. It's important to note that email can also eat up a huge chunk of your time if you're not doing it right. Make the most out of the time you're spending sending emails, by using templates and personalized messages.
15More than one-third of email recipients use the subject line alone to determine if they will open the email. — Convince and Convert
First impressions are everything and the subject line of your email is your introduction to your potential customer. Let them know right away that you have something that is valuable and worth their attention.
16Almost half of prospects contacted via email will mark it as spam. — Convince and Convert
You may be sending email from a legitimate source, but there's still a chance that people may think that it's spam based on the email address. Be sure to have an email address that's professional and lets people know that they are safe to open the message.
1735% of your prospects will access their emails on their phone. — Convince and Convert
In other words, keep your emails succinct and easy to read. You can save yourself time by having short templates available and ready to use.
18Use your recipient's name in the subject line and they will be more likely to open your email. — Retention Science
This is a quick and simple step you can add to make your email that much more likely to be read. Adding the recipient's name to the subject line helps to build rapport and trust.
19Using dry language in your subject line means the recipient is less likely to open the email. — Adestra, 2013
While facts are important, they can also be a bit dry to read through. You can warm up your subject line by giving your readers something practical yet relatable to click on.
20The best time to email prospects is during regular business hours. — GetResponse
That's more than enough time to make contact with your prospects. It's also handy to note that this stat applies regardless of where you are in the world because people are the most active during regular business hours, local time.
Miscellaneous Sales Stats
The following stats don't fit into any particular category, but are just as beneficial as the others.
21Increasing client retention by as little as 5% can boost profits by as much as 95%. — Bain & Company
You will improve client retention by focusing on perpetually improving your value and by staying in regular contact with your clients.
2250% of websites get only 15 seconds of attention. — MarketingProfs
That's right; you have about 15 seconds to get the attention of potential customers. That isn't much time at all, so your website will really have to stand out from the rest. Ask those around you who are in a relatable field to provide you with some honest feedback on how you can improve your site. Ask yourself a few key questions, such as: Is my site user-friendly and easy to navigate? Are users able to find what they are looking for quickly and easily? Is my site visually appealing?
238 out of 10 potential clients can be reached via social media. — Sergey Gusarov
We live in the age of social media; it would serve you well to maximize your use of it when attempting to get in contact with your prospects. If you've tried calling and emailing, but have not been successful, sending a short message via social media might get you some results. It's not uncommon for some businesses to operate strictly from their social media platforms, so don't miss out on this opportunity.
The Data Doesn't Lie
Rather than treating these stats as hard and fast rules for every situation, allow them to stimulate you to think of solving problems in different and creative ways. And remember, data and information is only as good as the decisions and actions you take as a result of it.
Editor's Note: This post could not have been put together without the help from Andrew Gazdecki, the founder and CEO of Bizness Apps, and Eric Czerwonka, an entrepreneur and co-founder of Buddy Punch. 
If you have content ideas that you would like to collaborate on, contact us and let us know!
Conclusion
Which of these sales statistics were you most surprised by?
Any of these sales statistics changing your process?
Connect with me on LinkedIn and let me know!
Editors Note:
Want to help contribute to future articles? Have data-backed and tactical advice to share? I'd love to hear from you!
We have over 60,000 monthly readers that would love to see it! Contact us and let's discuss your ideas!