Social selling is all the rage these days, but people still don't get it right.
Social selling is becoming more and more needful in the digital age. But exactly what is social selling in the first place?
There once was a business owner that built a large grocery store in a nice neighborhood. Things were great for the longest time. He sold lots of cheap bulk produce and goods. Over time, sales were down year over year.
The reason? Farmer's markets, small specialty retailers (i.e. butchers), and Jeff Bezos (just kidding, congrats on buying Whole Foods).
People, when things are easily available, will always go to quality and intimacy. This very analogy is happening right now. People are spending less at discount joints and going for the slightly higher-priced and way better quality.
However, it's also happening across all industries just about everywhere in the world. Seeing sustainable, forecastable growth takes strategies that both bring leads to you and other where you actively pursue leads yourself.
You have to be aggressive. And one of the ways to do that is going where everyone is already hanging out — social media.
I'm sure there's a "lions go where the gazelles are grazing" reference, but I'll digress before I start.
In this post, we'll cover a few things:
What Social Selling IS and is NOT
Actionable Steps to Start Seeing Results
Who's Using it Well (and not so good)

What is Social Selling?
Let's start with a definition we took from the folks at HootSuite (who know a thing or two about social media).
Social Selling: The art of using social networks to find, connect with, understand, and nurture sales prospects. It's the modern way to develop meaningful relationships with potential customers that keep you—and your brand—front of mind, so you're the natural first point of contact when a prospect is ready to buy. (Source)
Here are a couple of brief observations from this definition.
1. This is NOT Your Social Media Strategy
Posting on Instagram or LinkedIn is not what we're talking about here. This is not posting updates, but actively looking for individuals who are ideal buyers of your products and indicators that they are potentially ready to buy.
2. This is NOT Your Digital Marketing Strategy
We're also not talking about your ad spend, webinars, etc.. Those are all great things, but this is using social to find and nurture leads. These interactions are more akin to your sales funnel, but aren't necessarily marketing campaigns.
3. I Love That They Call It an Art Form
Funnels, campaigns and the like are beautiful but broad in their reach. Social selling is more about finding individual interactions that are worth your time.
It's like the difference between fishing with a net or a pole. Location is crucial for both, but the pole requires a lot more details (lures, bait, line). Not to mention timing and patience.
Why is Social Selling Necessary?
You may be thinking, "I like the idea of fishing with a net way better." More fish, right?
First, this post is in no way suggesting to give up on ads, inbound, or any other methods that bring in leads. Second, ads are not typically how you get the accounts that you're proud to put in the old "our clients" section of your website.
Keep This in Mind: There are likely way more potential buyers who won't see your marketing efforts than those that will.
Far fewer leads will come in through social selling. But, when done correctly, the number of good conversations and deals should make this a viable sales strategy for just about any B2B business and any B2C with high-priced goods/services.
There are likely way more potential buyers who won't see your marketing efforts than those that will.
Click To Tweet
Take Action: 4 Steps to Make Social Selling Part of Your Sales Strategy
Step One: Think and Plan
Social media is such a large part of the world, it has to be treated as a major part of your overall sales strategy.
You can't look to a single element to grow your business consistently. Just using cold email, calls, ads, etc. will work less and less in the months and years ahead. There needs to be a multi-method, multi-touch game plan in place — that includes social selling.
More than that, it all has to fit in together.
In a lot of ways, social is the tip of the iceberg or tip of the spear. It's where someone really interacts with your brand for the first time. In the very near future, it could be an even more popular method of checking out a business than going to the website.
Having both content and reps ready to interact will warm leads up way faster and give you more control over the funnel process.
Great Resource: 7 Steps to Jump Start Your Social Selling Strategy (via CRMSearch)
Step Two: Curate and Create
Once you understand how social selling is going to fit into the overall plan to move leads downstream and close more deals — it's time to find and create the things that will do just that.
This has to be a mega mix. But don't let that intimidate you. You can reuse content and revolve it through your social accounts; as long as you do it the right way. You can't just put your blogs on your FB and expect to get gobs of leads.
Here are a few examples of the things you'll need:
Target Industry Posts. The things your leads will want to read that aren't directly salesy.
White Papers. Industry-specific and product-related data laid out in a way that is graphic and beneficial to your leads.
Fun. Add in a little humor, sports talk, things that make you and your brand more relatable.
Auto or Manual Responses. People are talking about you or solutions like yours. Finding these conversations and sending a quick message can make a huge impact.
Live Action. Live videos, Twitter Q&As, contests, pure value webinars are all great ways to gather large groups while finding and impressing prospects.
These are tools that you can schedule to be posted, or use in your interaction with those on social platforms.
Great Further Reading:
Step Three: Be Consistent
Perhaps the most important step.
It's not about throwing a month's worth of effort into this and then seeing if it brought results. It's about slowly changing your current social game and making adjustments via testing over time and seeing the results increase.
Always moving forward, adding and changing, tweaking and measuring until you are seeing real results that make a bottomline impact.
Further Reading Resource: 3 of the Best Tools to Help Optimize Your Social Selling Efforts (via SocialMediaToday)
Step Four: Use a Tool
The great thing about growing business needs are the solutions that inevitably come with them. With social selling, brand mentions, and the veritable jungle that is social media; many tools have been created to help sort out the mess.
Here are a few, particularly for finding targeted leads on your favorite social platforms.
Socedo: It's kinda like a fishing line with a bobber. You cast it into the lake and let it sit until you see something tugging on the line. Socedo allows you to input a certain keyword that your target prospects might talk about. Then, it will send them an automated message with your contact info, conversation starter, or resource to become a part of the conversation without being there.
If This Than That (IFTTT): You can use this beauty to connect a couple of apps. Want to know when someone uses one of your industry keywords on Twitter? Set it up to notify you on your smartphone, or email, or even a CRM. Really handy tool for more than social alerts, too.
Notify.ly: We've recently been using this one and it's great for knowing (within a few minutes) when someone mentions you specifically. You hook this little beauty up to Slack or HipChat and it'll let you know when it happens, virtually in real time.
"If you want to use social networking as a sales tool, then you must actively participate in conversations and the exchange of ideas." — Shannon Belew
Who's Doing it Well, Right Now
1. Gary Vaynerchuck
There are multiple brands and influencers who are rocking their social prowess to build their platforms and gain sales — GaryVee does both.
I can't help but feel like his social media accounts test and prove that he can pull off for some of the world's biggest brands that he does for his own platform.
One thing is for sure, the man is driven. Whether it be small scale or large, he is 100% there all the time — giving his all.
Just take a look at this snippet of a Quora answer he recently gave. It was probably 1000 words or more in total.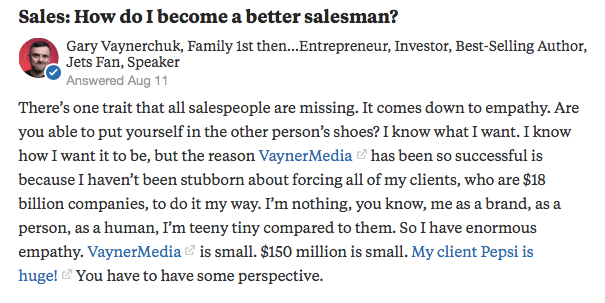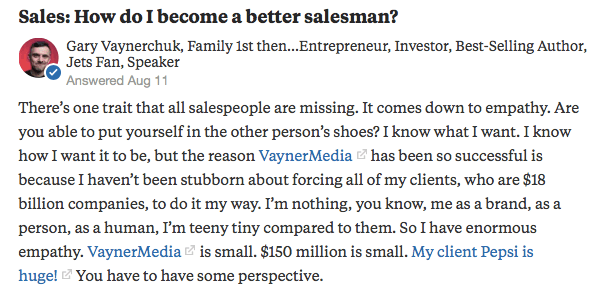 And a little more for context.


In this one post (link to the full answer here), he's managed to make one person a huge fan, build his audience full of people who love this answer, and pitching any marketing execs who come across this answer on the incredibly popular business platform.
It's one to one, but also one to many. Look at the end of the answer and he posts a video to further answer and build his platform.
Our Biggest Takeaway from GaryVee: He does one to one in a way that is one to many.
2. JetBlue
This airline has been winning over the internet for a while. From their overall cool demeanor to having Casey Neistat do a review of their first class flights — they're proactive in their digital strategy. And another way they're winning is via prompt replies.
Air travel is not known for being pleasant. TSA, layovers, and typically slow moving lines. Having an airline that is super friendly and ready to answer is great.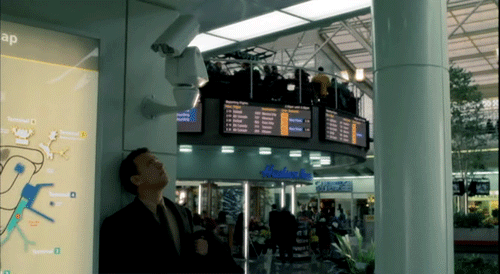 Here are a couple examples of JetBlue's social selling.
The first is the semi-automated approach. I'm writing this post as Hurricane Harvey has already wrecked Texas and Irma is barreling through as one of the most powerful storms in history.
Point being, there are a lot of travel plans being changed. The same questions are asked over and over again. JetBlue is handling it like it's their job.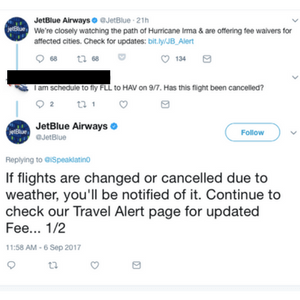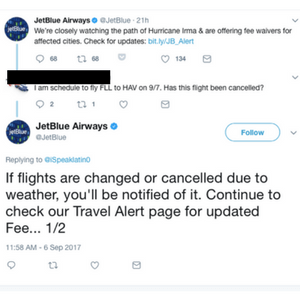 There are hundreds of questions, all answered. Reps are quickly looking up flight data and helping everyone who's using Twitter to talk to them. This is incredibly smart for an airline company and will equate to sales and loyalty. What's the famous line?
"We know you have a choice when you fly and we appreciate you choosing to fly with us."
Seems like JetBlue believes it.
Our second example is similar. JetBlue puts their ear to the ground of the internet and listens for people having trouble. The cool thing is that it's easy. Either people tag you like you're not listening or they use keywords that are easily searched.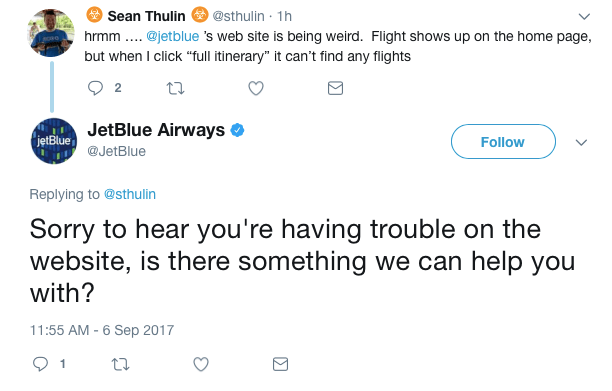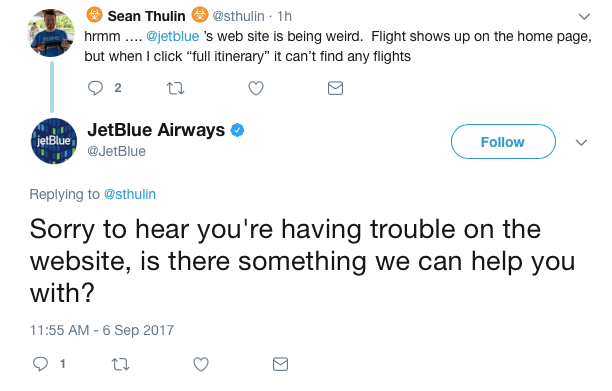 Key Takeaway from JetBlue: They are reactive and proactive. Their example could be just as easily applied to searching for people using target keywords in your target industry and joining in the conversation.
3. (Bad Example) HostGator
You know what's worse than no response at all? A canned response that anyone can see right through. If you're going to enter into a conversation on social media, you at least have to make it seem like a real person is on the other end.
There are ways to automate the process, but be careful not to spam.
Our bad example happens to be a web host (HostGator). It's an industry that is steeped in shadiness and distrust. I cannot figure out how a foundational element of the internet is often the sleaziest. It makes no sense to me.
There are plenty of good hosts out there. If you're using WordPress as a content management system, we recommend Pagely.
Now, onto the bad.
HostGator has a lot of buzz going on about them via social media, and most of it is not good. Now, everyone has times where people are unhappy. It happens. However, dealing with it well can mean keeping a customer and gaining others.
Let's take a look at how HostGator does it.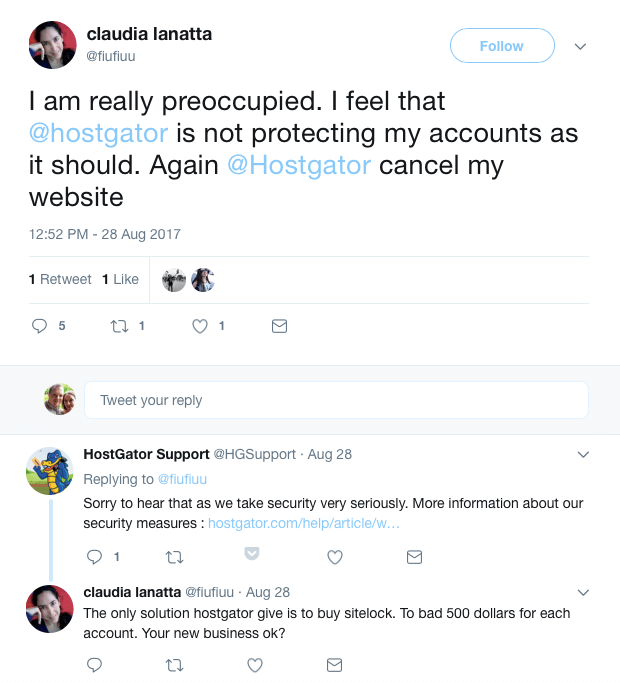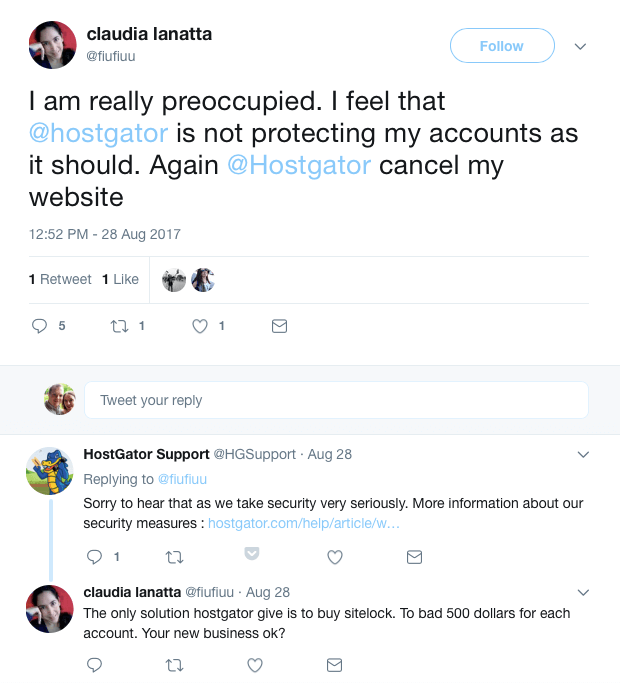 The request is to cancel the account. The response? "Nuh uh, we're really good at security." That's terrible and doesn't do anything but stir the pot. As you can see in the next screenshot.
If you scout through their Twitter support account, you'll find many long threads of disgruntled customers. And yes, it is due mainly to the overall service level (seemingly) and I do feel bad for their reps.
That said, a little bit of genuineness and beneficial responses would cut the bad rap down by half.
Application to Your Business
It's easy to say, oh so and so's doing it right. Or, Gary Vee is killing it. But what isn't as easy is you actually using these tips to further your business objectives. So, here are three ways to apply social selling today.
Get Proactive: Go to Twitter, or Quora, or LinkedIn and start searching for conversations to add value. Look for the online mentions of your brand or keywords and phrases that could have potential revenue.
Get Reactive: Set up the notifications that alert you when things that you want to know are said and start getting involved in the online party.
Get Automated: After you are actively seeking those opportunities and being alerted to the ones you can't be around for, it's time to get things automated. Send a resource, offer to schedule a call with them — try to add value.
The only thing left to do now is get to work.
Editors Note:
Want to help contribute to future articles? Have data-backed and tactical advice to share? I'd love to hear from you!
We have over 60,000 monthly readers that would love to see it! Contact us and let's discuss your ideas!