After mere minutes, somebody from your sales team reaches out on the phone with a quote. The phone call proves that they're a qualified lead, and a sale with them is just waiting to close.
Why do B2B sales cycle take so long?
The scenario above – prospects turning into leads and turning into sales in as little time as possible – is, needless to say, the dream scenario. As ideal as it is, however, it's not always possible.
In reality, sales cycles, as anyone in the B2B industry can tell you, takes much longer.
For one thing, every B2B sale is different. It's not the same as any other B2C company whose customers usually pay the same price for a product or service. In B2B, you're dealing with bigger clients with bigger budgets – and with budgets come more decision makers, more negotiations, and more time.
B2B sales also involve a lot of personalized service for the client. From the get-go, you might already have to see how your business solutions fit your prospects' needs, and each prospect may have needs very much different from the last.
In B2B sales, time is of the essence
Regardless of all the factors that lengthen the B2B sales cycle, keeping the cycle as short as possible is still a goal your company should strive for.
A study has found that 78% of customers make a purchase with the first company that responds to their inquiry.
A separate study observing over 2,000 US-based companies also found that most of these companies took too long to respond to a web-generated lead. Only 37% responded within an hour, and the average response time among all the companies was 42 hours.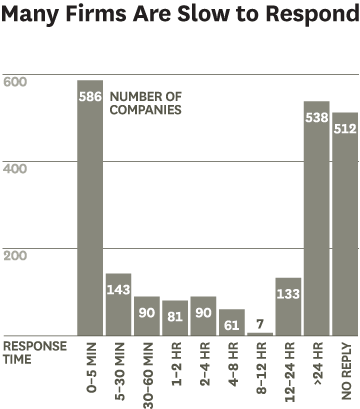 Data on companies' response time to web-generated leads. (Source: HBR)
While 42 hours doesn't sound like the worst possible case, several surveys have found that responding even an hour too late can lose you the sale. Take, for example, the finding that the odds of being able to successfully contact a lead decreases over 10 times in the first hour.
Responding even an hour too late can lose you the sale.
Click To Tweet
What all this data is trying to show us? Time matters.
How to Effectively Accelerate Your B2B Sales Cycle
Now that you know why you need to get in touch with your leads nice and quick, we take a look at these actionable strategies to effectively accelerate your own B2B sales cycles.
1

Align your sales and marketing teams

First, you'll want to align your sales and marketing teams. If marketing is in charge of getting the word about your company out there, putting up these sales funnels, capturing the leads and getting them interested in your promise, your sales team should be able to seal the deal.

Your sales team should know exactly what appears on your marketing materials. If your marketing team can share the customer journey with your sales team for them to better understand exactly why this lead might have reached out, then that's even better.

Hold alignment meetings or send out important memos for your marketing team to talk about new campaigns, funnels, and lead generation techniques they might be rolling out.

Your sales team can also share insights from current customers and leads to help your marketing team improve their campaigns.
2

Target the right leads

When it comes to sales, especially B2B sales, it's even more important to remember that not everyone is your ideal client. Take it a step further and not every lead is your ideal lead.

First know exactly who you want to talk to. Creating a buyer persona can help in this step of the process.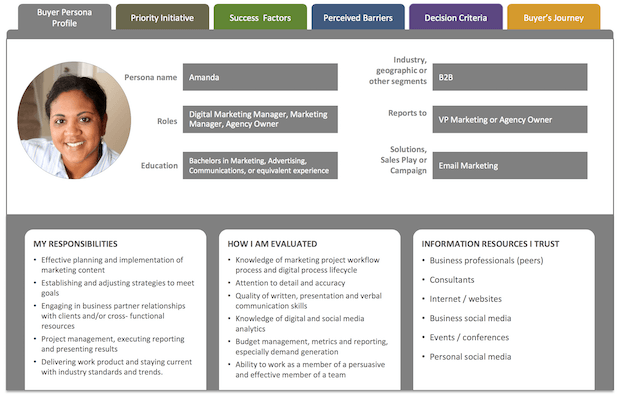 Take a look at the sample buyer persona above. It tells you basic demographic information about the buyer, but you also see important insights that might influence their buying behavior, such as any goals or expectations in their role.
Other buyer personas spell out buyers' frustrations and even daily routines. Decide on what kind of buyer persona would be most useful for both your marketing and sales teams and stick to that.
To really exhaust your audience, you can create multiple buyer personas for different decision-makers in your ideal clients' company.
For example, if you're selling an IT solution, you won't just be talking to the purchasing manager. You might also find yourself speaking to IT representatives, bosses, and sometimes even human resource personnel.
Targeting the right leads makes the most use of your time and resources, optimizing conversion rates in the long run. You can even create better, more relevant marketing content that can get prospects into your funnel.
You can also save more time and find more qualified leads with tools like LeadFuze, which lets you search for your ideal prospects and instantly get their contact information in just a few clicks.
3

Call your leads

You might be wondering: should I email or call my leads first?

Email might be a tempting way to get the deed done. After all, sending out an email seems like it'd be faster, less intrusive, and – honestly? – makes rejection a lot easier to deal with.

Despite that, however, you need to get your leads on the phone, especially if this is the first time you're reaching out to them.

While email seems convenient, it's also a little too convenient. You run the risk of your email getting buried in a busy person's inbox or, worse, end up in the Spam folder. Emails also lack the human touch that a phone call can give, and even if you write the most personalized email to your leads, you still can seem ingenuine or impersonal.

Not only do you get your lead's full attention when you're speaking to them in person on a call, but you also eliminate weak leads from strong leads.

Strong leads won't be afraid to pick up the phone and get to know your offer – in fact, they're probably looking forward to hearing about your solutions. Weak leads might not even come to the phone at all.

There are a few call strategies you can keep in mind before getting on the phone, such as knowing the best time and day to call or setting up a goal from the beginning of your conversation.

Important note: while getting on a call is of course ideal, this doesn't mean you can't create a killer email outreach strategy, especially for lower-ticket offers.

Here's a piece of data that might surprise you: only 27% of leads a marketing campaign or team gathers are qualified leads.

And up to 70% of all leads are lost because of poor follow-up practices.

Imagine handing your sales team a folder of leads, unsorted and uncategorized by quality. The hottest leads might end up on the bottom of the folder, and by the time your sales team gets to them, it's possible another company has already reached out and sealed the deal with them.

Up to 70% of all leads are lost because of poor follow-up practices. Click To Tweet

This is where lead scoring comes in.

Lead scoring is exactly as it sounds: scoring your leads. These scores are dependent on a number of characteristics they have and actions they might have already taken with your business.

You can create your own scoring system based on your business's needs or find an existing template and tweak it accordingly.

Here's an example of a point system that assigns a different set of points for corresponding actions, depending on the commitment level of the action.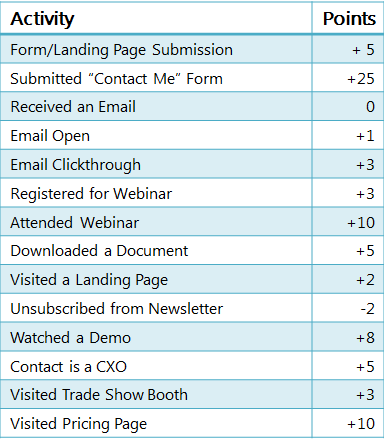 Higher commitment actions merit more points in this lead scoring sheet.
Notice how the action with the most points is "Submitted 'Contact Me' Form." One reason this possibly is ranked so high is because the client has specifically asked you to get in touch with them.
Higher scores like these makes these leads red hot for your sales team and allows them to prioritize which leads to contact first.
5

Optimize your landing page for conversion

Last but not least, the most ideal scenario is that a prospect comes to you.

Having a strategic marketing funnel set up, getting people to read your content, putting up lead magnets all over your page… These are all practices that can get leads coming to you instead of the other way around.

One way to make sure your website is ripe for lead generation is having conversion-centric landing pages scattered across your site.

Your landing pages can be simple optin pages, such as a Contact Me form or a lead magnet offering a free whitepaper report or checklist. One important way to make sure you're optimizing these pages is with great, clean design with a clear call-to-action.

You may opt to design these pages from scratch, but it may be better to use done-for-you landing page templates that are already mobile-optimized and beautifully-designed.

Equally important when optimizing landing pages is SEO. And if you're a brick-and-mortar B2B, it's extremely important to optimize for local SEO.

Here's how Novel Coworking, a B2B coworking company, optimizes their page for local SEO.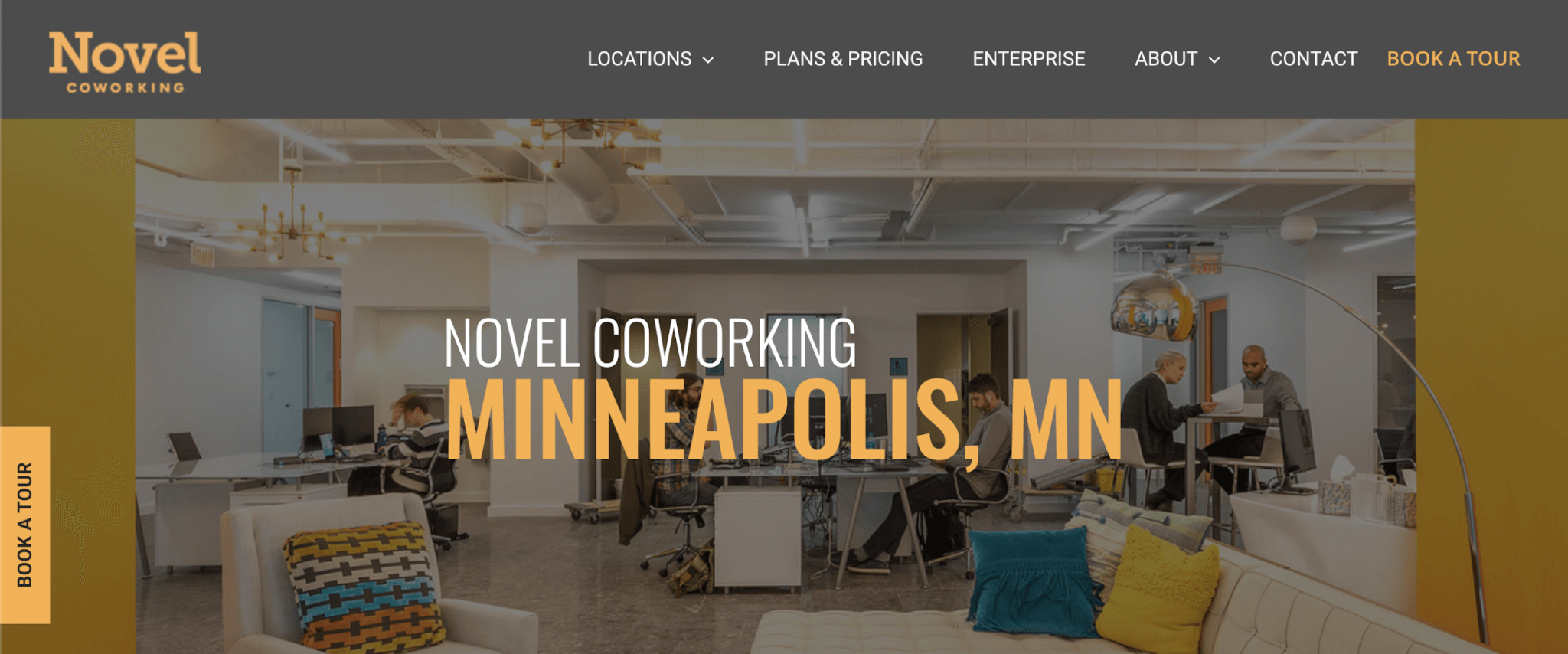 Because they have multiple locations, they create a dedicated landing page for each location. So if a visitor were to search for "coworking offices in Minneapolis," there's a higher chance that they'll find the local Minneapolis page of Novel Coworking's site.
Across the site, you also see a clear CTA, i.e. book a tour.
Key Takeaways
Do you know how long it takes for your leads to become customers? While it's true you don't always get every prospect that comes your way, sometimes the only thing standing between you and the sale of your dreams is taking too long to close the sales cycle. Use the strategies in this post to accelerate your B2B sales cycle and turn those prospects into hot leads. Soon, you'll be raking in more customers in no time.
Editors Note:
Want to help contribute to future articles? Have data-backed and tactical advice to share? I'd love to hear from you!
We have over 60,000 monthly readers that would love to see it! Contact us and let's discuss your ideas!