The top-notch businesses online are the ones that have the most consistent content marketing for lead generation. It offers so many possibilities for any business, small or big.
Whether you are looking to reach a wide range of audiences or build your online presence, creating content will provide that and more.
Many marketers and experts misunderstand the purpose of content marketing. They usually jump into creating an excessive amount of content thinking it will bring results.
For example, if 88% of B2B marketers implemented a content marketing strategy, then how come they can't succeed in lead generation.
Content Marketing Lead Generation: 5 Steps Strategy
Click To Tweet
Moreover, 60-70% of content is never used or shared which will represent a total loss of effort and resources.
As a matter of fact, not only quantity is important but the planning and the quality of content are as important for lead generation.
At LeadFuze, we believe in the power of content marketing to generate leads and increase sales. We created sales content and user content as a way to enhance our social selling process. 
After experimenting with different channels and tools of content marketing, we thought it would be helpful to share with you our findings.
In this article, we gathered the most relevant and up-to-date tips in an ultimate guide for content marketing for lead generation. 
What is content marketing lead generation?
According to Hubspot, "Content marketing is the process of planning, creating, distributing, sharing, and publishing content to reach your target audience. It can boost factors like brand awareness, sales, reach, interactions, and loyalty."
In addition to this general definition, one must add that it's an effective tool to easily reach your business goals in a timely manner. This also means that it ensures a constant flow of leads especially if you have unique and updated content.
Not to mention that content marketing is included in any businesses' marketing strategy to support their lead generation efforts.
Content marketing represents the whole user experience from the research for your products and services, to the customer service experience.
Moreover, this process requires the involvement and collaboration of all departments such as IT, Marketing, Sales, Management…
Also, most businesses use techniques to master their content planning and creation. Among the techniques and skills needed for content marketing we can mention:
Copywriting

SEO

Graphic design

Automated systems

Market research

UI/UX

Website and system development

Content planning

Editing

Data analysis…
We will be going in-depth about the process of content marketing for lead generation purposes.
So take notes and hopefully you will be able to create the best strategy that will serve in achieving your lead generation goals.
4 Reasons why Content is Important for Lead Generation
We already mentioned that content marketing is the journey the user goes through from research to after-purchase. This is why it's important to realize the benefits of it for lead generation.
1) Generate high quality leads for lower cost
The main purpose of Marketing is to create a customer journey that gives you visibility and optimizes your reach.
With this in mind, you need to carefully choose the methods that will ensure these goals. 
In comparison to traditional marketing which you may know by Outbound Marketing, content marketing doesn't need an important budget.
According to demand metrics research, content marketing costs 62% less than outbound marketing does.
Content Marketing Lead Generation: 5 Steps Strategy
Click To Tweet
As a matter of fact, for Inbound Marketing, the most valuable content generates more leads. As for Outbound marketing, the biggest budget allocated is more likely to have results.
2) Audience attraction and retention
High-quality content is more likely to compel the user to pay attention and follow for more. It serves as the capturing magnet for their minds especially when it's relevant to what they are asking for.
Actually, 60% of consumers enjoy reading about relevant content from brands.
In case your content managed to have the best rank on search engines, more people will show interest and engage with each other.
This, in turn, will be your ticket to lead generation and will reinforce your brand image and impression.
Creating quality content will help you with identifying your business as a credible platform to get information. So as long as your content keeps demonstrating credibility and relevance, the leads will show trust in your brand. 
As a result, the audience's trust will increase retention and attraction, bringing you a constant flow of leads.
3) Increase direct sales
Content marketing for lead generation is an important source of increasing direct sales. The reason behind it is that customers are more likely to show interest in your products or services from your content.
Information is the trigger for customer behavior. What better way to inform the user about you other than content marketing?
In case you didn't know this but 82% of consumers show a more positive attitude towards a business after reading their content.
Moreover, 90% of them find those custom content useful to determine their actions.
In addition, the content you will create which will have CTA's, feedback, and information will improve conversions.
Therefore, your content should be of great quality and understanding to guide the user to what you expect them to do next.
4)Improves brand loyalty
Nowadays, businesses are more eager to build a community for their brands. Whether the purpose is to get referrals, increase engagement or improve loyalty, content creation will help.
When you aspire to serve a community with useful and credible content, they are more likely to respond to your wishes.
For that, creating valued and insightful content will make the audience trust your brand and recommendations.
78% of consumers establish a relationship with a brand from its custom content. Adding that 70% of online consumers feel closer to the business thanks to content marketing.
Hence, your content marketing efforts for lead generation will show results when it comes to ranking and brand reputation.
5 Steps to Create a Content Marketing Strategy for Lead Generation
Step One: Identify your objectives
First of all, you need to establish a benchmark for your content strategy. This means assessing your staff and resources, coming up with a plan for distribution, and testing your existing assets.
Accordingly, you will have to identify the products and services that will be supported for your content marketing. In addition to identifying your core values, competencies, and strategic objectives for the content strategy.
Another important factor to determine your objectives will be evaluating your competitors' content. This will allow you to determine the content that works best in your field.
In the end, and after outlining your content marketing objectives, you will have to map them out for the next year.
Step Two: Determine your audience
Everyone says the same thing in Marketing "Know your audience", but what does that mean?
How can you determine your targeted audience? In what way, you will understand their habits, interests, and needs?
Putting such a statement out there without outlining the process to achieve such a step is always easy. 
However, determining your audience and creating content that will attract them is the key to success in lead generation.
The first thing you need to do is conduct market research. 
Surveys and interviews are among the known practices for such research.
Along, you will have to consider the major findings from your marketing and customer service teams to understand customer behavior.
From previous data that you gathered from your team and surveys, you will find information like:
Customer demographics

Occupation and interest

Lifestyle

Basic needs you can cater 

Common requirements
However, with content marketing, comes a new method to know your audience. We are talking about keywords!
There are two types of keywords, commercial and educational. So from the first step where you will identify your objectives, you will be able to determine which keywords to use.
In general, you will find many tools for keyword research free and paid. But the most successful one is Google Ads which contains the keywords planner.
Most marketers know how to navigate through Google Ads Keyword Planner. In case you are new to this, all you need to do is type your business description in a key phrase. 
A key phrase is a set of keywords that describe a topic. When typing this key phrase you need to answer in one word to these questions:
What product or service are you offering? (e.g., gardening)

Where are you offering this product or service? (e.g., in Washington)

Who is most concerned with this product or service? (e.g., private households)
Then formulate it to get your key phrase, type it and click Get Ideas. This will allow you to use the perfect set of keywords which will let you know your audience better.
From this tool, you will determine what your audience is looking for and the main problems they are facing.
Next, it's time to develop your user persona.
Based on research and findings, you will be able to create a fictional persona to represent your audience. 
This step will help you understand your user's needs, behavior, and goals. 
Furthermore, you will be putting yourself in the user's shoes. Answering questions that will help you identify the type of content that will attract them. 
Additionally, it will play a major role in figuring out the channels where you will be curating the content campaign.
Among the representations you can create for a user experience you can choose:
Goal-directed personas

Role-based personas

Engaging personas

Fictional personas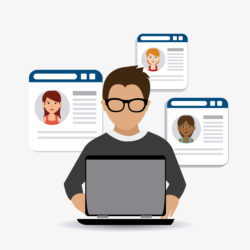 In the end, we advise you to focus on the most accurate persona and build your content strategy around it.
Step Three: Build your customer's journey
Now that the research parts are done, it's time to start planning your customer's journey and filling the gaps needed for content creation.
Start by listing your existing content assets then identify the content by placing them in each stage of the buying process.
Furthermore, identify the content by the user personas you created keeping in mind what content is the most appropriate for them.
By and large, this process will allow you to understand the process each customer goes by that will eventually lead to buying your offer.
Of course, you need to know that each lead is unique which in return will make you create unique maps for each one of them.
Since we are all different in our purchase process, not all can follow the same customer journey map. That's why you are required to build different scenarios for different users.
Step Four: Decide all content aspects
Surely by now, you know that there are so many types, forms, and platforms for content marketing.
Rather than playing the dice and guess games, be careful with picking up the right settings for your content.
Since you managed to get all the data and information that you need in the previous steps it's time to: 
Choose the type of content you want to share

Figure out the lead generation techniques you will be adopting

Establish conversion paths in your journey map
Now that you're done with those, it's time to create content. 
Start by generating ideas for your content, identifying the key messages you want to promote, and outlining the quality standards. After all, you want your content to be high-quality, consistent, and relevant. 
Notably, repurposing content is one of the techniques marketers use to avoid wasting resources and efforts on creating new content.
This is only helpful if you already have content that is either not published or outdated. Therefore, try to choose those that are still relevant and have the probability of generating more leads and traffic. 
Furthermore, you can find a lot of ways to repurpose your content, like transforming the video content into captions, texts, articles, or even written content to video. 
Step Five: Choose your distribution channels
As a matter of fact, if you create high-quality content but choose the wrong distribution channel then you will fail in generating leads.
According to Semrush, there are three elements to consider for content distribution:
Owned media: This is where you will develop your own unique content (articles, posts, videos, website, social media profiles…)

Earned media: This is when customers and online users are talking about you (mentions, feedback, tag, share…)

Paid media: This is for the promotional part for your content, anything related to advertising like paid ads.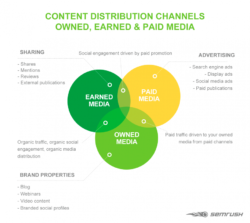 (via Semrush)
In general, the objectives you have set, market research, and user personas will determine which channel to use.
In case you want to reach your targeted audience fast then probably you will choose paid media.
The most relevant media channel that will help you establish your lead generation goals with content marketing, is the one to choose.
Likewise, all efforts and steps you took above will help you determine where you should focus on creating more content. Is it for your blog, website (landing page), social media…
Furthermore, the user persona you create for sales and lead generation goals will determine which social media platform you'll be using.
For example, for a B2B business, when it comes to content marketing, they saw results when focusing on: 
Landing page development  (CTA, Infographics…)

Customer testimonials

Case studies

Webinars

And social media like LinkedIn and Twitter
In fact, 59% of B2B marketers consider that blogs are precious for content marketing.
Content Marketing Lead Generation: 5 Steps Strategy
Click To Tweet
Whereas, 87% of them use social media to promote and distribute their content.
As for B2B and C2C businesses, they are more likely to focus their content marketing efforts in:
Video creation (for reviews, tutorials…)

Images

Customer reviews

Social media depending on demographics (Mostly Facebook, Youtube, Pinterest, Instagram, TikTok, Snapchat)
Using the research you have already compiled, you can determine where your targeted audience is most likely to get attracted by your content.
How to master content marketing for lead generation?
We will summarize this part in key tips.
Design a high converting website (focus on the landing page with CTAs, credible, and consistent content)

Create high-quality content (consider your persona, tell a story that will satisfy all his senses)

Rely on social media to increase your reach (social media platforms are free, so you better take advantage of that)

Know the best times to connect with your customers

Use paid traffic to generate more leads from your content

Hire professionals and expert marketers that have an understanding of content marketing lead generation

Test different plans and strategy and adapt your content marketing according to the market changes
Types of content for lead generation:
There are multiple types of content that you can integrate into your content marketing lead generation strategy.
Furthermore, their classification depends mainly on the content channel, skills required for content creation, or the form of content.
We will be mentioning the most common skills for this list that you can find on many websites and social media platforms.
1. Graphic design Content marketing for lead generation
This skill has high demands for all visual creations. Whether those visuals are meant for websites, social media or other forms of content that isn't digital.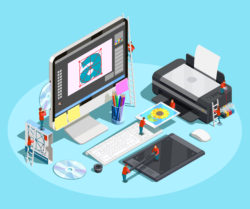 Most people nowadays know how to manipulate graphic design tools like Adobe tools like Photoshop, Illustrator, Adobe XD… But most beginners use other tools like Canva.
For social media, since there is a wide range of users, most small businesses don't need high skills in graphic design.
However, big brands invest in their visuals and graphic design since it identifies them as a strong and established brand.
Graphic design is usually required for creating content for social media like Instagram, Facebook, Pinterest.
Visual contents can be categorized into:
Infographics

Illustrations

Branded images

Photography

Data visualizations

Screenshots

Gifographics

Memes and GIFs

Pull quotes

Case Studies

Step-by-step tutorials

Interactive elements

Slideshows

Display advertisements Banners
For B2B businesses, infographics, illustrations, and data visualization are the most common visual content for lead generation.
In general, they help with showcasing information making them easy to understand and hopefully capable of attracting more leads.
As a matter of fact, Infographics serve as the pillar for all B2B businesses' content strategy for lead generation. 
They make complex data and case studies much easier and in turn, keeps the prospect interested.
2. Copywriting in Content Marketing for lead generation:
First of all you need to know that 59% of B2B marketers see that blogs are a powerful type of inbound content.
It also allows for a lot of creativity in terms of their purpose, if SEO is taken into consideration,  and also in terms of topics.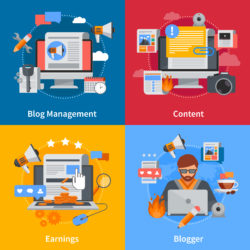 With the right ideas, data, and topics, you can position yourself among the top providers of informative content in your industry. 
With a blog, you can do things like: 
Including keywords that will serve in optimizing your rank on search engines

Promoting Internal and external content with links to increase traffic 

Adding visual content (infographic, images, videos, GIFs…) that will attract the audience

Integrating CTAs and social media buttons

Presenting your services and products as solutions for certain topics
Furthermore, blogs are responsible for 434% more integration of indexed pages and 97% added indexed links.
To conclude, copywriting is essential for content marketing for all businesses as it has great results when it comes to lead generation.
3. Video production in Content Marketing for lead generation:
Most businesses don't admit to the fact that video marketing can create a positive influence on their brand image and influence.
After the success of platforms like Youtube and recently TikTok you understand that videos are addictive to the consumer.
Just like the addiction people used to have on TVs and outbound marketing in the past decades, videos have the same effect.
Youtube is the second biggest search engine now after Google. Whenever someone faces a problem, they go directly to find solutions on Youtube.
Whether you want to improve your social media presence or create promotional strategies, videos give you great results.
In general, including video production in your content marketing strategy can boost conversions and generate more leads.
Furthermore, you can use it on multiple channels. Whether it's for your landing page, social media platforms or for your ads display.
In Summary:
LeadFuze is a lead generation agency that saw a lot of results using content marketing to reach and engage with the right audience.
This is why we think it's important to set up the right tools and strategies in content marketing for lead generation.
Furthermore, you need to consider whether your business needs a lead generation expert in content marketing or it has the capacity to do it.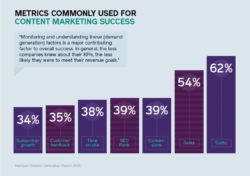 Finally, don't forget to use the right metrics and measure how your content marketing is performing. If needed you can change the strategy or improve it depending on your goals.
Editors Note:
Want to help contribute to future articles? Have data-backed and tactical advice to share? I'd love to hear from you!
We have over 60,000 monthly readers that would love to see it! Contact us and let's discuss your ideas!