What Makes a Good Salesperson?
Every time we hire new reps, the ones we want are the ones that want training, the ones who are constantly wondering how to be a good salesperson.
Not many people are born natural salespeople. For most, it's a long journey that involves plenty of falling down, picking yourself up, and getting back out there. 
While there is no one-size-fits-all approach to selling, there are certain tools, mindsets, and processes that can help you sell more, fall less, and keep your sanity as you navigate the world of sales and build your book.
We interviewed some proven successful salespeople on how they overcome some of the most common struggles and problems that new salespeople find themselves dealing with. This is perfect for you if you want to know how to be good at sales. 
Here's what one sales pro had to say:
"I spend a lot of my time talking to the wrong customer."
So if becoming a better salesperson was your goal for this year, what would it take? In short, it takes hard, focused work and these 5 qualities:
The 5 Qualities of a Good Salesperson
The best way to get better at sales is to observe and learn from the habits of successful salespeople. If you can build these 5 qualities, you will be on your way to becoming a good salesperson:
1

Responsible
A person who is used to taking responsibility does not cast blame on others, no matter how tough the circumstance. This type of individual does tasks and bears responsibility for any discrepancies that occur.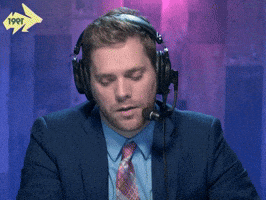 A responsible salesperson is not confrontational and shifts blame to others. If a product fails to meet a customer's expectations, this mold of salesperson asks the customer specifically what the product failed at and how they think it can be improved.
2

Focused 
An individual with concentration is inwardly motivated to attain goals and is capable of being attentive to a single subject.
Focused salespeople are more strict with themselves than they are with others. They are self-motivated and capable of controlling themselves and recognizing what has to be done to accomplish their objectives.
Focus generates the best outcomes in a salesperson when it is matched with compassion.
You see, those who genuinely desire to be a good salesperson intentionally work on their listening skills. With that skill tied down, they are able to empathize with the client while remaining focused on predetermined goals. They are capable of translating those goals into customer-centered solutions.
3

Empathic
Empathy is the capacity to connect with consumers, to feel their emotions, to treat them with respect, to look at a problem from the perspective of the customer.
Empathy is NOT the same as compassion, which entails a sense of obligation to another person. It entails more than simply comprehending a prospect's issues objectively.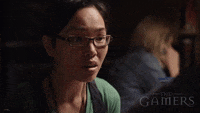 By taking the side of the customer and not looking judgemental, a salesman may earn their trust and create rapport.
Empathy enables the marketer to read the consumer, express care, and demonstrate a genuine desire in offering a satisfactory answer.
4

Ego-driven
Ego is a useful trait in a salesperson with the skill to harness it the benefit of the sale. Ego-driven salespeople persevere with the goal of excelling and, most importantly, winning.
It is entirely a matter of competitiveness. When a person perseveres with fists clenched and a teeth-gritting desire for success, you may detect a strong ego drive at work.
An ego-driven salesperson is self-motivated with a clear vision of the goals he or she wishes to accomplish.
5

Optimistic
A salesman who possesses a good dose of optimism may be defined as somebody who is reluctant to grasp the concept of powerlessness.
This salesperson perseveres through the toughest obstacles and refuses to be defeated. It is an essential quality in the sales field, given the regularity with which salespeople face rejection.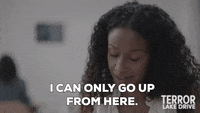 When confronted with defeat, some people throw their arms up in the air and accept their fate, powerless to change the circumstance.
With the qualities we have just discussed, you have the building blocks of a great salesperson. You have every reason to succeed. But, in their own words, what can successful salespeople teach their average colleagues?
10 Tips on How to Be a Good Salesperson
Now, if a successful salesperson you have been shadowing sat you down for a quick class on how to be a good salesperson, these are the tips they would share with you:
1

Do your research ahead of time
Sales is often assumed to be a numbers game, but it's important to do your research ahead of time and ensure you're reaching out to the right people.
After you have done your research, you should be able to confidently answer questions like these:
How many employees does the company have?

Do they have several offices?

Are they a smaller branch of a larger company?

Has the company been in the news lately?
All of this information is important to know and can be found online through resources such as a company website, Google, and LinkedIn.
2

Ask the right questions
If your overall goal is to be a great salesperson, you HAVE to master this skill.
"It's critical that you ask the right questions to qualify the buyer," says Alex MacWilliam, a real estate veteran. "For us, that's figuring out what someone wants in a space. Are there any deal-breakers for them? What would be their perfect scenario and why?"
In any industry, it's critical to ensure the deal will be a win-win for both parties, and asking the right questions can be a great way to get to know your prospect's business and show genuine interest.
What sort of metrics do they rely on to consider themselves successful?
Knowing what is important to your client gives you a huge step up in being able to explain how what you have to offer fills a desire or need of theirs and will ultimately help them be more successful.
3

Always seek to understand first
Before you can hope to help a prospect with your products and services, whether they be financial services, insurance, or software, you have to understand their needs and what drives them.
"Anytime you begin speaking with a potential customer,  you absolutely have to understand them first," Says Matt Bodnar, Partner at Fresh Hospitality and Venture Capitalist. "Gaining this understanding will save both you and the prospect time, and a true interest can help build relationships and trust in the future."
When speaking to someone from your prospect's company use several "what" and "how" questions.
These questions draw out more information and can give you the upper hand:
What are your goals for 2023?

How are your salespeople measured on their performance?

Which of your current products do your customers like the most?
The more you understand about the prospect, the easier you can sell to them. This is one crucial thing to keep in mind as you learn how to be a good salesperson.
4

Alter your mindset – embrace your "No's"
There are many ways to say no, and in sales, you better get used to hearing each of them.
The good news is there are several tactics you can use to get used to it.
"I actually got to the point where I would welcome the "No's" and use a reward system," says Bob Goostree, VP of Sales at Fresh Technology.
"I'd sit down and tell myself I was going to hear NO and that once I got to 15 no's, I would take a break and reward myself with a walk, snack, anything to help me step away."
Doing this can actually trick your brain and calm your nerves when making calls and also keep you from quitting once you've got one "yes."
5

Find a mentor and community
"Seek out mentorship as soon as possible and start asking questions," advises James Palumbo, Business Development Specialist at Chevron. "Network as much as possible and really take advantage of asking upper management questions.
"Finding the right mentor you can rely on can really help your career and grow your knowledge in the long run."
Oftentimes the best way to learn a new trade is from those who have been there and done it successfully in the past.
Salespeople are pulled to these communities to share what works, and what doesn't work and even swap battle scars and personal stories.
Reddit and Quora can be great places to find communities of professionals in similar areas of sales.
If you crave that personal interaction, Meetup can be a great place to find a group in your local area and one that meets regularly.
Everyone in sales goes through similar struggles and sharing them with a community you can contribute to and become a part of cannot only help you learn but reassure you that it's not just you who has seen struggles as well.
6

Be creative
"I don't sound personal over the phone."
It can be hard to make a personal connection over the phone.
Not only are you trying to explain who you are and what you're offering, but you want the other party to want to meet with you.
"You really are just another voice over the phone at first," recalls Robert Brock, CEO of Strength in Creative and veteran salesman.
"We found a way to drive sales using embedded videos in email. We'd create the personal video, embed it in a personal message, then send the link to the prospect. It worked extremely well."
"Of course, just being on video doesn't solve all your problems.
You still need to look presentable, deliver your value proposition and seem genuinely interested, all in about 90 seconds." As Robert points out, sincerity is key.
But delivered properly, video can provide a personal connection with prospects and show them how you carry yourself and make a great first impression.
Today, there are services to integrate video into email seamlessly without utilizing YouTube or Wistia, but the power of video is proven.
7

Invoke reciprocity – the lumpy mail tactic
In his book, Influence: The Psychology Of Persuasion, Dr. Robert Cialdini examines the weapons of influence.
Using examples, Dr. Cialdini shows us how to be a good salesperson by showing that reciprocity is one of the most powerful tools of influence we possess.
Reciprocity means when someone gives you something, you're likely to give them something back.
In sales, this weapon of influence can be used extremely effectively when it comes to getting your foot in the door and the right person on the phone.
"For extremely high-value leads, we like to send them what's called Lumpy Mail to let them know who we are, and it's extremely effective," says Kate Cameron, lead generation specialist.
"This usually takes the form of a package where we ship them a customized letter explaining how I think we can work together, some customized swag with our logo, and my contact info. This shows the lead that I've done my research, put in the work, and I've given them something useful such as a car charger or phone case with our logo on it.
Not only does this provide value, and remind them of us, but also it makes them much more likely to take my call when I call in. This can also be a great way of bypassing gatekeepers saying, I sent Mr. Lead a package the other day, and I just wanted to follow up on it and be sure he got it!"
8

Follow up: Surprisingly, most salespeople don't
It seems common sense, but you'd be surprised at how few salespeople actually stay on top of their leads.
"You absolutely have to stay front of mind to your leads," says Paul Pratt, President of Full Service Mortgage Group.
"Even if at first there's no need to fill, immediately email them and check in now and again. Send industry news and holiday greetings, and be sure that when the need arises, it's a no-brainer in their minds that you're the one to call.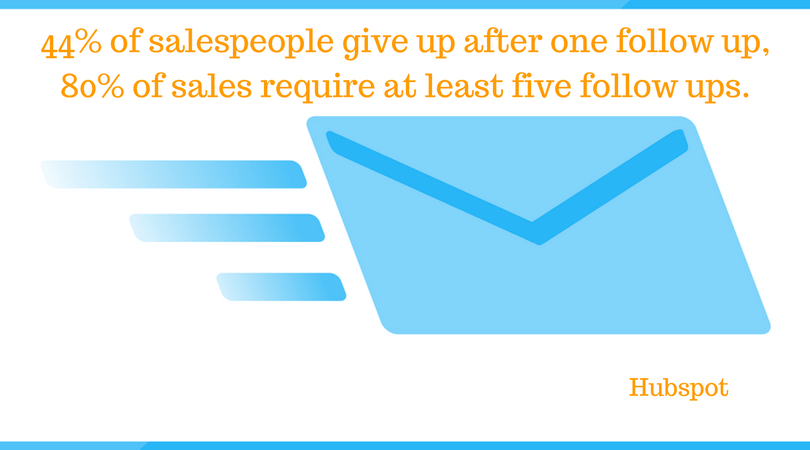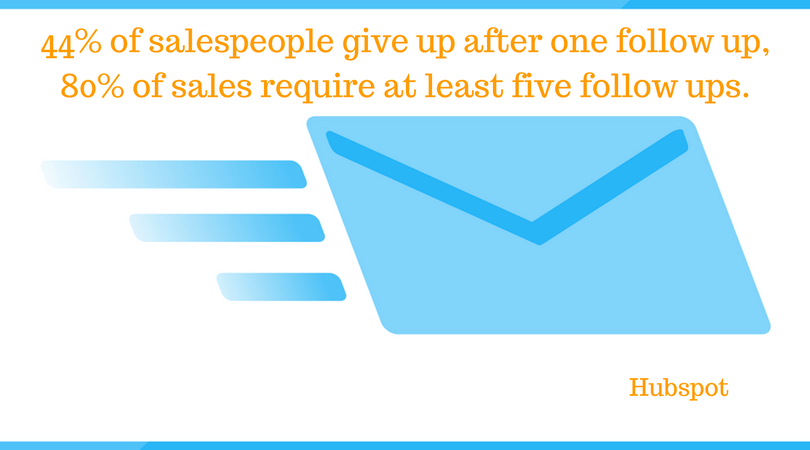 That means without following up, your chances of succeeding in sales are slim to none.
Luckily, there are several services that can help you stay on top of your follow-ups, such as YesWare, Pipedrive, and many other user-friendly CRM systems.
9

Befriend the gatekeeper and respect their position
"I can't seem to get past the gatekeeper."
Gatekeepers are there to keep you from getting through to decision-makers without an appointment.
While it can be very easy to get angry with someone who isn't putting you through or pointing you in the right direction, it's never the right move to get upset with a gatekeeper.
"Never be rude to someone who can hurt you with inaction," says former FBI Hostage Negotiator and CEO of The Black Swan Group, Chris Voss. "Think about it. To completely end your chances of making a sale, all these people have to do is nothing."
A gatekeeper can simply hang up the phone, not take your future calls, and to them, it's nothing. To you, it could mean losing that potentially huge sale. 
Start by asking them questions about the business. By asking them questions and bringing them into the process, not only do they begin to like you more, but by responding, it creates a kind of team out of the two of you. This gains you an ally as opposed to an enemy.
10

Get on the decision maker's schedule
Most business owners are the first to arrive and the last to go home.
Knowing this, take advantage of it!
Start making your cold calls early in the morning and right before you decide to go home.
Dr. James Oldroyd from the Kellogg School of Management conducted a study that found that early morning cold calls are 164% more likely to qualify a lead than those made later in the day.
An early morning cold call is 164% more likely to qualify a lead than one made later in the day.
So in practice, both the early and the late birds find themselves with worms. What strategies are you working on as you learn how to be a good salesperson?
Summary: How To Be a Great Salesperson
Becoming a great salesperson almost demands a lifestyle change. It's like becoming a new person, unrecognizable from that average salesperson of old. And that's what great salespeople do – they are committed to a life of constant improvement, improving their pitches with every sale.
Before you can be a great salesperson, you have to be a good one. And to set you on your way, we discussed the 5 qualities of a good salesperson. We also shared the best tips on how to be a good salesperson that we could find. 
Your brief now is to adopt the qualities and meditate and practise the tips until they become second nature. As you do that, you will notice how easy it gets to handle rejection, pitch your product with confidence, and hit your sales targets with the consummate ease and regularity of a pro salesman.
Editors Note:
Want to help contribute to future articles? Have data-backed and tactical advice to share? I'd love to hear from you!
We have over 60,000 monthly readers that would love to see it! Contact us and let's discuss your ideas!