What is Influencer Marketing?
Social Influencer marketing is a trending topic in content marketing. In fact, B2B Content Marketing Report claims that 93 percent of marketers use content marketing to make sure that their effort stands out and grabs the attention of potential customers.
As social media becomes more intrinsic to marketing, so too has it brought around new ways to attract, reach and influence an increasingly wide customer base.
And micro-influencers are making things much easier.
Landing a celebrity to wear or promote your product was once the PR scoop of the century.
Now the rising profiles of social media influencers have made reaching wider audiences that much more accessible. 
As bloggers and vloggers have risen in number and following, including them as part of our marketing strategies has become the norm.
They've started to become celebrities in their own right. With the ability to demand more money for their influence and time.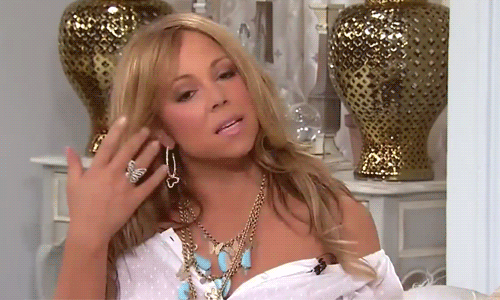 So, as a small business, how are you going to get your foot on the influencer ladder?
This is where micro-influencers come in. They are mostly included in our social influencer marketing examples.
Micro-influencers are celebrities in their own right, but with a significantly lower number of followers.
Micro-influencers are those with followers between 5,000 and 25,000. This is as opposed to macro-influencers who have 25,000 to 100,000 followers, and top influencers with more than 100,000 followers.
This post will cover using micro-influencers, then I'll share 10 micro influencer email templates. include social influencer marketing examples along with 10 templates.
These influencer marketing examples, however, does not guarantee success because one has to ensure long-term sustainability.
With an increasing number of brands producing quality content, standing out becomes a real challenge.
So, how to beat the competition and expose your brand to a larger audience?
Influencer strategy is a good solution. The effectiveness of this strategy has been supported by numerous facts; for example, content shared by influencers receives 16 times more engagement than the direct advertisement from a brand or paid advertisement.
Influencer advertising is also the fastest-growing online customer-acquisition method, according to a survey by Tomoson.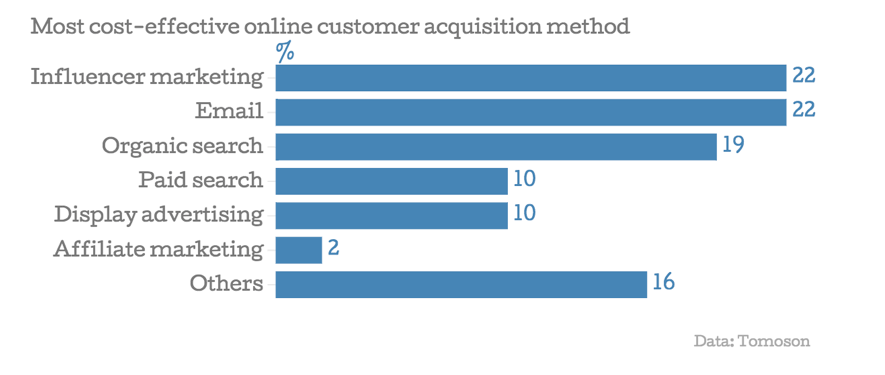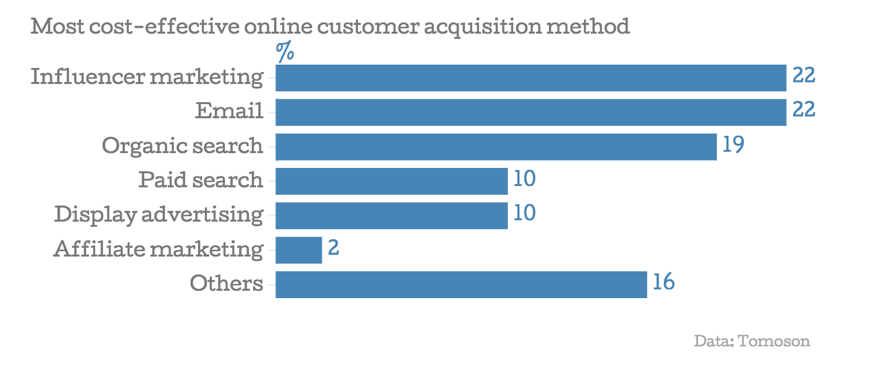 Source: Tomoson
Clearly, influencer marketing strategy is super-hot now, so you should definitely consider making it a part of your content. It is a time-consuming process that often requires a lot of work, so many marketers fail to provide consistent results.
We're going to show you how not to fail by taking a smart approach to influencer outreach. It involves ten excellent micro influencer email template you can steal.
Hopefully, these influencer marketing examples will help you connect with top minds in your target industries.
Before I get into the different types of influencer marketing examples, let's discuss the Influencers Marketing statistics. Here, you'll see how important influencers are in improving your brand. 
Influencer Marketing Statistics

1

Go with the new marketing Trend

Influencer advertising is being used by nine out of ten brands.

It is past time to begin exploring these social media influencer marketing examples if you do not want your brand to be put behind.

Regardless what field you work in, there is almost always at least one person that is a good match for your specifications. You can always find an influencer locally that can help promote your brand.
2

Higher Engagement

Yep, it does sound amazing to be collaborating with people who have a hundred of thousand followers on social media, but don't get wrapped up in the hype of statistics that don't actually matter. Rather, look for individuals that have a large, interested number of followers who are active in their local communities.

Influencers with larger followings are likely to have an involvement rate of approximately 3.6 percent compared to those with smaller followings.

An 8.8 percent interaction rate is observed among those who have 1,000 to 5,000 followers. Because of the 5 percent difference, individuals are 5 percent more inclined to take any action in response to an influencer's post about your business on Facebook.

The fact that you are collaborating with a smaller number of influencers can give you greater confidence that your target market will interact with the sponsored content.
3

Greater Earned Media Equivalence

Collaborating with social media influencers is essential if you want to raise the profile of your business, improve sales, or simply get your company's name out into the public eye in any manner possible. Other marketing strategies do not have the same level of social media value as this one.

Nonetheless, the most key point to remember from these social media influencer marketing examples is to tackle this marketing strategy in a strategic manner so that you do it effectively.

Earned media equivalent of $18 per $1 spent can only be achieved by collaborating with the appropriate influencers in the appropriate location.
7 Reasons Why Influencer Marketing Helps Grow Your Business
Reason 1: Increase the effectiveness of your content strategy
One of the many advantages of influencer advertising is it allows you to add more depth and variety to your content marketing strategy.
Sharing other people's content can help you fill in the gaps in your own content schedules that have been missed.
In the event that you do not have the chance to form fresh content on a regular basis, this is a great solution. Simply sharing the influencer's content will allow you to publish quality content on your social media pages.
Reason 2: Reach Your Target Audience in an Efficient Way
Creating a collaborative effort with appropriate influencers will ensure that your material is disseminated with the individuals who are most interested in seeing it.
You won't even be spending much money on advertising to reach your target demographic.
Because their followings are made up of people of all ages, the influencers would be able to conduct this work on your behalf.
Reason 3: Increase your credibility
It is already established that influencers have earned the respect of their audience. They do not have to exert more work in order to persuade others to trust them; your information can earn trust almost immediately.
They would very certainly come up with an idea that was even more compelling than yours.
Reason 4: Generate Leads That Are Relevant
It doesn't matter whatever niche you're in, successful influencers always create leads. They are in charge of developing their own social media strategy.
Influencers, like everyone else, have their own specialty. It is what distinguishes them from others.
As a result, if your field is closely connected with that of the influencer, they may be able to successfully produce relevant leads for both you and them.


Reason 5: Enjoy Long-Term Advantages and Benefits
Social Media Influencer marketing tips has a number of long-term advantages. A good working connection between a business and an ambassador can go a long way.
It is likely that you will be participating in events and driving collaborative enterprises in the near future.
Reason 6: Take Advantage of Limitless Sharing Via the Web and Social Media.
This is one of the best advantages of influencer campaigns. The content is never limited.
You have complete freedom to share the collaboratively created content with the ambassador any time you want.
You can re-share it on other social media sites and on your site on a regular basis in order to gain new subscribers.
Reason 7: Target Millennial and Generation Z Consumers 
Both generations, the millennials and generation z, are active on social media sites. Influencer strategy will help you in reaching out to both groups.
Different types of influencer marketing strategy, in particular, helps you to reach people who are interested in seeing the material you create.
You will have a far broader reach to all millennials and Generation Z clients in this manner.
Because the majority of influencers' followers are from gen Z, you may expect a large audience to support your influencer campaign.
How To Build An Influencer Marketing Strategy
1

Identify Influencers in Your Niche

You're probably well aware of who the main players are in your industry, yet you must track down and follow these influential people in order to know what they are discussing about.

Influencers can be found in a variety of places, but social media is the most convenient.

Search for discussion by topic to see who is participating and who is getting their message heard. Follow significant people and look into who they are following in return.

Participate in regular discussions about concepts in relation to your business.

Alternatively, you can make use of online tools like Leadfuze. 

LeadFuze is a software solution that helps you build lists of accurate leads automatically, while integrating with sales outreach tools to allow you to contact those freshly verified leads.

One of the key things that drive the success of micro-influencers, and something we've already briefly mentioned, is their authenticity. It makes sense then, that the most effective types of influencers are those who are existing fans of your brand.

Their followers are already aware of their love for your products.

The most effective types of influencers are those who are existing fans of your brand. Click To Tweet

These types of micro-influencers will be even more influential as their content will be just like the rest of your everyday customers, meaning their content — and your products — are especially relatable.

A study conducted by Olapic found that 56% of respondents were more likely to purchase products after they've seen them featured in a relatable or positive photo from other customers.

Brands like Glossier, and Australian online retailer Billy Sixes, have managed to successfully promote their brands by turning everyday customers into valuable brand reps. And in the case of Billy Sixes, simply by studying their Instagram followers, identifying those with the right number of followers (15,000), and reaching out to them for photo shoots — one campaign reached an audience of 200,000 purely from influencer posts.

Even better is that it's likely you won't have to put in a huge amount of effort to convince them to become an advocate either.
Other strategies to find influencers include:
Use Hashtags – Hashtags are a really valuable tool to find influencers who are operating within your target demographic and industry. You can use these on sites like Instagram and Twitter to access pools of potential influencers. And the more specific to your brand you get with your hashtags, the better.
2

Engage the Social Engagers

In order to become a highly effective and acknowledged influencer in their area, many people believe that they must communicate with a huge population as possible. In fact, it's more complex than this.

In blog influencer program, it is not just about engaging a great number of people, but about targeting the appropriate ones.

After all, if you want your ideas to gain momentum, you'll need at the very least the endorsement of other professionals in your industry to make them a reality.

  The very first influencer marketing tips you should do is sharing content by other influencers.

According to the concept of reciprocity, when you show interest in other people's content, they are more inclined to show curiosity in your stuff.

It's important to remember that reach is not at all like impact. It is more crucial that your material reaches the appropriate audience than when it reaches a large number of people.
3

Choose the Most Appropriate Platform for Your Campaign

The most well-known influencers connect their material across many platforms such as Instagram, Twitter, Facebook and other sites. Each network is best suited to a particular set of formats, tactics, and viewers.

This should be taken into consideration when developing your brand influencer marketing plan.

The best choice if you'll focus only on one social media site is Instagram (particularly if you're marketing to the millennial generation), but there are other choices as well.

On top of photographs and stories, it also offers a shop feature that helps easier customers to purchase items easier. 
4

Make content that Are Uneasy to Decline 

You'll have the most success with a blog influencer program approach that includes guest posting or developing material for the influencer's page—- only if you give ideas which the influencer can't turn down.

Develop concepts that target important hashtags and fill holes in influencers' material to produce irresistible content for them.

Choose low-competition phrases that are often sought for and enter a topic or phrase connected to the influencer's field. This method will assist you in providing access to the influencer that will assist them in driving traffic to their page.
5

Utilize Every Influencer Connection to Its Full Potential

Don't pass up any opportunities to connect with an influencer when you've developed a connection with them.

Instead of merely posting a picture to sell your brand, let them make a video, write a story, or include it in an engaging poll.

Bring the influencer to an occasion and have them create content about it. You could even invite them to participate on future initiatives, turning them into a brand ambassador that's loyal in the process.

10 Email Templates and Influencer Marketing Examples for Outreach
1

The Initial Email
Let's say you've put together a list of prospective influencers to help you improve your content marketing approach. The main goal of the first message you'll write them is to determine their availability and fees, not to encourage them to work with you straight away. Here's a good example:
Hi [name],
This is [your name] from [your business]. I have been following your work for quite a while now and I have to say that many of your posts really resonated with me.
For example, I found [title of the post] helpful because [the reason]. Moreover, I thought that this post could also be helpful for my own audience as well, so I shared it with my social media followers.
I wrote this email to get in touch because I wanted to discuss [topic] a bit more, and see if we could collaborate on something similar in the future.
Does this sound like something you would be interested in? If so, I would really love to get in touch and begin a collaboration that would bring value to both our followers.
Best Regards,
Easy, right? No pressure. This email is great because it explicitly states the purpose and makes it clear that the collaboration with you will be mutually beneficial.
2

The Follow-Up Email
A follow-up email is recommended if you did not receive a response to your initial email. Just don't become a spammer and send too many follow-ups.
For example:
Hi [name],
This is [your name] from [your business] once again. I've sent you a message last week hoping we could start a mutually beneficial partnership.
I thought you'd be interested in working with me because [reasons]. Please let me know if working something out.
If you want to see what I can do, here are some of my projects – [links to projects here].
Best Regards.
3

Curation Request
The practice of asking an influencer to contribute to your material is a viable method of establishing a partnership with them.
Here's how to do it:
Hi [name],
Can I feature you in my upcoming blog article?
Currently, I'm writing a post about [topic] and I'm looking to reach out to all experts on this topic. Your expertise will be valuable to this project. Also, I will mention your business as well, so this partnership will be mutually beneficial.
4

The Beta Test Message
This is an influencer marketing template asking the influencer for feedback on what you're working on. An incentive in this case is a slot on your beta testing team.
Here's an influencer marketing email template for this:
Hi [name],
A month from now, we're planning to launch a tool called [name], which allows influencers like you to better understand the needs of their social media audience. Would you be interested in testing and reviewing [name of the tool]?
There are some great benefits in this for you. For example, you'll get an opportunity to use the tool for free for a year and [more benefits].
Don't hesitate to let me know if you're interested.
Best Regards,
5

Guest Blog Message
The following blog influencer marketing template will improve the process of contacting bloggers.
Hi [name],
My name is [name], from [organization].
I have been following your work for quite a while now, and I was wondering if I could write an article for your blog on [topic]. It seems to me that no one has covered this topic on your blog for a long time.
I'm an expert in [topic], so I think I could be a great contributor. For example, here are some examples of headlines that could be interesting to your readers:
[examples of headlines].
Please let me know if you're interested.
Best Regards,
6

The "We Featured You" Message
If you happened to mention an influencer you would like to work with in a recent video or blog article, it's your obligation to let them know.
Here's an example for your influencer marketing script:
Hi [name],
I have been reading your articles on your blog and I think they're great. You provide a lot of helpful tips on social media marketing, so I mentioned them in an article I've written:
[title of the article and URL].
I was wondering if you could check it out and provide some feedback. You clearly have more experience in this area, so your feedback would be much appreciated.
Thank you in advance,
7

The Expert Roundup Message
In addition to gaining more followers, working with multiple influencers can help you build a stronger reputation.
The greater the number of trustworthy individuals you have on your team, the more trustworthy your brand appears to potential clients.
A roundup piece is an excellent approach to highlight your team's accomplishments.
Here's an influencer marketing email template to ask influencers to provide a quote on your tool or article:
Hi [name],
Hope all is well. We at [company] love reading your content. Especially, we appreciated [titles of articles/videos] because they helped us to [reasons]. We were wondering if we could ask you a question.
One of our current projects is an expert piece on social media marketing, so we're looking to get a small quote (several sentences) from professionals in this field.
So, here's our question:
Experts say that social media marketing requires a strong content strategy. What is your most effective strategy for creating popular content?
We would love your feedback on this! It will be included in that expert piece.
Thank you in advance,
8

The Affiliate Marketing Message
Partnering with businesses to promote their products or services is the basis of affiliate marketing programs. The most important thing to remember in this situation is to select an influencer whose goals are compatible with your own.
Here's how you can address them:
Hi [name],
We at [company] have been following your blog [name of the blog] for quite a while. Your content is great and we often use your advice to improve our own social media marketing.
We're writing this message because we think you would be a perfect ambassador for our brand [name of the brand]. Would you be interested in cooperation?
We would supply some products that you could test and demonstrate your target audience how their small businesses can advance their Facebook marketing.
As a thank you, we will provide an affiliate code to earn some money.
If interested, please reply to us to call us at [number].
Looking forward to hearing from you.
9

The Sneak Peer Message
Influencers are often interested in trying out new things, so if your company is set to debut a new product or service, many of them will be eager to try it out. You may assist them in staying on top of the competition by providing them with early access to a product or service before it is made available to the general public.
Hi [name],
I'm reaching out to let you know that we're launching a new [product/service] next week. We thought that you would like to be the first to know.
Want to get information when it goes public?
Best Regards,
10

The Event Invitation Message
Influencers love events. For brands, it is a perfect opportunity to gather multiple influencers in one place and let them know what your product/service/brand is all about.
Here's an influencer marketing script:
Hi [name],
My name is [name], from [company]. I would like to invite you to the 2018 Social Media Marketing Conference hosted by our company. We begin [date] at [time]. The focus of this year's conference is [topic].
Since we have limited passes for bloggers, I have sent you this invitation because you work in the social media marketing industry.
Please let me know if you're interested. We want all attending bloggers to write about their experience at the conference.
Best Regards,
Tools for Influencer Outreach
Conclusion
Hope these examples of influencer marketing will increase the effectiveness of your outreach effort. Just don't forget to personalize every message and make it about them instead of about you. Ultimately, these Influencer Marketing Examples will help you create a sweet email that sets you up for success.
Contributions:
This post was put together in collaboration with Lucy Benton, a marketing specialist at ProWritingPartner, and Steve Hill, the Director of Bag Workshop,  
Editors Note:
Want to help contribute to future articles? Have data-backed and tactical advice to share? I'd love to hear from you!
We have over 60,000 monthly readers that would love to see it! Contact us and let's discuss your ideas!