Influencer marketing is a trending topic in content marketing. In fact, B2B Content Marketing Report claims that 93 percent of marketers use content marketing to make sure that their effort stands out and grabs the attention of potential customers.
As social media becomes more intrinsic to marketing, so too has it brought around new ways to attract, reach and influence an increasingly wide customer base. And micro-influencers are making things much easier.
Landing a celebrity to wear or promote your product was once the PR scoop of the century. Now the rising profiles of social media influencers have made reaching wider audiences that much more accessible.
In fact, 2017 saw 36% of marketers invest £3,598.80 in influencer marketing. This year, 38% of marketers are predicted to invest anywhere between £17,994.25 and £35,988.50 for similar campaigns.
But as bloggers and vloggers have risen in number and following, including them as part of our marketing strategies has become the norm. They've started to become celebrities in their own right. With the ability to demand more money for their influence and time.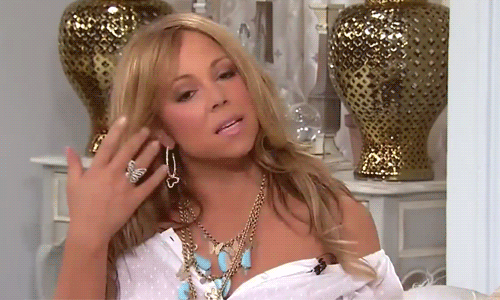 So, as a small business, how are you going to get your foot on the influencer ladder?
This is where micro-influencers come in.
Micro-influencers are celebrities in their own right, but with a significantly lower number of following. Micro-influencers are those with followers between 5,000 and 25,000. This is as opposed to macro-influencers who have 25,000 to 100,000 followers, and top influencers with more than 100,000 followers.
This post will cover using micro-influencers, then I'll share 10 influencer marketing email templates. include influencer marketing examples along with 10 templates.
This strategy, however, does not guarantee success because one has to ensure long-term sustainability. With an increasing number of brands producing quality content, standing out becomes a real challenge.
So, how to beat the competition and expose your brand to a larger audience?
Influencer Marketing
Influencer outreach is a good solution. The effectiveness of this strategy has been supported by numerous facts; for example, content shared by influencers receives 16 times more engagement than direct advertisement from a brand or paid advertisement.
Influencer marketing is also the fastest-growing online customer-acquisition method, according to a survey by Tomoson.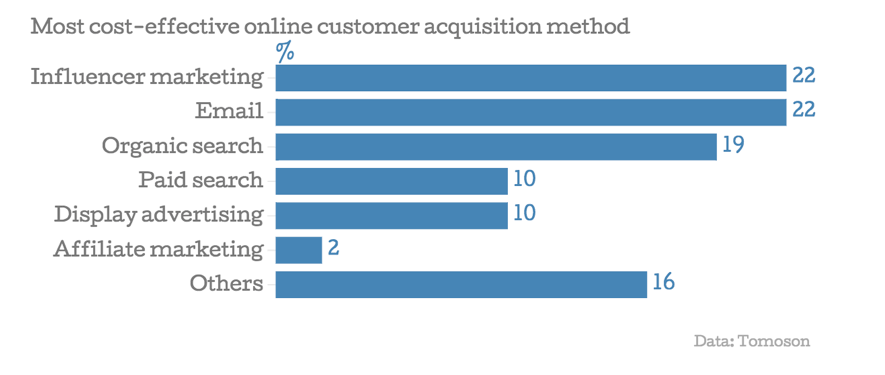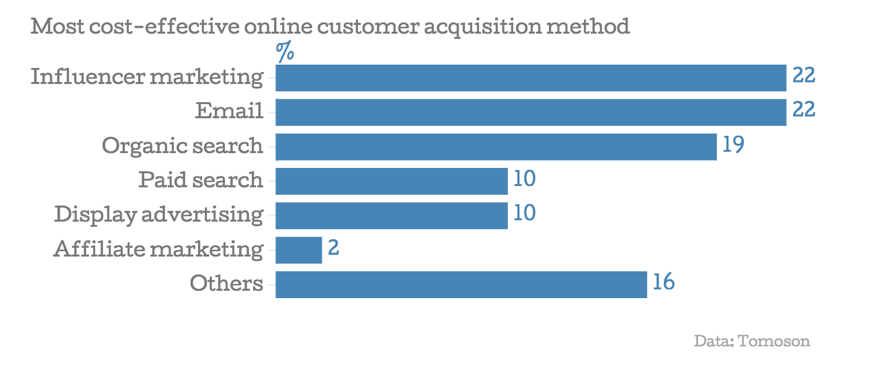 Source: Tomoson
Clearly, influencer marketing is super-hot now, so you should definitely consider making it a part of your content strategy. It is a time-consuming process that often requires a lot of work, so many marketers fail to provide consistent results.
We're going to show you how not to fail by taking a smart approach to influencer outreach. It involves ten excellent email templates use you can steal. Hopefully these influencer marketing examples will help you connect with top minds in your target industries.
Before I get into the influencer marketing examples, lets discuss using micro-influencers in your marketing.
Flipping the Funnel: Micro-Influencers as the Next Gen Influencer
But do micro-influencers work as well as their counterparts with a larger following?
The short answer is definitely.
The long answer has a lot to do with how consumers are becoming increasingly savvy to traditional marketing tactics.
Usually, it would make sense that the more leads you generate, the more sales you will gain. By targeting macro-influencers, you are marketing directly to their large followings, presenting you with a large number of leads to potentially convert further down the line, or, further down the funnel.
However, marketing isn't just a numbers game.
Although macro-influencers do have a lot of followers, which may see your brand, the likelihood of them actually engaging with it is relatively low. Influencers, like Kim Kardashian, with more than 10M have a rate of 1.6 percent interaction with their posts, which continues to drop as the follower count rises.
This is because consumers know that these celebrities only engage with these brands due to paid sponsorship, and as such, are less likely to trust their recommendations.
With micro-influencers, this funnel is flipped.
Micro-influencers have a small but highly-engaged, targeted following (top of the funnel). Their followers often relate to them, and their lifestyle, on a personal level — rather than just an aspirational one. Making their followers much more likely to not only engage with their posts on a regular basis, but actually follow their recommendations through to purchasing.
In fact, 82% of consumers are highly likely to follow a recommendation by a micro-influencer. Micro-influencer campaigns also have 60% higher campaign engagement rates than those with much larger followings.
Bigger Is Not Always Better
It's not the size that counts, but how you use what you've got.
Higher Engagement – As opposed to the 1.6% engagement rate of influencers with 10 million followers, micro-influencers have an average engagement rate per post of 8%. This higher engagement is extremely valuable across social media, especially if you want to convert a lead into a buying customer.
Cost-Effective – Surveys show that those with 2,000 to 100,000 followers charge between £98.35 and £185.21 per post, but that number goes up as soon as they hit 100,000 followers (almost £287.14 per post). This is as opposed to £107,676.06 to £179,459.63 of much bigger accounts.
Reach a Niche Demographic – Micro-influencers are more likely to attract and engage with a niche audience. They then get a following who is genuinely interested in the content they post, rather than voyeuristic followings of celebrities.
Authenticity – Because of this, micro-influencers come across as more authentic. They appear to believe in the products they've got, and integrate them into their lifestyle for utility rather than money — resulting in much higher rates of conversion.

Actionable Strategies to Start Working with Micro-Influencers
Given the power they have to push your brand in front of a more qualified audience, micro-influencers are a valuable addition to your campaigns. Although trends come and go in this industry, we mean it when we say 2018 is the year of the micro-influencer.
If starting to work with micro-influencers sounds overwhelming, here are some actionable strategies to get you started.
Finding Micro-Influencers
LeadFuze is a software solution that helps you build lists of accurate leads automatically, while integrating with sales outreach tools to allow you to contact those freshly verified leads.
Turn Customers into Advocates
One of the key things that drives the success of micro-influencers, and something we've already briefly mentioned, is their authenticity. It makes sense then, that the most effective types of influencers are those who are existing fans of your brand. Their followers are already aware of their love for your products.
The most effective types of influencers are those who are existing fans of your brand.
Click To Tweet
These types of micro-influencers will be even more influential as their content will be just like the rest of your everyday customers, meaning their content — and your products — are especially relatable.
A study conducted by Olapic that found that 56% of respondents were more likely to purchase products after they've seen them featured in a relatable or positive photo from other customers.
Brands like Glossier, and Australian online retailer Billy Sixes, have managed to successfully promote their brands by turning everyday customers into valuable brand reps. And in the case of Billy Sixes, simply by studying their Instagram followers, identifying those with the right number of followers (15,000), and reaching out to them for photo shoots — one campaign reached an audience of 200,000 purely from influencer posts.
Even better is that it's likely you won't have to put in a huge amount of effort to convince them to become an advocate either.
Other strategies to find influencers include:
Use Hashtags – Hashtags are a really valuable tool to find influencers who are operating within your target demographic and industry. You can use these on sites like Instagram and Twitter to access pools of potential influencers. And the more specific to your brand you get with your hashtags, the better.
Have Micro-Influencers Tell a Story
If you really want to get noticed on people's social media streams, a simple product photo ain't gunna cut it. If you want people to really engage with and become aware of your brand, and by that we mean go out of their way to notice your product and research your brand, your influencer needs to create a strong story around your brand and product.
A unique story, told as part of your influencer's ongoing narrative, will reach and resonate with far more people. Whether it is a review of their experiences using your product or service, or a personal story sharing how your product has alleviated a pain point — the more personal a story is, the more believable it becomes.
Foster Long-Term Relationships
Creating ongoing campaigns, in which you return to the same influencers, builds up trust in your brand in both your influencer and your customers. What this means, is that your influencer is more likely to promote you above other brands. And their followers begin to build up trust and positive associations with your product — converting them into repeat customers.
Keep in touch with your influencers and they could open up even more opportunities for you in the future.
Have a Multi-Channel Approach
Take, for example, Rinck Advertising's campaign for Daily Cocktail and Wholly Guacamole. They reached out to bloggers who have a strong Twitter and Facebook following, and whose blogs contextually fit their campaign.
When these bloggers published new content, they promoted it on Twitter, Facebook, and Pinterest. Some even provided blog giveaways. That is a lot of exposure for a couple of brands investing in the right bloggers. This campaign eventually resulted in Daily Cocktail and Wholly Guacamole reaching millions of people.
Since micro-influencers promote their own brands, partnering with them means your brand can benefit from their following on various platforms.
Allow for Organic Content
We understand that your brand image is precious, but it is important that you don't micromanage your influencer's content. As the more authentic their content is to their own voice, the more relatable, and believable it appears.
Give your influencer's guidelines, but try not to restrict them in how they promote you.
E.L.F cosmetics have had a great track record in successfully utilising micro-influencers to grow their audience. And they've done so, largely, by letting the influencers they use create their own content.
Last year, E.l.f. Cosmetics brought 50 beauty bloggers — all of whom had an average of 1,500 followers — to San Francisco and allowed them to pick new products. These individual influencers then created and disseminated unique content across their channels. Doing so drove the brand's ethos of authenticity forward — alongside a 25% increase in Instagram followers.
The Early Brand Gets the Best Influencer
Audiences are becoming increasingly skeptical of social media marketing. Micro-influencers are an effective way to harness the power of social channels. All without damaging your brand reputation, or sinking your resources.
Micro-influencers can provide you with better results. However, setting up and running a micro influencer campaign does usually require more time and effort on your part. For sustainable results, you should work with multiple influencers at one time. Just ensure that you keep a focus on detailed metrics to track your KPIs.
For sustainable results, you should work with multiple influencers at one time.
Click To Tweet
Micro-influencer marketing is quickly going to become the worst kept secret of the marketing industry. You want to get a head start on those early leads? Start reaching out before your competitors snatch them up.
10 Email Templates and Influencer Marketing Examples for Outreach
Email #1: The Initial Email
Let's suppose you've compiled the list of potential influencers that you can use to enhance your content marketing strategy. The main purpose of the first message that you're going to send them is not to persuade them to work with you right away but to determine their availability and rates.
Here's a good example:
Hi [name],
This is [your name] from [your business]. I have been following your work for quite a while now and I have to say that many of your posts really resonated with me.
For example, I found [title of the post] helpful because [the reason]. Moreover, I thought that this post could also be helpful for my own audience as well, so I shared it with my social media followers.
I wrote this email to get in touch because I wanted to discuss [topic] a bit more, and see if we could collaborate on something similar in the future.
Does this sound like something you would be interested in? If so, I would really love to get in touch and begin a collaboration that would bring value to both our followers.
Best Regards,
Easy, right? No pressure. This email is great because it explicitly states the purpose and makes it clear that the collaboration with you will be mutually beneficial.
Email #2: The Follow-Up Email
If you did not receive a reply to the first email, sending a follow-up is a good idea. Just don't become a spammer and send too many of follow-ups.
For example:
Hi [name],
This is [your name] from [your business] once again. I've sent you a message last week hoping we could start a mutually beneficial partnership.
I thought you'd be interested in working with me because [reasons]. Please let me know if working something out.
If you want to see what I can do, here are some of my projects – [links to projects here].
Best Regards,
Email #3: Curation Request
A popular method to start a partnership with an influencer is to ask them to contribute to your content.
Here's how to do it:
Hi [name],
Can I feature you in my upcoming blog article?
Currently I'm writing a post about [topic] and I'm looking to reach out to all experts on this topic. Your expertise will be valuable to this project. Also, I will mention your business as well, so this partnership will be mutually beneficial.
Email #4: The Beta Test Message
This is a message asking the influencer for feedback on what you're working on. An incentive in this case is a slot on your beta testing team.
Here's an example:
Hi [name],
A month from now, we're planning to launch a tool called [name], which allows influencers like you to better understand the needs of their social media audience. Would you be interested in testing and reviewing [name of the tool]?
There are some great benefits in this for you. For example, you'll get an opportunity to use the tool for free for a year and [more benefits].
Don't hesitate to let me know if you're interested.
Best Regards,
Email #5: Guest Blog Message
The following template will improve the process of contacting blogs.
Hi [name],
My name is [name], from [organization].
I have been following your work for quite a while now, and I was wondering if I could write an article for your blog on [topic]. It seems to me that no one has covered this topic on your blog for a long time.
I'm an expert in [topic], so I think I could be a great contributor. For example, here are some examples of headlines that could be interesting to your readers:
[examples of headlines].
Please let me know if you're interested.
Best Regards,
Email #6: The "We Featured You" Message
If you happened to mention an influencer you would like to work with in a recent video or blog article, it's your obligation to let them know.
Here's an example:
Hi [name],
I have been reading your articles on your blog and I think they're great. You provide a lot of helpful tips on social media marketing, so I mentioned them in an article I've written:
[title of the article and URL].
I was wondering if you could check it out and provide some feedback. You clearly have more experience in this area, so your feedback would be much appreciated.
Thank you in advance,
Email #7: The Expert Roundup Message
Benefits of working with multiple influencers include more followers and a better reputation. The more reliable people you have on your team, the better your brand looks in the eyes of potential customers.
Roundup post is a good way to showcase your team.
Here's how to ask influencers to provide a quote on your tool or article:
Hi [name],
Hope all is well. We at [company] love reading your content. Especially, we appreciated [titles of articles/videos] because they helped us to [reasons]. We were wondering if we could ask you a question.
One of our current projects is an expert piece on social media marketing, so we're looking to get a small quote (several sentences) from professionals in this field.
So, here's our question:
Experts say that social media marketing requires a strong content strategy. What is your most effective strategy for creating popular content?
We would love your feedback on this! It will be included in that expert piece.
Thank you in advance,
Email #8: The Affiliate Marketing Message
Affiliate programs are collaborations between bloggers and businesses to promote a product or a service. The most important thing here is to find an influencer whose goals are aligned with yours.
Here's how you can address them:
Hi [name],
We at [company] have been following your blog [name of the blog] for quite a while. Your content is great and we often use your advice to improve our own social media marketing.
We're writing this message because we think you would be a perfect ambassador for our brand [name of the brand]. Would you be interested in cooperation?
We would supply some products that you could test and demonstrate your target audience how their small businesses can advance their Facebook marketing.
As a thank you, we will provide an affiliate code to earn some money.
If interested, please reply to us to call us at [number].
Looking forward to hearing from you.
Email #9: The Sneak Peer Message
Influencers love new stuff, so if your brand is about to launch a new product or service, many of them will love to check it out.
You can help them stay on top of the game by offering an early access to product/service before it goes public:
Hi [name],
I'm reaching out to let you know that we're launching new [product/service] next week. We thought that you would like to be the first to know.
Want to get information when it goes public?
Best Regards,
Email #10: The Event Invitation Message
Influencers love events. For brands, it is a perfect opportunity to gather multiple influencers in one place and let them know what your product/service/brand is all about.
Here's a template:
Hi [name],
My name is [name], from [company]. I would like to invite you to the 2018 Social Media Marketing Conference hosted by our company. We begin [date] at [time]. The focus of this year's conference is [topic].
Since we have limited passes for bloggers, I have sent you this invitation because you work in social media marketing industry.
Please let me know if you're interested. We want all attending bloggers to write about their experience at the conference.
Best Regards,
Tools for Influencer Outreach
Final Thoughts
Hope these templates will increase the effectiveness of your outreach effort. Just don't forget to personalize every message and make it about them instead of about you. Ultimately, this'll help to create a sweet email that sets you up for success.
Contributions:
This post was put together in collaboration with Lucy Benton, a marketing specialist at ProWritingPartner, and Steve Hill, the Director of Bag Workshop,  
Editors Note:
Want to help contribute to future articles? Have data-backed and tactical advice to share? I'd love to hear from you!
We have over 60,000 monthly readers that would love to see it! Contact us and let's discuss your ideas!