Influencer marketing is a trending topic in content marketing. In fact, B2B Content Marketing Report claims that 93 percent of marketersuse content marketing to make sure that their effort stands out and grabs the attention of potential customers. This post will include influencer marketing examples along with 10 templates.
This strategy, however, does not guarantee success because one has to ensure long-term sustainability. With an increasing number of brands producing quality content, standing out becomes a real challenge.
So, how to beat the competition and expose your brand to a larger audience?
Influencer Marketing
Influencer outreach is a good solution. The effectiveness of this strategy has been supported by numerous facts; for example, content shared by influencers receives 16 times more engagement than direct advertisement from a brand or paid advertisement.
Influencer marketing is also the fastest-growing online customer-acquisition method, according to a survey by Tomoson.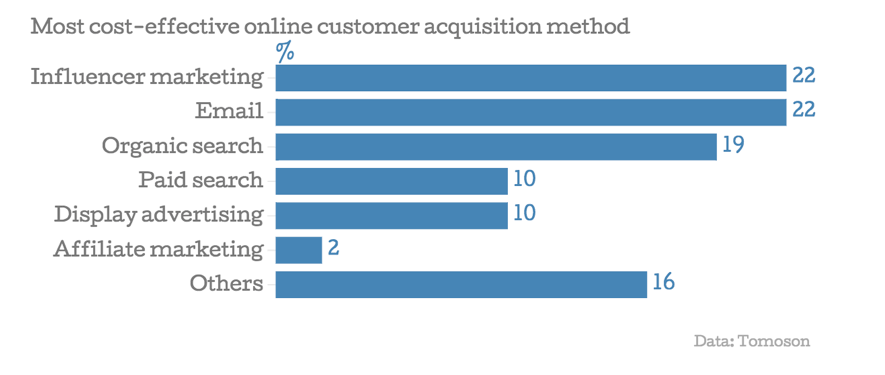 Source: Tomoson
Clearly, influencer marketing is super-hot now, so you should definitely consider making it a part of your content strategy. It is a time-consuming process that often requires a lot of work, so many marketers fail to provide consistent results.
We're going to show you how not to fail by taking a smart approach to influencer outreach. It involves ten excellent email templates use you can steal. Hopefully these influencer marketing examples will help you connect with top minds in your target industries.
10 Email Templates and Influencer Marketing Examples for Outreach
Email #1: The Initial Email
Let's suppose you've compiled the list of potential influencers that you can use to enhance your content marketing strategy. The main purpose of the first message that you're going to send them is not to persuade them to work with you right away but to determine their availability and rates.
Here's a good example:
Hi [name],
This is [your name] from [your business]. I have been following your work for quite a while now and I have to say that many of your posts really resonated with me.
For example, I found [title of the post] helpful because [the reason]. Moreover, I thought that this post could also be helpful for my own audience as well, so I shared it with my social media followers.
I wrote this email to get in touch because I wanted to discuss [topic] a bit more, and see if we could collaborate on something similar in the future.
Does this sound like something you would be interested in? If so, I would really love to get in touch and begin a collaboration that would bring value to both our followers.
Best Regards,
Easy, right? No pressure. This email is great because it explicitly states the purpose and makes it clear that the collaboration with you will be mutually beneficial.
Email #2: The Follow-Up Email
If you did not receive a reply to the first email, sending a follow-up is a good idea. Just don't become a spammer and send too many of follow-ups.
For example:
Hi [name],
This is [your name] from [your business] once again. I've sent you a message last week hoping we could start a mutually beneficial partnership.
I thought you'd be interested in working with me because [reasons]. Please let me know if working something out.
If you want to see what I can do, here are some of my projects – [links to projects here].
Best Regards,
Email #3: Curation Request
A popular method to start a partnership with an influencer is to ask them to contribute to your content.
Here's how to do it:
Hi [name],
Can I feature you in my upcoming blog article?
Currently I'm writing a post about [topic] and I'm looking to reach out to all experts on this topic. Your expertise will be valuable to this project. Also, I will mention your business as well, so this partnership will be mutually beneficial.
Email #4: The Beta Test Message
This is a message asking the influencer for feedback on what you're working on. An incentive in this case is a slot on your beta testing team.
Here's an example:
Hi [name],
A month from now, we're planning to launch a tool called [name], which allows influencers like you to better understand the needs of their social media audience. Would you be interested in testing and reviewing [name of the tool]?
There are some great benefits in this for you. For example, you'll get an opportunity to use the tool for free for a year and [more benefits].
Don't hesitate to let me know if you're interested.
Best Regards,
Email #5: Guest Blog Message
The following template will improve the process of contacting blogs.
Hi [name],
My name is [name], from [organization].
I have been following your work for quite a while now, and I was wondering if I could write an article for your blog on [topic]. It seems to me that no one has covered this topic on your blog for a long time.
I'm an expert in [topic], so I think I could be a great contributor. For example, here are some examples of headlines that could be interesting to your readers:
[examples of headlines].
Please let me know if you're interested.
Best Regards,
Email #6: The "We Featured You" Message
If you happened to mention an influencer you would like to work with in a recent video or blog article, it's your obligation to let them know.
Here's an example:
Hi [name],
I have been reading your articles on your blog and I think they're great. You provide a lot of helpful tips on social media marketing, so I mentioned them in an article I've written:
[title of the article and URL].
I was wondering if you could check it out and provide some feedback. You clearly have more experience in this area, so your feedback would be much appreciated.
Thank you in advance,
Email #7: The Expert Roundup Message
Benefits of working with multiple influencers include more followers and a better reputation. The more reliable people you have on your team, the better your brand looks in the eyes of potential customers.
Roundup post is a good way to showcase your team.
Here's how to ask influencers to provide a quote on your tool or article:
Hi [name],
Hope all is well. We at [company] love reading your content. Especially, we appreciated [titles of articles/videos] because they helped us to [reasons]. We were wondering if we could ask you a question.
One of our current projects is an expert piece on social media marketing, so we're looking to get a small quote (several sentences) from professionals in this field.
So, here's our question:
Experts say that social media marketing requires a strong content strategy. What is your most effective strategy for creating popular content?
We would love your feedback on this! It will be included in that expert piece.
Thank you in advance,
Email #8: The Affiliate Marketing Message
Affiliate programs are collaborations between bloggers and businesses to promote a product or a service. The most important thing here is to find an influencer whose goals are aligned with yours.
Here's how you can address them:
Hi [name],
We at [company] have been following your blog [name of the blog] for quite a while. Your content is great and we often use your advice to improve our own social media marketing.
We're writing this message because we think you would be a perfect ambassador for our brand [name of the brand]. Would you be interested in cooperation?
We would supply some products that you could test and demonstrate your target audience how their small businesses can advance their Facebook marketing.
As a thank you, we will provide an affiliate code to earn some money.
If interested, please reply to us to call us at [number].
Looking forward to hearing from you.
Email #9: The Sneak Peer Message
Influencers love new stuff, so if your brand is about to launch a new product or service, many of them will love to check it out.
You can help them stay on top of the game by offering an early access to product/service before it goes public:
Hi [name],
I'm reaching out to let you know that we're launching new [product/service] next week. We thought that you would like to be the first to know.
Want to get information when it goes public?
Best Regards,
Email #10: The Event Invitation Message
Influencers love events. For brands, it is a perfect opportunity to gather multiple influencers in one place and let them know what your product/service/brand is all about.
Here's a template:
Hi [name],
My name is [name], from [company]. I would like to invite you to the 2018 Social Media Marketing Conference hosted by our company. We begin [date] at [time]. The focus of this year's conference is [topic].
Since we have limited passes for bloggers, I have sent you this invitation because you work in social media marketing industry.
Please let me know if you're interested. We want all attending bloggers to write about their experience at the conference.
Best Regards,
Tools for Influencer Outreach
Final Thoughts
Hope these templates will increase the effectiveness of your outreach effort. Just don't forget to personalize every message and make it about them instead of about you. Ultimately, this'll help to create a sweet email that sets you up for success.