What is lead generation for accountants?
Lead generation is the strategy accountants create to attract, capture, and maintain new prospects.
Therefore, the accountant needs to identify its targeted audience to be able to structure the right formula for the company's sales funnel. The questions that need to be answered here is:
Who is your target audience?

Where can you find them?

What are the tools and software needed for lead generation?

How can you effectively generate leads and feed your funnel?
Clients, no matter the age, are becoming aware and in control of their choices, especially since the competition is getting higher and stronger than ever.
Nowadays, it has become more clear that the customer experience needs to be sophisticated in order to attract and keep customers. In order to attract them you need to fully understand who you are targeting and what keeps them motivated.
In case you don't know how to create an efficient strategy for lead generation, you risk failing in generating highly qualified leads.
In this article, we will give you the best practices in lead generation for accounting firms. In addition to Software and tools you can use to enhance your lead generation efforts. And in case you want to Outsource this we prepared a list of companies that deal with lead generation for accounting firms.
lead generation for accounting firms
You might have heard this lot of times: "Lead Generation begins with an established brand identity".
Fortunately, this is also the case for accounting firms, since having a solid brand image is the key to success in lead generation.
By building a strong brand identity, the accountant will have a place and the market what you would work on up-scaling.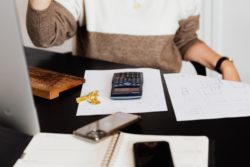 Source pixel
Therefore, the first thing an accounting firm must do is to create the company's statement, vision, message, and brand assets. Brand assets meaning logo visual stories videos and every content that you would be the attracting magnets for leads.
Most accounting firms work very hard on developing their brand identity and reputation to stick to their potential clients' minds. In addition, these efforts for creating a memorable branding would help them attract referral clients. 
The first thing an accountant has to set is their niche. After all, accountants can work on any project, but the most successful ones are those who focus on a very specific Market.
We already know that people often contact accountants to get those following services:
CPA services

Accounts payable and accounts receivable 

Financial auditing services

Debt management

Tax preparation and planning

Tax compliance

Bookkeeping services

Payroll Administration and processing
These are the most common services offered by all accountants. However, we noticed that the accounting firms performing better in lead generation are those providing their services to a specific market. 
For example, bookkeeping for small businesses in the food & beverage industry.
After setting up and creating a brand identity for the accounting firm comes a list of possible practices and marketing techniques for lead generation.
Event:
Prior to the covid-19, events were a great opportunity to generate more leads for accounting firms. 
Accountants were able to showcase their skills and knowledge, hold in person or conference briefing, and build their Network.
Among the events that had created new opportunities for accounting firms are:
Chamber of Commerce

Conferences (related to their niche)

Seminars (related to their niche)
However, with the emerging technologies, companies are hosting webinars and workshops online.
You can find good examples on LinkedIn on how to create and host a webinar for an event and how to promote it.
In addition, if you are not good at public speaking then you can choose to sponsor an online event or team up with other businesses.
Printed content:
What good of a use brand assets are if not showcased everywhere? From business cards posters, brochures, to bus stop ads, magazines, billboards…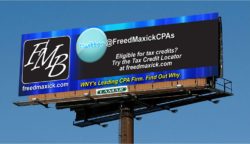 Source cpatrendlines
Outreaching for accountants is very important. Therefore, you need to stick to your audience's mind so whenever they need your services you are the one in their memory.
Most accounting firms have the ability to invest a huge budget in printed advertising. However, it's not the case for small accountants, but we will talk about other practices that they can use for advertising.
Telemarketing:
Even with the growing bad reputation of cold calling, accounting firms still rely on telemarketing for lead generation.
Whether it's internal or outsourced, B2B accounting firms find this practice the most reliable one to generate leads.
We will give you examples of telemarketing companies that performed this type of tasks for accounting firms.
Networking and partnership:
As we said earlier, networking can happen while hosting or attending events for accountants,  bookkeepers, and tax consultants.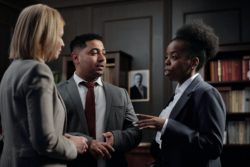 Source pixel
That is also a reliable source of referrals from networking groups like Business Network International. 
Whether you are doing this by yourself as an accountant or you hired agents to network. Being consistent and professional will bring you the best results.
Moreover, networking can help you build strategic partnerships that would bring your clients and added value.
In addition, both you and your partner will benefit from this arrangement not only in terms of quantity of leads. But also from the fact that you would be completing each other services, which means high-quality leads.
Think about ways to make your clients loyal to your accounting firm. Strategic partnership is the key to succeeding in such a goal. 
After all, who wants to waste time and effort into finding two companies that can work together to provide them with an added value. 
Try to build a partnership with companies and firms that will help you maintain your customers like lawyers, financial planners, mortgage brokers…
Inbound lead generation for accounting firms:
Source Freepik
1

Landing pages:
Most accounting firms' landing pages and websites are outdated and don't work anymore for lead generation. In fact, the majority of them don't use the set of tools needed and the proper messaging to create their landing page.
These are some of the elements to to keep in mind in creating the landing page for lead generation for accounting firms:
Gated content: These are all the continents that will contribute in attracting and capturing leads.

CTAs: Make sure your visitor knows what to do next with the proper call to action

Visuals: Since you are providing a service, visitors will want to work with people. So make sure to include your team pictures or even a stock picture.

Proof elements: Reviews, testimonials, case studies… Everything describing previous or actual clients' experience will bring referrals and more leads to the accounting firm.
2

Content:
Content is very essential for any business and the goal from it is to attract and capture new leads to the accounting firm website. 
According to your objectives, you might choose between gated or ungated content. By gated content we mean, content that the visitor cannot access without taking actions like:
Register to the newsletter

Subscribe to the website

Purchase the proposed content.
The gated content can be in many forms like ebooks, demos, trials, webinars, case studies, guides, reports… The most important thing is that they should be relevant and present an added value to your target audience who will eventually become your lead.
Other types of content include blogs and visuals like infographics and videos. Which we will see later how can they be helpful in the lead generation for accounting firms.
3

Local search engine optimization:
We all understand how important it is to rank among the top websites in search results. Sure, a great landing page and high-quality content represent a big deal of lead generation for accounting firms.
However, how did they get to your website in the first place? This is the question most accountants ask before developing their lead generation strategy.
The first thing any accountant performs before starting a business is market research. This is also applicable for the digital launch! But instead of market research, keywords targeting your customers need to be found and implemented and all of your content.
Since the services of an accountant are mainly performed locally, then local SEO is very important.
The majority of accounting firms offer their services in the state level, this means that local SEO can be helpful for them to.
This is why Most accountants need to invest and understand how local search engine optimization works.
Here are the best tips for great local search engine optimization:
Create content consistently, upgrade it and organize it.

Use keywords for your meta title, meta description, alt image, caption, messaging…

Integrate internal and external links (backlinks)
Understanding how to improve your website ranking is not that complicated! To improve lead generation for bookkeeping companies and accounting firms, you will find many guides to help with the request.
4

Pay Per Click:
Paid advertisement, especially with Google, has the highest success rate in generating leads for accounting firms.
Besides their efforts to generate leads from perfecting SEO and implementing in their websites, PPC is another way to back up those efforts. With one bringing leads on the long-term and the other with short-term results.
another feature of PPC, it gives you information about the people who clicked to your website and what triggered their actions.
This information would prove to be very helpful for your future campaigns and most importantly your email campaign.
5

Email marketing:
Email marketing as an effective tool for generating lids and engaging with your clients. Most service companies use this strategy to attract more clients to their business.
This also goes to accounting firms, bookkeeping companies, and Tax Consulting. 
However, the most irritating thing about this strategy is building an email list since it takes a lot of time and effort.
Try to use your gated content, landing page, PPC, and all tools to create your email list. Also, having a good CRM would prove to be very essential to lead generation for accountants.
In any way, you should back up your lead generation strategies with lead magnets designed to collect prospects' email addresses.
Among the technologies that can be helpful and lead generation for accounting firms:
The aim of your email campaign is to raise awareness among your targeted audience and provide them with value. 
Lead generation for Tax Consultants and accountants
Although, the practices above are applicable for all accounting firms, big or small companies, and especially for B2B companies. 
Small accountants and new Tax Consultants will not have the budget to invest in lead generation. This is why we prepared The Beginner's Guide for lead generation for Tax Consultants and accountants.
Set up your business page on Facebook and Instagram, LinkedIn profile… and start sharing content well that's having to pay for advertising.
The engagements you will receive will depend highly on the type of content you are sharing.
Therefore, make sure to create high-quality content. And why not? Get inspired from your competitors or other people in the industry. Don't forget to also share and interact with your connections.
Setting up your Google local search will help you appear in the search results. Since your clients would be looking for local providers of accounting services or tax consultancy, this listing is very effective in attracting them.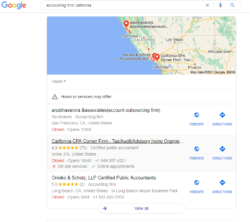 All you need to do is set up Google my business account, list your address and contact information, and use keywords for your description.
The most important thing is to collect customers' reviews, since it would be a very important part of the purchase decision for potential clients.
This showed exceptional results and lead generation for cpa in California, with 148,500 CPA competing on generating more leads.
Lead generation companies for accountants
Accountants already have a lot of responsibilities when it comes to dealing with existing clients and sorting their financial situation. This is why most of them want to outsource lead generation to professional companies.
In order to give accountants high quality leads, this requires a combination of correct strategies with the correct teams and a combination of professional expertise, tools, and experience.  
Here is a list of lead generation companies for accountants: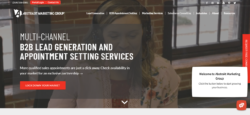 Abstrakmg is a lead generation company, providing customer partners with inbound and outbound solutions. 
It offers B2B Lead Generation, Digital Marketing, Web Creation, Social Media Management, Video Production, and Full Service Advertising Agency Solutions.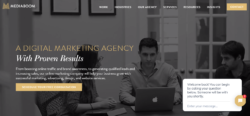 Founded in 2002, MediaBOOM, is an award-winning digital agency that transforms brand relationships into online interactions that are convincing and interactive. 
It is important to them, as a full-service digital agency, that their clients have a seamless experience with your brand.
Their services, therefore, include everything from design to manufacturing to analytics, from branding and identity to blogs, digital marketing, design and content production.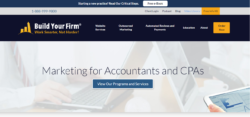 Build Your Firm is a company dedicated to the accounting industry for marketing and website creation.
They have a validated method of practice growth that helps accountants to work at higher margins of profit, realize higher hourly fees, and operate with less stress. It offers:
Website development (offers include: Essential/ Niche/ Custom)

SEO and Internet Marketing Exclusively for the Accounting Industry

Outsourced Marketing program: Providing the clients with a tailored goal analysis of their market prior to starting the program.
Niche Development For Accounting Practices

Content marketing

Lead generation: Installation of a lead magnet on your site/ Install Google analytics on your website/ Setup custom recurring newsletter with your mailing list/ Access to coaching on social media, content marketing, and reputation management
Tips on how to get leads for accounting firms
Choose your niche for lead generation
When it comes to targeting potential customers, many accounting companies take a generalist approach. 
Many consumers would, however, be searching for a unique range of services in search of an accountant. 
You'll have an easier time convincing potential customers to hand over their contact details if you can tailor your lead generation activities to concentrate on particular markets or specific concerns that your organization is willing to solve.
For example, you can construct a campaign targeted to small business owners who need payroll services in the food and beverage industry. And a separate campaign targeting freelancers who need tax support. 
The aim is to let your prospective customers know that you understand their specific problems and that you provide those services.
In addition, you can develop any number of targeted advertisements to achieve your desired goals, based on the services you provide and the type of customers you want to attract.
Therefore, each strategy, such as blog posts, newsletters, or pay-per-click advertising, should have its own special marketing materials.
Constantly update your gated content
Even though accounting firms create guides and reports that can last for a long time, those types of content needs to get updated.
This gives the company a newer and fresher look, which allows it to attract more leads and perform better for older and existing clients.
Make use of lead generation software
Automated software and tools are very important, no matter how big or small your company is. After all, you don't want to send the wrong message or follow-up to the wrong lead.
Especially, if you have so many prospects in your sales funnel, manually following up on them is simply impossible.
According to the accounting firm's lead generation strategies, you will be able to determine which software you will need the most.
Here is a list we prepared for you to make lead generation easier for accountants, tax consultants, and bookkeepers 
Accounting software lead generation
The capture and distribution of lead data from online networks should become automated by lead generation software.
First the visitor will come to your website, take action by your proposed CTAs, and enter their information. This is why a CRM database is essential for your company to record and manage this amount of information.
There are three types of lead generation software:
Automation: Tools that perform the same tasks related to lead generation. Such as finding, researching, assigning, nurturing, capturing leads. We can mention lead generation tools.

Integrations: There are plenty of integrations which require you to give access to your information. This means that they cannot function without being connected to your system.

Analytics: To measure how many leads your system captures, lead conversion rates, and other results you need the proper metrics installed and why not key performance indicators.
Here are the most popular types of lead generation software:
Lead segmentation:
LeadFuze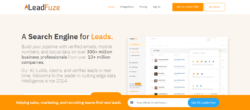 LeadFuze is a cloud-based software that helps businesses leverage artificial intelligence (AI) technology to generate leads and streamline marketing operations.
The software automatically provides a list of potential prospects, which can be utilized by marketers to retrieve leads' contact information.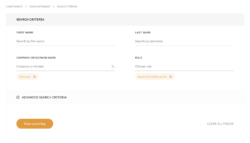 Enterprises can use LeadFuze to prevent duplicate entries across the list and receive prospects' personal and business emails to improve outreach campaigns.
Additionally, users can search for candidates based on various criteria such as new partnerships, expansions, skills or staff changes.  
It facilitates integration with various third-party CRM and application tracking systems (ATS) such as Salesforce, Hubspot, Mailshake, Pipedrive, Zapier and more.
Landing page and web form creation:
EngageBay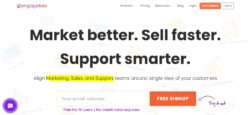 EngageBay is an integrated marketing, sales, support and CRM solution designed to help small to midsize enterprises acquire, engage and convert website visitors into customers.
The cloud-based platform lets businesses use marketing tools to build relationships with customers and retain them for a lifetime.
Features of EngageBay include email marketing, landing pages, live chat/helpdesk, ticketing, telephony, appointment scheduling, contact management and more.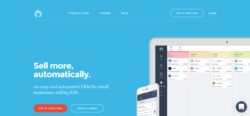 Salesflare is an intelligent CRM and email outreach platform used by thousands of small and medium-sized B2B businesses, who want to sell more with less work.
It automates the data entry users would normally have in a CRM by gathering data from social profiles, emails, calendars, phones, company databases, and professional email signatures.
The customers use its CRM primarily to generate and follow-up leads at scale, assisted by its sales tracking and automation features.
Also, it has built-in email tracking, capabilities for sending personal emails at scale, lead scoring, social integrations, sales analytics, and an automated address book.
Moreover, the software focuses on accelerating B2B sales. And its clients are marketing agencies, software companies, startups, consulting companies, commercial real estate agencies, non-profits, pharmaceutical, and manufacturing companies .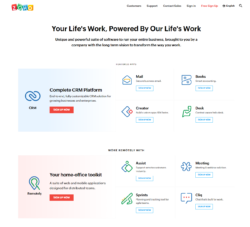 Zoho Social is a cloud-based social media management platform. It allows users to manage multiple social channels, schedules posts and monitor keywords.
Its key features comprise creating, publishing, bulk scheduling, content sharing, team collaboration, reporting, monitoring, unified messaging, stats and analytics and live streaming.
In addition, it has a real-time social media monitoring tool allowing users to monitor keywords, hashtags and discover new leads on managed brands. 
Additionally, the platform enables users to schedule posts depending on the active audience. 
In summary:
Lead generation for accounting firms or lead generation for tax consulting firms have practically the same techniques, but with different messaging.
For more effective results in lead generation, a mix of all the practices and tools is necessary to increase the chances of getting leads.
Editors Note:
Want to help contribute to future articles? Have data-backed and tactical advice to share? I'd love to hear from you!
We have over 60,000 monthly readers that would love to see it! Contact us and let's discuss your ideas!