Telemarketing is often overlooked and sometimes frowned upon because let's face it, sometimes it can be very annoying. However, if you do telemarketing lead generation the right way, it will certainly help you create a healthy stream of sales opportunities.
In this article we will find out if telemarketing lead generation is truly worth doing. We will walk you through the steps of becoming a successful telemarketer.
We will also provide you the tips, strategies and tools you will need to be on top of your game.
Telemarketing Lead Generation
Telemarketing lead generation is basically gaining leads through telemarketing.
These leads are generated through cold calling, sending emails, or through face to face conversations. It's usually when customers are called for the first time without any knowledge of whether they have an interest in the product.
The outcome of leads generated by telemarketing may vary. This type approach is very direct and immediate.
The downside to this is the fact that many people hang up on telemarketers or see them as down right annoying.
Why Choose Telemarketing Lead Generation?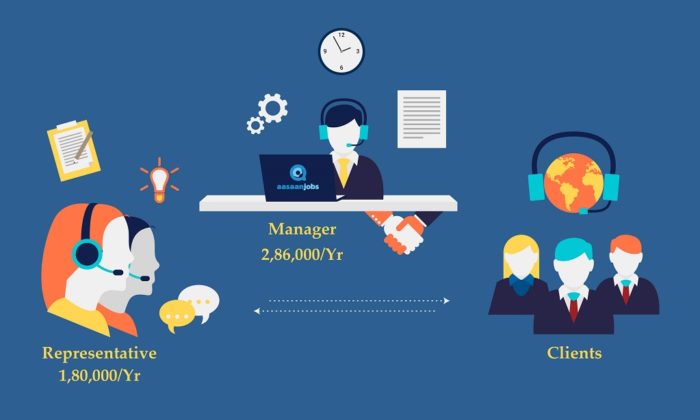 (Image Soruce: Asanajobs)
Telemarketers develop a connection with customers which you cannot do with plain messaging or email marketing.
Telemarketing provide a more personal and interactive approach.
Telemarketing help successfully reach out to customers.
It is a lot easier for a telemarketer to maintain contact with a customer and do follow ups.
Telemarketers bring qualified leads which will increase sales.
Telemarketers are trained on how to approach customers with their tone of voice, proper attitude, and knowledge of the company. 
They will be representing your company during these calls and as they are speaking with your customers, you can assure that they are putting their best foot forward in every call.
5 Tips for Successful Telemarketing Lead Generation
1

Have a Plan

Do lots of RESEARCH. I cannot stress this enough. Research your target market, it's type, it's size, and whatever you think would be vital for outreach. 

Don't just go around calling everyone. Choose a target market and study them.

Plan a good strategy on how to approach your customers.  Organize your leads. With using LeadFuze for lead generation, you can group them accordingly so you'd know where to focus on.

LeadFuze will help you choose the best and the most specific leads through market based search. Here, you can group your leads easier.
Need Help Automating Your Sales Prospecting Process?
LeadFuze gives you all the data you need to find ideal leads, including full contact information.
Go through a variety of filters to zero in on the leads you want to reach. This is crazy specific, but you could find all the people that match the following: 
A company in the Financial Services or Banking industry
Who have more than 10 employees
That spend money on Adwords
Who use Hubspot
Who currently have job openings for marketing help
With the role of HR Manager
That has only been in this role for less than 1 year
Just to give you an idea. 😀
2

Build a Good Relationship with your Customers

First of all KNOW YOUR CUSTOMER'S NAME. Listen to your customers. Show that you are taking note of their wants and needs and that you can provide. Customers appreciate those who can relate with them and talk to them in a polite and casual way.

Stay professional even when its hard to. Customers often find telemarketers annoying and so you always have to be the bigger person especially when they say no.

Customers who have good experience will come back which is why it is important to establish a good rapport.
3

Use a Good Script
Create a script that works. Impromptu calls don't always end well, so make sure you have a good script that you can follow.
In addition, practice your script, listen to it and think from a customer's perspective. Do you think it's enticing enough? Use your script as a basis for your call but don't just rely on it.
Not all customers are the same and so a lot may deviate from the script and that's okay. Be creative. Practice with a friend or a co-worker, they can help you gauge the flow of the call.
4

Deal With Bad Calls
 It won't always be smooth sailing, a lot of times you'll encounter bad calls, and that's okay. Don't take bad calls too personally. Move on and go to the next.
Take these calls positively. Take them as a learning experience and do better next time.
5

Be Prepared
Aside from your script and research, the most important thing that you should prepare is yourself.
Take everything you need. Do research on the customers, on the company and its offers. Make sure you know them like the back of your hand so when you're faced with unexpected questions, you know what to do.
With preparedness comes confidence. Shake off your anxiety by practicing your script. Breathe and stay calm. 
ERP Software for Lead Generation Telemarketing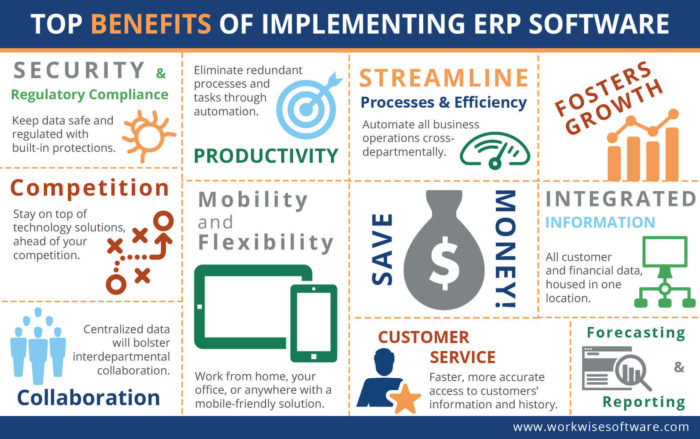 (Image Source: WorkWise)
Enterprise Resource Planning or ERP, is an all-in-one type of software used by businesses to  organize and manage their daily activities.
This software manages financial management, project management, and so on. 
Telemarketers can sometimes overlook important details, managing a number of excel sheets with customer information can be confusing at times. With ERP, it is easier to track a customer's information. 
ERP provides Data Privacy.A lot of personal and confidential information are needed for telemarketing and so storing them somewhere safe is a must. With ERP's data privacy, you won't need to worry about competitors getting a hold of the information you hold.
This software helps in various departments such as financing, manufacturing, sales and marketing, customer and client relationship, and many others.
Which industries need ERP systems?
Businesses in different industries that could use the help of an automated ERP platform to create more efficiency for organizations to focus on their business-critical goals include:
Manufacturing industry
Distribution industry
Professional Services
Retail
Construction
Industrial Services
Healthcare
Advantages of ERP System
1. It Offers Total Visibility: ERP software allows complete access to every important process in your business by making data from every department easily accessible to you and other members of the management.
2. It Provides Improved Reporting and Planning: When and ERP suit is installed and integrated across departments this automatically gives your organization a single, unified reporting system for every process.
Through this, an ERP system can easily generate useful reports and analytics at any time. The software also gives you the ability to analyze and compare functions across departments, without the stress of multiple spreadsheets and emails.
3. It Provides Flexible Modularity: Most ERP come with several applications that can be implemented together according to a business specific needs. Each application is designed to be able to stand alone or integrate with the larger suite.
This gives your company the opportunity to pick and choose which components work best and can leave out what you don't need.
4. It Improves Efficiency: An ERP can greatly reduce the time and effort required by your workforce to carry out their daily activities. And if properly implemented, an ERP solution can  eliminate repetitive manual processes and free up team members to focus on revenue-affecting tasks.
5. Customer Service: It gives your sales team the ability to focus on building and maintaining customer relationships instead of focusing on spreadsheets.
Disadvantages of ERP System
1. When you invest in a traditional ERP system, the cost of purchasing the license is  often too high. 
Even the cost of the software alone can be excessively high, especially for small-to-medium-sized businesses.
2. After purchasing the software, the implementation process and maintenance fee can cost much higher.
3. Customizing your software to meet the desired company requirements can take a lot of time, effort, expertise and money.
4. ERPs are in fact complex systems and takes a lot of training to use effectively.
How to Ensure Quality Telemarketing Lead Generation

(Image Source: Soffront)
In other to improve the quality of your leads, and increase sales you must do the following:
1. Have a Killer Marketing Strategy
With all the methods in the world, you need to pick out the ones that will suite your business. Have well thought out plans and strategies that you will be executing with your team. 
2. Use Lead Scoring
Lead scoring is a process of ranking a lead's interest level and sales readiness based on a methodology agreed upon by marketing and sales. Companies can score leads in a variety of ways by assigning points and implementing rankings like "hot," "warm," or "cold." Or A, B, C, or D.
" In an Eloqua study of 10 B2B companies using lead scoring systems, on average, deal close rates increased by 30 percent; company revenue increased by 18%; and revenue per deal increased by 17% "

In an Eloqua study of 10 B2B companies using lead scoring systems, on average, deal close rates increased by 30 percent Click To Tweet
3. Commit to Nurturing Leads
Lead nurturing is the process of building relationships with qualified prospects regardless of when their decision to buy, with the goal of earning their trust.
" A 2010 Forrester Research study found that companies that excelled at lead nurturing were able to generate 50% more sales-ready leads at a 33% lower cost per lead than other companies. "

A 2010 Forrester Research study found that companies that excelled at lead nurturing were able to generate 50% more sales-ready leads Click To Tweet
4. Create A Marketing-Sales Feedback Loop
Communication between sales and marketing teams is crucial, especially for B2B companies with long, complex sales cycles.
B2B marketers can't wait until a sale is complete to assess lead quality because the data will be so old it can't be used to actively manage a real-time lead generation program.
By reporting in a closed loop, marketing is able to send more information to sales (such as additional lead intelligence), and sales is able to provide feedback and sales activity reports to marketing.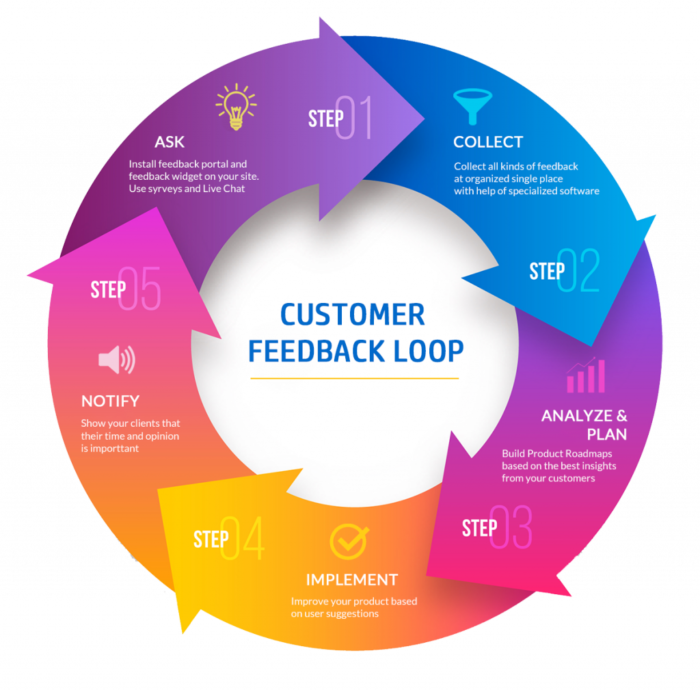 (Image Source: UserResponse)
5. Use Marketing Automation Software
Automating the nurturing and scoring of leads in your funnel is fairly simple to understand. A marketing automation platform provides invaluable analytics and measurement necessary to improve lead quality.
It also provides an overview of how each of your leads behaves in the sales funnel and how your marketing programs are affecting lead generation, sales and, most importantly, revenues. For best results, integrate your CRM system with your marketing automation platform.
What are the Best Practices of B2C Lead Generation
Any business that wants to generate leads would do well to practice effective lead generation through inbound marketing. Here are few strategies to generate leads :.
1. Content Marketing
You have to generate lots of content that engages the right audience, keeps them interested, and provides enough value so targets move to landing pages of the business website.
Good quality content gets the following:
Attract targeted visitors to their sites
Engage visitors and entice them to provide their contact information
Allow marketers to nurture leads on a personal level
Promote social sharing, which brings in more leads
Improve brand awareness and trust
2. Build a Good Website
Your website should be a lead generation tool in itself. All content you post elsewhere should drive people to your site, where lead generation will occur.
And if your SEO strategies are effective, traffic comes from organic searches. Here is a list of functions that your website should have to generate leads:
If you rank well in SEO results, inbound traffic comes – your job then is to hold them there.
Grab attention as soon as visitors hit your landing page
Have forms that are easily completed with as few fields as possible, yet enough to use in your nurturing process. Have a goal for each form on your site – a valuable  download, an email/newsletter subscription, etc.
Provide a blog as a source of great information, entertainment, stories, etc. Engage with visuals and videos amidst broken text.
Create engaging calls to action for your conversion buttons. The words "Click Here" are boring. Entice with something like "Get Your Guide Now." Your goal is to give the visitor a reason for clicking the button.
3. Build Email Lists
When you already have conversions from visitors if they have signed up for your mailing list, you must use these leads in your email campaigns to nurture those leads through the process of becoming a customer. Your email campaigns can do two important things:
Build relationships with existing subscribers so they stay with you and choose you when they are ready to purchase.
Provide shareable content that your leads will then send out to their communities and generate more leads.
Here are just a few tips:
Give your subscribers share buttons within each email
Use CTA's to drive readers to landing pages for value that you offer (only one per email).
Create subject lines that scream "Open Me." This is surely an art, but one that you must master.
4. Adopt SMS Marketing
If you have a lead's phone number, you have already achieved a great conversion. Ensure to send a quick text message regarding some news of value that you are offering, along with a link to the landing page to get that value, they are far more likely to link over to you.
" Research is now showing that texts are far more widely read than emails. They are fast and recipients can respond just as fast."
5. Make good use of Your Landing Pages
Your website may have several landing pages, dependent upon where the visitor is "inbounding" from. You can optimize your landing pages by doing the following:
Connect with that visitor within the first few seconds. What value or benefit are you offering? Make it attractive and a means by which that visitor can solve a problem.
Each landing page must be for a specific purpose. Visitors who want a "how-to" video are not the same visitors who want a list of websites on healthy diets. Making multiple landing pages takes work, but having a single, generic lead generating page with multiple purposes will turn people away – fast.
Make your landing pages very simple. The visitor has landed there for a purpose. Provide the value, present the lead form, and leave it at that. Design should be minimal with only what is required, and yet it should be attractive and at least contain your logo and brand name.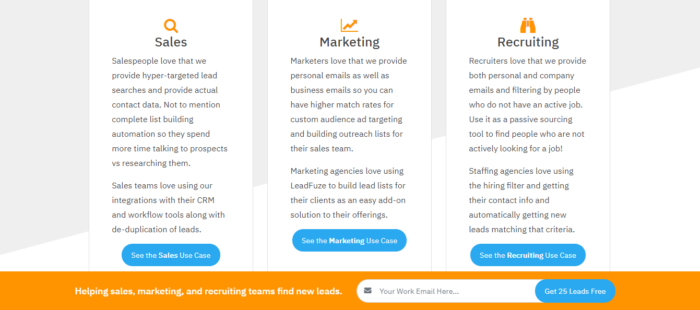 (Image Source: LeadFuze)
In short, restate the problem to be solved, present the solution (download, etc.), show the value, and deliver what you promised. Include a privacy statement and any guarantees that might generate more trust.
6. Deploying Social Media Marketing
If you have been in the marketing business for any time at all, using social media is a no-brainer. It is how you develop relationships, followings, and shares. It is also a lead generation tool, because it drives traffic to your site, specific landing pages, and your blog.
Marketers who utilize social media to promote products and services fail while marketers who use social media to build trust and relationships succeed.
Create shareable content. It can be humorous, inspirational, provide value of some sort, etc. – posts must be something that readers want to share.
Use the right platforms. You cannot be everywhere. Choose carefully based upon the research of where your demographic is.
Post at the right times.
Track the popularity of your posts and the amount of inbound traffic you are getting from them. Google Analytics will provide the reports for you.
Advantages of Telemarketing Lead Generation
If properly utilized, telemarketing can improve your business tremendously. It is an efficient method of acquiring  more realistic and significant business contacts, and is also one of the most effective marketing tools.
Below are some of the advantages of Telemarketing lead generation:
1. It Reduces Operational Costs
Telemarketing is an affordable method for businesses to generate leads, promote and sell products and services.
It is also a cost effective method for updating the customers, carrying out market research and survey, and many other important business processes.
When telemarketing is outsourced, It is much cheaper than other marketing methods.
2. It Helps to Boosts Your Sales
Through Telemarketing and application of proper techniques to boost sales, you can sell any products or services efficiently.
Telemarketing can boost your sales tremendously as long as you are doing it right and you use the use the right telemarketing techniques
Some research showed that  one percent of cold calls ultimately convert into appointments. Meanwhile, other research shows that 78% percent of decision-makers have made an appointment or even attended an event because of an email or cold call.
3. It Provides More Interactive Sales Service
You can create an instant rapport with your prospect through telemarketing. This is most effective when you use actual human as your sales caller rather than chatbots.
This is because customers are more at ease and the trust can be built when they speak with you and their questions are directly answered.
 Based on AI stat news, it was stated that 86% of consumers prefer humans than chatbots.
From observation, Sales calls are rarely ignored when it is directed towards the potential customer.
It is much easier to build a strong customer relationship as a Telemarketer. You can get an idea of the prospect's personality and understand the potential clients much better by speaking with them. And then you can now identify how they can make an actual purchase. 
4. It Can Expand Your Business Reach
Another benefit of telemarketing is that you can easily expand your business. Telemarketing allows you to contact and reach customers at a distance. The ability to sell from a distance, far away from your business location, can increase your sales and enable you to reach more prospects.

5. It Gets You Immediate Feedback on Products and Services
Telemarketing allows you to get instant feedback from your customers on how interested your customers are with your products or services.
It is also effective in helping you discover more about the experience of a client with your brand. These feedback in form of comments and suggestions can help you build a strong relationship with them since it makes them feel that you care enough to call.
In addition to this, you can actually begin to work on the areas of improvement of your products and services based on the feedback you got. Initiating a direct contact with your customers gives you an instant response from them and this in turn puts you ahead of the competition. 
Disadvantages of Telemarketing
Telemarketing obviously has its own set of challenges. It begins with the fact that there is no guarantee that the people listed will accept a telemarketer's call or the products the telemarketer is promoting.
Also, it is another sad truth that telemarketers must deal with some customers who assume any telemarketing offer to be a scam, especially if the person has registered his number with the Federal Communications Commission's Do Not Call list.
Below are some of the disadvantages of telemarketing.
Lately, an increasing number of people dislike telemarketing and avoid telemarketers at all cost.
In Telemarketing, you do not have a visual or physical contact with the customer.
Today, more people have resorted to using latest technology to screen out unwanted callers. Therefore as a telemarketer, you stand a chance of getting blacklisted.
The Government also keeps implementing tougher measures in order to curb unscrupulous telemarketers.
If you choose to hire an outside firm to do your telemarketing, you will have lesser control in the process, because the people doing the calls are not your employees.
Conclusion
Telemarketing is one of the most overlooked methods of lead generation but one of the most effective. Despite its bad reputation with most customers, it can be successful if done the right way.
Telemarketing is a skill you can adopt to improve your sales and make your company grow tremendously. It is not so hard to learn, the more you practice the better you become.
As a telemarketer you should bear in mind that you can achieve your goal of driving in more leads by using the best telemarketing strategies and tools.
Editors Note:
Want to help contribute to future articles? Have data-backed and tactical advice to share? I'd love to hear from you!
We have over 60,000 monthly readers that would love to see it! Contact us and let's discuss your ideas!