Not all lead generation companies are able to provide commercial roofing businesses with high-quality leads. 
For this reason, we crafted this guide for you. Whether you have a new commercial roofing business or you're having troubles generating leads, this is for you!
What is the difference between residential and commercial roofing lead generation?
The difference between commercial and residential roofing lies in the form and materials more than the function. 
When it comes to roofing, the services for residential and commercial are practically the same. To list a few of them, we have roof:
Installation

Repair and maintenance 

Inspection
However, the dimensions of roofing projects are quite different since the size of commercial roofing projects and budget is more important.
Whereas residential roofing projects are not as lucrative and big as commercial projects. This is why the type of leads is not the same for those two.
For residential roofing lead generation, the tools and practices are endless! From simple face-to-face meetings and email marketing to local SEO, search engine marketing, and social media ads…
Despite the fact that the number of leads for residential roofing can be enormous, it will depend on seasons and how the business's reputation.
Adding that you can find a lot of roofing businesses located in each state, which means more and more competitors for each project.
But people and real estate companies are still building more residents each year. 
Since 2019, the housing units authorized but not started yet reached 1 870 000 units. Adding to the huge number of 13 860 000 units that are only authorized in permit-issuing places. 
Now, this is only for one year of residential permit authorization which results in more leads over the course of the next few years.
Getting B2C leads is much easier than B2B leads. Here is where the difference between Commercial and residential lead generation lies. 
We gathered around some of the best pro tips for commercial roofing businesses to adopt or improve for lead generation purposes.
Local SEO
As for all commercial roofing businesses, this is the first thing you should do! This is an easy tactic to generate more leads and guarantee your online visibility.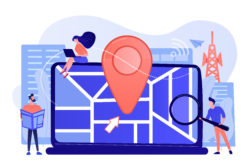 Source Freepik
Among the sites where you should list your business are:
Yelp

Google MyBusiness

Google Maps

Facebook

Yellow Pages

Craigslist

HomeAdvisor

Porch

Angieslist

Thumbtack
Why those sites? Well, on these sites you will gain reliability and credibility. 
First of all, the online user will do some research on the websites listed above in hopes of finding commercial roofing business. 
For sure, you will have to include a description of your business and the type of work you can do. Otherwise how else will the leads know whether you provide the services they need or not.
Also add your updated contact information, this way they can reach you if they have any inquiries or they decided to hire you.
Nevertheless, asking your client to leave you feedback and reviews on these listings whenever you finish a project is also helpful .
Those reviews will enhance your credibility and fuel referrals to your commercial roofing business.
In addition, make sure to offer your client information about all the sites where your business is listed so that they leave you reviews.
It is important to have customer reviews since 68% of consumers are encouraged to use local businesses from reviews.
Likewise, reviews will help reach more potential customers and grow your online reputation as a commercial roofing business.
Online Channels
Now another thing you can do is focus on website design. The more effort you put on a converting design, the more leads you will get.
Therefore it is essential to pay attention to every detail, and why not check what your competitors are doing best. See which ones have the most visited website and get insights for your design.
These are the options you might have to think about when sketching your website design:
Name of the company (logo) and contact information (especially phone number) should be large and placed at the top

In one paragraph explain the services you provide, benefits, and previous projects

Give an offer that the client can't refuse "Free inspection" or "5 years maintenance for free"

Showcase your projects with video or images, and don't forget to add testimonials and reviews to your website

List down your suppliers, partners, and certifications to give strength to your brand, in addition to the materials you use for commercial roofing.

Make sure your call-to-action (CTA) is clear and can assure retention and conversion which we will explain even further.
Here is an example of highly responsive commercial roofing websites: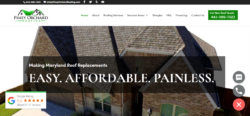 We can never insist enough on CTA since they are a powerful tool in commercial roofing lead generation.
Optimizing your calls-to-action will keep your lead generation efforts cost-effective. Meaning your landing page will be able to sustain its visiting rates and convert leads into buyers thanks to CTAs.
There is a whole science behind the CTA design, we can mention a few of them:
Clarity

Timing

Placement 

Friction or motivation
A well-designed CTA doesn't only stand out on the landing page, but it keeps the website able to convert new users.
So keep experimenting and find out which CTA works best in lead generation for your commercial roofing website.
How can we forget about social media?
Social media platforms generate organic and well-targeted leads. For commercial roofing businesses, having their brand on different social media platforms will boost their reputation.
Even if you are wondering how a B2B business has anything to do with social media. Well, we're here to tell you that those business owners are human. 
They have social media presence, and if they stumble upon your social media page, that's a lead for you.
Moreover, setting up those accounts will be of great use if the lead needed more information or visuals to make their decision.
Facebook is one of those platforms that showed a lot of success in lead generation. You can list your contact information and even Google localization on there.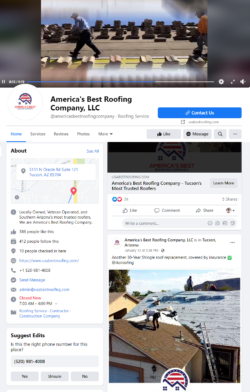 Among other things you can do to improve your Facebook page are:
Visuals (images, videos, articles…) 

Links to company website and client's website

Mention of your services in the "About"

CTAs (contact us, message us, chatbot)

Comments, reviews, recommendations
In case you are planning a social media ad campaign, these tweaks will serve you well.
Although, Facebook is not as popular as LinkedIn for B2B lead generation. 
LinkedIn is the B2B business platform, where you can easily find leads for commercial roofing.
You can easily reach B2B leads with any demographic or occupational metrics on LinkedIn. The most important aspect you need to put effort to is the profile.
It should be as close as it can be to a sales page with a great bio that includes the commercial roofing services.
Important hack: Even though the type of employees you want won't be available on LinkedIn, it won't hurt to list your job proposal on the platform.
If you want more insights and inspiration, take a look at this incredible LinkedIn profile.
Content Marketing for Website and Social media
What distinguishes you from other commercial roofing businesses is your content. 
However, this is not another guide for what type of content you should post. But rather how can you communicate what you can do best.
Generally speaking, the majority of commercial roofing companies do not use the same:
Qualifications or experts,

Materials,

Techniques,
They have something unique that another company does not offer. So figure out what is yours?
Once you have done that, your whole branding strategy should focalize on it. For example, you offer free inspection with state-of-the-art technologies.
Make your content all about these technologies and how they facilitate commercial roofing projects.
You can even rely on experts to have podcasts, video, articles focused on the services you provide within the roofing industry.
Commercial roofing lead generation is quite easy with the right content. Therefore, use whatever tools you have to create the best out there.
This will help you with local search ranking and optimize your SEO efforts which you can use as a lead generation technique.
Another thing most commercial roofers found incredibly helpful is to make content focused on their employees.
They represent, in a way, the company's brand. Whether they are already competent with years of experience or they look good in pictures, you surely need to consider them for your content.
Some companies even make their rockstar roofer showcase his work, just like in this video.
What are the best practices for Commercial Roofing lead generation?
1

Canvassing 
Door knocking might be old but still considered among the most effective ways to commercial roofing lead generation.

In-person meetings are always the best way to communicate a B2B business, especially if you are good at it.
You are the one in control of the pitch, and you know how to negotiate the terms of the contract. 
Even if you hired someone to do this for you, you will have actual clients in the end and potential leads thanks to promoting.
In the end, you have nothing to lose but a lot to gain. So don't forget to take all required documents with you like:
Business card

Leaflet

Contract

Presentation

Testimonials

And showcase
2

Trade Shows
There are tons of construction and B2B businesses events throughout the year. That means endless leads for your commercial roofing business.
Even if you choose to showcase your work in commercial roofing events, the opportunities are the same.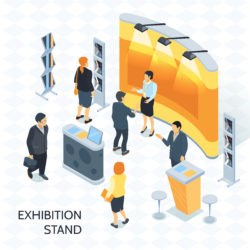 Obviously, you will be making connections and networking throughout the whole event. In addition to getting insights about what's new in the industry.
As a matter of fact, you'll be able to know your competitors, build partnerships and generate leads for future projects.
Events like these will give commercial roofing companies the opportunity to reach new leads and get new roofing contracts.
3

Partnerships
It is important for a commercial roofing company to have partners in the industry. 
The more important your partner is the more leads you are going to get. Especially from those partners with great reputation in the market.
Most leads are looking for information about suppliers more than any other information. 
In this case forming partnerships with the best suppliers in the industry will guarantee you a steady flow of leads.
4

Telemarketing and Cold Calls
When it comes to B2B lead generation, outbound marketing is the optimum tactic. 
By building or purchasing a list of B2B leads for the commercial roofing industry, the company can call them and propose its services.
The leads can be generated from social media platforms where businesses have their phone numbers. Or from listings of local businesses in the sites we mentioned before (Yelp, Google, Craigslist…)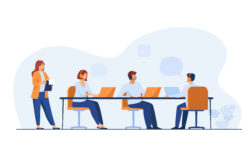 Telemarketing is still well established in the lead generation business. Especially for brands that are well known in the market.
This is why before resorting to such methods you perform an advertisement campaign so that the prospect has knowledge of you.
In addition, if you consider that the most successful cold calling campaigns are linked to the people behind the phone. Then you should probably think about hiring highly qualified salespersons. 
They should know all aspects about your commercial roofing business like:
How long would a project take?

What are the services the roofing business provides?

How many people will be on this project?

The materials, additional services, contractors…
Even if you consider outsourcing this task, the lead generation or telemarketing company should know everything about your business.
Many commercial roofing owners said that in most cases, one phone call is not enough. For reasons like the prospect is busy with his work, or doesn't have enough budget…
This is why they think that it takes more than one phone call to get a lead. So it can be time and budget consuming for the commercial roofing company.
5

Email Campaigns
Whether you have already a list of leads, or you are using lead generation tools to create one, email marketing always brings wonders.
You can find email addresses of leads using LeadFuze. 
In short, get those email addresses for commercial roofing leads with segmentation by:
Job title: In case you only want to contact seniors and business owners.

Location: Since the roofing business is local then this metric is crucial.

Industry: It matters to know what industry to figure out whether they have offices or not.

Business size: The bigger the business size is, the bigger the roofing project is.

Ad budget: It is important to know whether they have the means and budget or not.

News: In case you are looking for old or new companies then this is helpful.
Then you can easily manage your email campaign according to bounce, open, and click through rates.
It is important to realize that for commercial roofing companies the bigger the list and direct email campaign, the more expensive it gets. 
However, email marketing and cold calling guarantee to bring you at least one lead that will pay for the whole campaign.
Performance and investment are the keys to such strategies!
6

Content SEO
We all know that the first spots on Google search engines are reserved for those advertised commercial roofing companies. 
However, the organic ones matter too. And you should probably think of ways to earn your spot among them.
Creating search engine optimized content is one of the tools that will help ranking your business among the first page list.
Commercial roofing leads coming from the search engine are highly qualified since they are looking for your services.
The content you create will drive those leads to find you much easier. 
Therefore, you need to start creating visual content such as:
Pictures (with alt attributions) 

Videos (with description and posted preferably on Youtube)

Blogs (with commercial keywords and backlinks)
In addition, start investigating the best practices for creating SEO content and figure out what and when to post.
Furthermore, Keep it related, fresh, credible and reliable, otherwise all your commercial roofing lead generation efforts will go to waste.
7

PPC / SEM
Never forget that your landing page is your commercial roofing business storefront. This is why you need to figure out how to attract more to it.
PPC campaigns require careful keyword research, but it's definitely a tactic worth implementing for your website.
Therefore, you need to target keywords that are related, valuable and with medium volume to generate more leads.
You can also choose among the long-tail keywords, those who describe your commercial roofing services. 
The audience targeting technologies are evolving, even retargeting is kind of tricky but you can do it automatically. 
Let's say a commercial roofing lead visited your website but decided to leave with converting. 
This tool called Pixels are codes that detect such traffic to track and record data about this lead behavior.
Now you have successfully captured a lead, and you can personalize ads and recommendations according to his data. 
That's why we said it is important to have social media platforms since those pixels will serve your business well with ads.
Since the purchase decision takes longer for a commercial roofing lead than any other. This tactic is going to make you resonate in his mind.
Outsourcing Commercial roofing lead generation
For commercial roofing companies, the struggles of running and maintaining projects from beginning to end is a lot.
Let alone if they needed to perform all of these techniques for commercial roofing lead generation. 
This is why plenty of those companies outsource their lead generation to specialized companies.
Examples of commercial roofing lead generation businesses:
GenSales implements a strategic and comprehensive approach to the critical elements of a telemarketing campaign and is required for successful prospecting operations. their strategic planning approach ensures their clients' priorities are met through an insightful and proactive manner.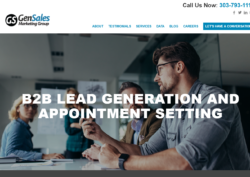 A roofing company hired GenSales – B2B LeadGen for their telemarketing services. Their goal was to acquire a consistent generation of leads. Tasks include cold calling, data collection, and appointment setting. In the end, the company received great feedback from the commercial roofing company.
Roofing Marketing Pros is a leading digital marketing agency. It focuses on providing custom assistance to commercial roofing contractors in and around Miami Beach.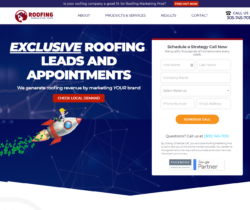 This assistance mainly consists of: 
Inbound/Outbound Calls

Sales Call Center

Lead Nurturing

Guaranteed Appointments

Google/Facebook/Youtube

Custom Landing Page
In case you have a small business, this is the best option for creating SEO content and optimized websites for commercial roofing companies.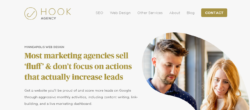 They also provide other services like:
Pay per Click

Video Marketing

Social Media Marketing

Local design/ Branding
Decide what is best for your commercial roofing lead generation efforts
Hopefully, you found this article useful in guiding you on how to generate more commercial roofing leads based on your level of performance. 
While others prefer to sit and wait for leads to fill their funnel, you have to, well, go get inspired by some of the best lead generation practices.
The best commercial roofing practitioners are increasingly discovering that access to data and lead generation software is a must, to remain competitive. It's much more accessible than it has ever been, and it makes it possible for data-driven professionals to concentrate on their roofing projects. LeadFuze feels that commercial roofing companies need support to fill their pipeline with high-quality leads. 
LeadFuze does this by giving commercial roofing contractors the opportunity to create infinite mailing lists to target potential companies in need of their services. In addition to decision maker profiles using a high-performance lead generation engine with multiple filtering criteria.
Editors Note:
Want to help contribute to future articles? Have data-backed and tactical advice to share? I'd love to hear from you!
We have over 60,000 monthly readers that would love to see it! Contact us and let's discuss your ideas!