Recruiters (aka recruiting coordinators) have a tough job. Applicants are often plentiful to just about any job. But there are some roles that need specific people with particular skills. 
And that's your job. To find the diamond in the rough seas of applications. To dig through people at other companies to find the perfect candidates, interview them and get them to work at your organization.
There are a number of ways many recruiters do their work:
Search LinkedIn for people with the right skills and background
Use software to make the online search a lot easier
And those who hit the pavement, make phone calls, hand out business cards and network in-person
To be honest, the profession of finding quality employees sometimes requires all three of these. LeadFuze aims to make each one easier for you (the recruiter). 
With LeadFuze, you can;
Find potential recruits based on criteria (role, skills, education, location and more)
Have immediate access to their contact details (phone, email, LinkedIn, Twitter, Facebook)
Keep all of the details together and keep track of all activity with a given candidate
Even search by company to see all potential candidates at a particular organization
Now, let's dive deeper into the LeadFuze app and see exactly how recruiters, like yourself, use this solution to quickly find candidates for just about any role under the sun.
Use LeadFuze for All of Your Recruiting in 7 Steps
1

Begin with the Role You're Looking to Fill
Most recruiting searches begin with a role. The role you're trying to fill likely has a similar name at different companies. For our example, I chose the real estate industry. 
The scenario: A realtor's company is growing and to continue the momentum — more agents are needed.
One way is to ask outgoing people, with no experience, to get their license. Another way is reaching out to existing agents to see if they want to make a switch. 
In LeadFuze, I simply choose "Realtor" as the group and the app automatically chooses like terms (things like "land agent" and "real estate agent"). It also keeps words unlikely to benefit you (e.g. "intern"). You'll find 10 different groups to start your role search including:
Owner/CEO
Realtor
Sales
Technology
Admin/Assistant
Customer Service
Finance
Human Resources
Lawyer
Operations
From there, you'll find hundreds of individual titles and words that help LeadFuze pull every available candidate during your search.
2

Only Search for Candidates with the Right Skills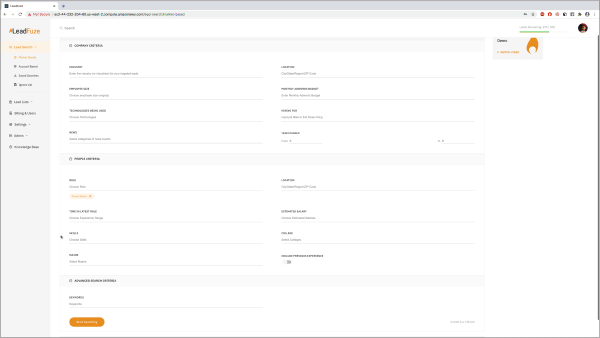 Next up on your hunt are the right skills in the individual(s) you're looking to find. And everything you can see or endorse in LinkedIn is found right inside the LeadFuze app. 
Hundreds of different skills from "friendly" to "international relations".
Important: In the app, you can toggle between including AND excluding certain skills in your search. If you want someone who has a "pharmacy" skill, but want to exclude "pharmaceutical sales" — it's easy to do.
3

Find Candidates Ready to Move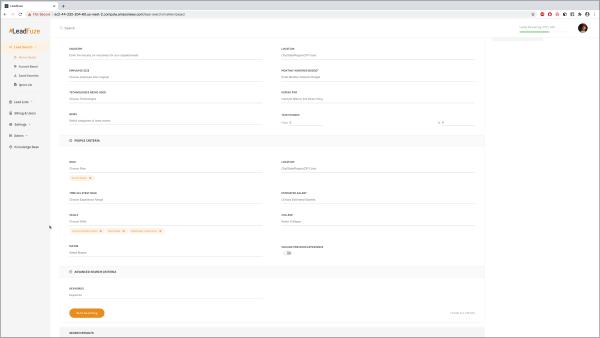 One of the "People Criteria" in LeadFuze is "Time in the Latest Role". With our real estate example, you may want to find newer agents who haven't built up a solid structure in their current location. For that, you can choose "0 to 6 months" to see agents who are licensed, but not established. 
Other positions may benefit from a longer stint and that's totally doable.
4

Search for All Important Criteria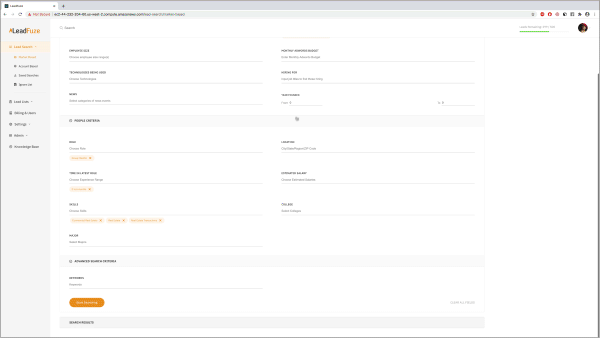 Recruiters sometimes have to fill roles by looking at all different angles. Really dig to find the best people for the job(s). For this, LeadFuze offers a number of different criteria that will really speak to you, as a recruiting coordinator.
Location: It's likely you're looking for a specific location or region for a position. City, state, etc. isn't always a factor but often is with recruiting.
Estimated Salary: If the role in question has a certain starting salary, it's good to know a ballpark of what your candidates make. 
College: Find recruits from specific colleges and universities. Wanting fresh cardiac surgeons from the top schools in the country? A quick search will give you a list of them.
Previous Experience: Sometimes people switch roles. if their current job isn't the position you're looking to fill — maybe they worked in that role before and want to go back.
Keywords: Anything you couldn't find in LeadFuze? Put things like industry terms and other keywords directly into your search.
5

Keep Track of All Potential Recruits

After you search, candidates move into saved searches and "lead lists". Setting up different lists and searches allows you to better organize your recruiting efforts. But the function doesn't stop there, at all really. 
All of those names are saved. And when you click on an individual's name, you're taken to a screen full of all the details found in the LeadFuze database. Get a closer look at each recruit and see things like:
Contact information
Estimated years of experience
Job history
Skills
Estimated salary
Interests 
Education details
These details make it really simple when you're about to reach out to them for the first time and gauge their interest.
6

Find Others at the Same Company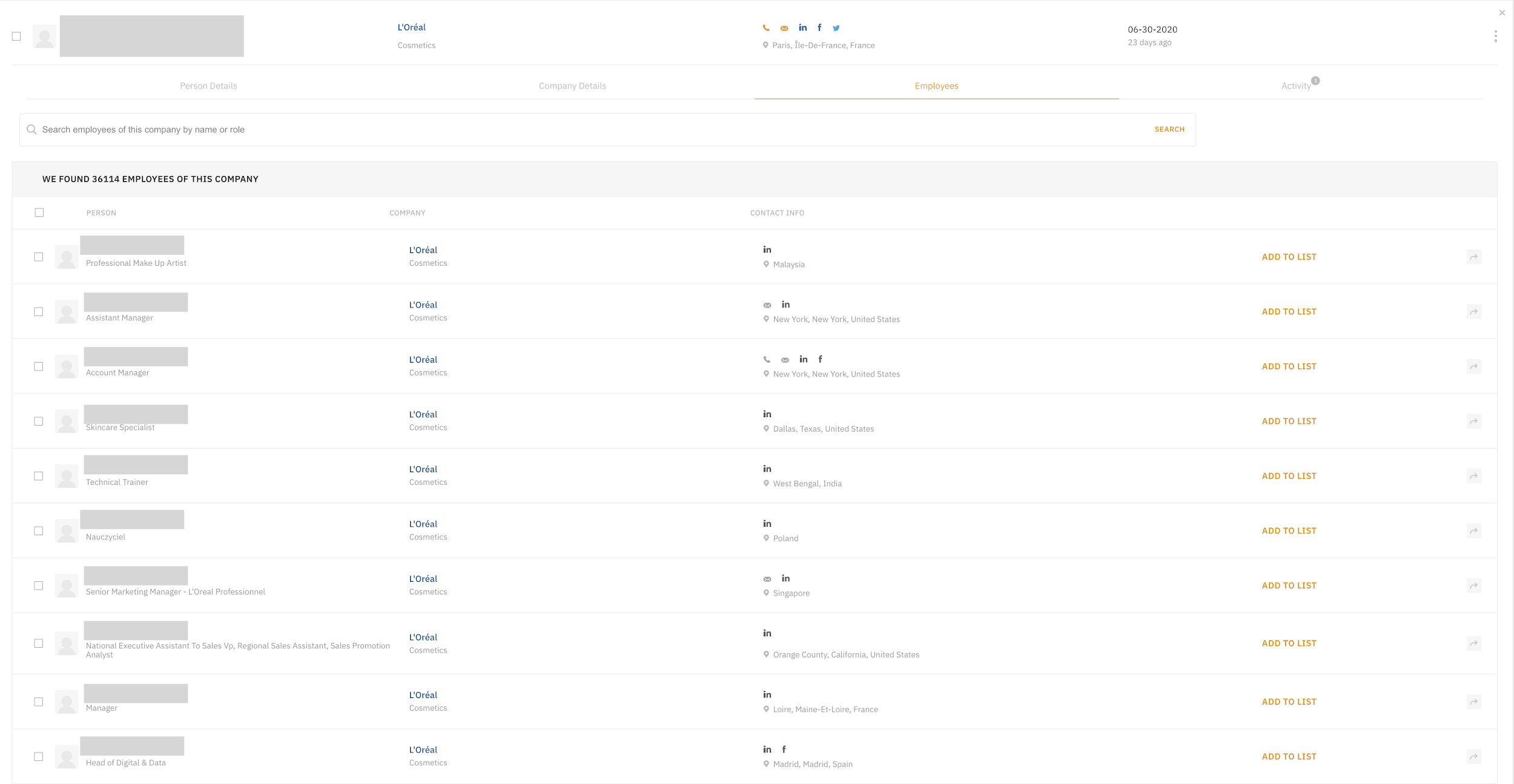 In the same individual's screen, there are other tabs that unlock some more recruiting superpowers. First up is the "employees" tab. 
Just click over and you'll see all of the employees working at the same company with your recruit. Use this to find others in the same role, fill other open positions and better build your network.
7

See All Activity for Each Recruit

Finally, all activity for each and every "lead" in your list is tracked. If you send them over to your JazzHR dashboard, the day will be tracked. Exported them as part of a CSV to add to a custom spreadsheet or CRM? That's in there too. 
This is a great feature for keeping tabs on every piece of data.
Ready to Recruit Using LeadFuze?
Don't spend countless hours scrolling through LinkedIn, asking around and going to events that you don't really want to attend.
Use LeadFuze.
Editors Note:
Want to help contribute to future articles? Have data-backed and tactical advice to share? I'd love to hear from you!
We have over 60,000 monthly readers that would love to see it! Contact us and let's discuss your ideas!