What is a Financial Advisor?
A Financial Advisor is an expert who offers consultation and advice about an entity's finances.
They help individuals and companies achieve their financial goals quickly by providing clients with strategies and ways to create more wealth, reduce costs, or even avoid debts.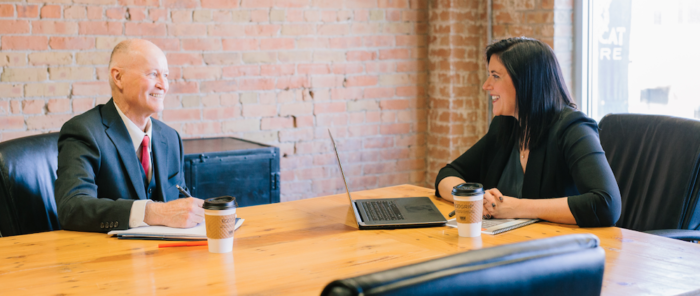 (Image Source: RobbenMedia)
It is their responsibility to help individuals by providing insight into how they can save more and increase their wealth.
It is done by designing a portfolio of investments that is suited to the client's risk attitude.
They do this effectively by asking about the client's age, income, marital status, indebtedness, or savings to have a solid understanding of their client.
A financial advisor can help companies by providing a second, neutral perspective on corporate development projects.
They embark on a risk assessment on behalf of the company, and once the financial advisor's assessment is concluded, they can then present their findings to the company's management.
They have a goal that the analysis will provide the company's leadership with a valuable second opinion.
Lead Generation for Financial Advisors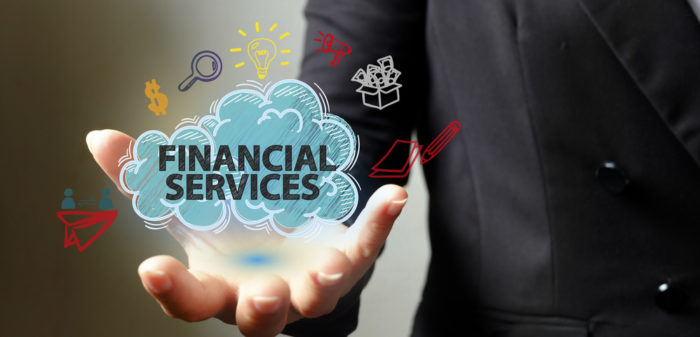 (Image Source: digitalauthority)
Lead generation is essential for any financial advisor.
To keep new qualified leads flowing in, you will need to take some steps to generate them by using both organic and paid strategies.
Financial Advisor Responsibilities:
Speaking with clients so that you can determine their expenses, income, insurance coverage, financial objectives, tax status, risk tolerance, or other information needed to develop a financial plan.

Giving reliable answers to questions from your clients regarding their financial plans and strategies and offering financial advice.

Recommending strategies to your clients regarding insurance coverage, cash management, investment planning, and other areas to help them reach financial objectives.

Studying and analyzing client accounts regularly to understand if life or situational concerns, economic changes, or financial performance necessitate changes in their plan.

Manage and update your client portfolios regularly.

Analyze financial data you received from clients to develop strategies for meeting clients' financial goals.

Prepare or interpret client's investment performance reports, financial document summaries, and income projections.

Administering financial plans or directing clients to professionals who can help them.

Contacting your clients regularly in order to find out changes in their financial status.

Build and maintain your client base.
Our Top Tips for Lead Generation for Financial Advisors
As a financial lead generation agency offering lead generation services, career advisor, wealth manager, financial planner, or any other type of financial advisor. The growth of your company depends on the leads generated.
Below are our top tips for generating leads:
1

Ensure to Have a Viable Website

It is an indisputable fact that your website serves as the source where your leads are generated.

It is a platform where potential customers come to learn more about your services.

That is why it's important to make it clean, informative, highly responsive, and easy to navigate.
2

Endeavour to Create a Blog

Make your website a source of content where prospects and customers find valuable information.
The blog must provide visitors the information they seek and show pages of your website to rank on search. 
3

Build an Email List on Your Website

It will be of immense benefit to offer your website visitors the opportunity to join your mailing list.

Therefore you must inspire people to submit their email addresses by offering content such as:
Newsletters
Helpful guides
Interactive tools
Courses
Videos
The above contents are 'lead magnets.'
They can be promoted on your website by using buttons, displays, or pop-ups that invoke forms designed to capture email addresses, and potentially, additional content information.
4

Ensure to Follow Up your Leads 

When your leads provide a phone number and indicate interest, you must ensure to follow up by calling them or you can follow up via email.

You can do this manually or more efficiently by using marketing automation software.
5

Ensure that you run Online Ads

Lead generation can be achieved by financial advisors efficiently via advertising.

It could be pay-per-click, which means you only pay when you get a click and you get analytic insights to help you get more bang for your buck as you iterate your campaigns.
6

Run Social Media Ads

Make sure to identify your target market, research the media preferences of your best prospects, and give it a go.

Social media networks such as Facebook, LinkedIn, Twitter and YouTube are all viable channels.
7

Adopt Search Engine Advertising

You can instantly position your financial services company atop page one of a search engine results page.

You can do this by using the search engine marketing programs offered via Google Ads and Microsoft.
8

by Adopting Discovery Advertising

Adoption of discovery networks, such as Taboola, allows you to place native ads in the 'recommended stories' sections of large publishers and news sites.

These can in the long run expose your financial services company to a massive audience, drive traffic to your website or landing page, and feed your sales funnel with new prospects.
9

Make sure to Build Yourself a Social Proof

In the world today, everyone turns to online reviews to get insights regarding purchases of any kind.

You must ensure that you use Yelp, Google MyBusiness and Set-up pages for these networks.

Also make sure you provide complete information about your business and do not forget to always keep them up-to-date.

Afterwards, you must earn positive reviews by asking your clients to log into these networks and post genuine positive reviews.

Also, make sure that you display customer testimonials, accreditations, accolades and anything else that helps to foster credibility and trust on your website.
10

Make sure you utilize local SEO
Since your prospective clients are going to Google information about your business, It is imperative that you adopt local SEO best practices to have your website appear when people search for financial advisors.
This you can effectively accomplish by setting up a Google My Business page which is a free listing that connects to Google Maps.
Then, all you have to do is optimize your descriptions with keywords.
" Forbes has shown that 71% of searchers will click on results shown on the first page of their Google search results. "
11

Endeavour to Meet and Keep in Touch with your Prospects who are on Social Media
You must ensure that you have accounts on reputable social media networks which serve as global platform for linking businesses with clients and potential leads. These networks include:
LinkedIn — This is an 'all business' social-media platform.
With its services, you can make introductions, build a network, answer questions, elevate your reputation as a financial services expert, interact with your partners and prospects, solicit referrals, advertise, send messages, and lots more.
Facebook — You can use this platform to share useful tips, updates, and curated content that your prospects will find valuable .
YouTube — This creates another competitive opportunity for your advisory business.
All you have to do is create a basic video focused on your value proposition, which you can embed on your homepage.
Then, make short informational videos for your YouTube channel and other social media.
Offer advice, tips, and tricks for your area of expertise.
12

Try to Create an Online Community

Make use of the availability social media makes to create a community based on common interests.

A good example of this is by creating a Facebook group that provides educational financial resources in your area of expertise.

You can as well create a forum on your website or a YouTube channel, or even a podcast.
13

Work for referrals

You can achieve this by implementing the following on your website.
By offering incentives to clients who are willing to refer you.
By asking subscribers to your email to forward your newsletters to friends.
Or by simply asking for referrals when speaking to clients.
You could as well join 'lead-sharing' groups on social media.
14

Become a Teacher

You don't really have to establish a school or college in this regard.

All you have to do is to conduct local seminars, host lunches or happy hours.

You could also conduct educational workshop.

This will entice leads and serve as a means of showcasing your level of expertise in that particular business.

By doing this, potential leads will gain your trust, and be more interested in what you have to offer because they are already aware of the level of competence you possess.
15

Try and Become a Community Champion

All you have to do is to get involved in your community to meet more people and build goodwill.

These can be achieved  by sponsoring teams, creating a presence at festivals, sponsoring causes and charities, and lastly, by volunteering to raise funds or awareness for a cause you believe in.
16

Get Published

Endeavour to write and submit informative articles to local newspapers, magazines and websites.

If your clients come from outside your area, you must seek opportunities to contribute guest posts to websites and blogs that focus on finance or include sections where financial advice fits in.
17

Brand Awareness And Consistency

Leads are important for your brand, but any lead generation for financial advisors must be done in a manner that is consistent with your current message and brand image.

Consistency is crucial for building trust with both existing and potential customers. 
18

Paid Advertising

From a cost perspective, paid digital advertising is one of the least expensive ways to promote your business. 

Google and Facebook are two of the most visible places for a digital ad.

Google uses a pay-per-click model which charges you based on how many users click on your ad.

While Facebook charges a fee per day based on how many users you want to reach with your campaign.
19

Email Marketing

Email marketing is one of the most effective marketing strategies any company can use.

Many individuals now have multiple email accounts, including an email just for mail from businesses.

If marketers and businesses listened to conversations the general public has about the volume of email they receive daily, it would seem like email campaigns are not a good idea.
What is a Lead Generation Company?
Lead generation companies are companies that deliver leads to businesses that are looking to sign up new clients.
By selling leads onto those in need, lead generation companies help these businesses to grow their client base and increase revenue.
Today, many lead generation companies have resorted to social media and they run targeted marketing campaigns via a range of social media advertising platforms.
Potential new customers who have shown an interest in these ads can then be invited to fill in inquiry forms with a series of details on a landing page, and these details will be sold as leads via the lead generation company.
Top lead generation companies:
This runs Google Ads campaigns on your behalf so as to drive traffic to their own consumer websites.
The leads generated through "your" Google Ads campaigns belong to you and you pay a cost per lead, you also have to cover the advertising charges from Google.
Lead Tech creates a targeted plan for you, thus enabling you to increase your leads and expand your client base.
This company uses multiple marketing channels such as Facebook Ads, Google Ads and Bing Ads to generate qualified leads for you.
Lead Tech claims to be able to connect you with clients in your area who are actively looking for financial advice.
Prime Direct Leads does not have as much information available on its website as some of the others.
However, this company claims to be specialists in high performance finance leads.
Prime Direct Leads are generated via consumer online searches on Google and Bing.
Their prices are stated as being a fixed fee per lead, with nothing to pay upfront and invoicing in arrears. 
This company offers lead generation for specific areas within the finance industry.
They focus specifically on funeral plan leads, life insurance leads, pension leads, PMI leads, remortgage leads and will writing leads.
They use consumer surveys, both online and telephone, to generate and qualify their leads.
The company has several testimonials from IFAs who have used them in the past.
This use Google Ads to direct people to their website who are looking for a financial adviser.
The consumers are required to fill out a forms and are then matched with a financial adviser in their local area.
 Professional Leads won't compel you into any long time contract or monthly subscriptions.
This company uses Google Ads to direct people to its consumer-facing website .
They offer a fixed fee of £100 per lead.
RMT Direct Leads is not a UK lead generation company . The company is based in Gibraltar.
This company has been around for many years. Their website began as a directory of Independent Financial Advisers.
They now operate a consumer-targeting website which promises to connect people with a financial adviser or mortgage adviser who can help them.
Where To Generate Leads For Your Business
There are many platforms and forms of marketing that can promote lead generation for financial advisors.
But the most important place is your own personal website. Your website is crucial not only for branding but so potential customers can find you.
When your existing customers talk about you to their friends, they need a place to send these potential customers. Your website is that place. 
You can also use your website to showcase your abilities and what you can do for your customers. Testimonials are critical for any company.
In financial services, these testimonials can be even more important. Immediately, these stories help build trust with visitors to your site.
– How A Website Can Help With Lead Generation
A website can do more than just be your online voice. It can also help you bring in more business if you use it its fullest potential.
Items like a blog or videos help speak to incoming clients. Including all the links to your social media is another great use for your website.
Don't forget to include a signup form for brand emails on your website. 
– Additional Places To Generate Leads
Your website should serve as the central place for future customers to learn about you and what you can do.
Your website works only when visitors come to it and click around for information.
It's your job to bring customers to your business and your site.
Here are some additional lead generation tips for financial advisors.
These ideas will be a mix and match based on your brand, core guest, budget, and messaging strategy.
Should I use a Financial Advisor Lead Generation Company?
A number of companies that used to provide this service have fallen by the wayside over the years.
In some cases, this left a lot of financial advisers out of pocket, as they had paid upfront for leads which didn't get delivered prior to the lead generation company going bust.
It isn't wise to put all your marketing eggs in one basket.
So, if you are going to buy IFA leads from an external company, it's recommend that you also think about how to generate leads from your own website as well.
Leads that you generate this way are likely to cost less because you are cutting out the middle man.
Also, they tend to be higher quality because the potential client will have already been exposed to your brand by visiting your website.
And so, they are going to know who you are even before you call them about their enquiry.
Financial Advisor Lead Generation Services
By using lead generation services, financial advisors are now able to gain a huge amount of new clients each month as they are able to connect with people who needs help with financial planning and investment decisions.
Usage of this services is very beneficial for both clients and advisors because it is much more convenient than making phone calls and conducting research on their own.
This, in turn, increases the amount of time that they can spend with their clients and help them with their business or personal matters.
How To Get Clients As A Financial Advisor
The business of being a financial advisor to others will always be a strong and successful profession.
Finding clients and prospects can be a bit challenging.
It is therefore best to use lead generation strategies that not only help you find clients but also helps you land the ones you need. 
These techniques for successful lead generation for financial advisors come in all varieties of sizes.
While some are classified according to the number of clients they can get, some are targeted towards finding out more about individual prospects.
In order to use a lead generation strategy correctly, you have to know what the individuals you are trying to find are looking for.
You must also be able to make them feel at ease when talking to you.
Lastly, you must be willing to be able to meet their expectations.
Conclusion:
Lead generation for a financial advisor requires using the right strategies, time, and effort before you can actually start seeing positive results.
There are many ways to generate these leads, both paid and organic.
All the tips and strategies mentioned  are guaranteed to give you the best results in your career as a lead generation financial advisor.
A sample tool we suggest that will definitely be helpful for financial advisors is LeadFuze.
Finding Specific Accounts or Leads
LeadFuze allows you to find contact information for specific individuals or even find contact information for all employees at a company.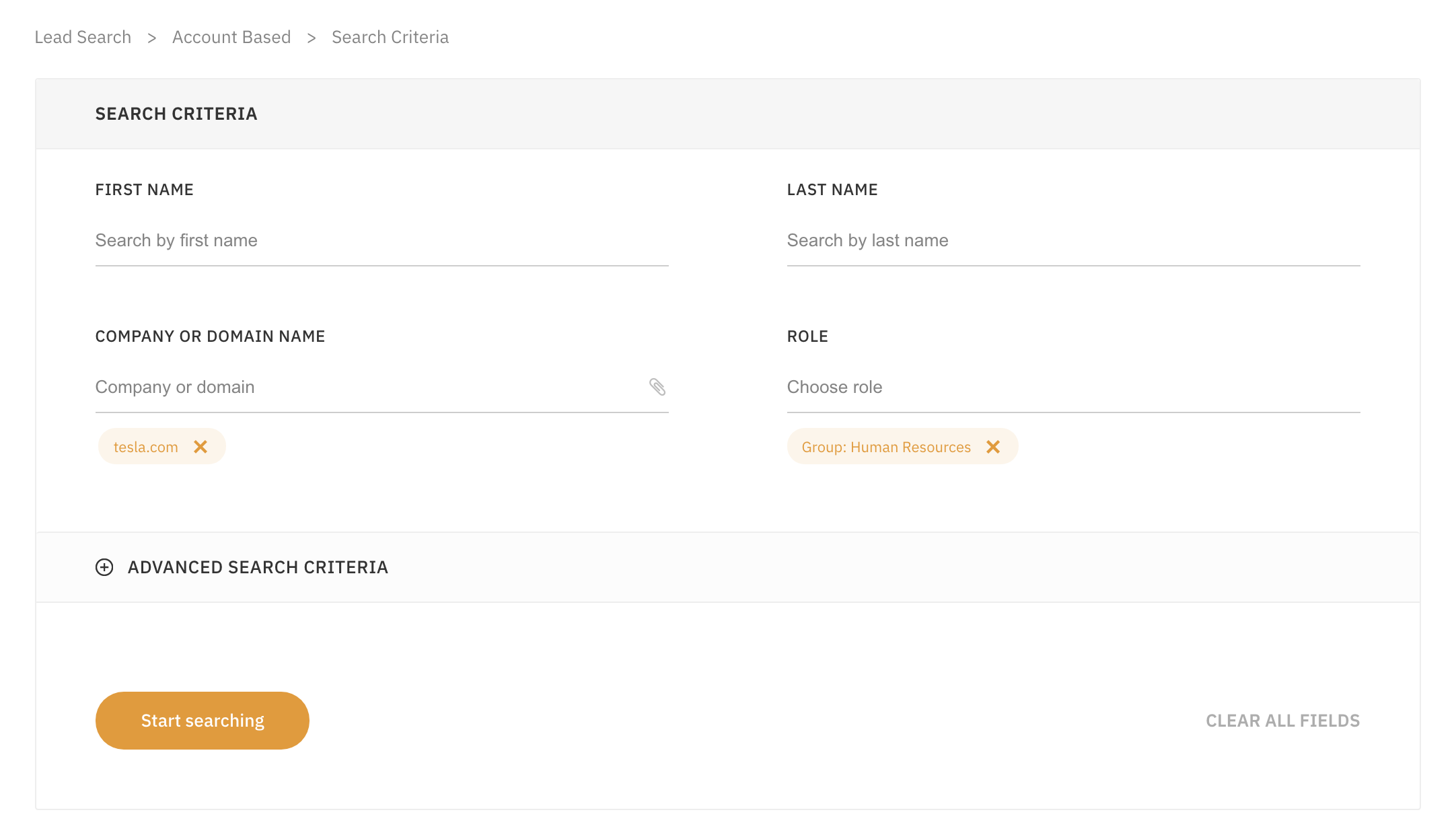 You can even upload an entire list of companies and find everyone within specific departments at those companies.
Editors Note:
Want to help contribute to future articles? Have data-backed and tactical advice to share? I'd love to hear from you!
We have over 60,000 monthly readers that would love to see it! Contact us and let's discuss your ideas!