Creating a funnel without images means you're missing the opportunity to maximize conversions, reach a wider audience and increase engagement.
Most of us are inclined visually. So, we're usually drawn to content that contains attractive and rich images. Adding photos to your content can nearly double its views.
On top of that, 67% of consumers are more likely to consider the images on your funnel than the product description when deciding to purchase.
67% of consumers are more likely to consider the images on your funnel
Click To Tweet
But that doesn't mean you should throw in any pictures you see on the Web and consider your funnel done. You must remember that not choosing the right lead generation images won't help your content rank higher on search results.
Therefore, you have to be very careful in choosing lead generation pics. Aside from they should be of high quality, they should also be adding value to your content.
The images you pick should be appropriate for your marketing channel and company, relevant, and of course, visually appealing.
How Do You Choose the Right Lead Generation Images?

(Image Source: SmartBug Media)
When picking an image for your marketing funnel, you should ask yourself the following questions:
Does It Convey Your Message?
The photo you choose should help your reader understand the message you want to convey. Although click-bait companies get more views by using unrelated images, you can achieve greater engagement and better leads if you select relevant photos.
Does it Fit Your Brand?
You have to consider everything you put out there. The images you choose should feature your brand. The photos can include your company name or a link to your site.
For instance, if you're selling fitness products, you should use images that convey strength and motion.
While if you're in finance, you can pick images that speak financial security and success.
Also, make sure to choose images that are appropriate for your brand.
Are the Lead Generation Images Engaging?
A boring photo won't engage your visitors and readers. For best results, you should choose crisp, vibrant, and eye-catching images.
Use colorful and bright images as much as possible as they're proven to entice visitors to read your content and increase sales by 80%.
Best Lead Generation Images to Use for Your Funnels
Click To Tweet
Once you've found the right lead generation images, you should do thorough research before making your decision final.
Make sure to double-check the following:
Find out if your competitors are using a similar image. Similarities are inevitable since your competitors are also trying to convey the same message as you. That's exactly the reason why you should find photos that speak from the heart of your your brand.
Pick something unique and at the same time relatable.
Check on your competitors to see if they're using the same image on their funnel. This can be a common problem if you're using stock photography.
Keep in mind that you don't want to be branded as a copycat and you'll want to avoid problems with copyrighted images.
The image should contain colors that fit your business as branding is a vital factor in marketing.
According to research, colors can help your potential customers differentiate your brand from competitors.
colors can help your potential customers differentiate your brand from competitors
Click To Tweet
If you can, create your own images. That way, you'll know that you are the only one who has them and uses them. If you don't know how to make one, hire a graphic artist, they'll know what to do.
Why is it Important to Choose the Right Lead Generation Images?
Choosing the right lead generation images is extremely important for your business' growth as it will be t he man y faces of your business.
With LeadFuze's market based search lead generation, you're sure to find leads that you know will be enticed by your images. With LeadFuze, you can find the right type of market and customize images specifically for their interests.
Need Help Automating Your Sales Prospecting Process?
LeadFuze gives you all the data you need to find ideal leads, including full contact information.
Go through a variety of filters to zero in on the leads you want to reach. This is crazy specific, but you could find all the people that match the following: 
A company in the Financial Services or Banking industry
Who have more than 10 employees
That spend money on Adwords
Who use Hubspot
Who currently have job openings for marketing help
With the role of HR Manager
That has only been in this role for less than 1 year
Just to give you an idea. 😀
Here are some reasons why picking the right lead gen image is crucial for every brand in any industry:
 A Good Photo Translates to Good Marketing
When you're doing business, you have to effectively communicate value to your potential clients. Unfortunately, not every company understands the importance of using the right images in helping them tell their story.
Since most of us are visual learners, photos can help capture our imagination and can also aid in understanding the context without reading the entire print.
On top of that, we are living in an age where there's high mobile-device engagement. That's another reason why you should choose the right images.
An example would be this real estate website called Homes for Heroes. Upon opening their website, it immediate shows photos of whom their homes are for.
The Right Image Should Get Your Customers' Attention
Again, make it eye-catching. A funnel with images along with the text is more engaging. Remember that you only get one opportunity to engage with a first-time viewer, so you have to make sure that your offer is clear.
Also, using great images that compliment your existing branding can help create a more unified design system. This means you will have a consistent foundation for every available visual communication.
It Establishes Your Brand Identity
Photos and illustrations are vital tools in bonding with prospects and building credibility. If your leads can see the features of the product you're selling, they will feel more confident about your brand.
Moreover, high-quality images that reflect your products and services can help build your brand.

Many people tend to pay more attention to visuals than text. For instance, if your potential customers prefer images to text, then using several photos can help your company convince them to avail of your products or services.
A good strategy is to appeal to both target audiences who prefer reading materials and visuals.
Some of your target markets may not feel like reading your print, so having an image that includes everything they may need to know about your product is important.
It Tells Your Company's Story
They say that a picture is worth a thousand words and that's true when it comes to telling your brand's story.
Regardless of what you sell or offer, photos can help you convince your target market that what you have is the best choice out there.
Images can also be used to provide a background on your service or product and explain the history of your business.
Take Audi's history page for example. Right off the bat, they introduced their history with images of their cars with a short description at the bottom.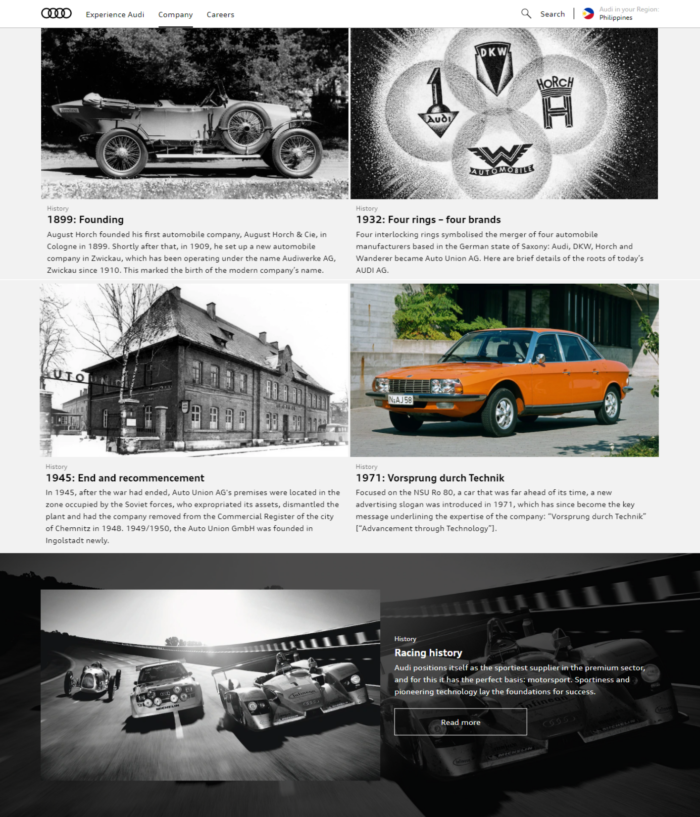 Where Will You Find Lead Generation Images?
You can either use stock images or create your own, which would be the best choice.
By using custom design or original photography, your brand will stand out from its competitors who only use stock photos. Creating your image will come out as unique and more interesting as customers won't be seeing it anywhere else.
Also, when it comes to product marketing, original photos are necessary as most of the time as your potential customers would love to see the actual images of the products they're purchasing.
However, there's a catch—crafting unique images can be expensive and time-consuming. So, many companies rely on a mix of stock photography and original images.
For example, if you're running a weekly blog, creating original images for each blog post might not be included in your budget. And during most cases, stock photography would work well, just make sure to give credit to the rightful owner of the image.
Fortunately, numerous websites offer low-cost or free images for lead generation. The secret here is finding the best resource with excellent images that fit your budget and speak to your brand's aesthetics.
What You Need to Understand Before Using Free Lead Generation Images
Before you start your search for the best website that provides awesome stock images, you should understand several terms that you may encounter along the way.
Creative Commons
It's a non-profit organization that allows the use and sharing of knowledge and creativity through free legal tools.
Several types of Creative Commons licenses range from allowing only certain uses and allowing any type of use.
Public Domain
Images in the public domain are those with expired, forfeited or inapplicable copyrights. If you found something on the internet, it doesn't mean that it's automatically a part of the public domain.
Royalty-Free
Getting royalty-free images is not exactly free. Most of the time, you need to pay a one-time fee for you to have the right to use the photo. After paying, you can use the image as many times as you like.
The "free" in royalty-free means that you don't need to pay royalties to the owner of the photo every time you use it.
Best Websites for Lead Generation Images
Negative Space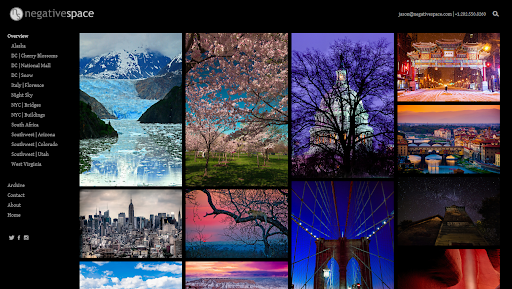 (Image Source: Negative Space)
This website offers new free stock photos weekly. Every image you will find on Negative Space is shared without any copyright restrictions. This means you are free to use them on your funnel or any of your content however you please.
It's continuously growing, from architecture to technology, and you might find yourself tapping into this site again and again.
One great feature of this website is it has an excellent filtering system for the photos in its galleries. You can sort them according to color, copy space position and category.
CreateHERStock

(Image Source: CreateHERStock)
This stock photography site was founded by Neosha Gardner and it features authentic photos of black women.
It costs $10 per month but you can also check out its freebies that include over 185 lead generation images.
Take note that you would need an extended license before you grab its images for commercial use.
Startup Stock Photos

(Image Source: Startup Stock Photos)
The name might be really specific and you may get the impression that it's intended for those startup companies, but don't let it deceive you.
When you enter the site, you will notice that it has many professional options available for any industry.
LibreShot

(Image Source: LibreShot)
Martin Vorel, an SEO consultant and photographer, is the one behind the amazing photographs on LibreShot.
It has an impressive collection ranging from vibrant florals to crisp architectural shots. This website contains some unique selections that can help make your funnel look great.
Fancy Crave

(Image Source: Fancy Crave)
Aside from the photos on this site are remarkable, they are also free of copyright restrictions. This means you can grab any image you like and use it without any worries of breaking copyright laws.
Now, what's the catch?
Well, the photographers of Fancy Crave are only asking for one small favor. They only want you to provide attribution whenever you can and never advertise the photos as your own. And that sounds pretty fair, don't you think?
This is a stock photo resource that's bookmark-worthy because its team uploads two new photos daily. So, if you would visit it every single day, you will be seeing fresh shots.
StockSnap.io

(Image Source: StockSnap.io)
According to StockSnap.io, their website is "not your typical crappy stock photo site". Once you check it out, you will know why it proudly claims that.
It has a versatile and interesting selection, that you may find yourself going down the rabbit hole fast and doing about 50 scrolls after.
SplitShire

(Image Source: SplitShire)
Splitshire offers loads of beautiful free lead generation images with no commercial restrictions. The photos on this site are taken by Daniel Nanescu, an Italian photographer.
Every shot you'll find on this website are made with love and you will feel that right away. It only means that Daniel is very passionate about providing you the best free images for lead generation.
From sleek workstations to stunning portraits, it seems like every visitor won't have any trouble searching for the ideal image for their funnel or blog post.
Pexels

(Image Source: Pexels)
The images in Pexels are carefully handpicked from various free stock photos source on the internet. Therefore, you will only be getting the best of the best.
All the chosen images are under the Creative Commons Zero License. This means they're intended for both commercial and personal use with no attribution required.
Since Pexels has excellent search functionality, pulling up the right lead generation pic for your funnel would be super easy.
PICNOI

(Image Source: PICNOI)
Here's another free source of lead generation image dedicated to a colorful world (closely similar to CreateHERStock). Most of the photos on PICNOI features people of color.
You can use the images for free as long as you provide proper attribution. But, if you're feeling generous, you can donate to support their mission. 
New Old Stock

(Image Source: New Old Stock)
If you're looking for black and white images, then this can be your go-to place on the Web for free lead generation images.
It has a decent collection of vintage photos that came from the public archive via Flickr Commons. According to New Old Stock, all of its materials are free of any known copyright restrictions.
That said, the photos here are safe to use for hero images and blog posts. If in doubt, you can always read its entire rights and usage license before you use them for a commercial project.
ISO Republic

(Image Source: ISO Republic)
The mission of this lead generation image site is to "provide high-quality images to be used by designers, developers, bloggers, marketers and social media teams.
Just one quick scan of the website and you'll see that it has loads of free stock photos you can use for your funnel.
So, if you're looking for a site that can give you access to a huge collection of exclusive free photos, then the ISO Republic is for you. All you have to do is subscribe to its email list and you will be receiving the images right in your inbox.
Life of Pix

(Image Source: Life of Pix)
This site is brought to you by Leeroy Advertising Agency in Montreal, and of course its network of skillful and talented photographers. It's the home to some of the most awesome high-resolution lead generation images.
All the stock images are donated to the public domain, and you can have them for both commercial and personal use.
Aside from that, Life of Pix has a counterpart called Life of Vids. The said website offers free footage loops, clips, and videos every week. Just like the photos on Life of Pix, the video content of its counterpart has no copyright restriction.
Furthermore, you can easily download them through its Vimeo account.
Unsplash

(Image Source: Unsplash)
Every 10 days, Unsplash adds 10 new "do whatever you want" images to its site.
One of the things companies love about this website is the uniqueness of the pictures it offers. It has pages upon pages of impressive images you can choose from and you will not run into cheesy shots.
On top of that, every photo on Unsplash is under the Creative Commons Zero license. This means you have the freedom to use, distribute, modify or copy all the images without attribution or permissions.
Nappy

(Image Source: nappy)
The mission of nappy is "to provide beautiful, high-res photos of black and brown people to startups, brands, agencies, and everyone else".
The site talks about how most stock photo sources depict unrealistic representations. nappy also added that when other websites don't misrepresent, they often lack diversity in the people being depicted.
That said issue can present a real problem to brands who are very intentional when it comes to representation in ads, designs, and articles.
Fortunately, nappy can offer you the right representation as well as diversity in its stock images.
What's even better is its library is completely free.
Death to Stock

(Image Source: Death to Stock)
Allie and David, the founders of this website, decided to create a free stock image resource when they found out that many people are having a hard time looking for free high-quality photos.
As a result of creatives, bloggers and businesses not finding photos that suit their "vibe and tribe", Death to Stock was born.
Just submit your email to them and you will be receiving a fresh batch of images in your inbox every month.
But if you have an extra budget to spare, you can avail of its Premium membership which costs $15 per month or $180 per year.
Conclusion
Finding the right lead generation images to use for your funnel is essential for your marketing funnel to work. The photos you use directly reflect what your brand has to offer, so you must choose carefully.
Fortunately, there are many free stock images site on the Web where you can grab pictures for your commercial or personal project.
Of course, again, it would be best if you produced your own photos. That way, your photos are unique to your business, you can customize them according to how you want them to look, you wont need to worry about copyright, and no one will be using them except you.
With the right images, lead generation will be more successful and if you need more help obtaining qualified leads for your business, you can seek LeadFuze's services.
It can help your brand grow by sending the right leads to your sales process. This way, you won't have to worry about generating leads as LeadFuze got your back!
Editors Note:
Want to help contribute to future articles? Have data-backed and tactical advice to share? I'd love to hear from you!
We have over 60,000 monthly readers that would love to see it! Contact us and let's discuss your ideas!