Lead generation continues to challenge marketers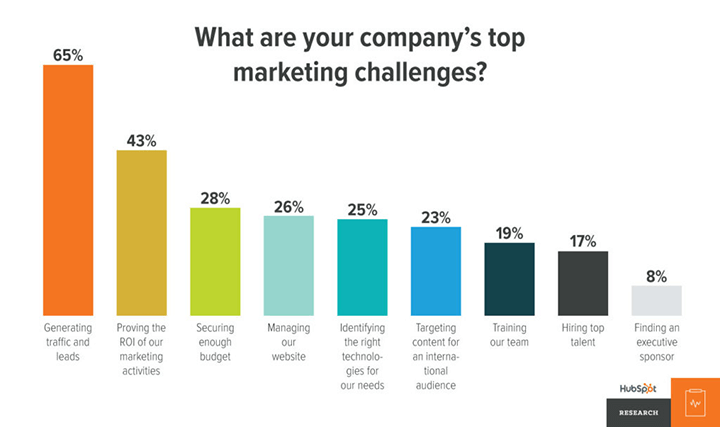 65% of businesses consider generating traffic and leads as their biggest challenge. (Image Source: Venture Harbour)
Between the introduction of the digital space and advancing technologies, one would think marketers all over the world would have no problem generating more leads for their businesses.
This is, however, far from the actual case.
As the playing field has shifted, lead generation become more challenging for marketing departments around the world.
Knowing which lead generation strategies should be focused on can feel overwhelming.
For one thing, consumers' habits have changed drastically. Marketers now have to deal with multiscreening – or the way a consumer will rapidly switch their attention from one device to another.
This makes it difficult to even catch prospects' attention, much less entice them to sign up as leads.
Setting out to build a company from the ground up is often met with cheers of support and admiration.
Everyone loves the underdog story of the entrepreneur who sets out to prove that they truly are the captain of their own soul.
The values associated with entrepreneurship— innovation, perseverance, focus—are all highly esteemed.
At first glance, it's easy to wonder why somebody would not want to start their own company!
But I've discovered that cheering for an entrepreneur is not the same as wanting to trade lives with them.
It seems like entrepreneurship is a bit like a good boxing match.

It's fun to watch, and many hold a high level of respect for the conditioning and skill demonstrated by those in the ring.
But at the end of the day, very few want to actually be in the ring.
The truth is, getting punched in the face isn't fun, and neither is dealing with a lot of the challenges faced by entrepreneurs—especially those bootstrapping their ventures or working with limited resources in some other capacity.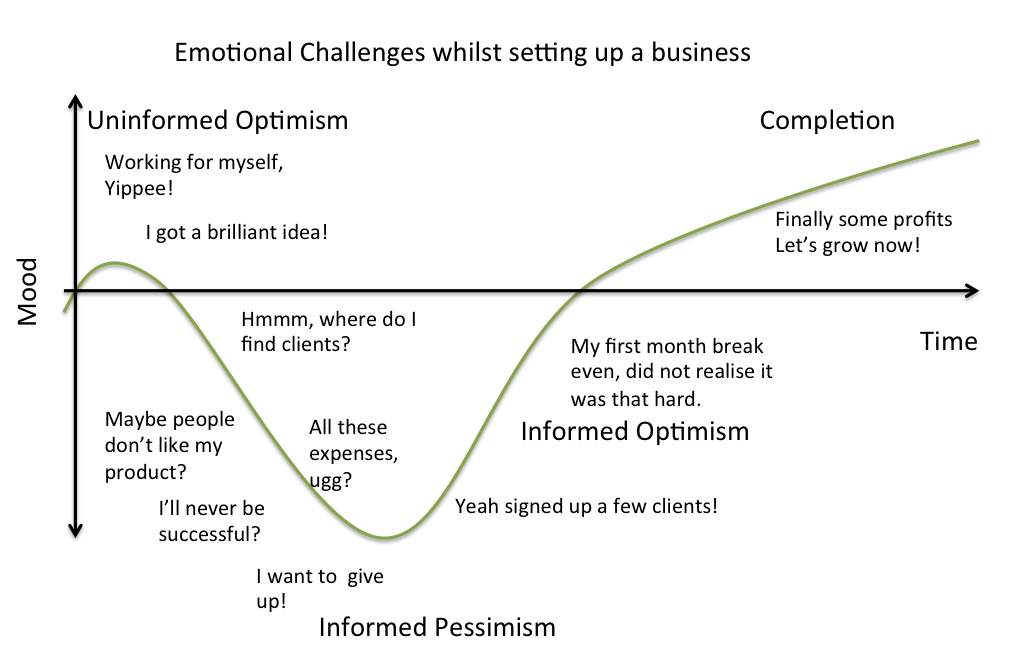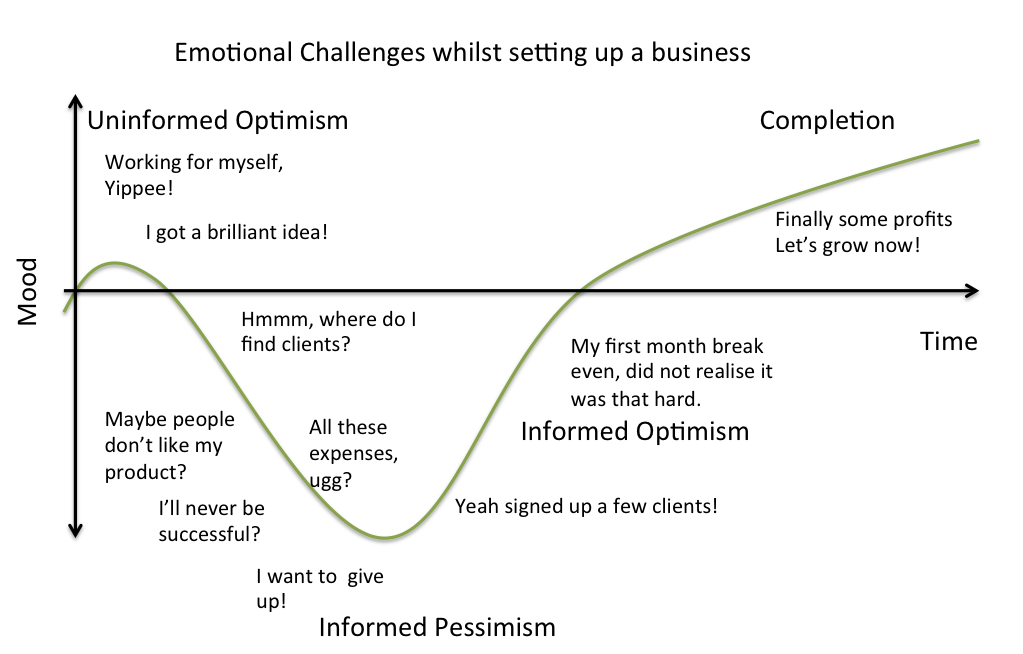 Editor's Note: Here's a great image that portrays some of the emotional challenges of starting a business (Source: Growmap)
And then there are the varying opinions and points of view on just about every lead generation tactic out there.
Which strategies should marketers actually believe?
Before you can focus on lead generation strategies, you need to actually know WHO you are trying to attract. This means, you need to find your niche. 
Learning how to find your business niche, and then having the guts to focus ONLY on that niche can be scary.
You might not want to learn how to find your business niche because you think it means your business won't be "as successful".
I think our man Bill Shakespeare said it best, "would a niche by any other name smell as sweet?"
or something like that, but what is a niche exactly?
Well according to our trusty Webster's dictionary, a niche is "a specialized but profitable corner of the market."
There are a couple of words in that definition that we should focus on, "specialized" and "profitable" when it comes to finding a business niche.
Why Specialize?
Noah Kagan uses a great analogy for this… if you are having chronic knee problems, who do you want to see? A doctor? Or a knee specialist?
Of course the specialist.
The same is true in business as well.
Far too often (and especially on the internet) entrepreneurs are too broad in both their target market and their offering.
I'm going to beat that old drum again; people buy from people they know, like, and trust. The best way to gain any of those is by being the authority in a marketplace. Demonstrating your knowledge on a specific subject that helps people will make them know, like, and trust you.
Demonstrating your knowledge on a specific subject that helps people will make them know, like, and trust you.
Click To Tweet
If you started as a real estate agent tomorrow, could you dominate real estate in 12 months? Highly unlikely!
But what if you only sold houses that were on golf courses, in Arizona?
Could you dominate that niche in a year? Absolutely! You would be far better off than being the "general" real estate salesperson, the world is full of those.
How Do You Boost Profits?
Increasing your profit comes from only two market mechanics; you either sell more of something or you sell it for a higher price. That's it.
Of the two which is more realistic to achieve consistently?
If you demonstrate your authority and your unique position in the market it is far easier to sell for a higher price.
Why do serious chefs pay $200 for a knife instead of buying ten $20 knives?
Because we value premium products more than cheap ones, it isn't about the economics, it's about belonging to something bigger than ourselves.
We all want to be a part of a tribe. This is what having a business niche is all about.
What an Old Lightbulb Salesman Can Teach You About Market Leadership
Jack Welch, the famed CEO of General Electric (GE) in the late 20th century had a very unique approach to markets for someone who led a business as big as GE.
See, GE was in every conceivable market you can think of, home appliances, jet engines, finance, food products, nuclear power, etc.
What Jack did was treat each business unit as it's own separate entity and then roll out this simple but laser focused rule to determine whether to keep that business alive or not.
Jack's rule was… Can we be #1 or #2 in this market? If so we invest the time, money, and effort in order to get there. If not, we close it down, sell it off, etc.
This is a powerful way to look at your market.
People Take the Wrong Lesson
I have used that analogy before but sometimes people focus on the wrong thing. They want to be GE and have 100 different business units.
Listen, GE wasn't "GE" for the first 10+ years of its existence and you aren't GE… yet.
But… you can use that lesson to focus your business niche.
Can you be #1 or #2 in your niche within 12 months? If so great! Pour your attention there. If not you need to select a better niche.
The Hardest Lesson to Learn
This is the toughest rule of authority marketing to accept for many people, hell it was for me.
You will want to reject this idea, I did at first.
It is scary as hell to take your business, product offering, or approach to market and divide it, again and again until you have a piece small enough for you to dominate.
Unless of course you have investors running down the street throwing money at you, then by all means go BIG.
You will resist it, tell yourself all sorts of fanciful lies like "that would never work in my industry" or "I am looking to take over the world, not just a small corner of it".
Everyone wants to think they are the next Elon Musk looking to dominate multiple industries at the same time.
Some Tough Love
There are companies that are far better capitalized and organized to do that (think Walmart or Amazon).
Sometimes it takes failure to truly accept this concept. Hopefully you will be smarter than me and learn from others rather than having to learn the "hard way". Smarter people than you & I that have had FAR greater triumphs (Noah Kagan or Tony Shieh) owe most of their success to this dogged determination of doing one thing and doing it well.
Why it Works
I first heard (and ignored at my own peril) this concept from Dan Andrews of the TropicalMBA.
If you don't know of Dan and his business partner Ian's work, check them out with a few of their thoughts on this subject…
Dan is a huge proponent of be "THE XYZ guy or gal". e.g. Be "The Autoresponder Guy".
The idea is that in order to be referred you need to be easily referable.
If you are just another marketing agency, consultant, or business coach how can I promote you to other people? How do I know if I belong as a part of your tribe as a potential customer? If you try to appeal to everyone, you appeal to NO ONE.
You Can Always Branch Out Later
Here is something to focus on if you are still struggling with the idea of finding your business niche.
You can always branch out later.
Two friends of mine Joe Magnotti & Justin Cooke of the Empire Flippers are quickly becoming "THE buying & selling businesses online guys".
But they didn't start out that broadly.
They launched a site called Adsense Flippers first and focused exclusively on building and selling their own sites that were only monetized by Adsense. This made it very clear who they were, what they do, and who should be interested.
It was this commitment to a narrow niche that allowed them to build a $250k a year business in less than 2 years and then expand into selling other products, services, and now even other people's sites in their own marketplace doubling revenues every year along the way.
Would they have had so much success, so quickly if they started more broadly as the Empire Flippers?
If you ask them they would say no, and I agree.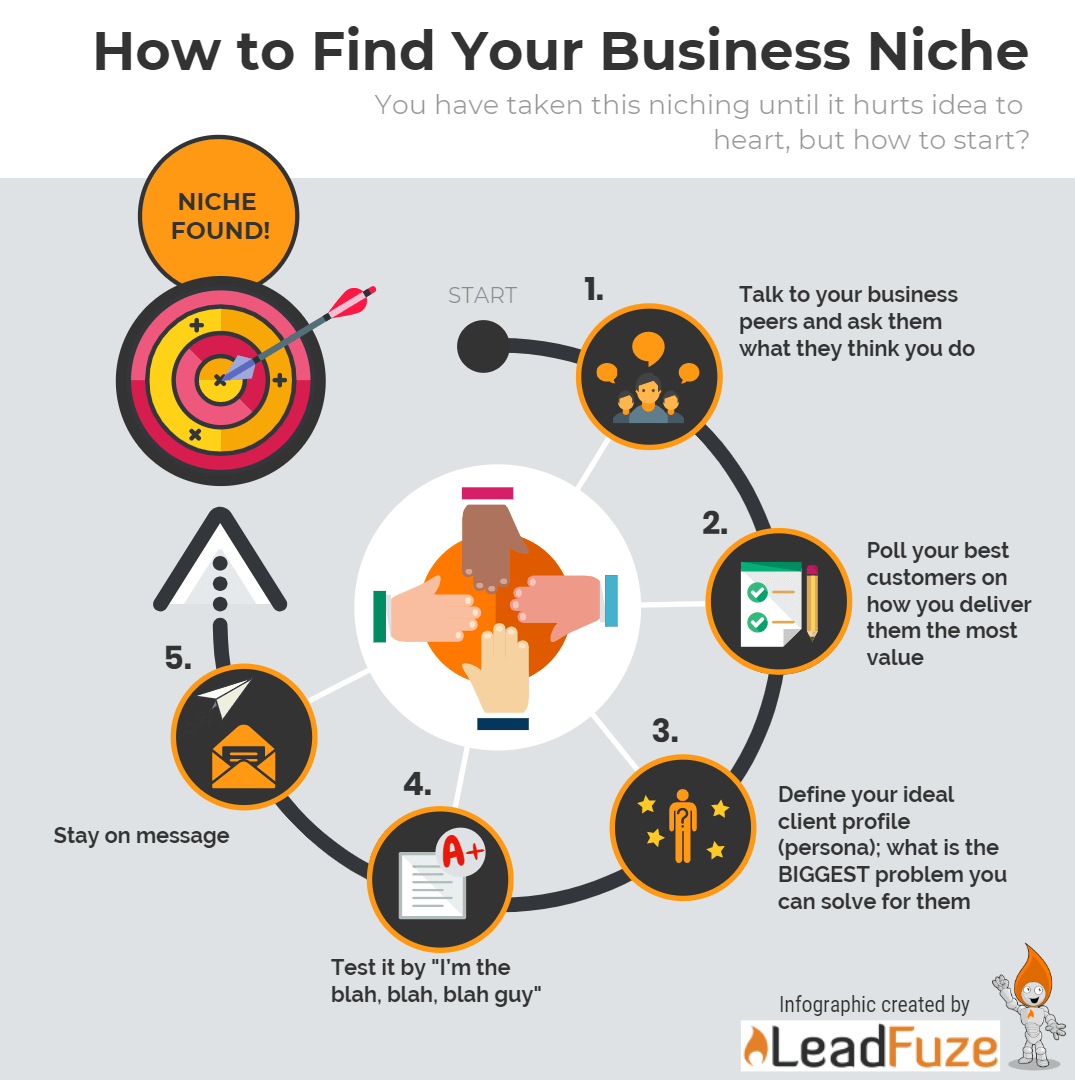 How to Find Your Business Niche
OK you have taken this niching until it hurts idea to heart, but how to start?
Step One: Talk to your business peers and ask them what they think you do?
Ask them if they can explain what you do, how you do it, and whom you do it for in as few words as possible. Do they already see you as "The XYZ guy"? If not, you're probably not niched down enough and you have some work to do.
Step Two: Poll your best customers on how you deliver them the most value
Is there a specific product or service you sell them that they can't live without? How do they compare you to your competition? If you asked them for the one thing you do that they couldn't live without, what would it be?
Step Three: Define your ideal client profile (persona) what is the BIGGEST problem you can solve for them
The best businesses solve problems, in psychology circles it is well known that people run away from pain far more than they run towards pleasure. What does your ideal client look like? Is it a single college student? a married housewife? What can you do to make their life easier? Save them money? etc.
Step Four: Test it by I'm the blah, blah, blah guy
Once you think you've found your niche start testing it out on your customers, partners, and peers. Say I am "The XYZ Gal" did they laugh in your face? Probably not a good sign. Seriously though, did they "get it" right away? That's what you want.
Step Five: Stay on message
I am not saying that whatever business niche you choose must be the only thing you sell. But it should be the only one you actively promote and talk about until you become the clear #1 or #2 in your marketplace
Let's Do This Thing!
I know it's scary and goes against some of our long held beliefs on market opportunity, but if you want to grow your online business faster then you need to learn how to find your business niche.
Now that we have that out of the way, we can focus the rest of this post on lead generation strategies.
Cost-effective lead generation strategies
When in doubt, don't settle and resort to spending all your money in a blanket marketing campaign.
Effectively reach the right qualified leads with as little an investment as possible, making the most of your marketing budget.
Read on for 10 must-try lead generation strategies that are cost-effective and will provide the best ROI for your campaigns.
1

Review your buyer persona

One of the best ways to make the most of your lead generation campaigns is ensuring that you're targeting the right prospective customers from the get-go.

After all, you don't want to be churning out dollar after dollar in your campaign, only to get a handful of low quality conversions.

In fact, according to MarketingSherpa, almost 80% of new leads may never convert to sales.

This number can be much higher for your business, especially if you aren't attracting the right leads in the first place.

To avoid this mistake, take a good look at your buyer persona.

Once you've put in the work to really understanding your buyer and all the different factors that may affect their decision-making, you will be able to create better campaigns and attract hot leads right away.

If you haven't created a buyer persona yet or are in the process of reviewing yours, take care to be very clear about who your buyer is.

Make sure your buyer persona tells you your buyers' goals, their frustrations in meeting those goals, as well as anything else that might affect their purchasing decisions, such as having to consult with a company VP or any possible fears or objections.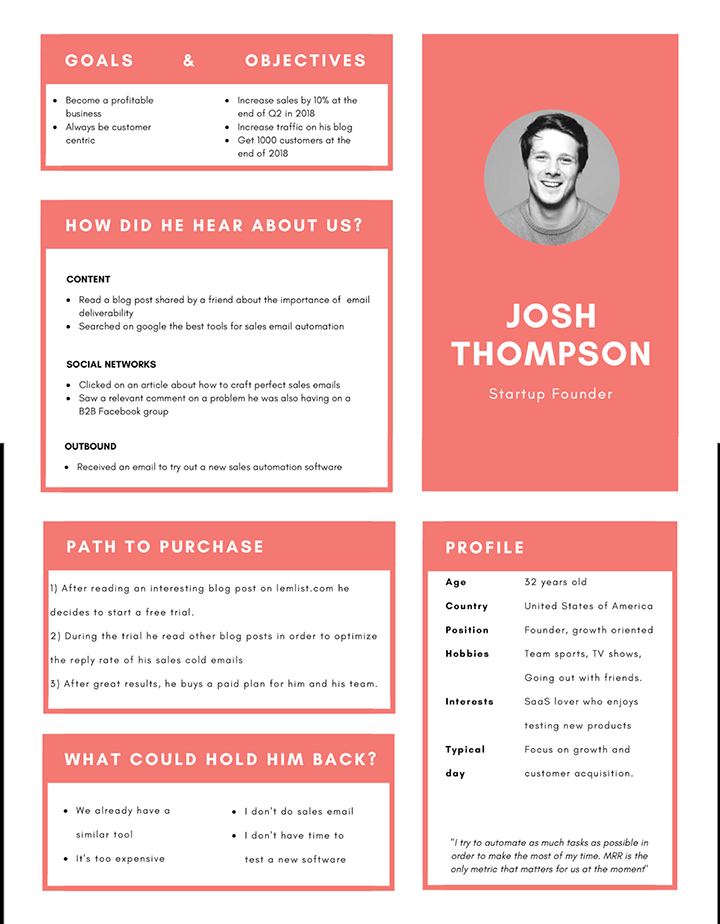 Example of a clear buyer persona (Image Source: Lemlist)
2

Build Your Prospecting Lists

This is literally why LeadFuze was built. I needed a solution that could uncover contact information for my agency back in 2008. 

Over the years, I hacked together a few different scripts to find contact information of website owners. 

But as things progressed, you needed more personalization and more direct emails. 

So, I set out to build LeadFuze. 

Then, I went on a mission over the next five years to ensure the data and lead information is as fresh as humanly possible. 

LeadFuze is a software solution that helps you build lists of accurate leads automatically, while integrating with sales outreach tools to allow you to reach those freshly verified leads.
3

Create co-marketing campaigns

Everyone is out there trying to grow their audience and impact.

So creating meaningful partnerships with related players in your niche can provide a synergistic effect for both you and your chosen partners.

Co-marketing campaigns may include techniques like curating content, running local targeted events, guest blogging or training, and even backlink exchanges.

To create your own high-quality co-marketing campaign, identify strong players with whom you can create a mutually beneficial partnership.

Do your research to find the best players whose audiences you'd like to tap. Click To Tweet

Decide on what kind of co-marketing campaign you'd like to implement, then define specific roles and expectations from each party.

The most important step is to really do your research to find the best players whose audiences you'd like to tap.

Once you do that, brainstorm beforehand for possible partnership ideas before you actually reach out to prospects.
4

Maximize LinkedIn

If Facebook is the social network for just anybody to share personal stories and insights, then LinkedIn is the professional's Facebook.

As a business, LinkedIn is ripe with leads who may benefit from your solutions.

Create a comprehensive profile complete with relevant keywords to help your leads find you.

LinkedIn's search algorithm is similar to Google's, so keywords optimization plays a big role in getting discovered organically.

For more complete tips on maximizing your LinkedIn account to generate sales leads, read up on them here.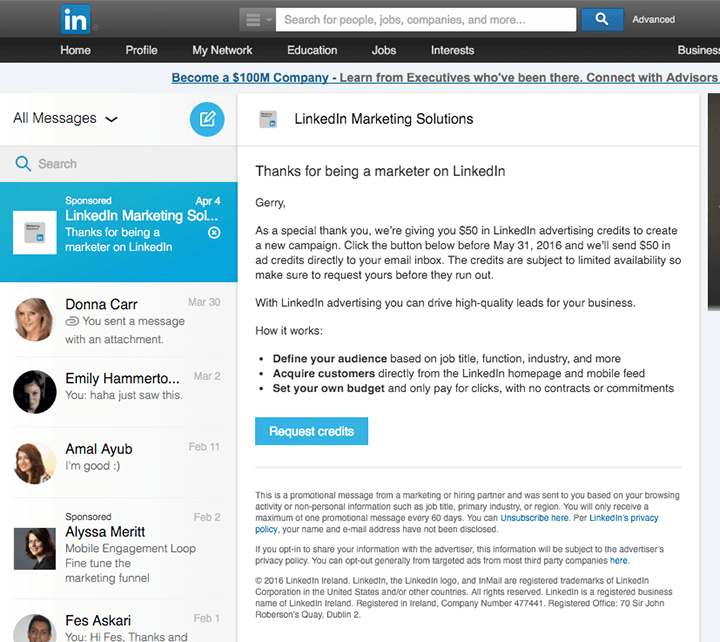 LinkedIn's Sponsored InMail feature also allows for reaching qualified leads straight in their inbox. (Image Source: Strategic Internet Consulting)
Pro Tip: With LeadFuze, you can actually integrate a LinkedIn automation tool like Dux-Soup, to automatically view profiles, send connection requests, and follow-up messages of fresh leads that the system automatically builds for you!
5

Use paid ads to tap into search marketing

Pay-per-click (PPC) ads can be a quick way to generate quality leads because you're already appearing when the lead is warm – meaning, they've already made a search online and are looking for your solution.

Take a manager looking for a project management software for remote teams. They could enter "project management tool" on Google and then see paid ads for certain software.

Say the top paid ad result's title was exactly The Project Management Tool for Remote Teams.

Could you count that that manager will be clicking through to check out this solution?

Most likely yes.

Doing PPC campaigns are also cost-effective in the long-run because you only pay for the amount of clicks you get from your ads.

This means no more shelling out thousands of dollars in advance and crossing your fingers that you get the reach and conversations you want.

You can always try to navigate the world of PPC marketing on your own.

This is the most costly of the lead generation strategies mentioned in this post.

To avoid eating up too much time and resources, outsource the task to experienced marketers. As these experts can make sure your search marketing campaigns are crafted for conversions from the very beginning.
6

Optimize your email signature

If cold emails are part of your outreach strategies, then optimizing your email signature is a lead generation step you should not skip.

Include relevant details and links in your signature, but be careful not to overdo it.

When in doubt, stick to a short benefit people get from your business as well as all the ways they can get in touch.

Link to a relevant opt-in form or landing page, or even make an offer that directs readers to more details.

Be sure to add a human touch by including you or your sales team's names and photos too.

LeadFuze has a completely free email signature generator to do this for you.
Example of an optimized email signature for generating leads
7

Make your lead magnet extremely irresistible

To make sure a lead doesn't leave your site without opting in, offer them a free incentive that can quickly solve one of their pain points.

Be it a checklist, a white-paper, or a PDF walkthrough, there are a variety of lead magnets you can offer to your audience.

Pro-tip: This is where your buyer persona comes in handy.

Review their pain points to reaching their goals and think of offering an incentive that gives them a quick, actionable win.


As an added way to make your lead magnet look too good to pass up, include mockup images of your offer so your leads can visualize exactly what they'll get from you.

To help you create the best lead magnet, read through these top tips to turn any lead magnet offer irresistible for your website visitors.
8

Non-linear Networking

Not your typical "business networking." Where most folks are looking to gain rather than give.

Rather, it has to do with building networks around other meaningful areas of my life.

Let's take a look at why this lead generation strategy is effective.
Benefitting from the Speed of Trust
Relationships established for purposes outside of your professional scope enjoy a significantly higher level of trust and confidence if and when the conversation does turn towards your business objectives.
When someone knows you as a non-profit volunteer, a basketball rec league player or a dog park friend before they know you as someone who has something to sell, they feel like they know the "real you" before they see you with your sales hat on – and are more likely to trust you when you are indeed wearing that hat.
The Importance of Fast, Easy Closes Early On
When starting a company, you are likely doing all the sales work yourself. Or, at the very least, managing your sales force very closely.
Because of this, proposals that don't close are a bit more devastating than later on down the road when you are getting referrals, have greater brand awareness, and have a lead generation system in place.
In order to survive then, you have to capitalize on any opportunity where you are well-positioned entering the negotiation process.
To set yourself up for future success, it pays to invest in building meaningful relationships outside of your 9-5 (or 5-9) work day.
And who knows, it might even make you a happier, healthier individual as well!
Warning: It Goes Both Ways!
It is worth noting though, that this same lead generation strategy can work against you if you struggle to be a decent human being.
If you are viewed as lacking integrity, unable to follow through, or generally incompetent at your work, your non-work circles won't bail you out just because you are in them.
Building relationships outside of your business is essentially giving "hidden camera" access to folks to see you as you really are.
Click To Tweet
If you repeatedly flake on your softball league without giving any notice, they likely won't be confident in your professional reliability—even though it's perfectly reasonable to believe that work takes a higher priority, and problems communicating with a softball team likely won't spill over into your work performance.
Building relationships outside of your business is essentially giving "hidden camera" access to folks to see you as you really are.
So as cliché as it sounds, you really do need to have an "always be closing" mindset when working in the trenches to start a company.
9

Tap into your personal network (and your employees)

A study by Nielsen has shown that 90% of consumers trust product recommendations from people they know.

This means leads could be sitting right in your own network, or that of your employees.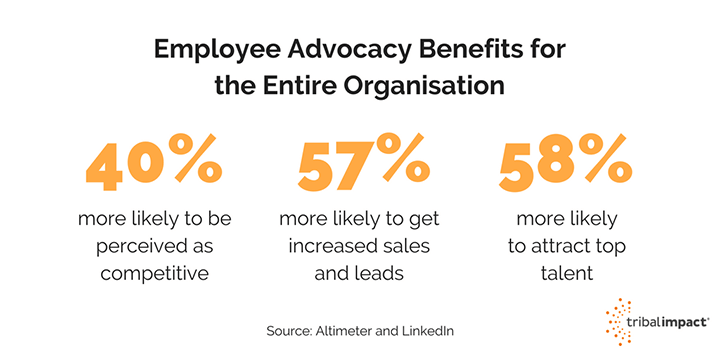 How employee advocacy campaigns benefit a business. (Image Source: Tribal Impact)
When planning out lead generation strategies, include employees (if you have them) in every corner of the company.
Encourage them to share lead magnets and offers – findings from Smarp show that employee advocacy can generate up to 450% return on investment.
For a successful employee advocacy campaign, set clear goals and benchmarks for employees to follow.
Provide all relevant tools and materials to make the sharing process as seamless as possible. To encourage employee participation, consider putting up an internal incentive program.
10

Friends and Family (Done Right!)

This is can be one of the more uncomfortable lead generation strategies we've covered.

Not many people light up at the prospect of bugging their friends and family to help them grow their start up.

However, if you truly believe in your business, offer a strong value, and approach this situation with strategy and class, you'd be surprised how receptive and grateful your inner circle will be.

Let's take a look at three key components to networking among your closest relationships in order to grow your business.
Be Systematic
Sometimes it's more difficult to approach friends and family networking with the same discipline and commitment that we deploy for other prospects.
Why is this?
We are used to putting on our professional game face and setting daily and weekly targets for our sales goals. Our personal relationships, however, are usually developed more organically.
This doesn't have to the be the case!
In fact, most of us warmly welcome the initiative when a friend or family member initiates an opportunity to share coffee or hit the golf course.
As long as you ensure that you're clear about the purpose of the meeting in an upfront but friendly way, you'll likely have an opportunity to share — and enjoy time with a loved one.
Consider the following approaches:
Vague example: "Hey John, I was wondering if you'd like to grab coffee sometime next week to catch up?"
Problem: They may feel blindsided if you don't indicate that there is a specific reason you'd like to meet.
Pushy example: "Hey John, are you able to meet up for coffee next week? I could really use some help making new contacts for this new business I'm starting."
Problem: This may work for your closest friends. But it makes the meeting all about you, and even friends and family can grow tired of that!
Balanced and honest: "Hey John, I was wondering if you're free to grab coffee sometime next week? It has been too long, and I'd love to catch up. I was thinking about you, as I'm starting a new roofing company. And I remembered you worked in construction a few years back. I'm in the process of getting things off the ground, and I thought you may have some insights worth sharing. Coffee's on me!"
Part of a successful outreach effort has to do with being specific about how/why you feel your friend or family member could be helpful to you.
This leads us right into our next point.
Be Specific
In marketing, there's a saying that "the riches are in the niches." Part of the reason for this has to do with the way our brains are wired to respond to specific, relevant information.
If you have a dialed in game plan for your business, you're much more likely to get meaningful feedback from your friends and family.
Don't assume that just because of your relationship with this group, you can neglect marketing 101!
Here's what I mean:
Bad example: "Hey John, I'm starting a marketing company. Do you know any businesses that could use marketing help?"
Good example: "Hey John, I'm starting a marketing company. I want to specialize in helping dentists. Do you know if you currently get emails or see Facebook posts from your dentist?"
The first example is a bit of a shot in the dark. John, unless he is an entrepreneur himself, may struggle to know how to help you in a meaningful way.
The second example offers a clear, specific question that John can answer with confidence and help you develop intel about if John's dentist may be a viable prospect.
Follow up!
Sometimes it feels weird to follow up with friends and family.
The awkwardness is due to the more casual nature of the professional relationship.
However, your friends and family have busy lives as well, just like your other prospects.
The nature of your follow-up conversations should reflect this more casual relational dynamic. But don't be afraid to keep your overall follow up frequency and strategy.
Treat these the same as you would for any other prospect.
Key takeaways
Generating quality leads doesn't have to be an uphill battle involving a lot of time and resources.
Implement just a few of these different cost-efficient lead generation strategies outlined above and you can be well on your way to getting those first 100 qualified leads in 90 days or less.
Contributors
This post and the corresponding lead generation strategies was put together in collaboration with Kris Asleson, a partner and digital strategist at Midas Marketing, and Kevin Payne, a content marketing consultant that helps software companies build marketing funnels and implement content marketing campaigns to increase their inbound leads.
Editors Note:
Want to help contribute to future articles? Have data-backed and tactical advice to share? I'd love to hear from you!
We have over 60,000 monthly readers that would love to see it! Contact us and let's discuss your ideas!