How much is enough?
When it comes to sales leads and prospects, the answer is: you can never have enough.
Growing and expanding your business is one thing, but if you ever become complacent with your sales funnel, you run the risk of the well running dry.
Feel comfortable with your place today? Fantastic. But that doesn't mean you can stop.
Existing customers leave, new competitors arrive on the scene, priorities and preferences shift.
You. Need. Sales Leads.
A steady stream.
Cold calls. Cold emails. Guest blogging. Lead magnets. Tried-and-true channels.
You're probably already using these.
But as with everything in life, it's survival of the fittest. You need to adapt to the changing landscape of lead generation in the 21st century or risk falling behind.
So build a list. Reach out and start a conversation. Create interest. Feed your funnel.
Ready to bump your prospecting for sales leads up a notch?
LeadFuze is a software solution to help you build lists of accurate leads automatically, while integrating with outreach tools to allow you to contact those freshly verified sales leads.
8 Ways to Use Your List of Sales Leads
1

For Sales

Ok. This one is obvious. You're probably looking at me like…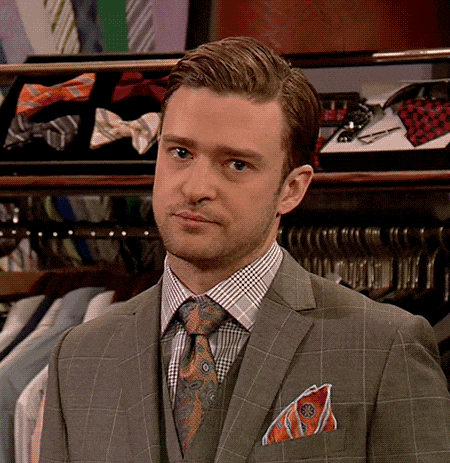 But I just want to enhance your view of what list building can do for the outbound sales pipeline — particularly with our automatic list building capabilities. 
What's the age-old (and quickly going extinct) method of using lead data?
One: Buy leads
Two: Email/call/mail leads
Three: Use up list.
And repeat.
This is more of a batching sales process rather than a constantly flowing pipeline. LeadFuze's Fuzebot changes all of that.
You put in the attributes of companies and contacts that you love targeting. This creates a list that our AI (Fuzebot) will use to find the leads that fit your target audience. 
Have more than one target industry? Create another list and set up the number of leads to pull each and every day.
Then, your list can go into your CRM and (coming soon) other platforms to email, direct mail and even call them. Imagine having a dedicated prospector for your business. Or for each of your reps.
That is a consistent flow of sales leads into your pipeline.
There's a LOT more to discuss here, so I'll dive into that later on in this post.
2

 Automate Your Lead Gen Workflow

Speaking of a consistent flow of leads into your sales pipeline, why stop there? 

LeadFuze has been actively partnering and integrating with key tools across the entire sales stack. 

We recently announced the ability to add on Mailshake to LeadFuze. This partnership allows you to automatically export sales leads from LeadFuze into the Mailshake platform to automatically start your cold email sequence.

Even more recently, we've added a great integration with the social selling automation tool, Dux-Soup.

Dux-Soup allows you to automate things like looking at a lead's LinkedIn Profile and sending a connection request. The built-in message controller is also fantastic for easier sales workflow.
How does this all fits together?
Here's an example.
Create a Sales Lead Search in LeadFuze using things like industry, company size, technology used, etc.
Send a batch of sales leads to Mailshake and send the first cold email. (Day 1)
Send the same batch of sales leads to Dux-Soup.
Check sales lead LinkedIn profiles (Day 3)
Send follow up email via Mailshake (Day 3)
Use Dux-Soup to request a connection on LinkedIn (Day 4)
Send follow-up email (Day 5)
You get the idea. The key point is the EVERY bit of this will be automated.
You set up your ideal leads in our app, then LeadFuze, Mailshake and Orca can automatically perform a multi-touch sales process!
3

For Advertising

Some of you may be putting sales leads who didn't close into a custom "matched audience" on LinkedIn.

It's a feature that was released last year. You input email addresses and send tailored ads to those contacts. Many of you probably aren't doing this for a few reasons.
A minimum of 300 emails to create a custom audience
No guarantee your records match those on LinkedIn
Little ability to manage record input
So, why would you want to "waste" sales leads using this feature? Well, with LeadFuze, it makes sense.
Here's why.
Our emails are double-verified: The emails you get are way more likely to be the right email (as opposed to most other data providers). This means that the emails are more likely to match the emails in LinkedIn. Which means that your ads will be seen by those you intend to see them. 
You can easily find 300 Contacts: With lead data and contact info from LeadFuze, you can plug in 300-500 emails into a matched audience every month without sacrificing your trusted, proven sales process. Feel free to experiment!
Truly benefit from the feature: This feature can help you pre-target leads and generate a bit of awareness before you truly reach out. Everybody is retargeting after the awareness phase, but it's worthwhile (for many) to send ads to generate awareness. It's definitely a way to warm audiences and worth testing.
While there are more in-depth tutorials, here's a 2-cent tour of how to upload your own list to your LI campaign manager.
Step One: Login and head over to the "Account Assets" tab and click. You'll see "Matched Audiences" about halfway down. Click that.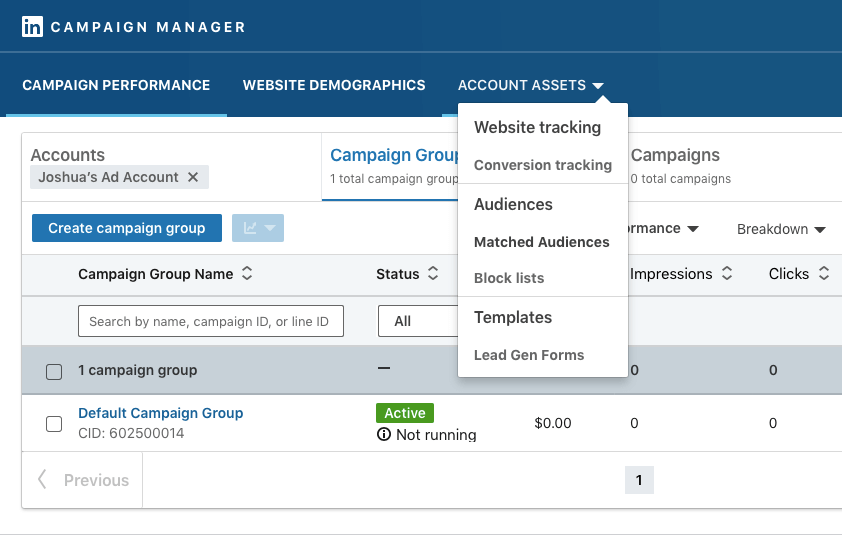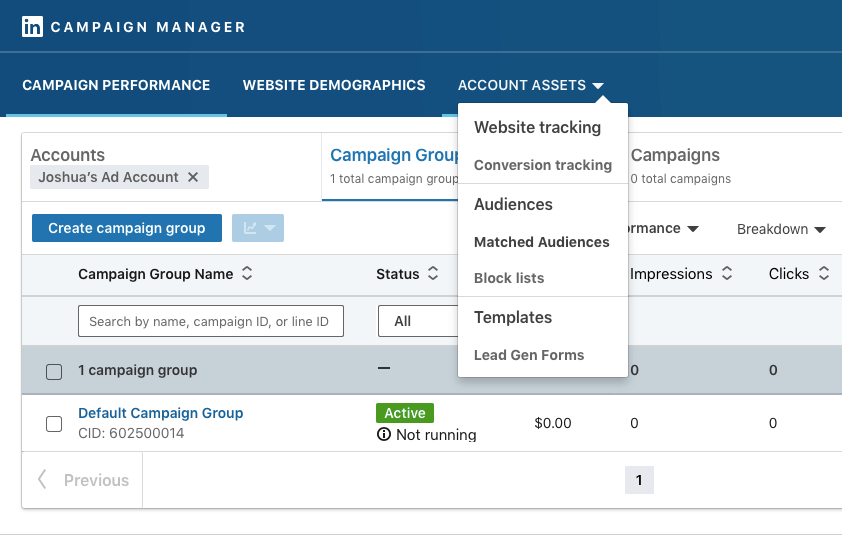 Step Two: You'll be taken to a screen with two large tabs. By default you'll be on the "Website audiences" tab. Click on the "Uploaded list audiences" tab. There, you'll see "Upload a list" on the right side. Click that.


Step Three: Upload your list by following the prompts. You'll see by the screenshot (below) that there are a number of helpful tips on the upload page. In the future, we'll likely write a detailed, sales-specific post on using our leads with matched audiences. But for now, this is where I'll leave it.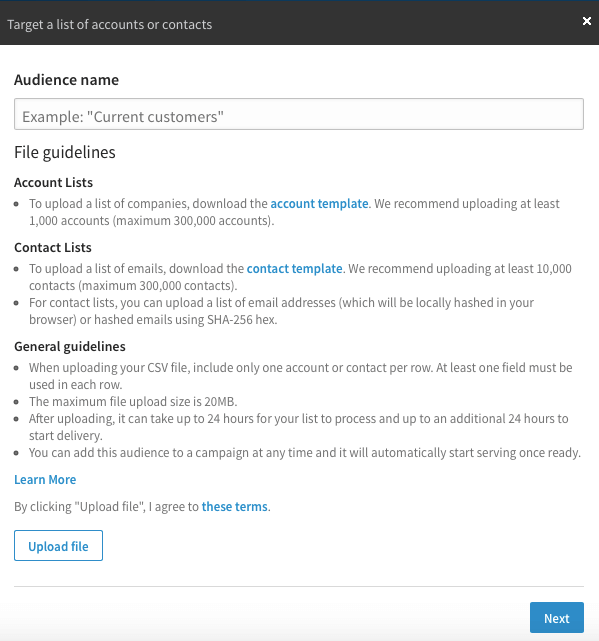 Keep in mind that this is just for LinkedIn and there are other options for retargeting.
Facebook Custom Audiences, Twitter Tailored Audiences, and Google Retargeting can and should also be used to get in front of your potential prospective customers wherever they are!
4

For Content Marketing

LeadFuze has always loved content marketing. We're getting great traffic and hope you're enjoying the content. But it's not just about links and content.

Getting your content to spread takes getting the message out to others who have audiences that you'd like to target.

If only you could find and target those publications to share your content and build relationships…
Here are three recommended strategies
1. Skyscraper Linkbuilding: Creating good content doesn't just get links. You have to proactively seek out opportunities.
Skyscraper is easy and effective. Create something truly amazing (that relates to your products).
Then, email the right people and ask them to link to it. The best resource on this is from Backlinko.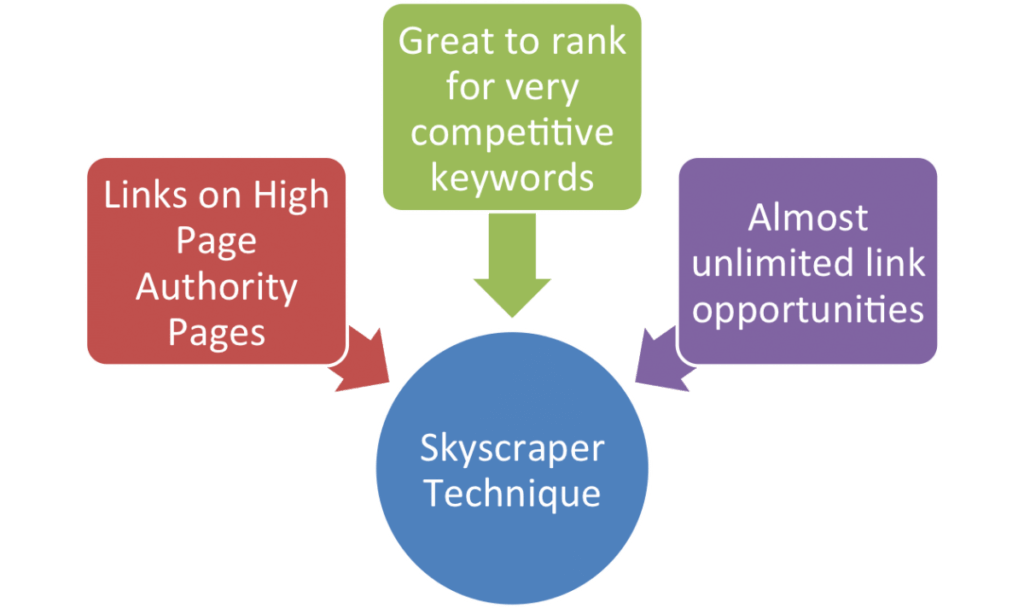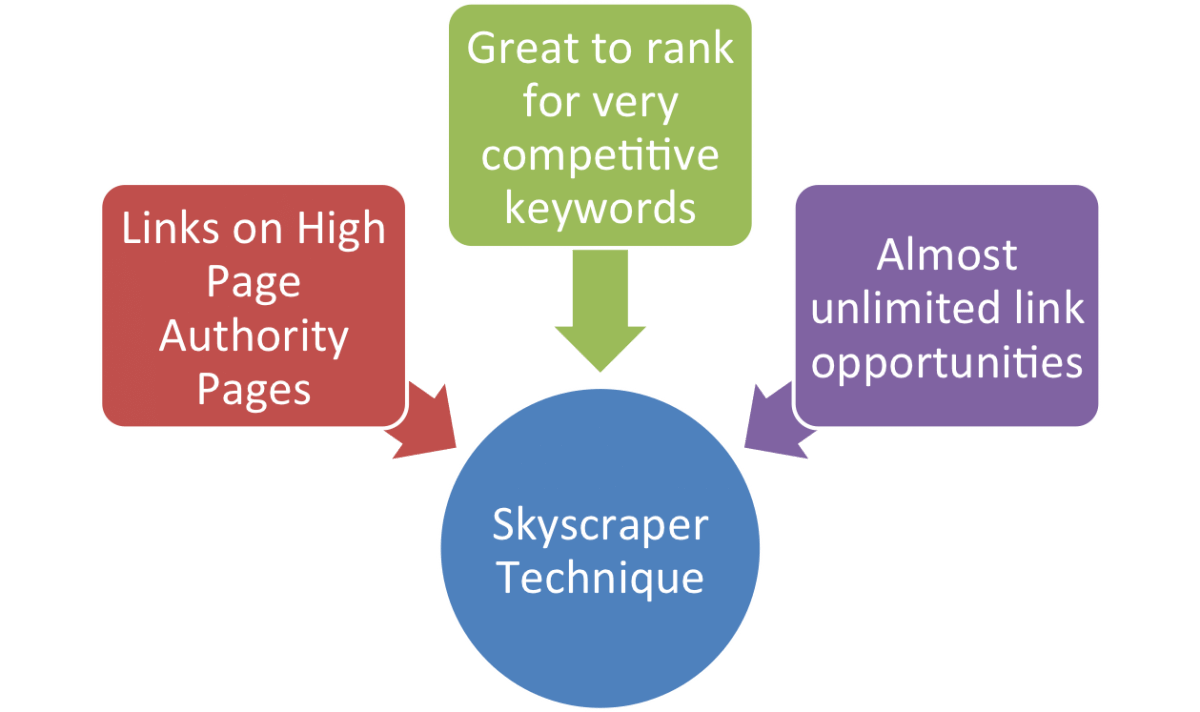 (Source)
2. Finding Guest Posting Opps: We've written a ton of guest posts. And with LeadFuze you can easily find marketing managers for related companies and pitch them. Links and the right audience is a winning combination.
3. Content Creation (e.g. Roundups): One of the best ways to get the conversation started with leads and potential partnerships is to ask them about something they know about. Not only do you get to build a relationship, but you also get great content for your audience. And they'll likely link to your article once it's published. Nice.
5

For Recruiting

The right talent can make or break growth. Small businesses can't afford to hire a dud and big businesses often spend money for other companies to search out talent.

You can target individuals in similar roles that would be easy to transition to your company.

In fact, the LeadFuze app has a handy feature just for this purpose.

Let's say you're a marketing company looking to grow your marketing managers, growth marketers or ad experts.

Once you choose an industry (probably your own for recruiting), you can actually delete the roles you don't want to target.

If you're not looking for a marketing VP (because they'd not want the job), just put a dash (like a negative) in front of the keywords you want to avoid.

Then, delete all roles that don't match what you're looking for. Take a look at the gif below for a visual explanation: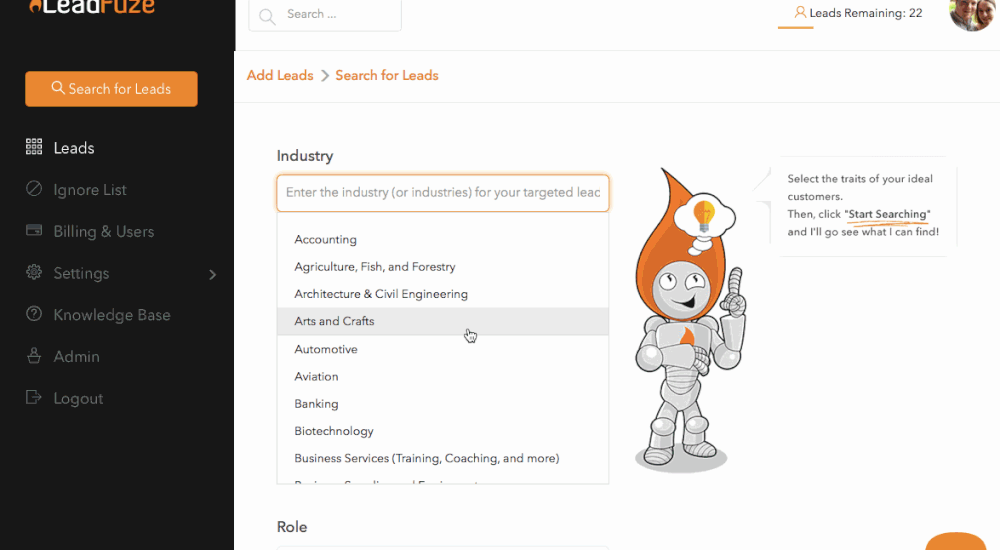 6

 For Your Clients

Most of our audience are B2Bs and a decent chunk of you are in the marketing/agency/sales industries. All of the tips on this list can be used for customers of those industries.

This is our quickest tip on the list, but you can get accounts for your clients. This will:
Help you to deliver on your promises quickly. (Make you look good.)
Improve your client's business
7

 For Events

Events are all the rage (for good reason). Whether you're thinking of hosting a large conference, small ticketed event or even a meet up — you can target the people you want to come.

Here are a few great reads on varying types of events.
8

 For Incoming Content

If you've been following our blog for any amount of time and have noticed an increase in guest content — it's true.

We have been increasing the number of contributors to the blog to increase the content as an experiment. While it's still early, we're hopeful that using experts to write content will help both in the reach, diversity, and quality of content. 

Everyone in business understands the value and need for content. 

Most professionals also understand that a portfolio of writing can open up doors for them and their business. 

Everyone in business understands the value and need for content. Click To Tweet

Here's what to do.

Set up a list for the industry that makes sense. You can target sales leads and get the conversation going by asking them to write a guest post (it works).

Or, you can target similar, competitor-ish people to build your credibility.

Then, upload the list to your CRM. I actually use Streak for this because it sits right in gmail and already has a campaign for this. 
How about another 2-cent tour?
Once you add Streak to your Gmail, you can click "create new pipeline". It will be in the left sidebar. Then, a list of options will be brought up. And if you scroll down, you'll see "Content".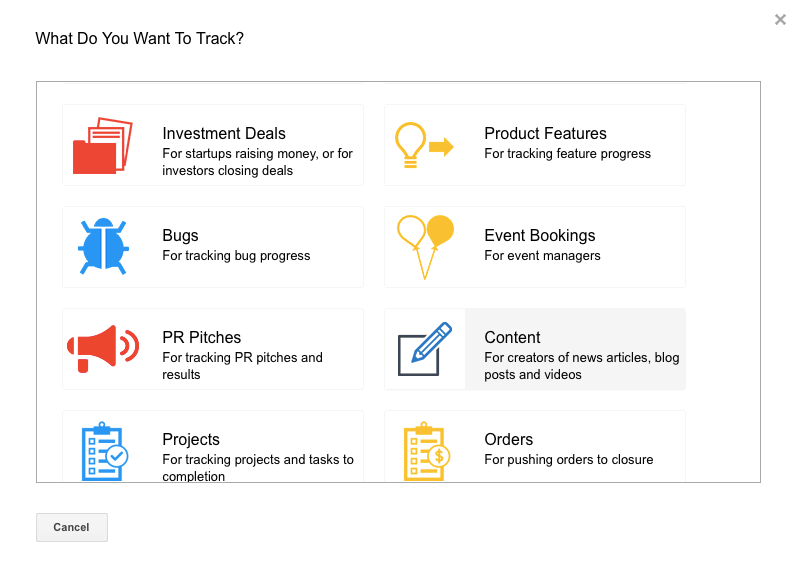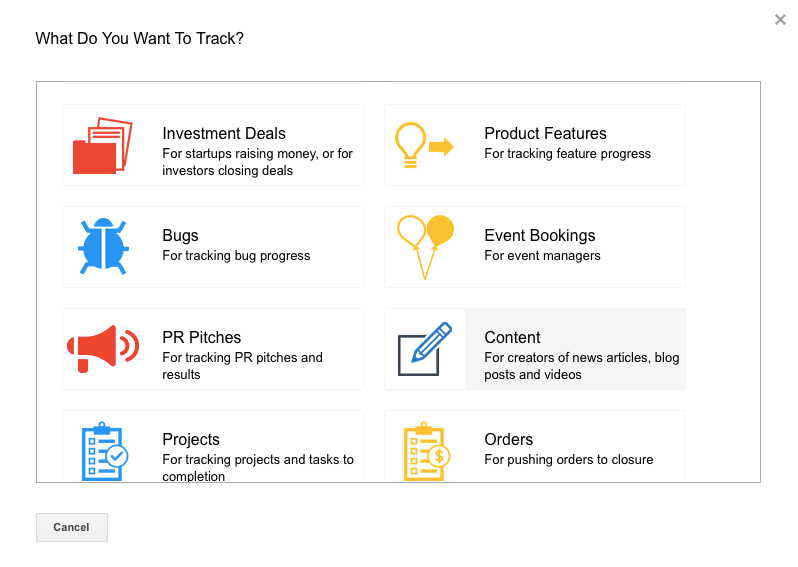 Then, a default pipeline will be set up that looks like this.



Since you'll be reaching out to your contributors, you'll need to customize this a bit. Here's a screenshot of the one I use that has worked for us.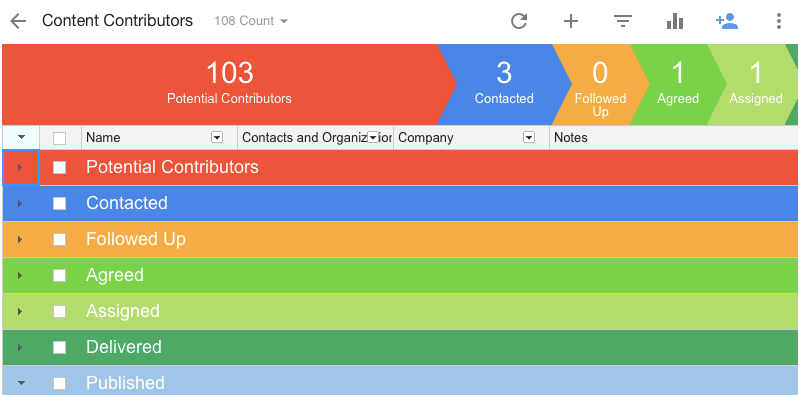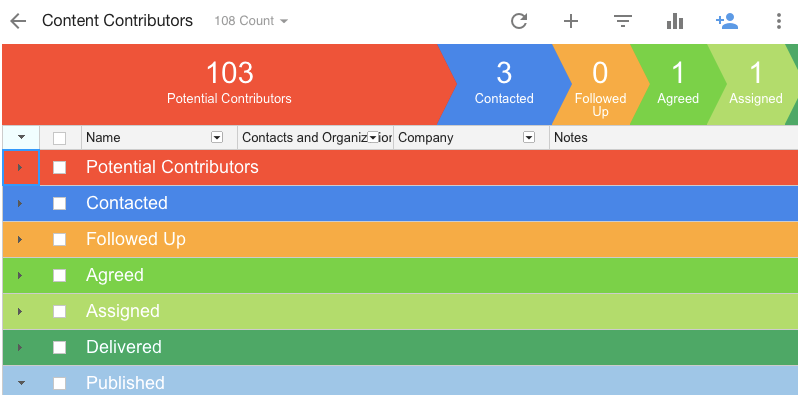 You may want to use your main CRM to do this, but using a separate (and free) option like Streak works well for us. 
Now, earlier in step one above, I mentioned using a list of sales leads for…well… sales.
That was pretty ambiguous. 
Here are some tried and true methods for generating opportunities from those sales leads, as given to us by Sujan Patel of Mailshake. 
The Classics
The classics are classic for a reason: they work. No gimmicks, just battled-hardened techniques that produce the leads you need.
Cold Calls
I know, I know. People hate making them, and people hate receiving them.
But here's the best-kept secret in marketing: they (still) work.
Of course, you're more likely to generate both quantity and quality via digital channels in the 21st century, but cold calls have their place depending on your product and target.
Seniors, for example, are more likely to be receptive to a cold call.
Just don't go into them willy-nilly.
A bad cold call can hurt your reputation.
Create a script for your cold calls, but don't read from it verbatim.
Use it as a guide and reminder of the points you want to make. Anticipate responses to questions, and craft your response. Highlight the benefits. A 'script' means you won't forget anything.
Give them your complete attention. Don't promise something you can't deliver. And be sure to give them next steps or a call-to-action.
Cold Emails
Email marketing produces the biggest bang for your buck. Even in 2018, it consistently outperforms social media for results and return on investment: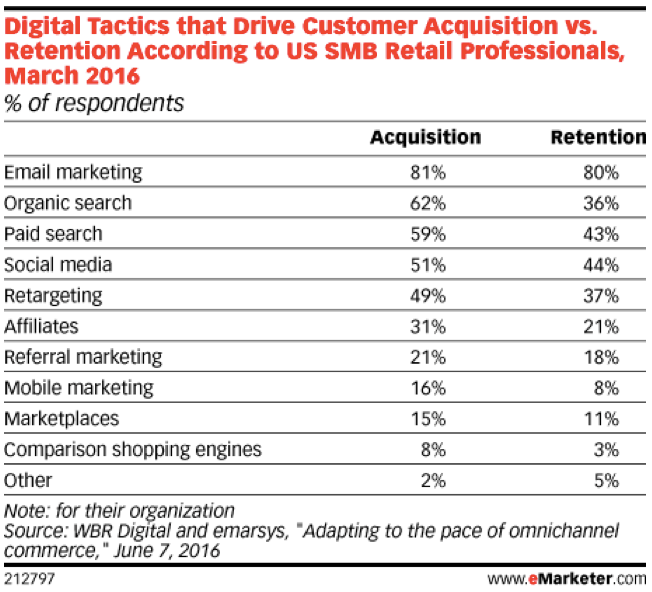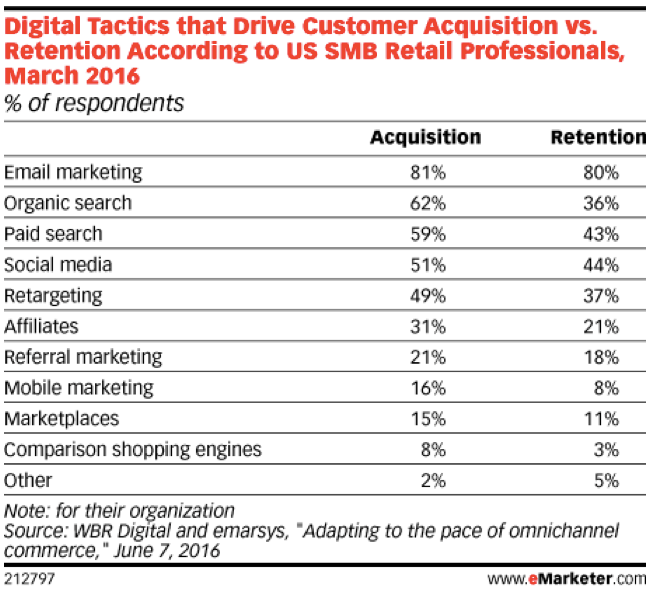 Cold emailing can be done with surprising ease and effectiveness today.
A cold email solution like Mailshake makes it automatic and virtually hands-off until it's time to be hands-on.
Work with a template, or craft your own message. Automate wherever and whenever possible.
Personalize messages automatically with merge tags. A/B test your subject lines (and your entire message for that matter).
And follow up, follow up, follow up.
The vast majority stop after getting no response to their initial message. 70%, in fact.
Another 19% stop after a second unanswered message.
That's a huge mistake.
Why? Because people respond to the second, and fifth, and even the tenth email they receive from you.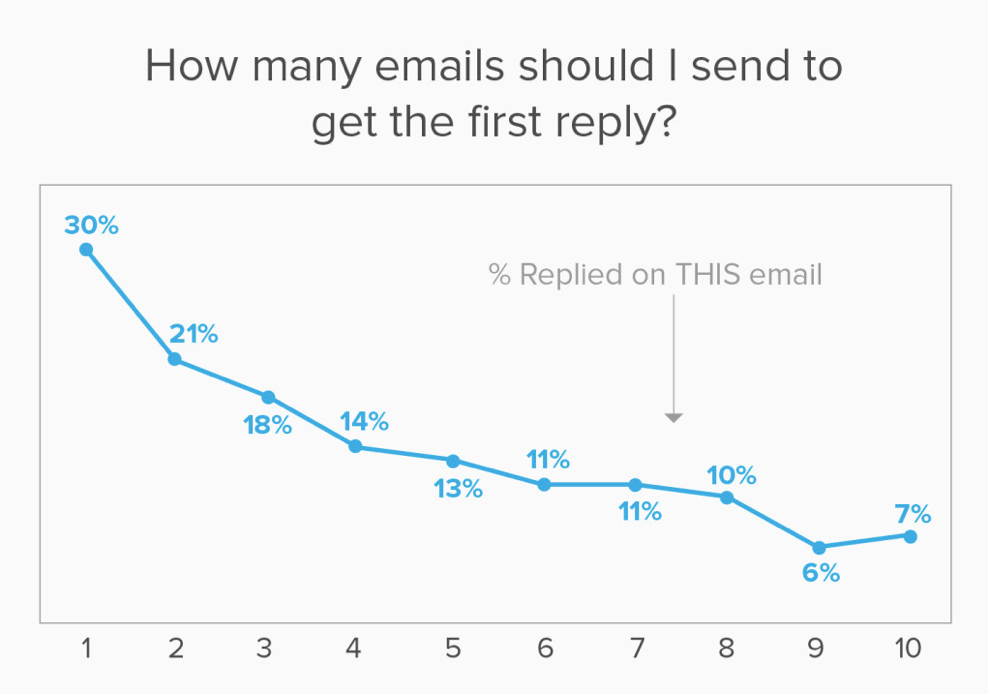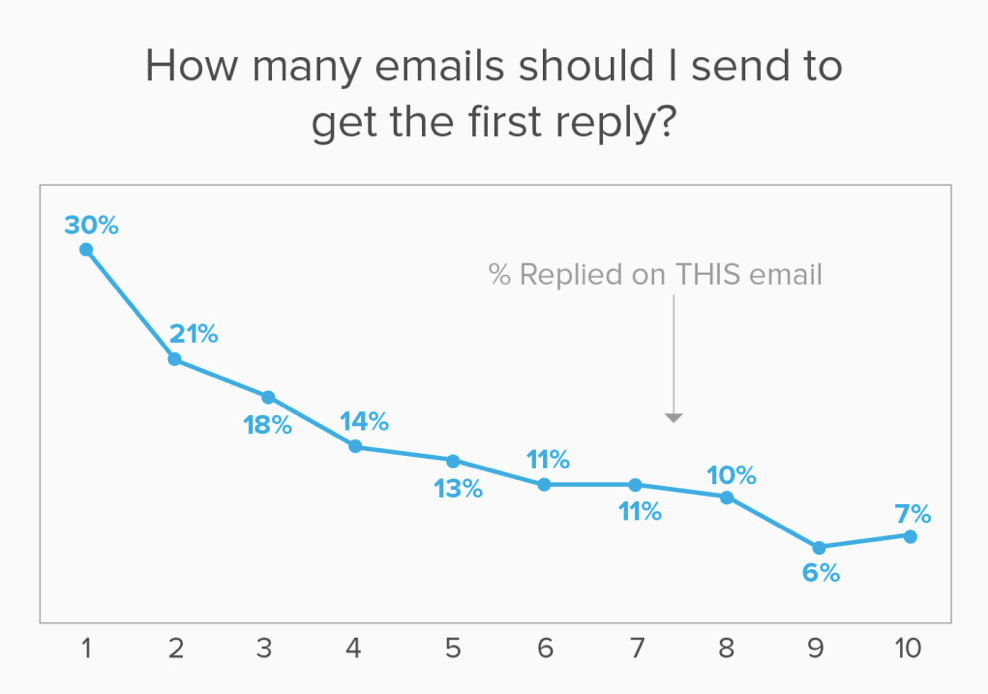 Moral of the cold email story? Persistence pays off.
Old School Pro Tip:
Ask Customers for Referrals
Ask for them.
That's it. Simple and straightforward.
Research tells us that people are 4x more likely to buy something recommended by a friend, and rely 2-10x more on word of mouth than they do on traditional paid media.
Referrals are low-hanging fruit, but many brands and individuals either don't think to ask for them, or believe erroneously that their existing customers will say 'no'.
Referred prospects are warmed, qualified, and some of the easiest sells you will ever encounter.
Click To Tweet
You should ask, and satisfied customers are happy to give them.
If you haven't already, create a referral marketing program today.
Ask at the right time (immediately after a purchase or a positive interaction), offer an incentive or reward, and make it all ridiculously easy for them to do.
Referred prospects are warmed, qualified, and some of the easiest sells you will ever encounter.
The New Tips and Tricks
Now, let's build off those classics and prospect the 21st century way.
Automate in the Beginning
Automation is not a replacement for real interaction and engagement, but it can be used in the beginning to take care of the tedious work that doesn't require your attention.
Tools like Mailshake's Lead Catcher automate follow-ups and terminate a campaign when you get the desired response.
You'll be notified that someone has responded, allowing you to then reach out personally and directly to a pre-qualified and warmed prospect.
The "Trickle Down" Intro
The problem with cold emailing is that it's, well, cold.
How much easier would it be if you had a referral or introduction from someone they already know?
You can use the "trickle down" technique. Reach out via email to the person above the decision maker you want to connect with.
You can generally find this information from company directories and profiles. If you have names but no email addresses, use an email finder like LeadFuze's market based search functionality to fill in those gaps.
Treat it like a regular cold connect and demonstrate your value.
Do it right, and you'll land a response along the lines of "You should be speaking with X". Use that as a referral to engage with your intended target ("Ms. So-and-so suggested I contact you…").
Prospect Every Day
Don't treat your sales prospecting as an afterthought.
It's not.
Schedule it, include it in your daily to-do list, block out time on your calendar every day to further your efforts.
Write down achievable targets and goals so as to not get discouraged with it.
Make prospecting sales leads a priority, and you will see results.
Video
You already know that video is a powerful and popular medium for getting your message across.
A brief video message embedded in your email stands out from the crowd and gets you noticed.
Using a tool like Vidyard, you can easily create and share professional videos that can boost your response rates 2-5x, and video can boost click-through rates by 27% and conversion rates by 35%.
Try a Little Psychology
A little understanding goes a long way.
You don't need a PhD, either.
Try incorporating same basic ideas like Robert Cialdini's six principles of persuasion into your emails and telephone calls:
Reciprocity
Commitment and Consistency
Scarcity
Authority
Liking
Social Proof
Use them, but don't abuse them.
You don't want to earn a reputation as a sneaky, underhanded brand, business, or individual.
Prospecting sales leads is usually listed at or near the top of biggest challenges for sales and marketing professionals.
It's a dog-eat-dog digital world, so you've got to evolve and adapt.
It's a dog-eat-dog digital world, so you've got to evolve and adapt.
Click To Tweet
Lean on the classics, and innovate when you can. Sales prospecting need not be that difficult.
The following tips on lead nurturing were contributed by Ian Campbell of The Mission Suite.
What to Do When You Have a Sales Lead Turn into an Opportunity
There's nothing like a positive reply to a cold email.
It's just so exciting. After all, you've spent all this time crafting your message, making sure that your subject line lands and coming up with a question or an offer that people will respond to. It's always encouraging to see a sales lead come in as a result.
But now what?
How do you turn that sales lead into business?
If you've been involved in sales for any length of time, you probably know all too well that a first response is still a pretty cold lead.
They're not your friend, they're not ready to become your client and they're certainly not ready for a full-on sales pitch.
The same thing goes for cold emailing as it does for cold calling.
When you book an appointment from a cold call, you have to remember that the person you're meeting with is still actually a cold sales lead.
You simply said something that resonated enough with them to pique their interest.
When you get to the appointment, you still have to show them why it's in their benefit to continue to talk to you.
In short, you still have to be a sales person.
The same goes when you get a reply to your cold email. All that reply means is that you have the opportunity to tell them what real value you bring to the table and why they should actually listen to you.
Now you get to be a sales person.
Here's what we used to do
Back in the day, someone would raise their hand as a "sales lead" — either by filling out a form on your website, calling for information or responding to an email or a phone call — and the sales team would pounce on them like a lion who hadn't seen a gazelle in days.
It always felt like they were starved for business and would never see another lead again.
But that wasn't the problem.
The problem was that in addition to calling and sending a follow up email, they would call again later that day. And then again the next morning. Then again before they went to lunch. And again before they went home. Then again the next morning… You get the picture.
That's not salesmanship. That's desperation.
There's a great scene in the movie Swingers where the main character gets a girl's phone number and calls her about 10 times that night to leave messages on her machine asking her out.
As you can imagine, she finally tells him to never call her again.
Don't be that person.
Here's what we should be doing now
Don't get me wrong, you should absolutely be following up with your leads quickly.
Studies show that if you can get back to a lead within five minutes, then your chances of closing a deal go up dramatically.
So yes, make a call and send an email to follow up on their interest.
But don't forget that you still have to nurture these leads as well. Lead nurturing doesn't mean following up on them over and over again — that's smothering.
Nurturing is the ability to show that sales lead that you're worth talking to. You need to show them that you're going to create value in your conversation more than just a few key words in an email that made their ears perk up.
Don't forget that you still have to nurture these leads as well. Nurturing doesn't mean following up on them over and over again — that's smothering.
Click To Tweet
Now you have the opportunity to show real expertise and relevance and prove to this lead why you deserve their time. Remember, time is the one thing that you can't make more of, so it's more valuable than whatever free advice you're offering. If I'm your lead, I'm expecting you to show me that you're worth it.
How do I show expertise and relevance?
This is actually the easy part. You need to let them know that you're knowledgable about your industry, your product or service, and most importantly their business and their industry.
Sales people have been doing this for years, so it's important to realize that this is nothing new.
Back when I was getting started, I had to physically mail newspaper and magazine articles to the prospects that I was working in between my phone calls.
I won't lie, it sucked. 
I had to guess at the mail delivery date (I was too cheap to pay for delivery receipts at the time) and try to plan my phone calls based on how far the mail had to go and when I thought they would probably get the clippings I was sending.
Now, thanks to the Internet, it's incredibly simple to create and store a library of interesting content that you can use to nurture your leads and make sure that they know that you mean business.
What should my nurturing system look like?
Now that you've got your library of content to share with your leads, you need to plan out your system.
Now every business is going to be different so I can't tell you for sure what's going to work for you. What I will say, though, is start with something simple and then test different variations of it. You'll get to know pretty quickly what's going to work and what's not.
The key thing to remember is that it's just as important now to make sure that your nurturing system is somewhere between 6-12 touches. Just make sure that they're spread out at decent intervals so you don't look desperate.
Here's an example of one of my nurturing systems:
Phone Call -> Email -> 3 days -> Email #2 -> 1 day -> Phone call -> 3 days -> Repeat twice more -> Move to newsletter list
Pro Tip: Make sure that the emails you're sending out are relevant and help you qualify the lead. There are a lot of ways to do this but remember this isn't just for them to determine if you're worth their time. You also have to make sure that they're worth yours. 
Prop Tip 2: Read our massive guide on lead nurturing.
How do I manage my nurturing system?
Managing this system that you've created is another thing that's gotten a lot easier in recent years.
I'm not sure how many others out there remember the old Rolodex but there was a time when you had to do all of this manually — and, believe it or not, it wasn't all that long ago. (Although I guess that depends on your perspective.)
There are a bunch of tools that you could be using to manage the hand off from your prospecting systems.
The great thing about LeadFuze is that, with its connection to Zapier, you can pass your leads into any one of them worth its salt.
So here's what I recommend as the tools for a bare bones management system:
CRM Software
This one can't be a surprise. If you're in sales and you're not using a CRM software, I can almost promise you that you're losing money.
Specific to your sales lead nurturing and selling system, though, this is how you're going to track the results of your efforts.
You'll want to track things like:
What happened on the calls that you made? 
To which emails did they respond?
How many touches did it take after the initial reply to get an appointment?
If you can't track your results, then all of the testing in the world isn't going to make a difference.
So, make sure you have a reliable system to do so. And no, Excel probably isn't going to cut it.
Automated Email Follow
Unless you want to send all of these emails out manually, you'll want some sort of an automated email follow up software.
You can continue to use your cold email outreach system, but once they've responded – I recommend taking this action inside your CRM.
Automating this process is going to make it a lot easier on you and free up your time to do more prospecting or focus on the deals that you're already working on.
If you're working with a good system, you can spend your time closer to the dollar and automate everything else.
Remember, you're trying to keep a rhythm here so you want to make sure that you can be consistent with the timing of the emails and your phone calls.
Make sure that you are consistent with the timing of the emails and your phone calls.
Click To Tweet
If you're using two systems to manage this process, you need to get the timing down. If you can work with a unified marketing system that pulls all of these pieces together, then you'll be in much better shape. 
Are you Ready to Generate Sales Leads?
So now it's all up to you.
The tools that are available for generating sales leads and nurturing them make the process infinitely easier than it used to be.
You can take better control of the process of turning a lead into an appointment and, eventually, a sale.
The question is…
Editors Note:
Want to help contribute to future articles? Have data-backed and tactical advice to share? I'd love to hear from you!
We have over 60,000 monthly readers that would love to see it! Contact us and let's discuss your ideas!